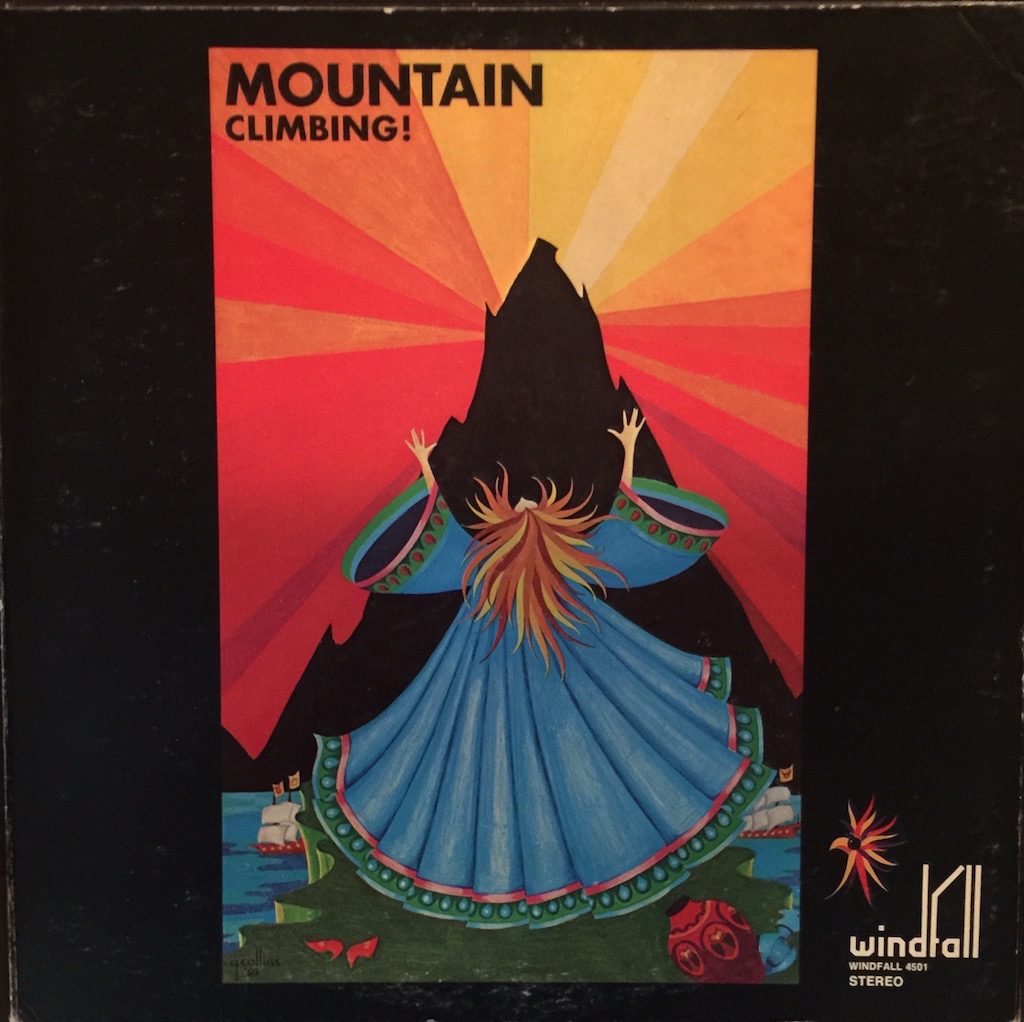 MOUNTAIN CLIMBING!
Mountain, like a number of powerful hard rock acts in the immediate post-Woodstock era, has fallen between the cracks, if not into outright obscurity. Perhaps it's a question of changing taste, but there are plenty of great hard rock albums from the era that can give you goose bumps. This is one of them. Mountain's records are readily found in the used bins and finding a clean-playing copy can be a challenge. Why bother? The band benefitted enormously from the production, bass playing and vocal abilities of the late Felix Pappalardi,[1] whose credentials at the time included producing The Cream, starting with that band's Disraeli Gears, a legendary piece of psych-rock that is often considered the most enduring work of hard rock's first "super-group."
Mountain found an audience in the aftermath of Cream's demise, but in spite of Pappalardi's considerable talents, and Leslie West's soulful guitar work—loud, distorted and wrenching the heart out of each note—they never achieved the enduring recognition of Cream. Which makes listening to them now even more fun.
Climbing! spun off one radio single—"Mississippi Queen"—a staple of "classic rock" radio, but the real joy here is "Theme for an Imaginary Western," a Jack Bruce-penned[2] ballad that West and Pappalardi drove home on Climbing!. Pappalardi has a plaintive quality to his voice that echoes the restraint of Jack Bruce, and is equally haunting on "Theme." This track, to me, is the real draw (and West's solos are stunning) but there are other treats: "The Laird," "For Yasgur's Farm," and "Boys in the Band" may grab you as well. Mountain represented a very hard rock sound that seemed to fall into a niche in later years—labeled in retrospect as a precursor of metal, probably to distinguish it from more acoustic, pop-oriented "rock." Mountain never really replaced Cream, but I suspect many Cream fans also enjoyed Mountain at the time. (I heard Mountain open for Jethro Tull in 1970- both bands were in top form).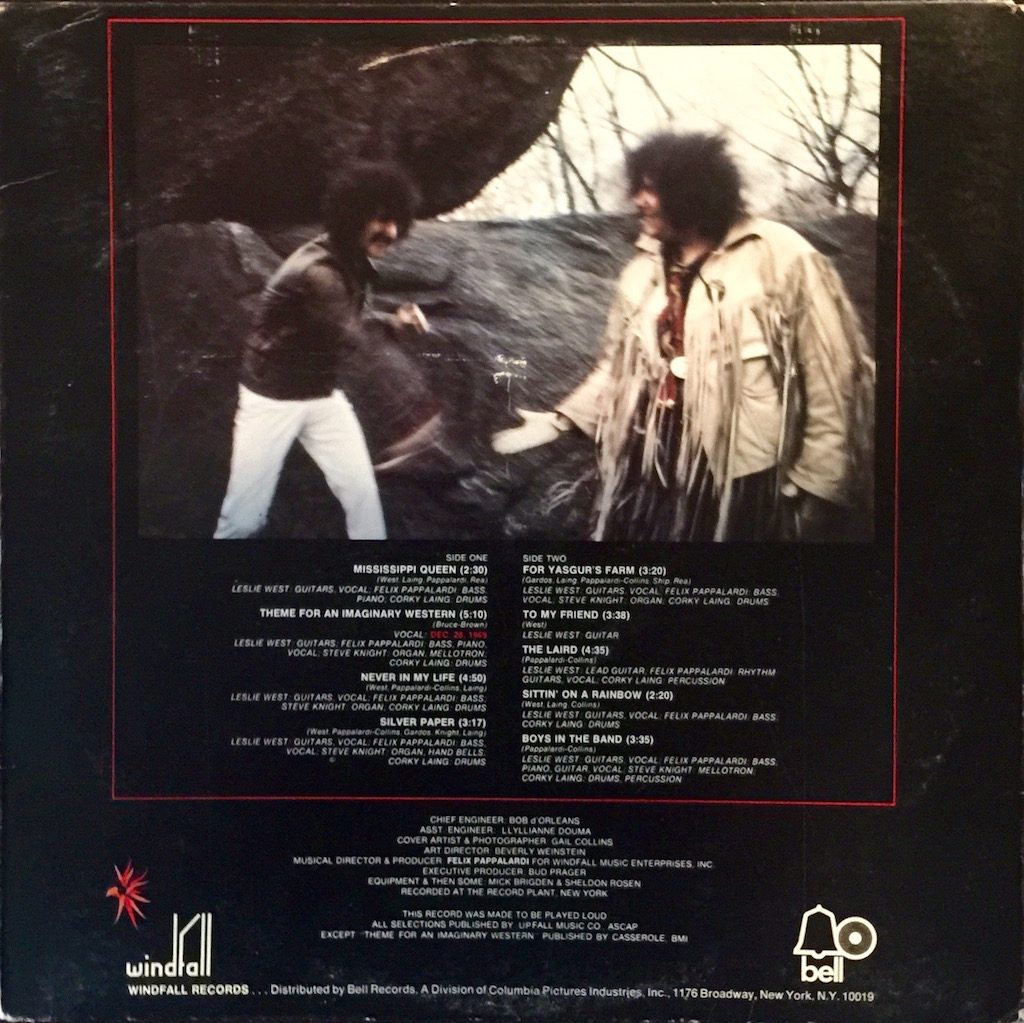 Finding an untrashed, early copy of Climbing! may be a challenge. If unmolested, it is probably going to sound good. The record, released on Windfall, an imprint of Bell Records, was mastered at Sterling. Here's where some anomalies crop up. In sorting through half a dozen copies to find a decent player, I noticed that the Sterling inscription was in many cases accompanied not just by the "LH" inscription of Lee Hulko, a celebrated mastering engineer and founder of Sterling, but by the well known "RL," (who was also at Sterling for a time and whose cuts are highly sought after these days):

LH to the left of the Sterling stamp RL to the right on the same side
There is little rhyme or reason to this. Some copies have "LH" on both sides and "LH" and "RL" only on side two; I even have one copy with "LH" and "RL" on both sides! Does it make a difference? Frankly, just finding a copy that wasn't trashed was more challenging than exploring these nuances. A recent discussion on the Hoffman forum, relying on some information provided directly by Bob Ludwig, suggests that these inscription differences may prove almost meaningless since the masterings made at Sterling by Ludwig and Hulko (in the case of another record under discussion) followed the same notes and were essentially the same.[3] As far as pressing plants go- I have a Monarch pressed copy (that has the "LH" on both sides and "LH/RL" on side two); the Monarchs are generally a little more bombastic, but this copy was simply too noisy to live with as a go-to player.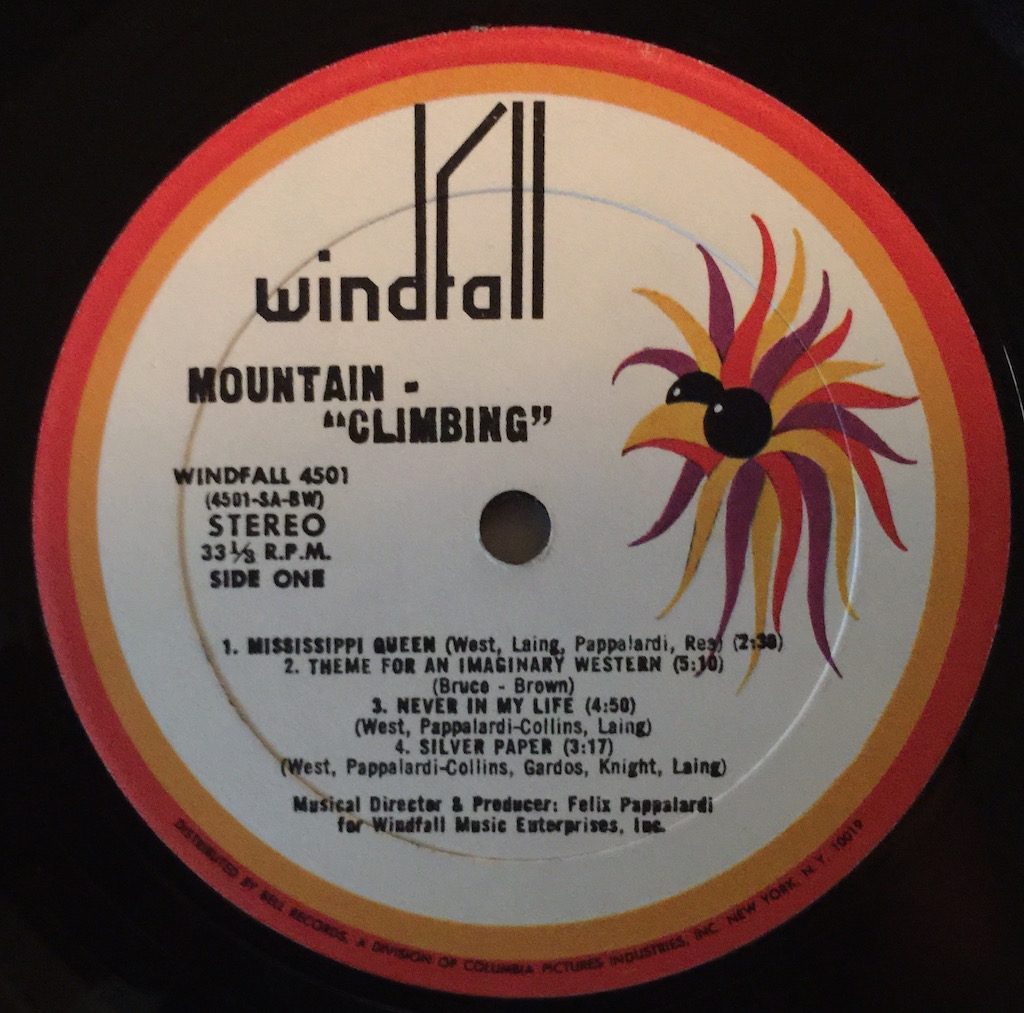 These records aren't expensive. My recommendation is to find as clean a copy as you can with the Sterling mastering and worry less about the individual mastering engineer inscriptions or pressing plants. (Right now, I'm using one copy for side one and another copy for side two). As the liner notes indicate, "THIS RECORD WAS MADE TO BE PLAYED LOUD."
____________________________________________
[1] Leslie West- Mountain released in 1969 is really a solo album that was produced by Felix Pappalardi and included a different drummer and organist than Climbing!
[2] Co-written with Pete Brown and appearing on Bruce's Songs for a Tailor. Songs is an essential album and will be the subject of a separate write-up. Pappalardi produced, played and sang on that album as well.
[3] See http://forums.stevehoffman.tv/threads/better-records-website-and-their-business-practices-as-they-apply-to-our-hobby.367421/page-53#post-15173026. The comments in that post focused on "RL" cuts of Led Zeppelin II, a highly sought after early version of the record that was quickly replaced by a less "hot" (some would say completely eviscerated) mastering.   The full story of the early "RL" cut of Zep II is well documented elsewhere on the web and need not be addressed now.