Comments FAQ
How do I comment on an article, review or essay?
You are required to register and login.
ALERT: ONCE YOU HAVE REGISTERED (see details below), YOU SHOULD RECEIVE AN EMAIL FROM WORDPRESS TO VALIDATE YOUR REGISTRATION AND CHANGE YOUR PASSWORD. CHECK YOUR JUNK/SPAM — THE WORDPRESS VALIDATION EMAIL MAY BE LODGED THERE.
If you are already subscribed to TheVinylPress.com (by having entered an email address in the box at the bottom of the page to get email updates of new content), you are subscribed to receive emails alerts when new articles are posted to TheVinylPress. Being subscribed does not enable you to comment. To comment, you must register, like so:

Update: As of 2018 we have eliminated the "subscribe" feature and the "letterbox" slot shown above (which appeared at the bottom of the page). To get regular updates (and to comment), you must now register. "Legacy subscribers," (i.e., those who subscribed before we eliminated that feature), should still receive updates, but cannot comment without registration, as described  in this FAQ.
Why two different ways to subscribe or register with TheVinylPress?
We only recently decided to add the "comments" feature. When launched, we only offered the ability to receive email alerts of new articles through subscription, a feature that we have now eliminated. We have now simplified the subscription/registration procedure to a single method–registration.  See Update above.
What happens once I register?
Once you register, you will receive a confirmatory email to set your password. Please check your "spam" box if you don't receive the email in your inbox. The email will provide a link to enable you to validate your registration and set a password. Once you have done so, you will have the ability to comment. You also will receive email updates of new articles when they appear on TheVinylPress. You also can enable the settings to receive email updates to a comments section in which you have commented. More about these settings, below.
What are the rules/parameters of commenting?
The "rules" generally are set forth in the Terms of Use ("TOU"). Their spirit (apart from complying with the law and other niceties), is to:
Foster the exchange of information while keeping things civil;
Remain "on topic";
Prevent irrelevant comments or those that "thread crap" (e.g., "CD is better than vinyl");
Not inflame each other.
Discussion of politics is prohibited, though there may be some limited instances where it is directly relevant to music history.
Are there other rules for comments?
Your first post as a commenter will have to be approved by TheVinylPress, just to make sure you are "real." After that, you should be able to post without waiting for moderator approval subject to your continued compliance with the TOU.
Use of hyperlinks will put the comment into a moderation queue to minimize spam.
What about User Settings for Comments? Do I Get an Email Notification Every Time Someone Else Comments?
You can receive email notifications of new comments posted by other users once you have commented on an article. If you do not want to receive such alerts, you have the option to change email notification settings for comments as a registered user. You do this in the comments section of a particular article, see below example, where it gives you the option to check a box for notifications of new comments.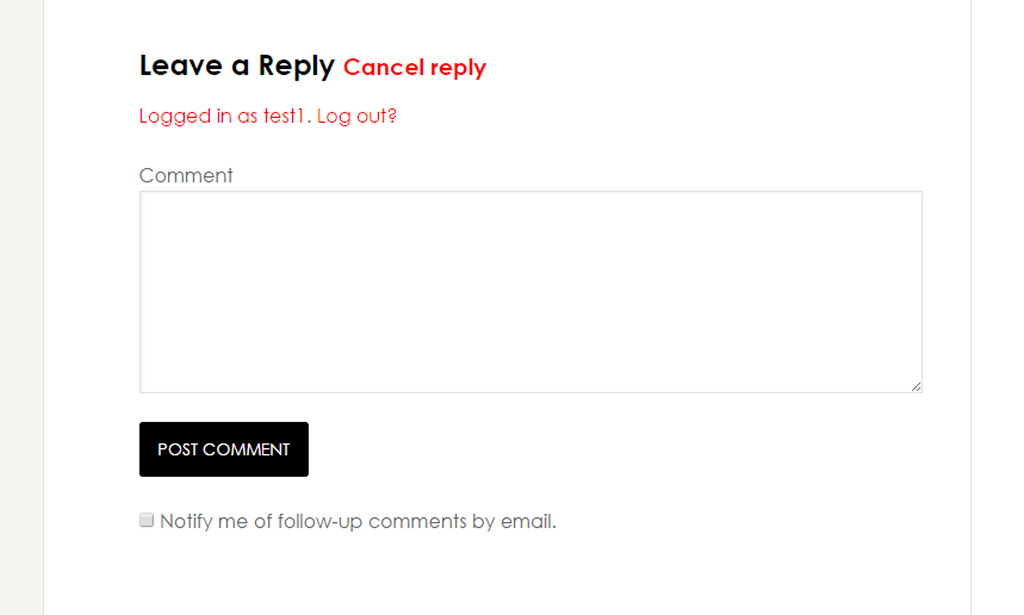 Note: If you were already a subscriber and now register as well, you may receive two email alerts for any new article. To prevent that, you can disable the email alerts for new articles as follows: First, click on "The Vinyl Press" at the top left of your screen. That will give you access to the Dashboard. Click on Subscribe2 on the left menu. By default, you will be subscribed to all categories. Click the box that reads "Select/Unselect All" under Subscribed Categories so that your Dashboard looks like the one below.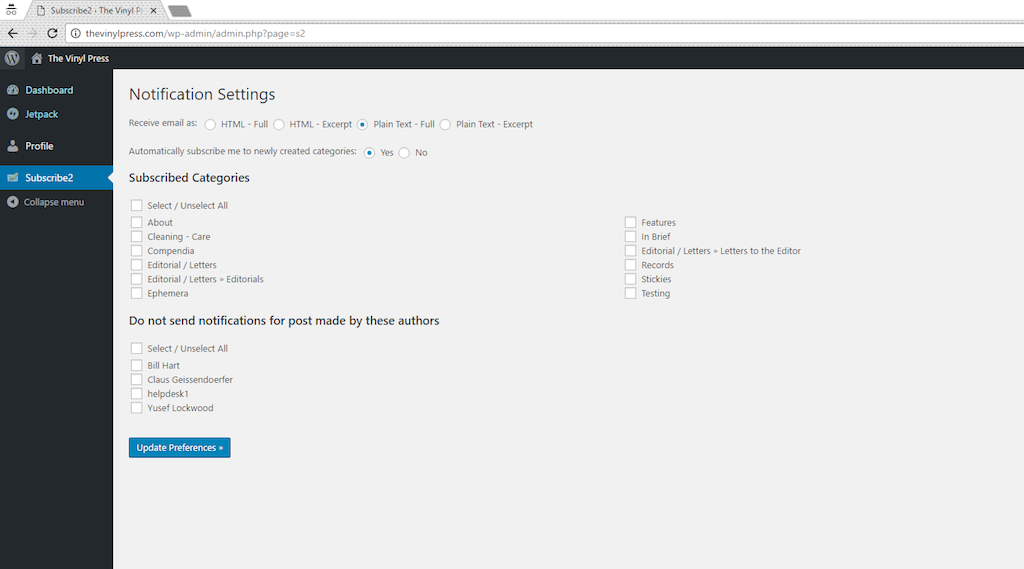 Is there a way to report an inappropriate comment?
Yes, there is a feature that enables you to flag a comment by another user that you believe is inappropriate, amounts to spam or violates the TOU. Community moderation is very helpful, but don't use it to thwart comments critical of your position. Users can reduce the likelihood of being flagged by avoiding personal attacks in comments.
Will comments be open indefinitely for an article?
No. There is a limited time window from the date of first publication of a piece within which to comment on it. After that, the comments for that piece will be closed. (This may vary, from 14 to 30 days after first publication of the piece in question). If there is an older piece that you wish to comment on, or one for which you'd like to re-open comments, contact us. Note also: not all articles, essays and reviews will have a comments box, but if you wish to comment on such a piece, you can request that we activate the comments function. To make any such request, contact us at: [email protected]