Air-Air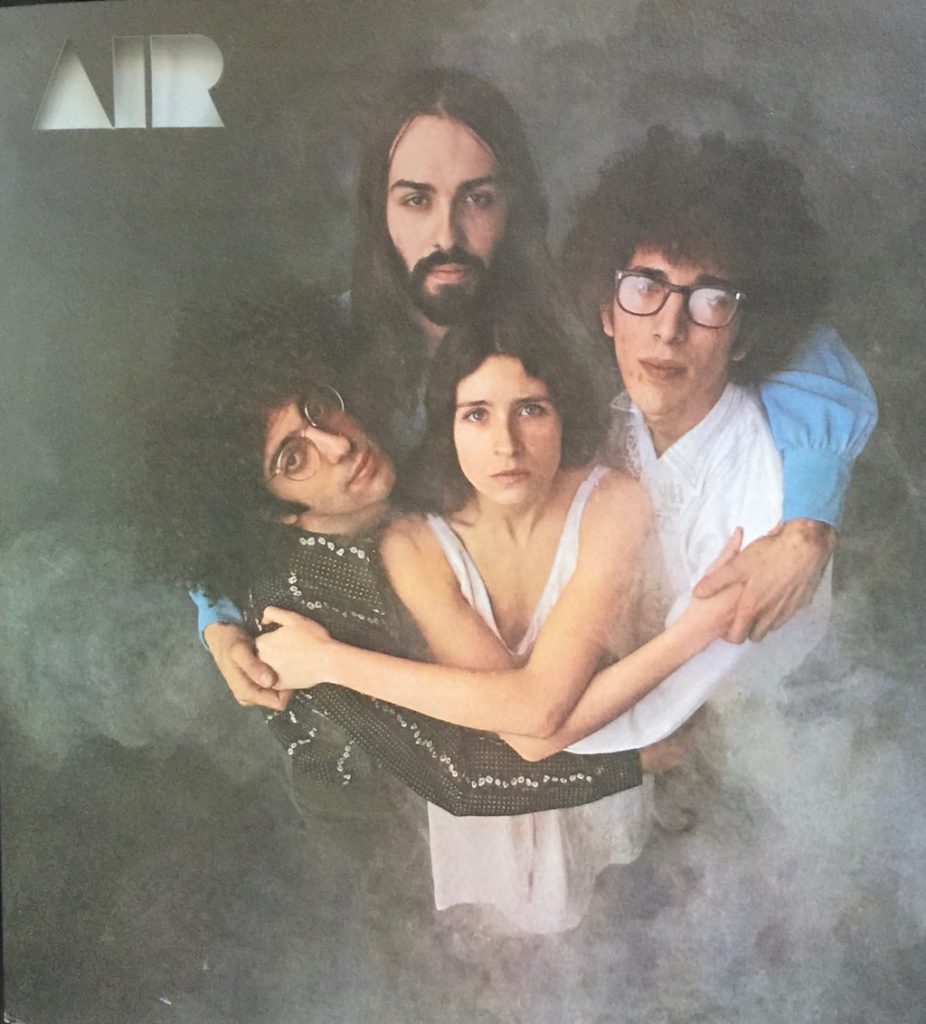 This is a stunning record. Composed and performed by a band with a long working relationship with Herbie Mann (who produced the album), its vocal parts shine with soulful beauty thanks to Googie Coppola, the professional moniker of Carol Brooks, whose writing, performance and voice are central to the magic of this album. The rest of the band—Tom Coppola (Googie's partner), John Siegler and Mark Rosengarden achieve something remarkable—a jazz album that has soul but is not trapped by either genre; there is an ethereal quality to this record that is both uplifting and beat-driven. It's a gem and its musical greatness isn't hurt by the cast of accompanying musicians, including both Breckers (Randy and Michael) on horns, Bobby Rosengarden on vibraphone and Herbie Mann on percussion.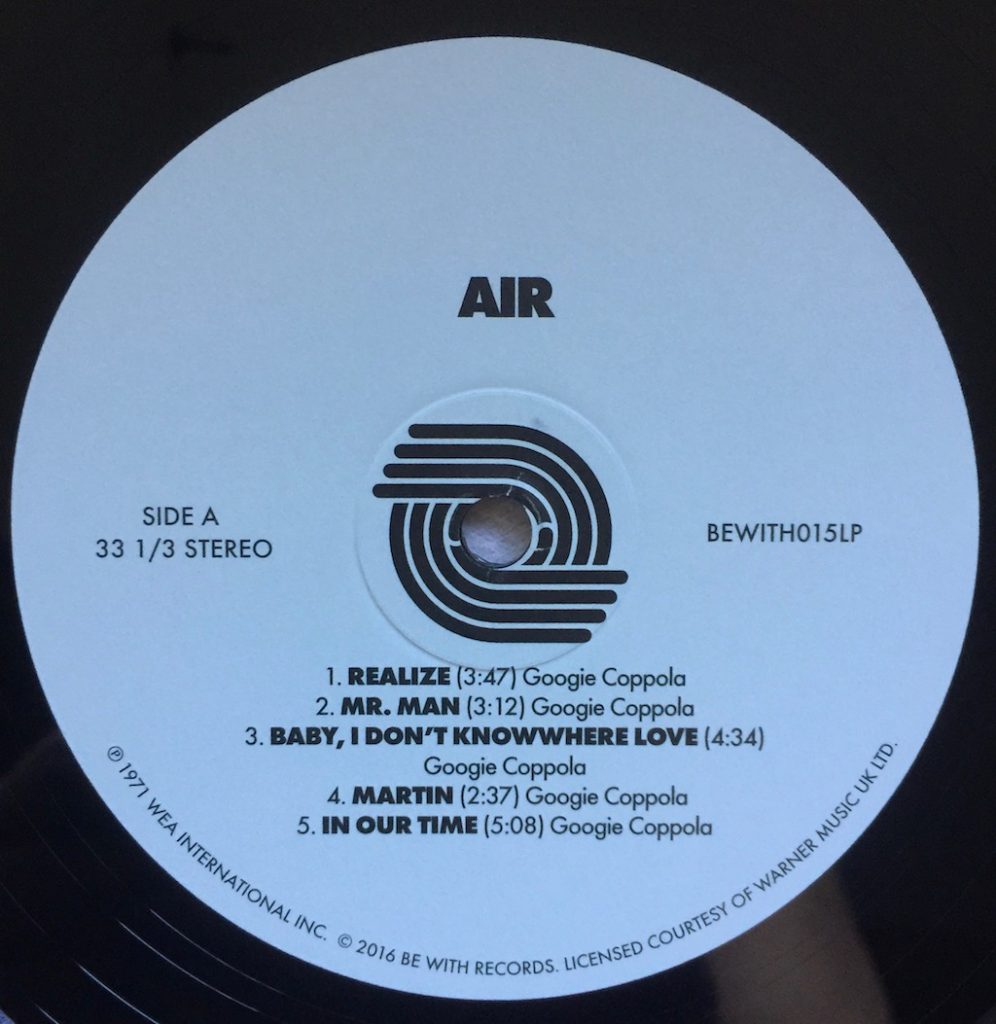 Originally released on Mann's Embryo label (an imprint on Atlantic's subsidiary, Cotillion) in 1971, the record is known to collectors as a "one and done." Googie did release an album on Columbia with Tom Coppola in 1980 entitled Shine The Light of Love, which is more heavily produced and commercial sounding to my ears, though infused with a similar up-tempo quality. (Googie and Tom apparently experienced a religious conversion shortly after the release of Air and their later Shine The Light reflects their spiritual awakening). Shine The Light has also been reissued recently, though original copies seem cheap enough. I haven't bought them for comparison but if I do, I will report.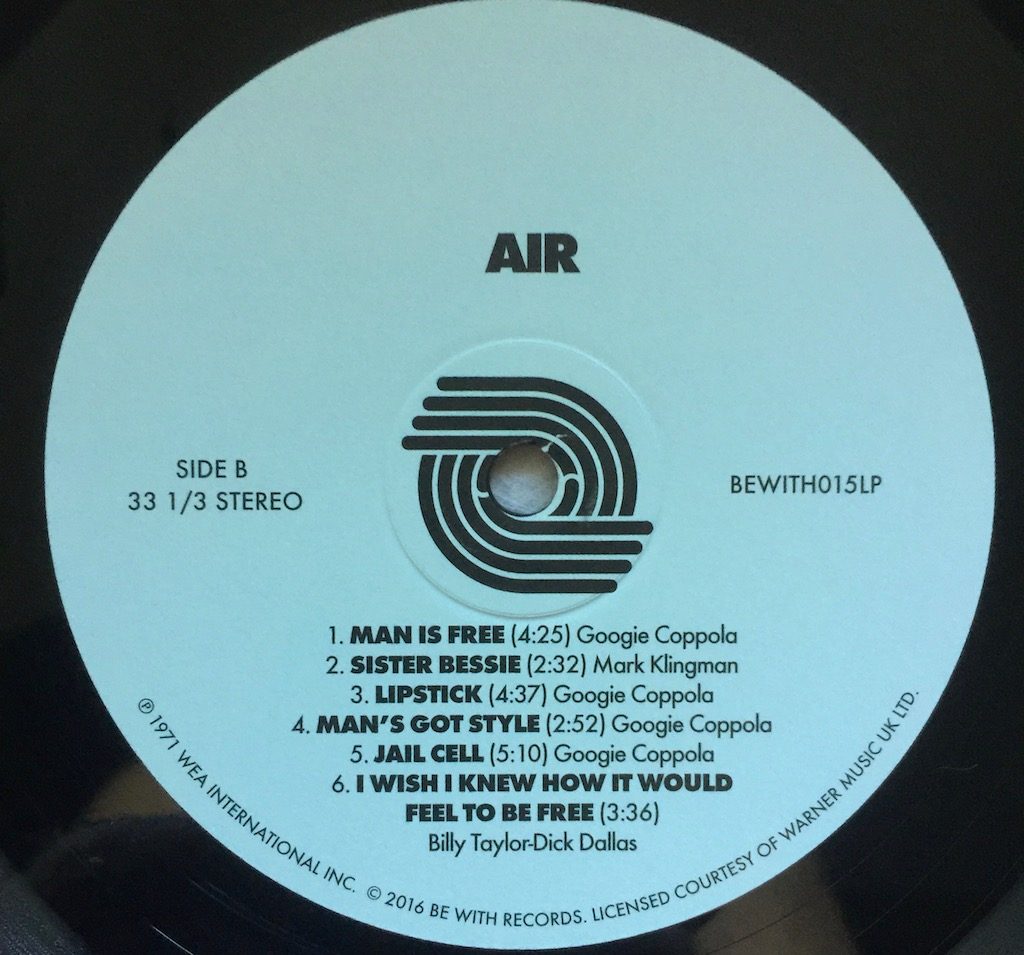 Air isn't quite as readily available. Yes, there are original copies in the marketplace, but expect to pay about $100 for a clean one. In the spirit of fiscal restraint, I bought a recent reissue of Air released by Be With Records. It's a keeper.  According to Rob at Be With:
Warner provided us with the original tape transfers that had been archived and it was mastered for vinyl by the venerable Simon Francis who is the engineer working on all of our releases. It was pressed at Record Industry in Holland.
The record is nicely made, quiet and comes in a die-cut jacket like the original. It has vibrancy and does not sound "at a remove." How does it compare with an original pressing? I don't know. (Yet). I've been reluctant to spend the hundred or so dollars for what may still be a problematic copy. So, I asked Ken Golden to send me a copy he recently acquired as part of a collection for a listen and comparison. I'll update this piece after I've done so. In the meantime, I can highly recommend the Be With re-do.[1]This is a great record and won't cost you much to enjoy it.
Bill Hart
Austin, TX
September, 2018 
_______________________________________
[1]Given how pleased I am with this copy, I am going to keep an eye on this label for other releases. You might too: https://www.bewithrecords.com