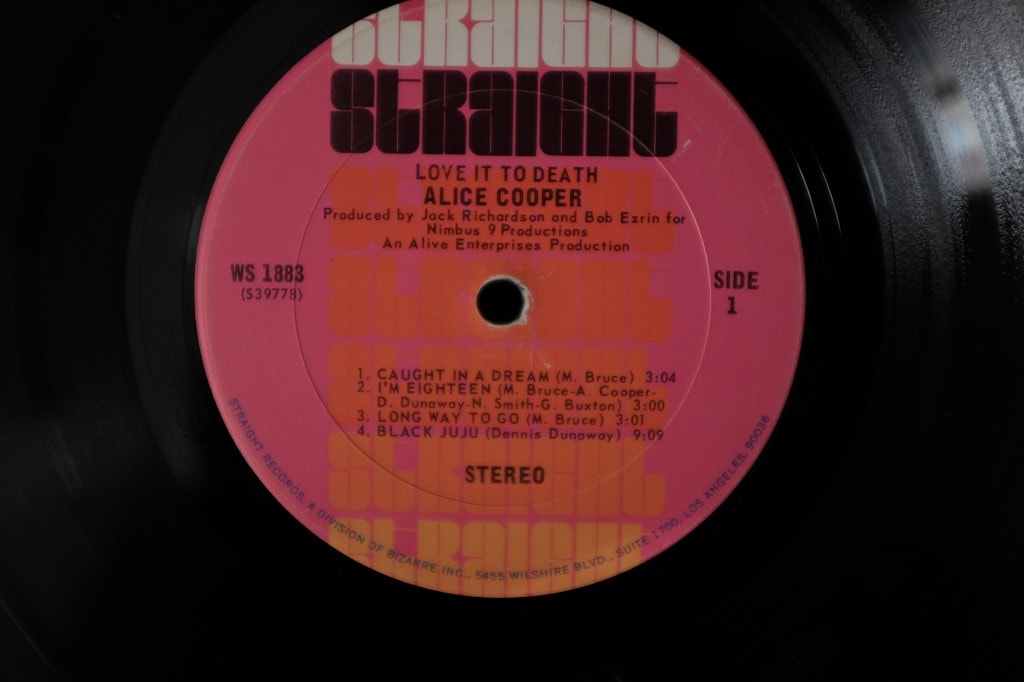 I know, AC is hardly obscure. But this album, and these early pressings in particular, are worth searching out. Alice was signed to Zappa's Straight label, distributed by Warner Bros. Records. The first two albums made no commercial impact but when Love it To Death, the band's third album, charted they sold a lot of records. The earliest pressings of Love it to Death were still on the Straight label, not the later Warner label.  There were some quick changes made to the cover art shortly after the album's release, necessitated by concerns whether that thing on the cover photo sticking out of Alice's cape was really his thumb.  The cover art was modified a couple of times (including by an odd 'letterbox-style' set of white bands to conceal the offending member and eventually by airbrushing it away).
The album, which became a huge seller, was broadly released on the Warner (green) label. But these early U.S. pressings, on the pink-colored 'Straight' Records label, have a punch and clarity that matches the wailing guitars and adrenaline-fueled angst of music. I disregarded Alice back in the day as so much juvenile nonsense (although the guitar riffs of "I'm Eighteen" were, even then, a guilty pleasure). Having decided to revisit this album a few years ago, and upgrade a rather beat up Warner green label copy, I happened on a copy of the Straight label pressing. It took some time to find a really clean player, but in my estimation, it was worth the effort. (Some of the "interim" copies on the early Warner Green copies during the transition from the "thumb" cover to the socially acceptable one may have the same matrix numbers as the early Straight pressings: 39778 -A 1A /-B 1B, which is one of several variations). Randy Kling's extravagant scrawl as mastering engineer apparently appears in a couple ways, one of which looks like this: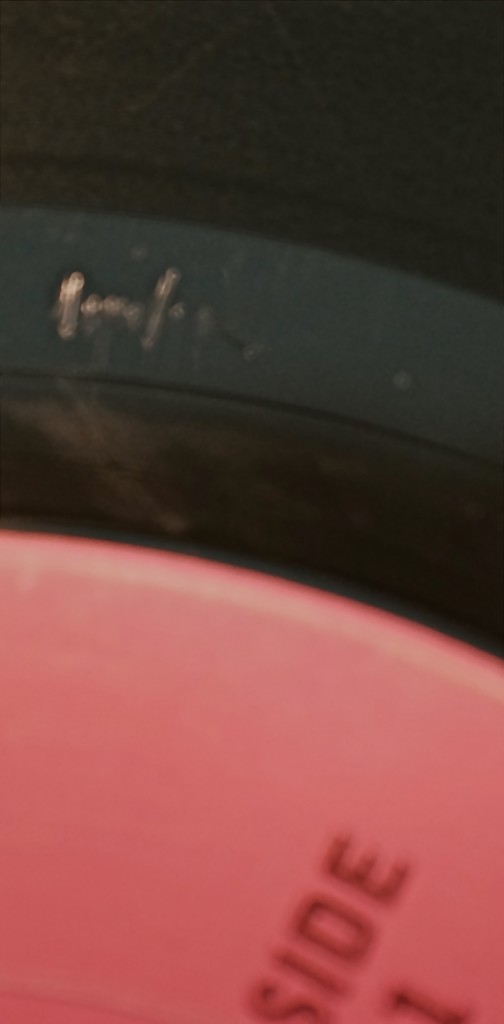 I also have a WLP of this thing which is probably the earliest copy I own, but need to check the deadwax of that, which I can do next week (and will supplement this piece).
Chalk it up to a forgotten pressing of a significant album. (Incidentally, I did see a WLP of the record, with timing band, in a bin at the Austin Record Show yesterday, May 22, so you might be able to score a copy if you are headed there-although I did not inspect the condition of the record, something I would encourage).
If you haven't listened to this album in ages, give it a spin. I think you'll be as impressed as I was when I revisited it. Despite the theatricality of AC, this band, on this album, really delivered. The music is hard-rocking, the guitar work is driving and it stands up really well after all these years (in fact, it is refreshing to hear after all the later metal, glam and garage band records that were influenced by it, most of which, in my estimation, pale by comparison). This was also the real start of Bob Erin's career as a producer (he also plays on the album).
The trick is to find one of these early pressings. I think you'll thank me…..
Note: A recent "180 gram" reissue of this record on the Straight pink label  is not the same as this old pressing.