I don't know if the term "super-group" has any relevance today, but at the time this album was released, it went beyond that: (The) Cream, rock's "first" super-group,[1] had broken up to great public fanfare, and out of the still-warm ashes rose something that was, to me, even more thrilling- Clapton and Ginger Baker from Cream, plus Steve Winwood, from Traffic (which had also broken up, for a time). The assembly of all this talent missed one key ingredient from the "old" Cream- Jack Bruce, whose talent was undeniable then, and whose contributions, not limited to Cream, seem even more profound in retrospect. Instead, Rick Grech, unknown to me then,[2] played bass in this new, reincarnated band.
This was the album I was waiting for: though flawed, it had moments of genius- the track, "Can't Find My Way Back Home" is unforgettable- a haunting lament, sung by Winwood, that is probably among the small handful of songs that I have listened to since it was released and still moves me today. "Had to Cry Today" was written for its time, by someone who was not channeling the old blues masters, but a different muse- one who had lived through the tumult of the 60's and spoke to "loss" in a modern voice. "Presence of the Lord" was Clapton, God and his wah-wah pedal unleashed.
"Well All Right" never did much for me, despite its older rock and roll roots (although it signaled something that bloomed beautifully not much later, on Layla, with Clapton, Duane Allman and another crew of "super" musicians- more about that in a separate piece). I rarely listened to side two of the album -"Sea of Joy" anticipates some of what Winwood achieves on the John Barleycorn album (Traffic "reformed"); and "Do What you Like" seems to describe exactly what the musicians did.
The group was short-lived, but has enjoyed a long "half-life" — its presence continues to glow and emit energy even now. There was an appearance at a concert in Hyde Park, a brief tour at the time (with an incredible roster of supporting acts), and then the members moved on. (I finally got to hear some of this reprised, live, when Clapton and Winwood played Madison Square Garden in 2008, with some real talent behind them, including Willie Weeks on bass and the legendary Chris Stainton on keyboards).
The album was released in the States at the time with a sepia-toned cover featuring a picture of the group members posed against an inner wall of what appears to be an old mansion–reputed to be Clapton's home, used for the group's rehearsals.[3] Of course, the real controversy was over the original cover used outside of the States, of a pubescent, topless girl holding a model of a futuristic airplane. Read all about it- elsewhere.
Frankly, the record didn't sound very good. It was somewhat muffled, the cymbals sounded dead and flat- but "Can't Find My Way…" worked fine despite the less than stellar recording and "Presence" still ripped with Clapton's stinging wah-wah lead.
I bought the old Mo-Fi remaster on vinyl when it was released in 1984- I guess it was an improvement- the quality of the surfaces was better, but it had that characteristic sound of the "old MoFi's" – which I usually upgraded at some point by finding a better original pressing. And so too, here: the original UK Polydor is the best sounding copy I have; it doesn't transform the sonics, but it is clearer, and a bit more "open" sounding.
This is not an "Island" record[4]– Blackwell is credited, along with Robert Stigwood, as having made special arrangements, e.g. "executive producers" for the release (Jimmy Miller, another notable producer who worked with Traffic and the Stones during their "peak," is credited as the actual producer). But, the album probably belongs here, due to the influence on Winwood's career- the hits, "Had to Cry," "Can't Find My Way…" and "Presence of the Lord" helped bring Winwood to the attention of a much larger audience.
This album is a marred work of genius, but its imperfections are largely due to its rawness. The Winwood track, "Can't Find My Way Back Home" will be with me- hauntingly- for the rest of my days.[5]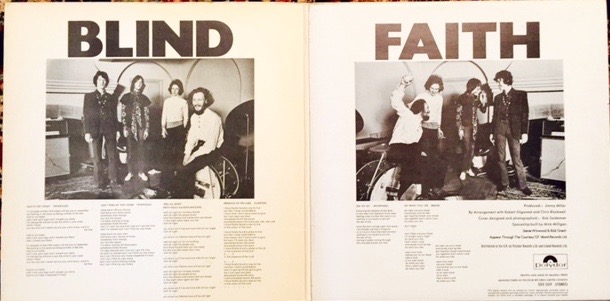 [1] I'm not so sure about that characterization, but we'll save the question for another time.
[2] Rick Grech is another forgotten talent whose story should probably be told in more depth: he appeared on many albums with a mix of different players, from Ginger Baker's Air Force, and a couple later Traffic albums, to the strange Graham Bond "Holy Magick." Like many of his contemporaries, he died far too young. He wrote some great songs, and had a honeyed voice.
[3] See, http://www.angelfire.com/wi/blindfaith/bfrehearsals.html
[4] It was released on Polydor in the UK as part of the combined workings of Blackwell (who had Winwood on his roster) and Robert Stigwood (who had signed Clapton and Baker); the original release in the U.S. was on ATCO. The album has been reissued many times over the years, with added tracks (at least in digital formats).
[5] There is a great cover version of "Can't Find My Way…" by a young, sweet-voiced Bonnie Raitt, playing with Lowell George, which was recorded at a Long Island studio for broadcast in the early 1970's. Due to legal complications over the release of such a recording, there have been questions over the legitimacy of some releases of that Raitt-Lowell George session.