Cecil McBee- Mutima (Strata-East)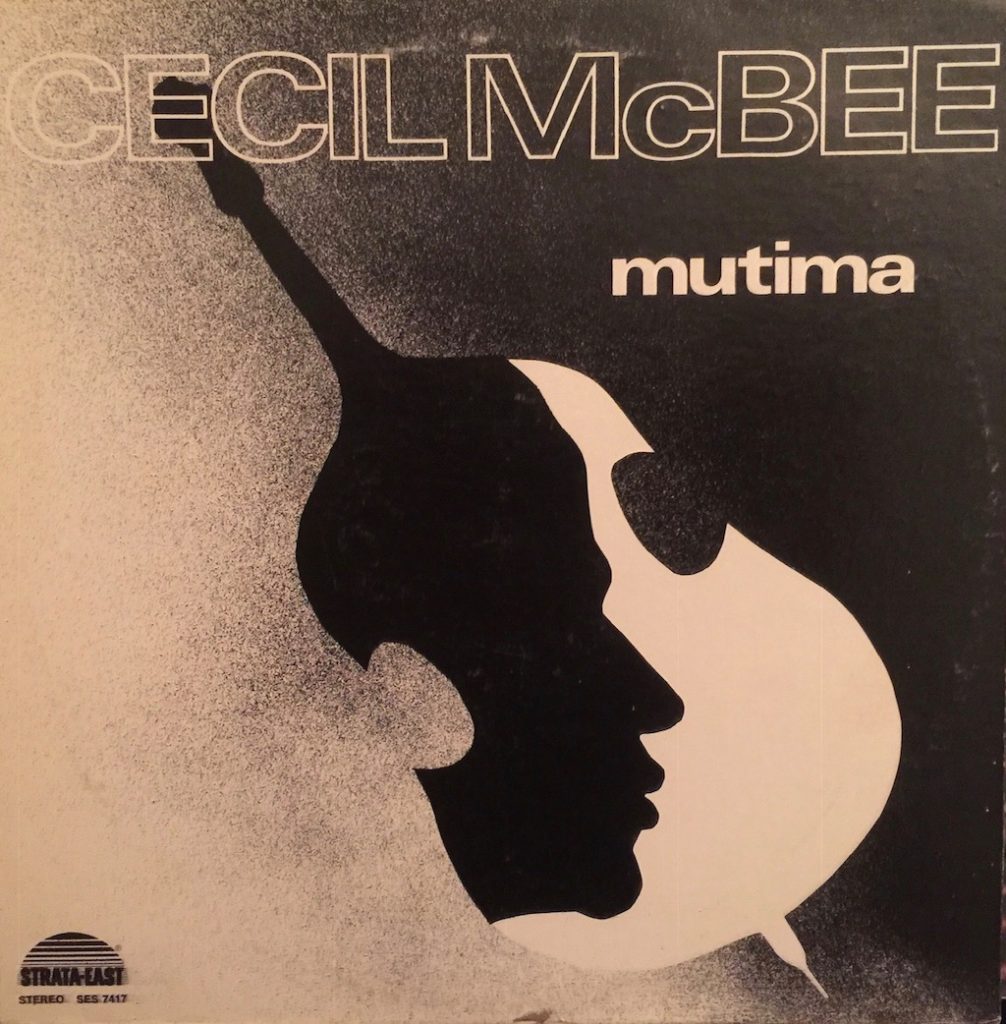 I didn't appreciate how much I enjoyed listening to Cecil McBee until I started to sift through some of the records I loved and found him credited as the bassist.[1] This album, Mutima, features McBee as bandleader and composer and it's a killer.
The first track, "From Within," begins with bowed bass- what sounded like double stops to me is apparently two basses. Some commentators on the web have talked about McBee playing two instruments simultaneously, which I find a little implausible; more likely overdubbing. (I did send a note to Mr. McBee to ask him).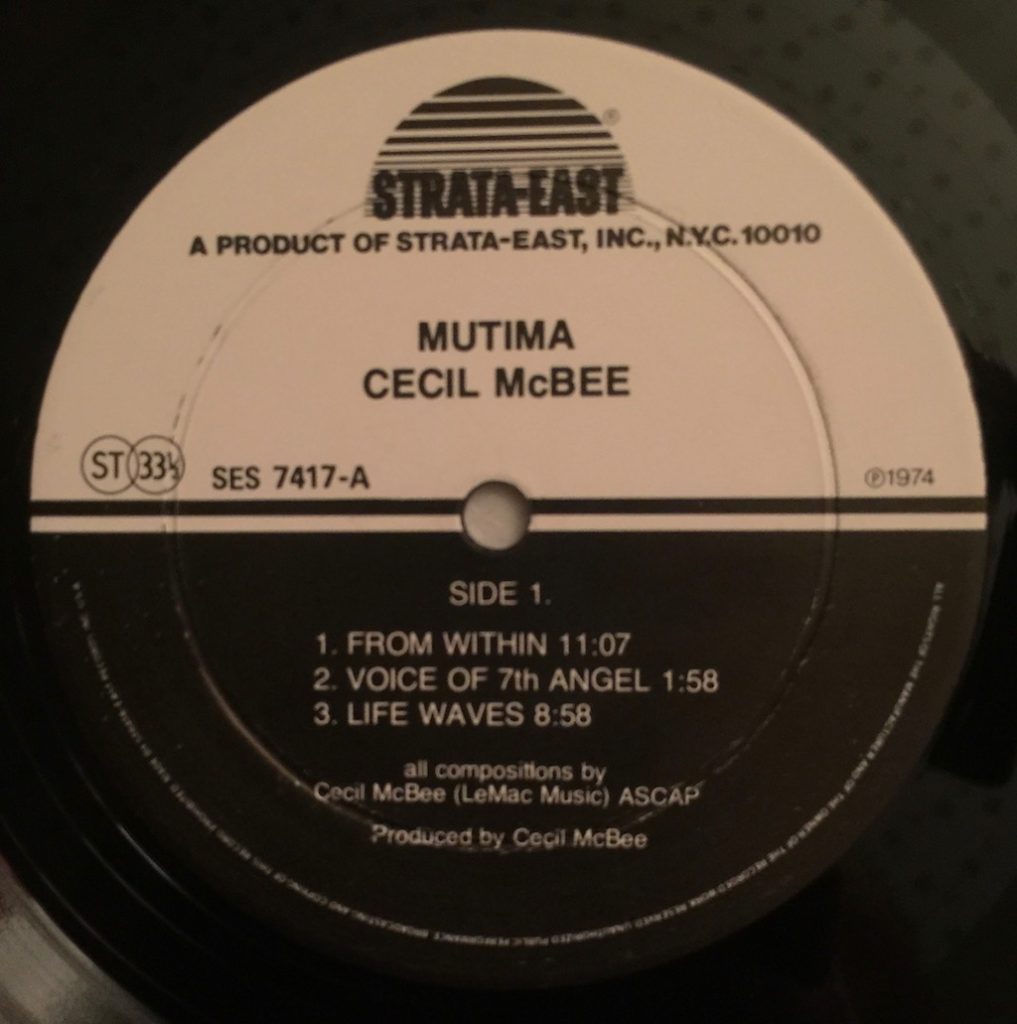 It sounds like Janos Starker—something that even a hardcore classical music aficionado would like—mournful, dark and full of resonances and rich tone. As the piece develops it gets more "out there"—almost as if we switched from Starker to Jimi Hendrix playing double bass. The theme returns, that dark undertone of bowed strings—only to revert to the spacey, extreme sounds again. There is a variation on the theme—again very much like classical compositions—the notes of the bass have a plaintive sound, like a cello. Departure from theme- exploration and return. For those unfamiliar with Cecil McBee's work, this is a pretty intense introduction—it's a virtuoso class in all the sounds that can be extracted from a bass (or pair of them).
"Voice of the 7th Angel" is an angular study in ethereal voices and what a killer band (look at the line up on this album) sounds like in top form. DeeDee Bridgewater contributes here.
"Life Waves" completes side one. This piece may be a little "out there" for the uninitiated but the more I've listened to what I'll label "offbeat jazz," the more this makes sense to me—McBee gives his bandmates room to do their thing and with a band like this, it's a treat. The horn parts are wild, but reined in by a masterful rhythm section- some gorgeous piano work by Onaje Allen Gumbs. McBee solos here, but it isn't a narcissistic indulgence- it is full of tone, rhythm, melody and soulful as hell. When the band rejoins, starting with some cymbal splashes, there's a flourish, and then a bent note on the bass that hangs as a question mark.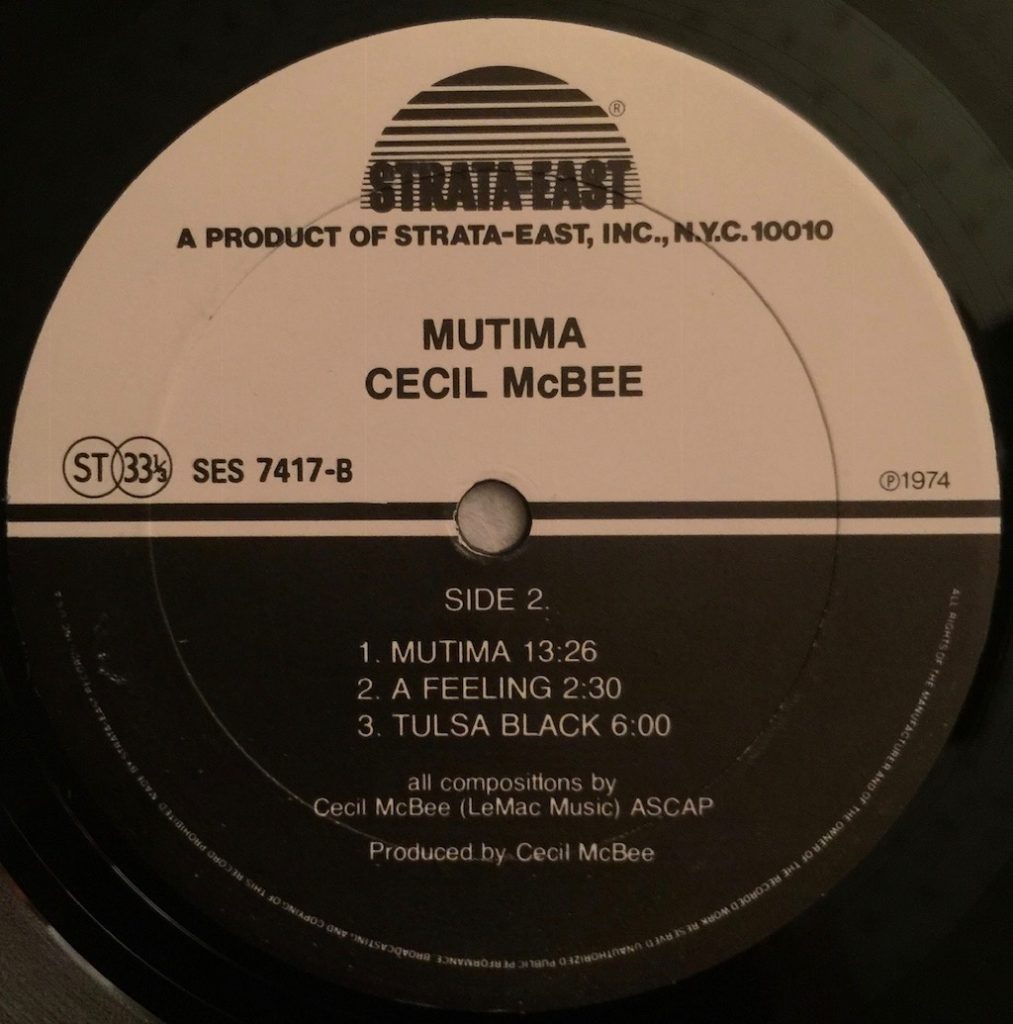 Side two starts with the title track, an unexpectedly beautiful intro that settles into nice up-tempo piece—we are hearing Art Webb on flute, Tex Allen on trumpet and flugelhorn, and great percussion work by a serious roster of talent.  This piece has great tranquility—the horns have an edge that lend that Eastern vibe to the proceedings, but there's very little dissonance on this track.
"A Feeling" is a short track- flute, piano and drums with a foundation from McBee and then the horns come in together, only to be pushed into the background by that lovely flute and piano, which completes the piece, after a short reprise by the horn section.
"Tulsa Black" is the third and last track on Side two—it's a funky thing which credits Cecil McBee, Jr. on electric bass. (Jr. has a pretty impressive track record in his own right).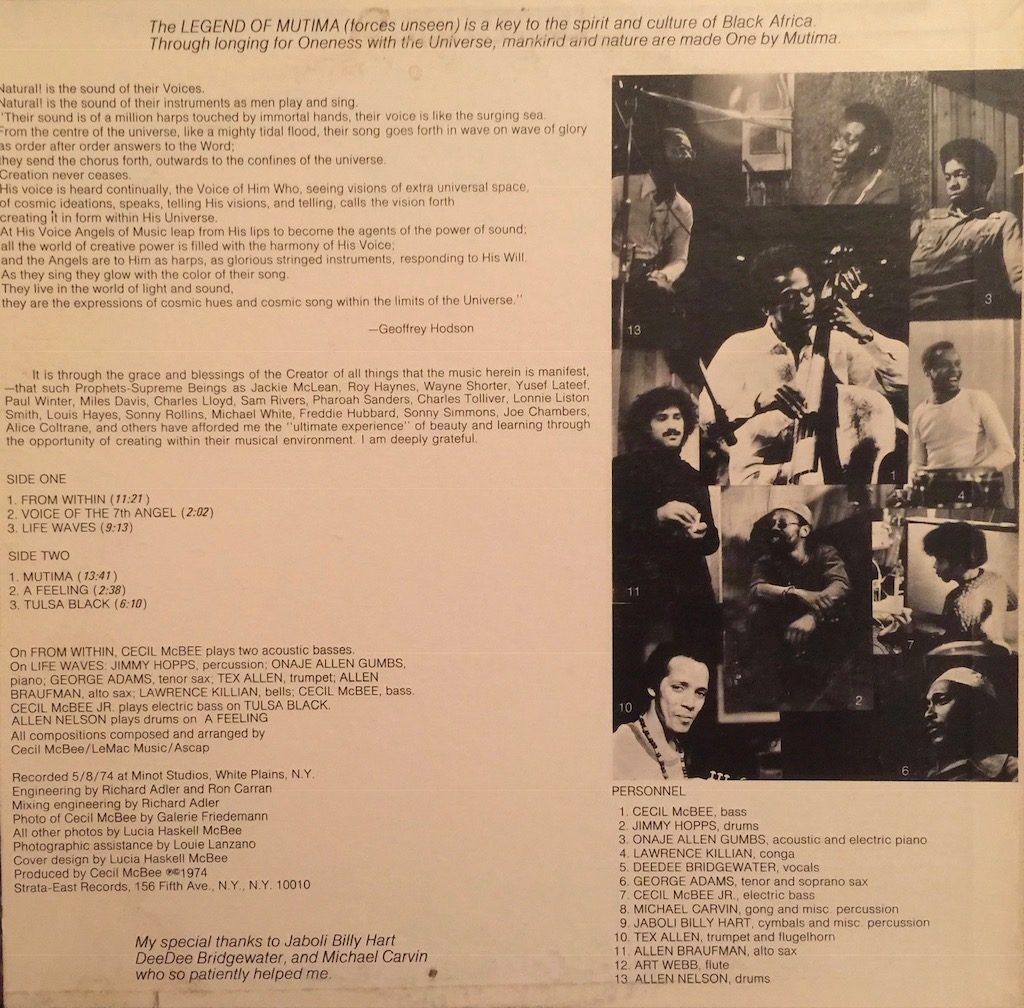 My copy is a US Strata-East pressing from 1974, with clean surfaces that sounds great. The album was also issued in Japan and reissued a few times. It's not one of the super expensive records from Strata-East (some of which have gotten quite pricey). You'll be listening to Mr. McBee on other Strata-East records. If you are ready to take a deep dive into his playing (and composing), this is the album.
Bill Hart
Austin, TX
September, 2019
___________________________________________________
[1] McBee has been associated with a long list of jazz greats, including Pharoah Sanders, Alice Coltrane, Chet Baker, Art Pepper, Roy Haynes and Yusef Lateef, among many, many others.  (Although crowd sourced and perhaps containing duplications as well as missing items, Discogs shows over 375 appearances for instruments and performances on recordings). He is also closely associated with recordings on the Strata-East label, of which is Mutima is one.