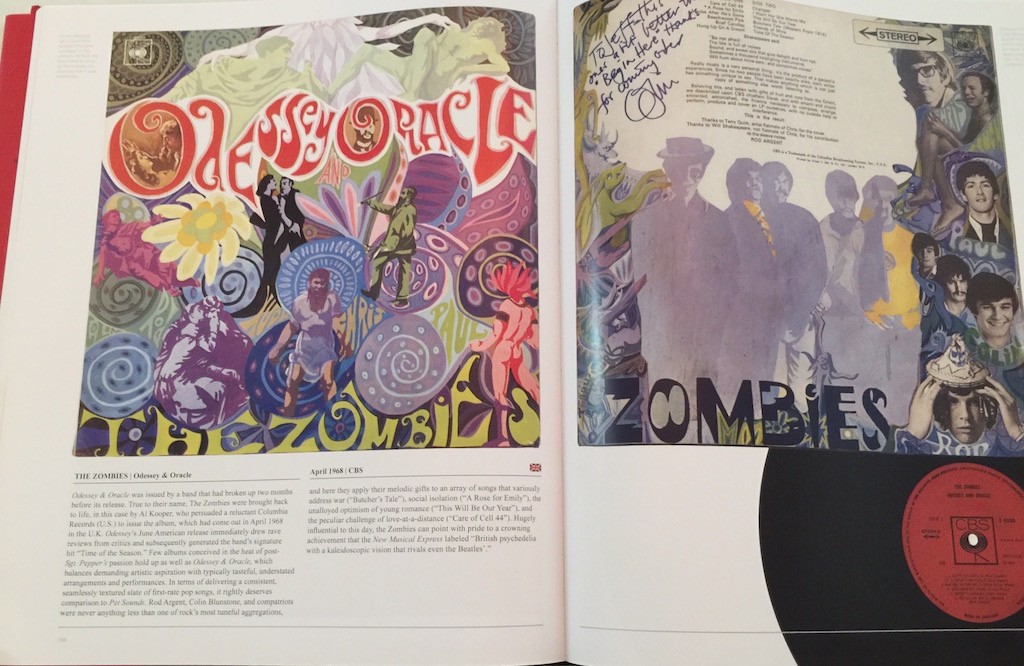 I originally reached out to Jeff Gold, the owner of Recordmecca, to talk about label histories; Jeff began his career as the first employee at the legendary Rhino Records store in Los Angeles, was at A&M from 1981 through 1990 and later, at Warner Brothers for nine years. He's also had more than a few moments of fame: he's the guy who found t­hose early Bob Dylan acetates from the late '60s- a discovery that not only proved to be of enormous value as artifacts, but provided an inside look at Dylan's creative process during one of the artist's many "transitional" periods- in this case, the era of Nashville Skyline, Self-Portrait and New Morning. That "find" generated significant mainstream press attention, in places like The NY Times, the Wall St. Journal and the LA Times.[1]
One of the things that originally drew Gold into the record business (he started as assistant to A&M president Gil Friesen and left the business as executive v.p./general manager of Warner Bros. Records) was his love of records, which is less common than you'd think in an industry devoted to selling…records. Gold said "It was hard work, but also a dream come true; I got to work with many of my heroes, was well paid and got tons of free records too!" 
Gold also likes rock music, something often given short shrift by "serious" music aficionados and audiophiles; it's not always pretentiousness at work here, but a belief that acoustic instruments, recorded with a minimum of studio gimmickry, are more lifelike representations of an actual performance. Some of us, who grew up in "audiophile" circles, wound up listening to records valued for their sonics, making the record fodder for the "system" rather than the other way around.[2] I eventually moved away from that, because there were a lot of popular (and not so popular) rock/psych and blues records that I enjoyed for the music. Finding good sounding pressings was another matter.
When I read Jeff Gold's list of "101 Essential Rock Records," culled from his book of the same title, I was curious whether Gold paid attention to the sonics of different pressings, was focused mainly on collectability or just identified records that shaped the course of popular music.
Jeff Gold:
Unlike audiophiles, I've always been more into the music than the recording and pressing technology. The first Stones album was recorded in a day in a basement studio; to me it sounds fantastic and captures a time and place like little else. Everybody has their favorites, but I'd much rather listen to that than a direct to disc Lincoln Mayorga album. Record collectors like me usually seek out first pressings from the artist's country of origin. UK Beatles albums, US Dylan albums. To me, these generally sound best—they're made from first generation master tapes—and for the most part the mixing, mastering, pressing and packaging reflects the artist's intentions.[3] As we saw with the Beatles, once Capitol got their hands on the master tapes, they re-EQ'd, resequenced, and in some cases repackaged the original albums. The US Beatles albums certainly weren't what the band envisioned.
I thought it might be interesting to compare notes with Gold on some of these records, and see where the "collector" and "audiophile" choices overlapped, recognizing that some of these albums were not sonic masterpieces, and never would be. I chose a handful of albums from Jeff's list:
The Beatles- Please, Please Me
Jeff Gold: For me this is a no-brainer. The black & gold label Parlophone UK issue is the one to own. The first Beatles album issued anywhere in the world, and if you've got one with a Gold label, you've got one that was pressed in the first couple of months it was on the market. Before Beatlemania. When they were just a band with a few singles, and one real hit. Pressed from the original master tapes, the mono sounds fantastic—a great pressing. And the stereo was a "special order" album—supposedly only 900 exist with gold labels. I love them both and own both. Rare, expensive, but worth it.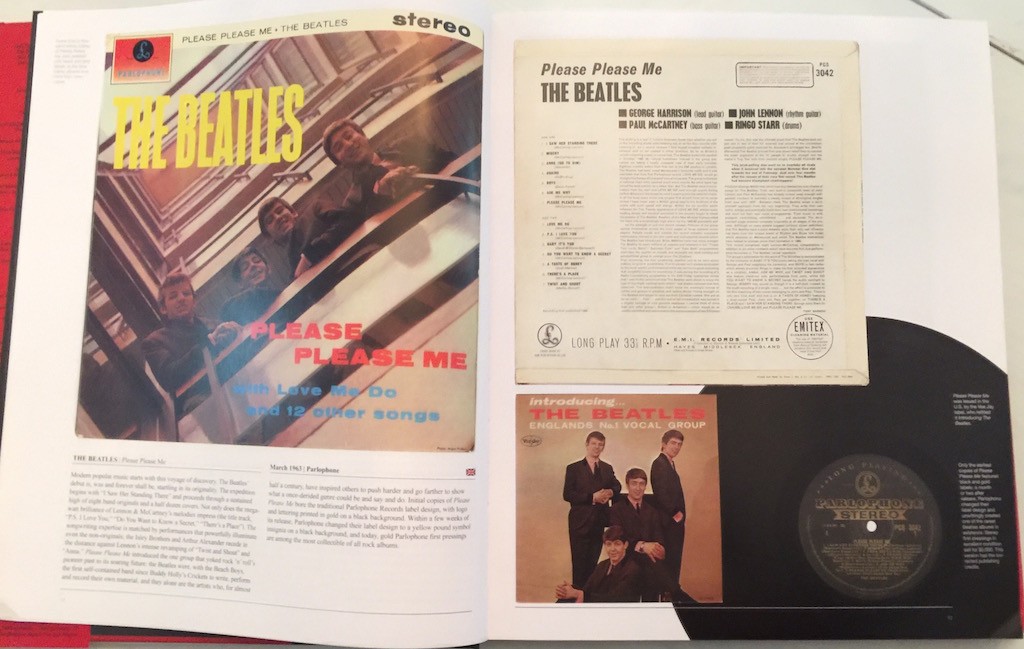 Bill Hart: Not even in the same ballpark of collectability as these early pressings, and not nearly as dear to buy, but a real kick to hear is the old German Horzü with the -2 laquer numbers. It's an unvarnished copy of the two-track master, no added EQ, reverb or compression; granted, everything is panned hard left or right and there's no real center image. But it is so straightforward in a way few recordings are, hearing the early Beatles in this fashion is pretty amazing.
The Jimi Hendrix Experience – Are You Experienced?
Bill Hart: This one is tough, because you really need a U.S. copy and a UK version, given the substantial difference in the track listings. (The U.S. has many of the "hits" but the UK has "Red House," one of the rare 12-bar blues recorded by Hendrix). There's also the mono vs. stereo mix issue. I have an old French Barclay set that includes a good mono copy of AYE. For the U.S. version of the album, I have an early tri-color Reprise stereo copy as well as the recent Legacy mono reissue pressed at QRP.
Jeff Gold:
I agree, for the different lineups, and the different covers, you need both the US and UK versions. The UK Track mono is a thing of beauty; different and in my opinion better album cover, laminated front, great Track pressing, in glorious mono. It hits hard. But the US stereo sounds great too and the lineup is also classic. Buy both.
Jeff Beck- Truth
Jeff Gold: I love the UK Columbia first pressing with that black & blue label, the laminated front cover and flipback sleeve. I have a mono of this, which many collectors prefer. It just sounds great—and is an amazing album. In my book everything pictured is the earliest pressing from the artist's country of origin, and for this, my copy is the one pictured.
Bill Hart: I just did a capsule review of Truth. The early UK Columbia-EMI with the blue lettering is a substantially better sounding record than any other copy I've heard.
Led Zeppelin-Led Zeppelin
Jeff Gold: Heresy time. I'm not a Led Zeppelin fan and don't really have an opinion. I know, people are recoiling. I'm more into the Beck group version of hard rock. But here, all the collectors want that version with the blue lettering. I am a fan of the cover and think aesthetically the blue type looks better. And if I had one it would be that one.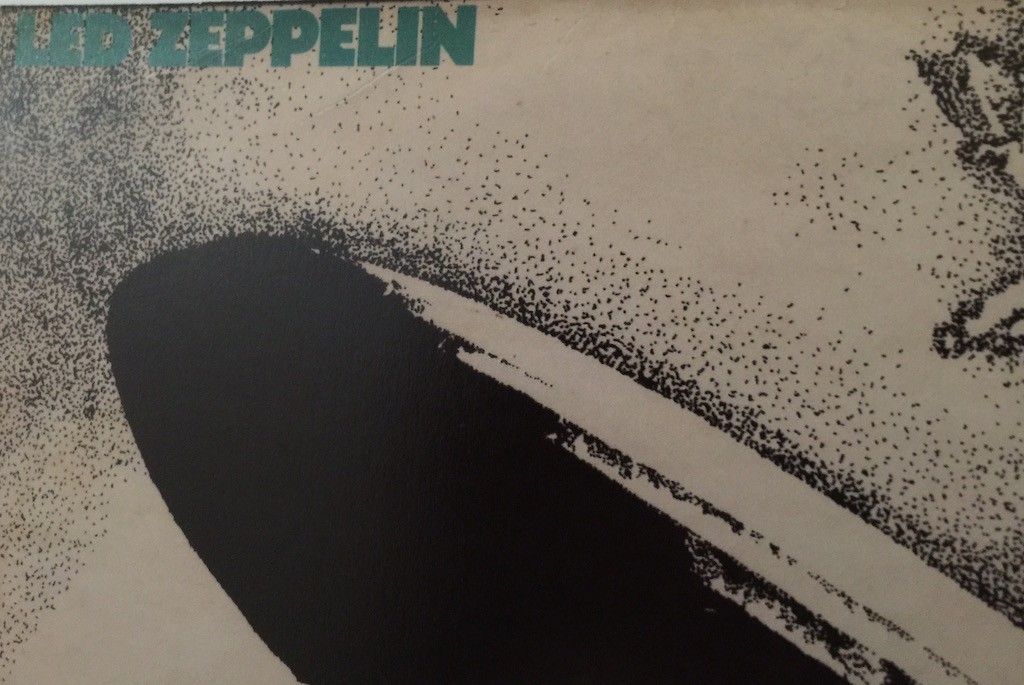 Bill Hart: I did quite a few comparisons, though admittedly, for the UK first, we did not have a copy with the turquoise-lettered cover, but a copy with the same matrices. Comparing that to a U.S. first press from an East Coast plant (Presswell, if memory serves) and West Coast plant (Monarch), the Monarch had the most drive and punch. The Classic Records 33 rpm reissue was ok; the Classic 45 rpm was better, lot's more mid-range detail. None of those sounded as good as a Piros re-master from the mid-70's pressed at Monarch, a version that has been touted on the Steve Hoffman forum, and rightly so.
Black Sabbath – Black Sabbath
Jeff Gold:
UK Vertigo swirl all the way. Great cover, beautiful pressings, aesthetically and sonically. Collectors go wild for UK Vertigo albums and it's obvious why. Note that the earliest copies with "A Philips Records Product" on the swirl label command a premium.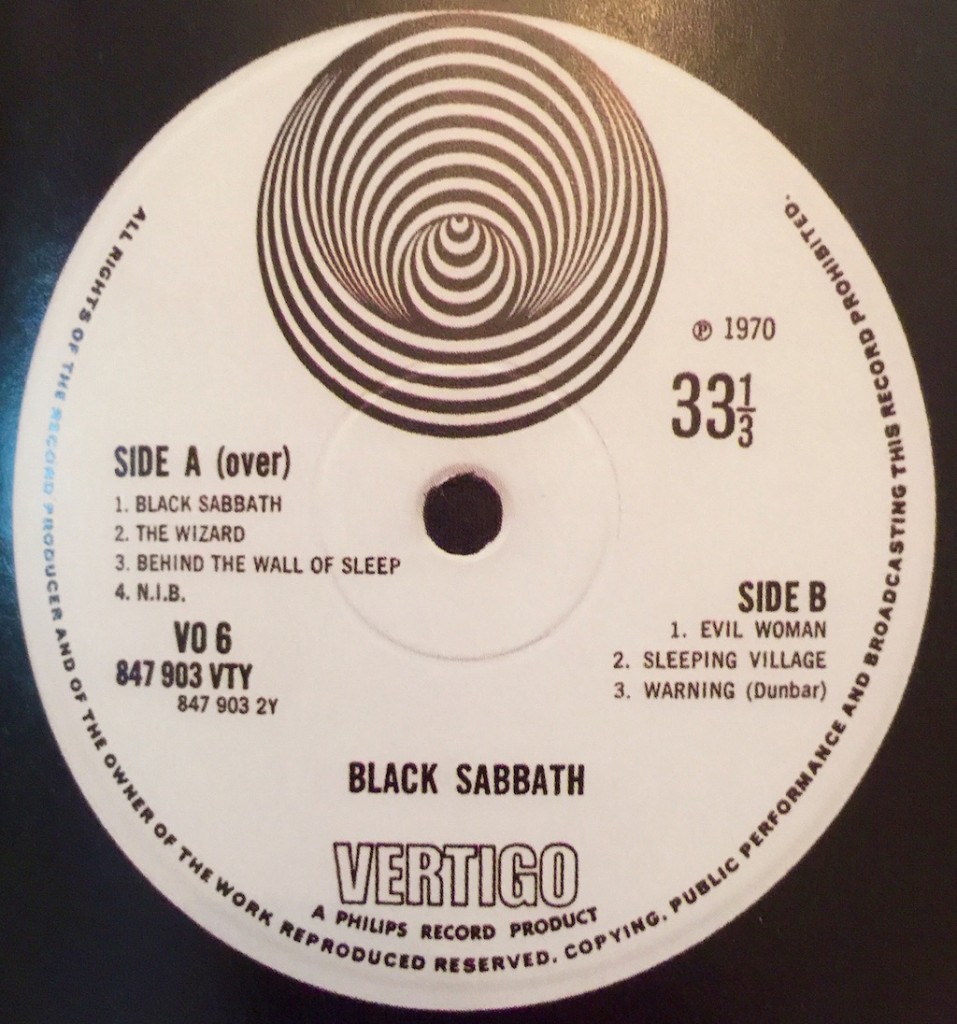 Bill Hart: We probably come out the same here; the first four Sabbath records sound best on the original UK Vertigo Swirls. Most people know of Vertigo because of the Sabbaths (which were probably the best selling records on the original "swirl" label). But, Vertigo had a lot of cool, obscure psych music that was well produced on records that were beautifully made. Few of them are on peoples' radar today, except for collectors or those who delved more deeply into the UK prog/psych material from the era.
Yes – The Yes Album
Jeff Gold: I love Yes and I love this album. I have a UK plum one and it sounds fantastic. I like the UK pressings of their albums—and the first two have different covers in the UK and US. Getting the idea covers are important to me? They are. Obviously pressings are primary, but I love the aesthetics of records—and a great record with a poor cover is a missed opportunity.
Bill Hart: I have a George Piros mastered copy (with the 1841 Broadway address) pressed at Monarch and a UK plum (A1/B1). Both sound great.
The Allman Brothers Band – At Fillmore East
Jeff Gold: I've had both US and UK first pressings and while the UK one is a beautiful pressing, I kept the US one. My obsession with first pressings is akin to first edition books. You wouldn't want a UK first edition of a Steinbeck novel.
Bill Hart: I have several pressings, among them a Pink Capricorn label with the 1841 Broadway address. Mastering varies; some of the discs were done by Dennis King and some by George Piros. One copy I pulled from my shelf has both DK and GP on the same two record set.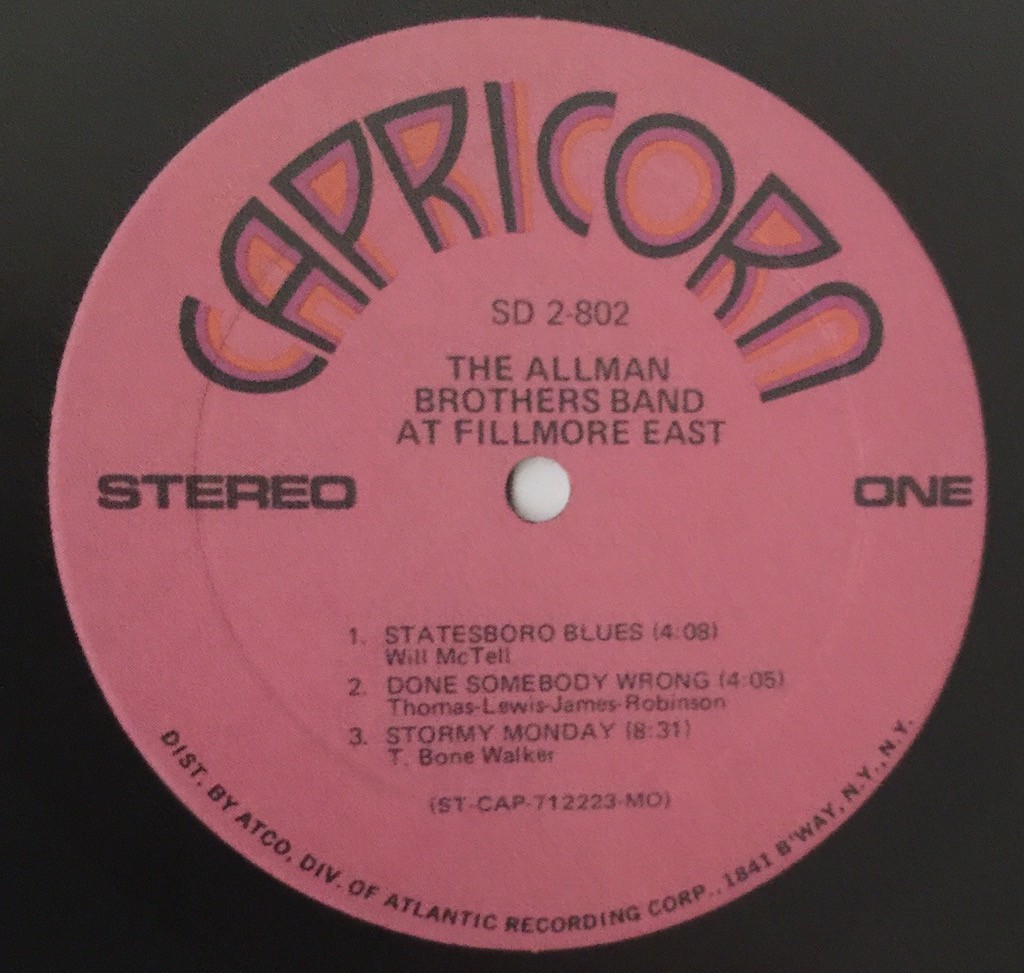 David Bowie – The Rise And Fall of Ziggy Stardust and the Spiders From Mars
Jeff Gold: One of my favorite albums. There is some confusion about the earliest UK pressings, but the true first copies have no mention of the Mainman production company on the labels or cover, with artwork derived from the US artwork. The UK first sounds great. Remember, on an album like this, Bowie and his co-producer Ken Scott would have approved the UK test pressings and final product. The rest of the world would have been approved by someone at the local record company. So when you're getting a UK first, you're getting what the artist and producer envisioned.
Bill Hart: I liked the 40th Anniversary LP reissue- the problem was, my first copy was defective- the track "Star" was unplayable gibberish, though the rest of the album was fine. I bought another copy, used (because the record was already out of print); same problem. I understand that the problem was corrected in later pressings of this reissue, which, because it is out of print, now fetches prices comparable to some of the early UK pressings.
My UK pressings are 6E/4E matrices. The UK is a little warmer sounding than the reissue but otherwise, very punchy, a great sounding record. There is a new Bowie set coming out soon on vinyl, but I don't know if the Ziggy will be sold separately or whether it will be comparable to the 40th Anniversary LP- if it is, it could be a winner.
Pink Floyd – The Dark Side of the Moon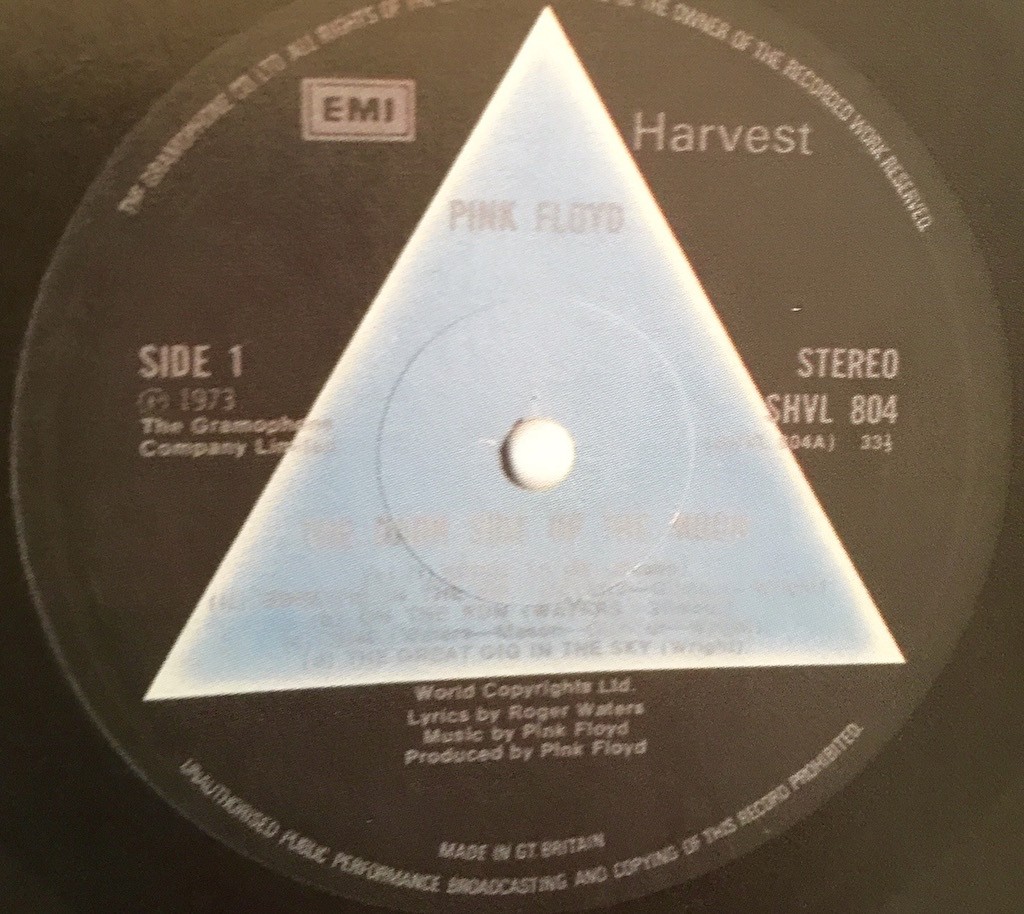 Jeff Gold: A fine album in a beautiful package. I haven't A-B'd the various UK pressings, but suspect they're all great. EMI knew how to press records, that's for sure. In the collector's world, everyone wants the blue triangle. But I've sold the copies I've had as they command big prices—and I'm more passionate about the Barrett era Pink Floyd albums.*
Bill Hart: I'm not sure what the lacquer numbers are on the solid UK blue triangle copies; references I've seen suggest A2/B2. I have several early UK copies (with the blue-edged triangle) that are A3/B2. On those copies, the B2 side sounds grainier than the A3 side. I've found the UK A3/B3 is great, and it isn't crazy money. My Japanese pressing (apart from the old Mo-Fi) is a second pressing, not the "Pro-Use" version, which is another "grail" version for audiophiles.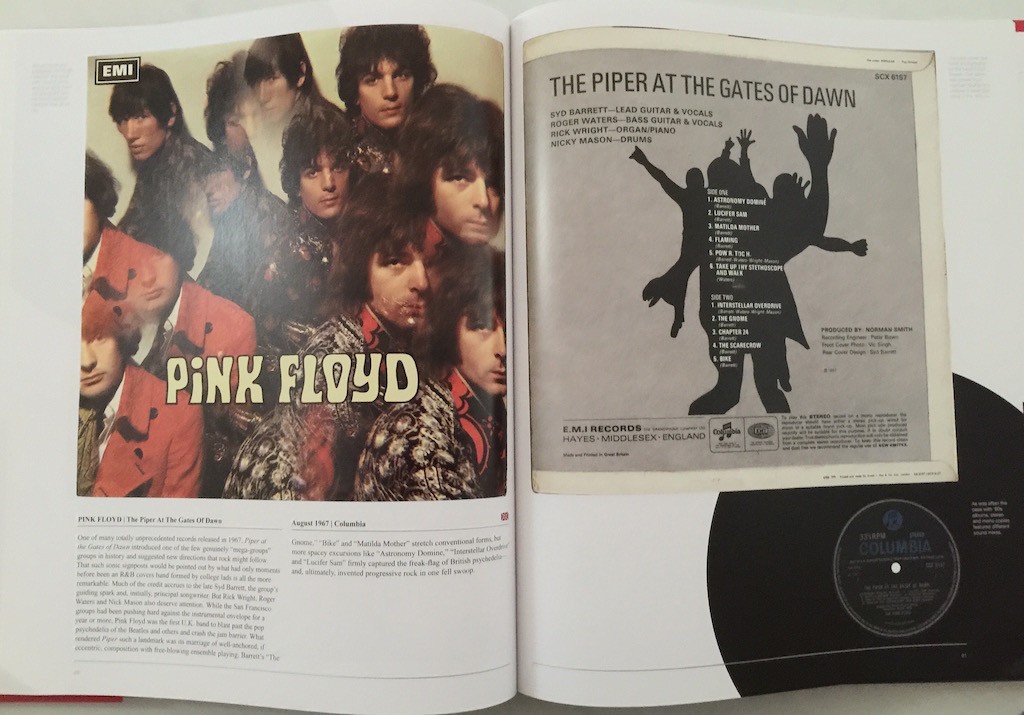 *The really early Floyd- this one is rare and not easy to find.
    ♦
Punchline? Sometimes the collector's copy is also the audiophile choice; sometimes, the audiophile choice becomes collectible because of the sonics. And, some records are, owing to their rarity, valuable regardless of whether they deliver the best sonic presentation. These waters can get deep fast. Research is key, as is condition of the record, jacket and completeness of associated materials, subjects that were addressed in Buying Used Records- A Primer.
Jeff's book is far more than just a list or a "coffee table" book of some famous albums. First of all, it's a substantial book, which isn't evident from the image of the outer jacket on Jeff's website and places like Amazon. The photography is not only first rate, but the page layout is set up to feature each album, with photos of the covers, front and back, as well as the label of each record. In essence, you are getting a reference to what the first pressings should look like, along with a short monograph about the significance of each album. In addition, the book includes a number of essays, written by notable figures about the musical importance and influence of certain albums, e.g. David Bowie writes on The Velvet Underground and Nico, Graham Nash writes about Please Please Me and Joni Mitchell's Blue. There's even a photo essay on Jimi Hendrix's personal record collection, which gives you a little insight into his influences. In short, this book is well worth the relatively reasonable $ 39. 95 retail price (for a hardback edition); it is the kind of book you will likely go back to, both for reference as well as for enjoyment.
While you're at it, take a look at the Recordmecca site. It's like an online "Rock Museum." Even if you aren't in the market for Jim Morrison's "Paris Journal" (written in the months before Morrison's death in an old-fashioned "composition" style book) or, the dress Grace Slick wore during the Airplane's appearance at the '67 Monterrey Pop festival, you may find a piece of memorabilia or an old pressing that speaks to you and isn't crazy money.
Many thanks to Jeff Gold for his time and willingness to trade views on some of these great records. As for the rest of Jeff's list, well, I'm working on it!
Bill Hart
July 22, 2015
All photos, courtesy of Jeff Gold, by permission
____________________________
[1] Gold tells the story here.
[2] In fairness, some of those "audiophile" records are of real interest musically, but many are tired warhorses or sonic spectaculars intended to show off the gear. I'll leave it to the reader to decide what music moves them, without imposing my own judgment.
[3] I don't disagree, but some are tougher calls. For example, Led Zep II was recorded in a variety of studios in the UK and the US. And the infamous "RL" mastering of that record –done at Sterling in New York—really is as good as all the hype. The UK plum rocks just as hard, sounds different than the "RL" mastered record but is equally great. I could live with either one. To avoid that difficult choice, I eventually wound up owning copies of both.