I will be devoting some attention to the records released on this label during its heyday- starting in late 1969 and ending in 1973. Some are extremely expensive now owing to their rarity, but others can be had for a reasonable price if you are willing to do a little digging. Rather than start in sequence, with the first release, or pick a well-known record, it makes sense to take  advantage of the Vertigo sampler that was released in 1970 as an introduction to the label. It contains a number of noteworthy tracks, including some that appear on the extremely collectible records; as this two record set was apparently intended to do when it was issued, it provides a great introduction to the breadth of the label and gives you a sampling of some great tracks at modest cost (at least compared to the full album releases from bands like Cressida, Affinity and May Blitz).
Sonically, I think it is at a remove from the first pressings- it is not quite a vibrant or as vivid sounding on some tracks. Nonetheless, it is a very good sounding record set, overall, gets you entre into the Swirls at a reasonable price and is particularly attractive because the set includes tracks from what I would consider to be some of the top Vertigo Swirls.
This sampler was released in the UK, and apparently in Germany as well as in Spain (in a less risqué cover). (Discogs also lists releases of this set in New Zealand and Greece, though I haven't seen those).  I don't know if these languished at the time, but the copy I found with a somewhat tatty cover contained records in extremely good condition- the sort of true top player that hadn't seen much use or abuse with the original swirl 'inners' in great condition. (Those inner sleeves are being counterfeited today, so don't judge these records by the condition of the inner sleeves- the old ones tend to yellow with age).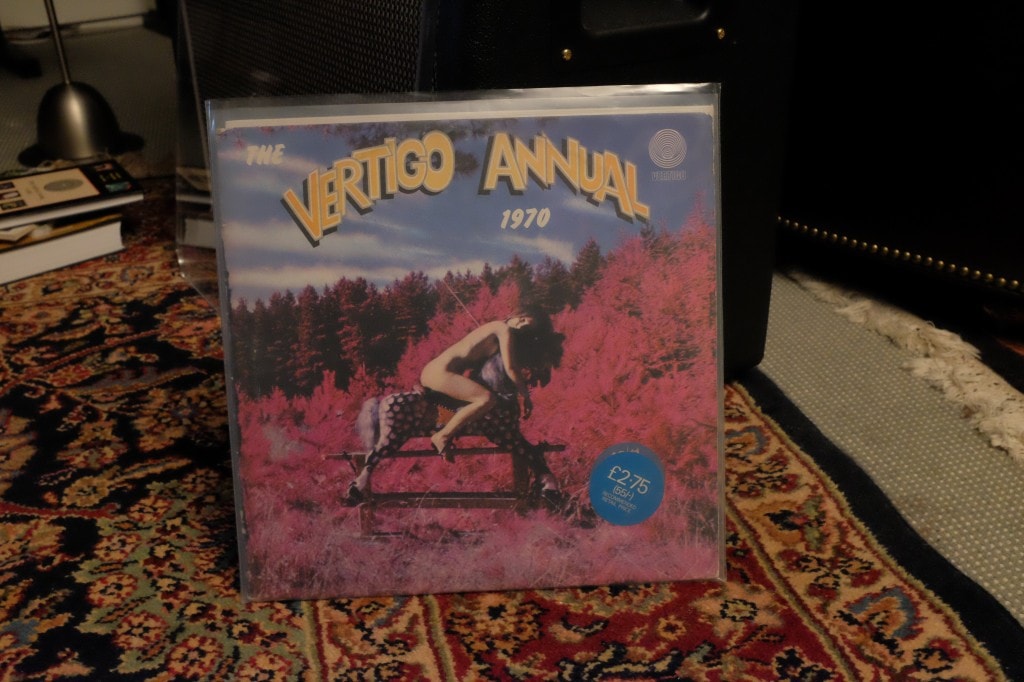 Some of the noteworthy tracks on this set include: all of side one, which starts with a track from Colosseum, the first Vertigo Swirl and is followed by a diverse selection of music, ranging from early Rod Stewart, to Jimmy Campbell to an outstanding cut from May Blitz (Tony Newman, the driving force behind this band, also drummed for Jeff Beck early on). Listen for Affinity ('Three Sisters"), Gracious and Cressida ("To Play Your Little Game"), bands whose Vertigo albums are now in hedge fund investment territory.
More about this label and individual album releases soon, along with an in-depth look at the label during its formative years.