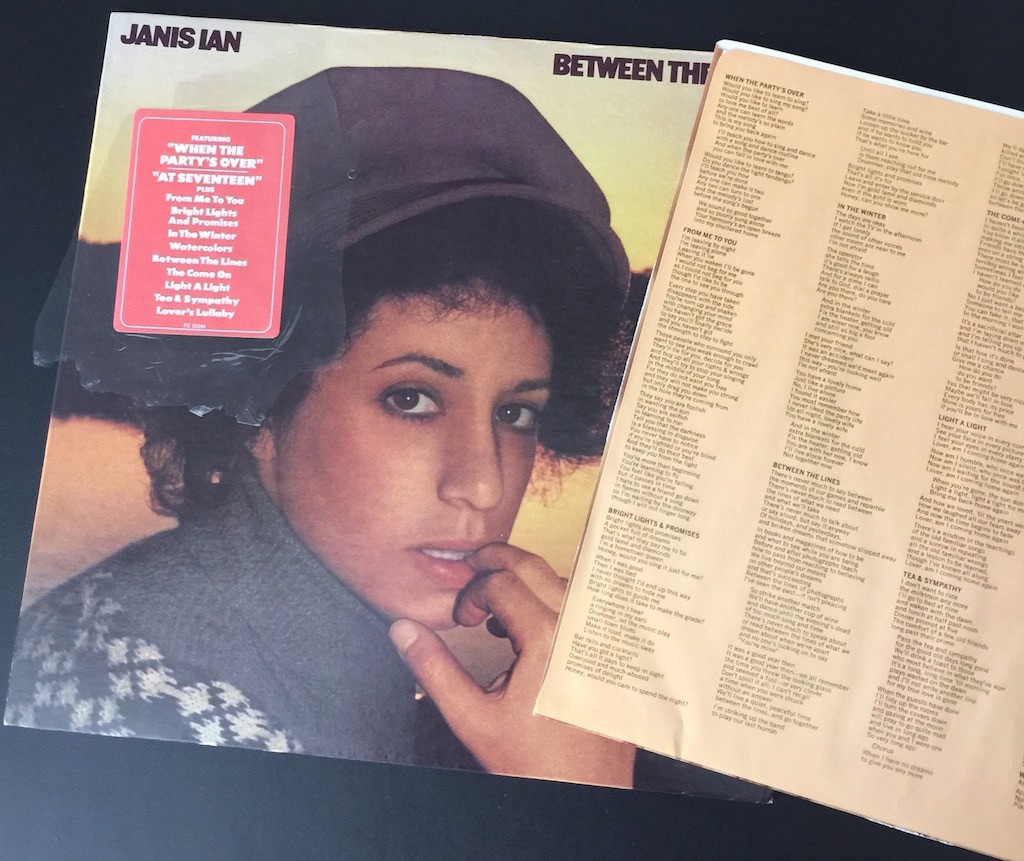 I love Janis Ian. She's a great songwriter, a terrific performer and this record, which contained the hit "At Seventeen" put her on the map. I had the opportunity to see her perform in 1975, the year the album Between the Lines was released. Though hard-pressed to remember what I did last week, let alone details of a concert that occurred 40 years ago, I recall being spellbound at the time.
This record brings that kind of magic to you via the medium of vinyl. For that reason, it also remains an "audiophile" demonstration disc that is still used as a reference by gear reviewers. Unlike some audiophile "demo" records, this one has it all- great songs, performances, arrangements and recording, which lend it a timeless quality.
Trying to dissect what contributes to that "magic" is almost pointless since the recordings that have "it" seem to enjoy a confluence of circumstance beyond any one person's control: great songwriting surely makes a huge difference, but the performance? It's artistry, and combining multiple artists, horn and string arrangements, getting it all to 'gel' and sound spontaneous means you've got to have some serious talent. I have no idea how long the assemblage rehearsed, or how many "takes" were recorded before they got this one right, but suspect that, like a lot of records I enjoy most, these artists, Ms. Ian included, were able to pull it off without overdoing it.
The tracks were recorded "out in the sticks" at a studio located in Rockland County, New York, not far from where I live. The studio was established by Brooks Arthur, a gifted engineer and producer who already had an impressive track record: he had recorded hits like "My Boyfriend's Back", and "Leader Of The Pack" and had engineered Van Morrison's Astral Weeks; he was spirited away by the legendary Phil Ramone to work at A&R Recording (where he later became a partner in that venture).
Arthur eventually set up shop in bucolic Blauvelt, New York, under the moniker "914 Studios" (the telephone area code at the time) to offer a range of high quality studio services in a countrified setting not far from Gotham. This offered the best of all worlds- easy access to top tier musicians from the city, and lower overhead, helmed by someone who was obviously a master at the craft. Some of the early Springsteen recordings were made at 914 Studios.[1]
The icing on the cake: the original release on Columbia was mastered by Bob Ludwig. The result is a sonic jewel.
You know the old trope "They don't make records like that any more." Well, they didn't make very many records like this then, either. This is a must-have record if you are unfamiliar with it, and if you haven't heard it in a while, dust off that old Columbia pressing and revel in the songs, the performance and the recording. It just doesn't get any better than this; when everything comes together, as it does on this album, it truly is a form of magic.
______________________________
[1] Arthur ultimately moved on, selling the studio and relocating to the West Coast to record Neil Diamond and Art Garfunkel (among many others) and to act as a music director for film.