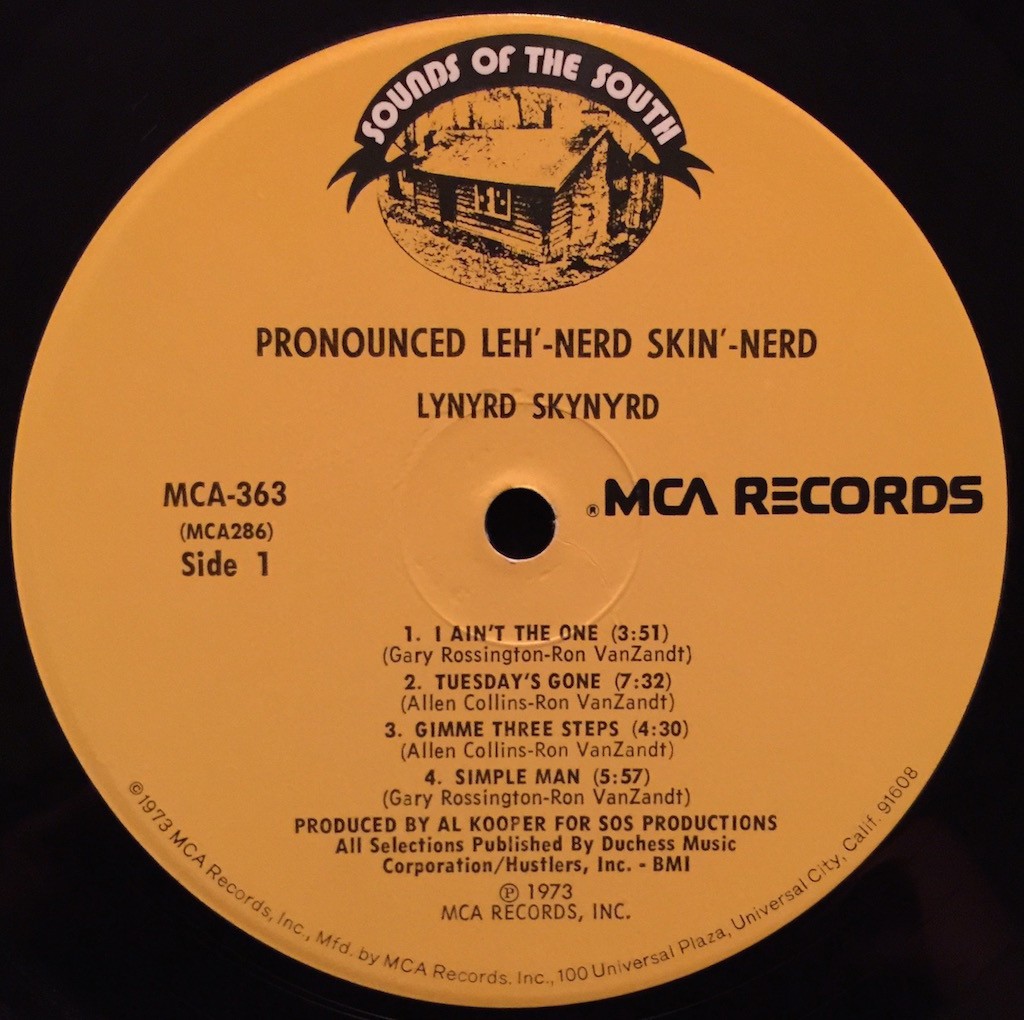 Given the current cultural antipathy toward symbols of the "old South," I admit to a moment's pause before diving into a piece about Lynyrd Skynyrd. In popular culture, the band is often associated with the glory of the South and, perhaps unfairly, some of the pejoratives. Is it possible to enjoy the band without endorsing any negative symbolism? I don't know about others, but I can. I'm not making any sort of cultural statement here. I just really dig their music– they were originals – superb players and well worth exploring beyond the stereotypes.[1]
Back in the day, I was smitten with the Allman Brothers, mainly the Fillmore East album and only turned to Skynyrd in the last few years (along with The Outlaws, The Marshall Tucker Band and a few others); I certainly heard my share of all of them on the radio in the mid-'70s. Although other bands and performers, like Canned Heat, ZZ Top and Stevie Ray Vaughan are often lumped into the "southern rock" category, I don't think of any of them as "southern" any more than I do The Band, or Neil Young, though all of them drew from country music in its various forms.
Back to Skynyrd. Al Kooper "discovered" them, which says something: Kooper is a foundational figure of modern popular music, having played, produced, founded or recorded with everybody: from Dylan to Hendrix, Mike Bloomfield, to Blood, Sweat and Tears, among countless other big name artists over the years. [2]
The first Skynyrd album, Prounounced Leh-nerd Skin-nerd, was released on the "Sounds of the South" label, an imprint of Kooper's distributed by MCA.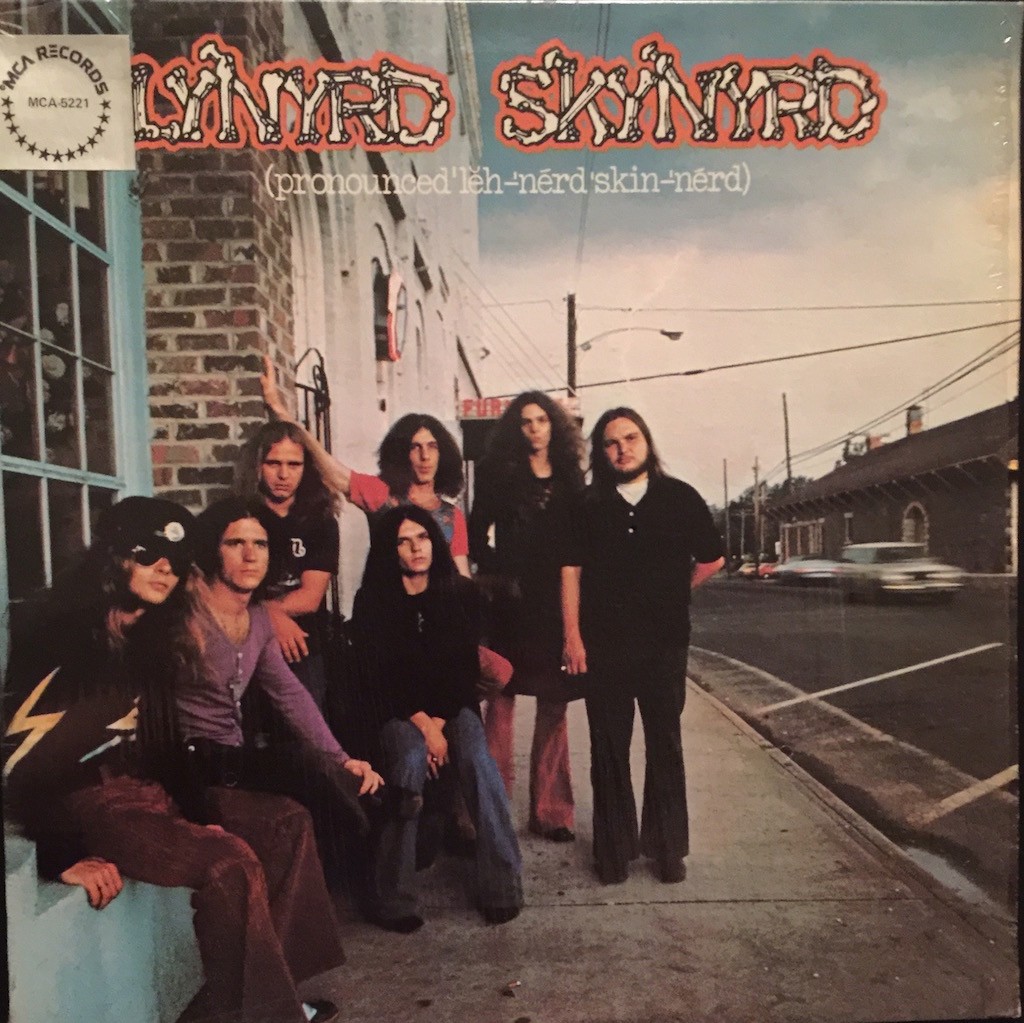 A later MCA reissue, discussed below. 
It is not so easy or cheap to find clean copies of the early pressings: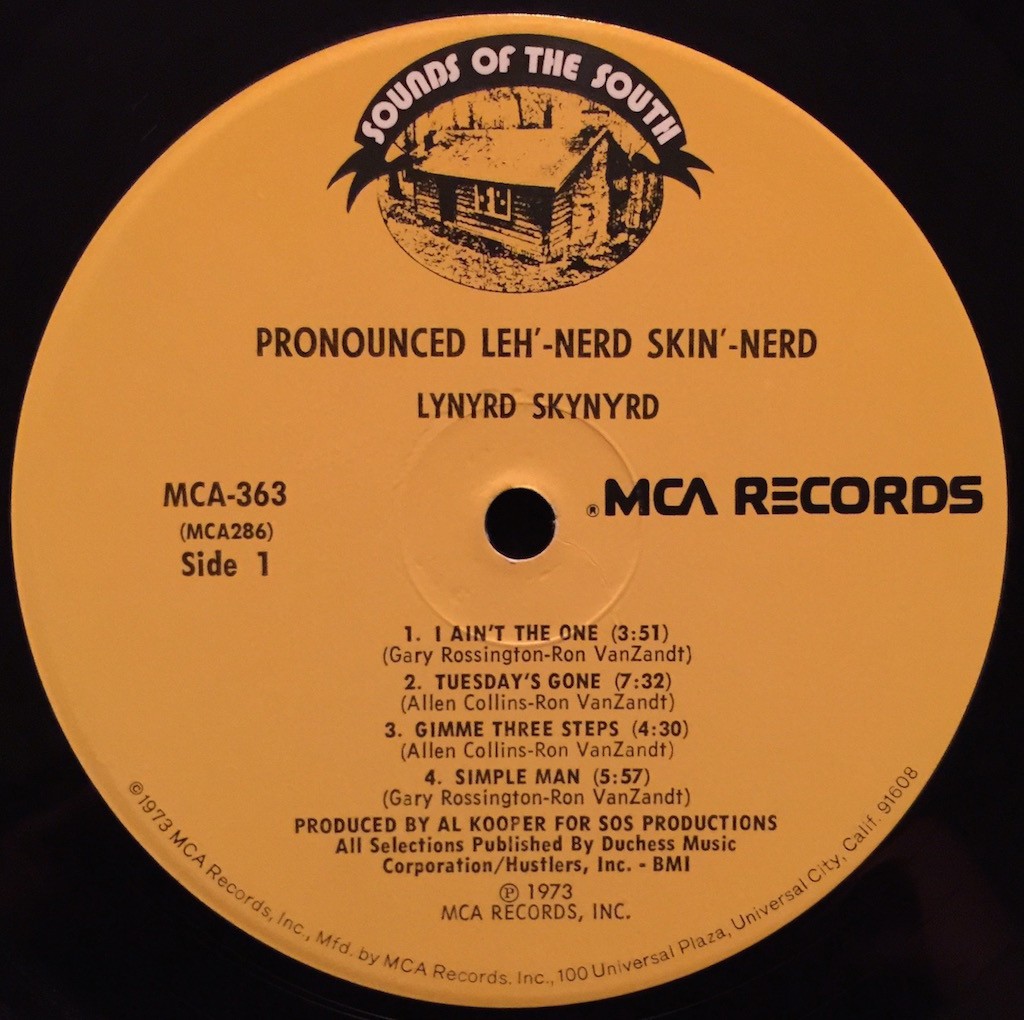 The album, produced and engineered by Kooper, contains not only the infamous "Free Bird", but "Tuesdays' Gone," a great tune that I consider one of the best done by this band. Guitarist Ed King, of Strawberry Alarm Clock (another cool early psych band that deserves renewed attention) filled in on bass, eventually becoming a member of the band as a guitarist, and as fate would have it, left the band before the tragic circumstances of 1977, only to return to the reformed Skynyrd in later years.
The Sounds of the South pressing is good sounding: it's fairly quiet, it punches and has nice clarity and tone. You can clearly hear the layered guitars and the drums are effectively staged; there is a good amount of "thwack" (dynamics, combined with some measure of compression, to deliver that punch). It is not a "deep bass" album, but it doesn't sound thin or one-dimensional either. Perhaps not "audiophile grade," but a very good listen.
This is straight-up southern rock; none of the Chicago blues or jazz influences that made the Allmans so great at their peak. But, these guys keep it interesting in other ways. See my comments below about dynamic shadings and contrast, which are elements often missing from a lot of hard rock as it evolved. (I'm not talking about "dynamic range" in an audiophile sense, but dynamics in a musical sense- the difference between loud and soft, style and rate of attack, the building of an eventual crescendo as well as the ability to change tempo). These guys were very accomplished in using all of these elements, and could also play together, in step, without going out of synch with each other or veering into extended, boring guitar solos. (The band was well practiced in a way that did not sound overly-rehearsed).
For comparison, I also listened to an MCA reissue and the more recent Mo-Fi re-do.
The MCA reissue is a bit of an oddball; it shows a tag on the shrink with the catalog number: MCA 5221, but the printed jacket shows catalog number: MCA 3019. This fits somewhere between the late '70s and roughly 1980, based on my cursory research, and bears lacquers W-12 on both sides. It's actually a very good sounding copy, has the "aliveness" of the early SoS copy and more bass. (See jacket image above)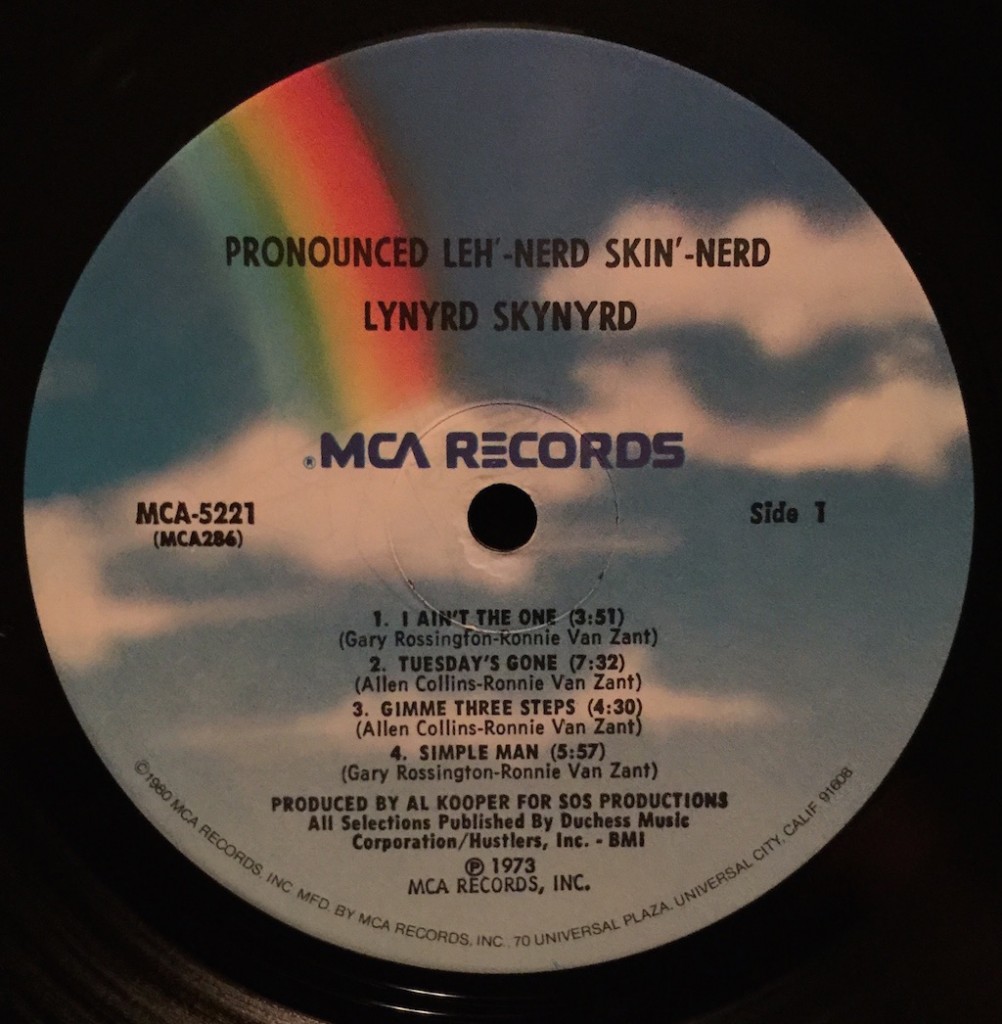 I can't tell you why I have this particular copy, or that it is some secret "hot" pressing that you should scoop up. What I can tell you is that it is a very good sounding record. (Surprising, since my experience with later reissues by the major labels is not always so positive and this era was not a high point for U.S. vinyl quality).[3]
The Mo-Fi is a slightly different critter, in the expected ways.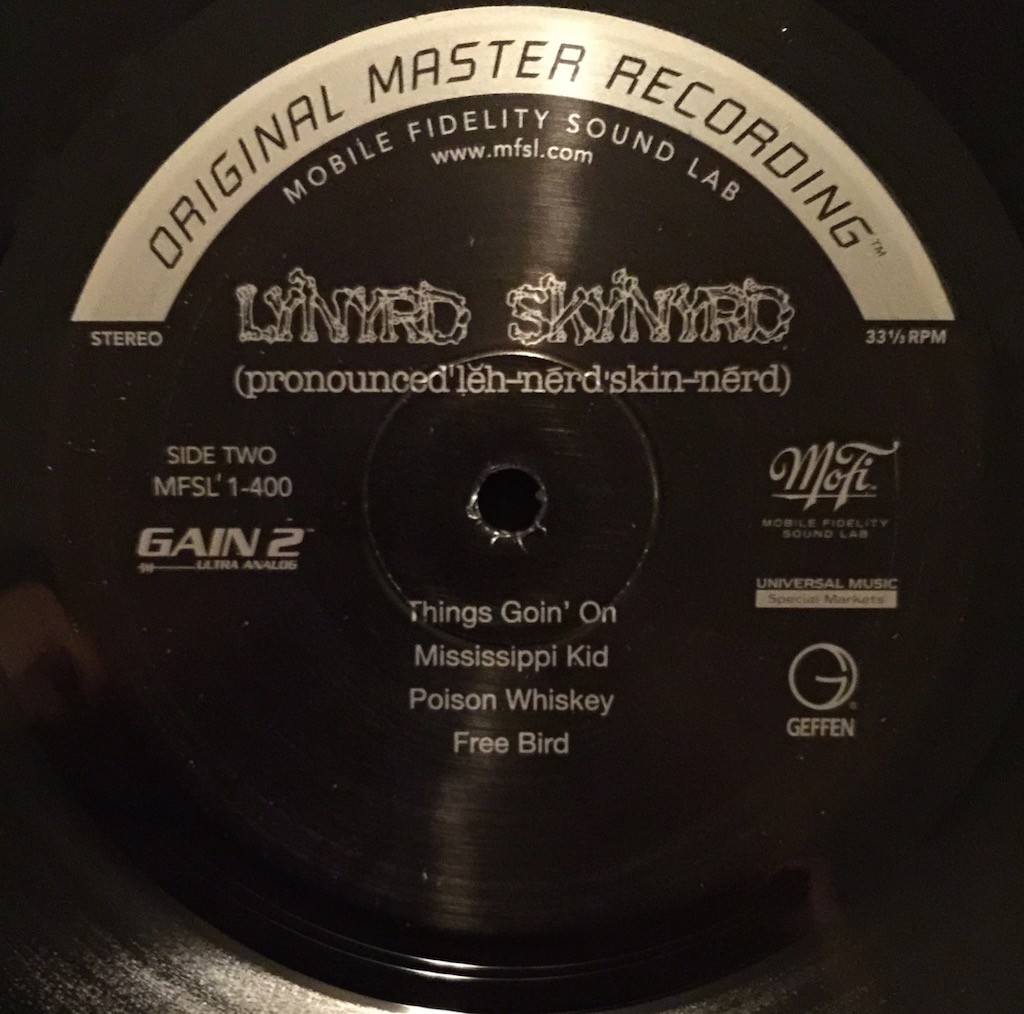 First, the quality of the vinyl is superb. (I gather than much of the "new" Mo-Fi is pressed at RTI). This record strikes a nice balance, not too bright or strident, and no overt EQ tricks that make it sound heavy or thick. It's just right, and a good copy to live with (though I like the "aliveness" of the old SoS). By comparison to the early Songs of the South pressing it doesn't seem to have as much presence, high frequency information or immediacy- the drums on "Tuesday's Gone" have more punch on the old pressing than on the Mo-Fi and the cymbals sound more like real cymbals. On "Free Bird" the old SoS pressing is just great; you can hear a beautiful balance of the rock elements,[4] the wailing guitars as the song builds; no matter how many times you've heard this song, you gotta crank it up. The SoS has the headroom to do so.
The Mo-Fi of the same track: the organ at the beginning doesn't sound as 'dirty'; the drums stage nicely, and the guitars come in slightly smoother than the early SoS. This track on the Mo-Fi seems to have more apparent bass—really an upper bass bump to these ears, not deep- but it doesn't sound sludgy. When the tempo changes and the band speeds up, then drops back to the steady opening tempo, it doesn't sound quite as dramatic on the Mo-Fi. If you switch between the two copies, the SoS sounds a little brighter, and has less apparent bass, but it sounds fresher and more alive to me. The Mo-Fi certainly holds it own and some may actually prefer it.
Just to throw a wrench into the works, I might actually prefer the oddball MCA reissue in some respects to both the SoS and the Mo-Fi- but I hate to send you on a treasure hunt for what may simply be an anomaly. (Keep in mind my SoS copy has seen some miles, probably way more than the later MCA reissue, which I apparently bought still in the shrink). Oh, the joys of record collecting and comparing pressings! You could probably go through a dozen copies that sound awful, too. The later label reissues from this era are cheap enough to explore a bunch of copies if you are so inclined.
Though "Tuesday's Gone, and the "Free Bird" are probably the best remembered songs from this debut, there are other goodies: the album opens with "I Ain't the One," one of the songs Kooper heard the band play in that dive bar where he first encountered them (in his book, see note 2, Kooper describes the band as looking like a bunch of "Cousin Itts,"[5] which had me laughing). "Simple Man" is what this band was all about- great layering of guitars, with bite, texture and grunt, over a driving bass and contrasts: in loudness, in the complexity of the instruments playing, and riding above it all, a wailing vocal line that draws you in; although this song doesn't have the dramatic tempo changes that the band used on occasion, it has something else: simplicity and rawness that convey what they must have sounded like in that bar in the early days. As I said, Al Kooper has impeccable taste.
The album did well, as did "Free Bird," which was not released as a single immediately and then, only in a truncated version. The band opened for The Who (Al Kooper knew everybody), which helped them gain fans, but it wasn't until the release of Second Helping, with "Sweet Home Alabama" (which shot to the top of the charts as a single in the U.S.) that the band's fame really skyrocketed. That album, over time, went multi-platinum, as did Pronounced.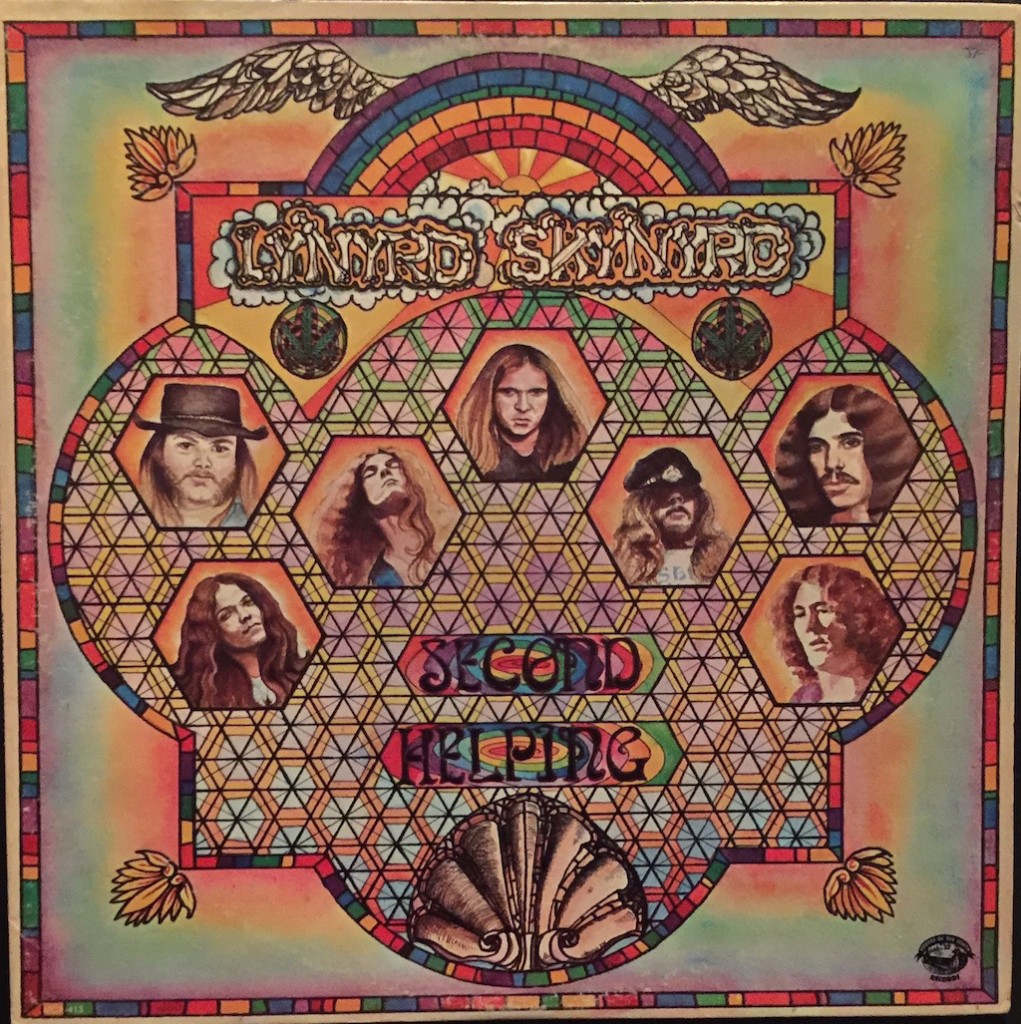 Second Helping was also released on the Sounds of the South label: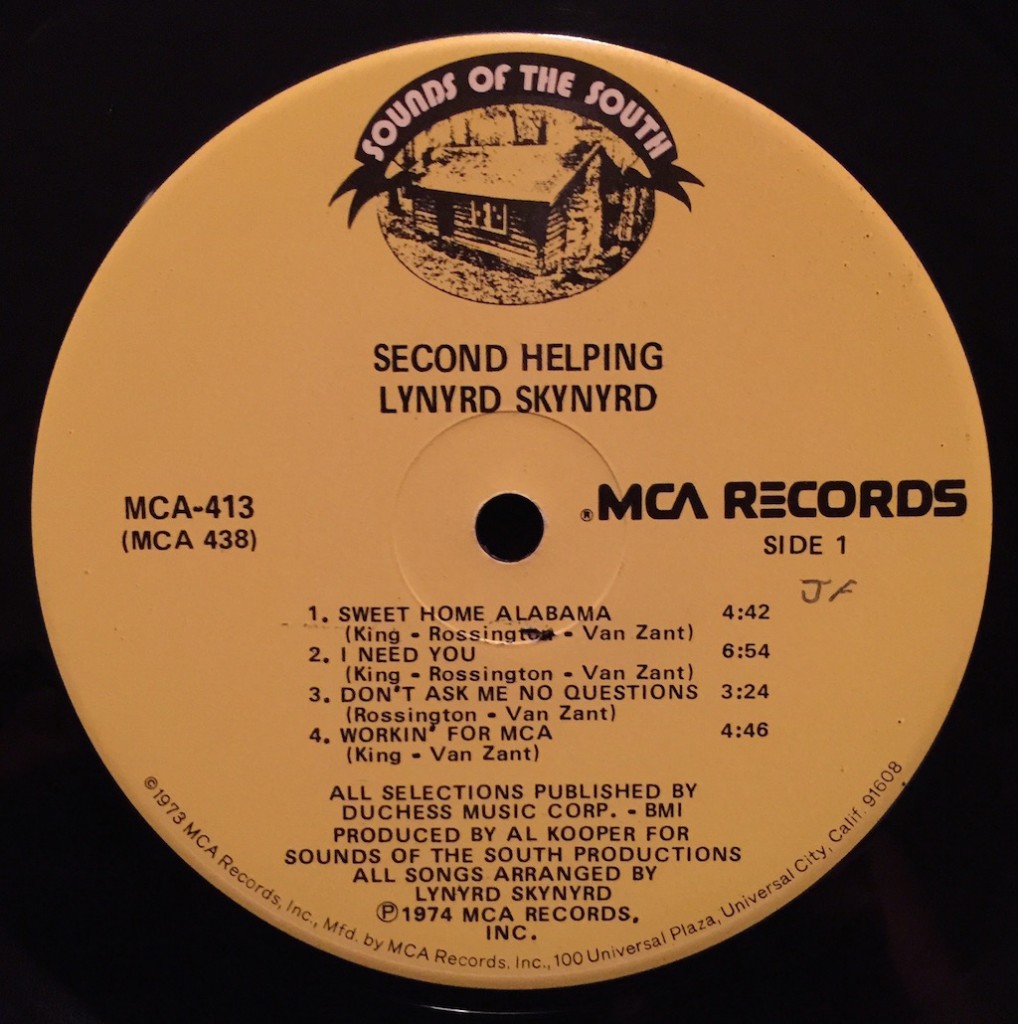 This record was mastered by Kendun. I have never heard a bad mastering from his shop; Kendun also rescued records that were otherwise a lost cause, sonically.[6]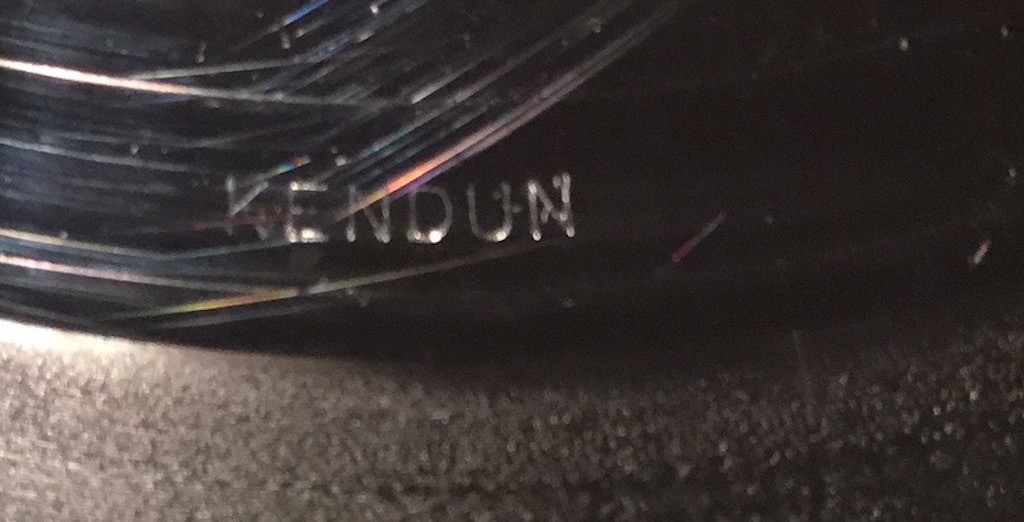 "Sweet Home Alabama" opens the album- it's sort of political, sort of a poke at Neil Young and has a melody line that gets imprinted in your brain. I can't count how many times I've heard this song over the years on the radio, at parties, whatever. I wasn't a Skynryd fan then, so hearing it on a good copy is a revelation; the guitar tone is so good, and they just bang through this song like it's easy; it's actually fairly complex, and has a lot going on, all of which shines through on this copy. You can hear Merry Clayton (of "Gimme Shelter" fame- her vocal part on that track always gives me goose bumps) in the background vocals.
"I Need You" is blues, southern rock style- a little like the moaning that Gregg Allman did, but this band pulls it off better. (Sacrilege, I know). They are more commercial in some ways- the chorus is radio ready, but the quality and intensity of the performance make that irrelevant. I didn't compare my Kendun to other copies, but this song captures that "southern" rock sound better than almost anything else I can think of (and it doesn't hurt that it is a blues, which is going to grab me if it is well played and heartfelt, which this is).
"Don't Ask Me No Questions" was another heavily played track back in the day. It sounds better on this record. I'll leave it at that.
I'm skipping "Workin' for MCA"- too self-indulgent. Rock stars bitching about their label gets tiresome. Sorry.
"The Ballad of Curtis Loew" is more engaging, and though it starts with a twang, it turns into a rocker- one of those old time country ballads that tells a story; guitars are on fire here once the song gets going. If there's a track that sounds like what the early Eagles promised, this might be it. (And I mean no disrespect to either band).
"Swamp Music" reminds me of Creedence meets Canned Heat – it's got the band's trademark guitar work but it just doesn't sound like something unique to this band. Well played, but not memorable in my estimation.
"The Needle and the Spoon" is more in character for what I expect from these guys- great rocking riffs, good, dramatic, chunky changes, that southern wail, and switches in style- we jump to a wah-wah pysch lead, with the sting of the other guitar answering almost as a call and response; this isn't really the best song the band ever did, but their playing more than makes up for it.
The album ends with "Call Me The Breeze" – a boogie that just demands a big convertible, an open road and mischief with no destination in mind.
Second Helping may be easier to find than Pronounced on the Sounds of the South label. Perhaps Pronounced is just in greater demand in the used/vintage market. I also think Second Helping is the better sounding album, sonically, which may have to do with the mastering.
Nuthin' Fancy, their third album, was released on the MCA black label in the States: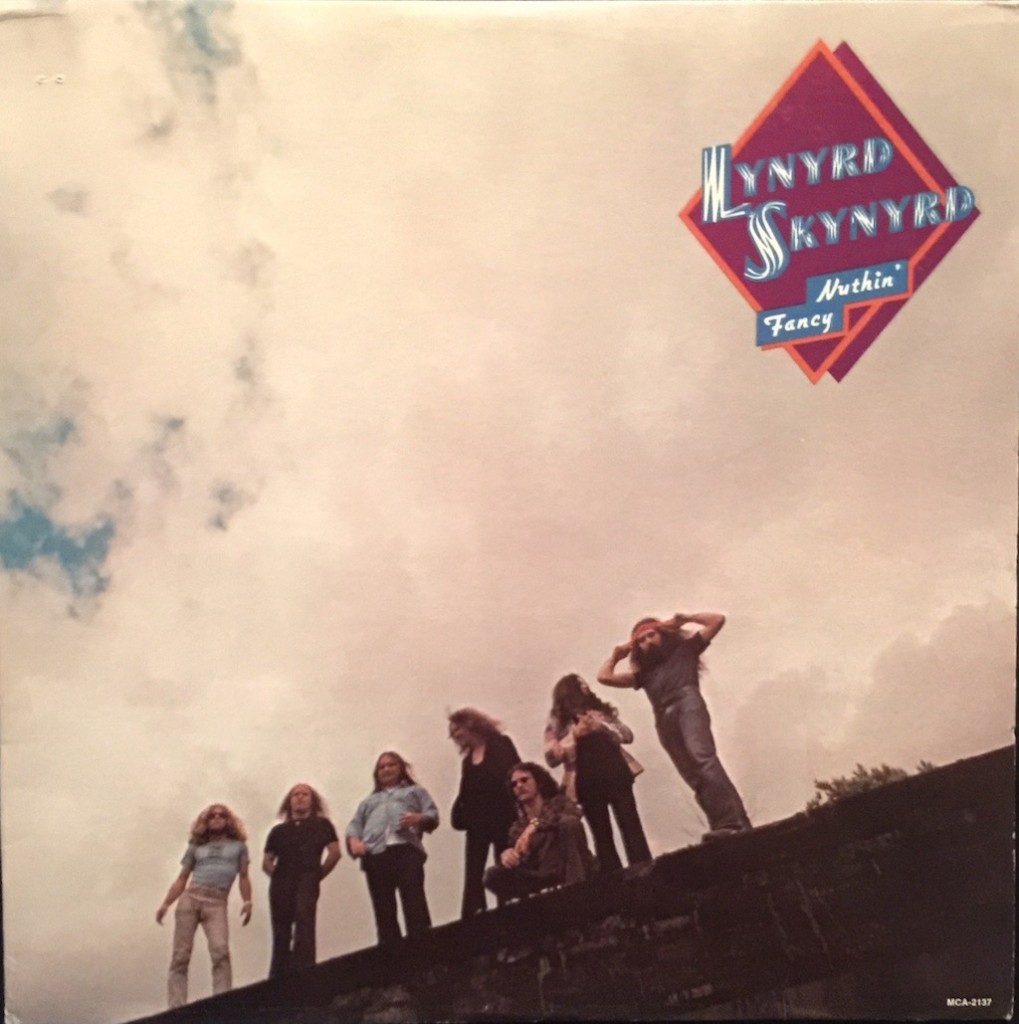 Apparently the Sounds of the South label was retired by this time.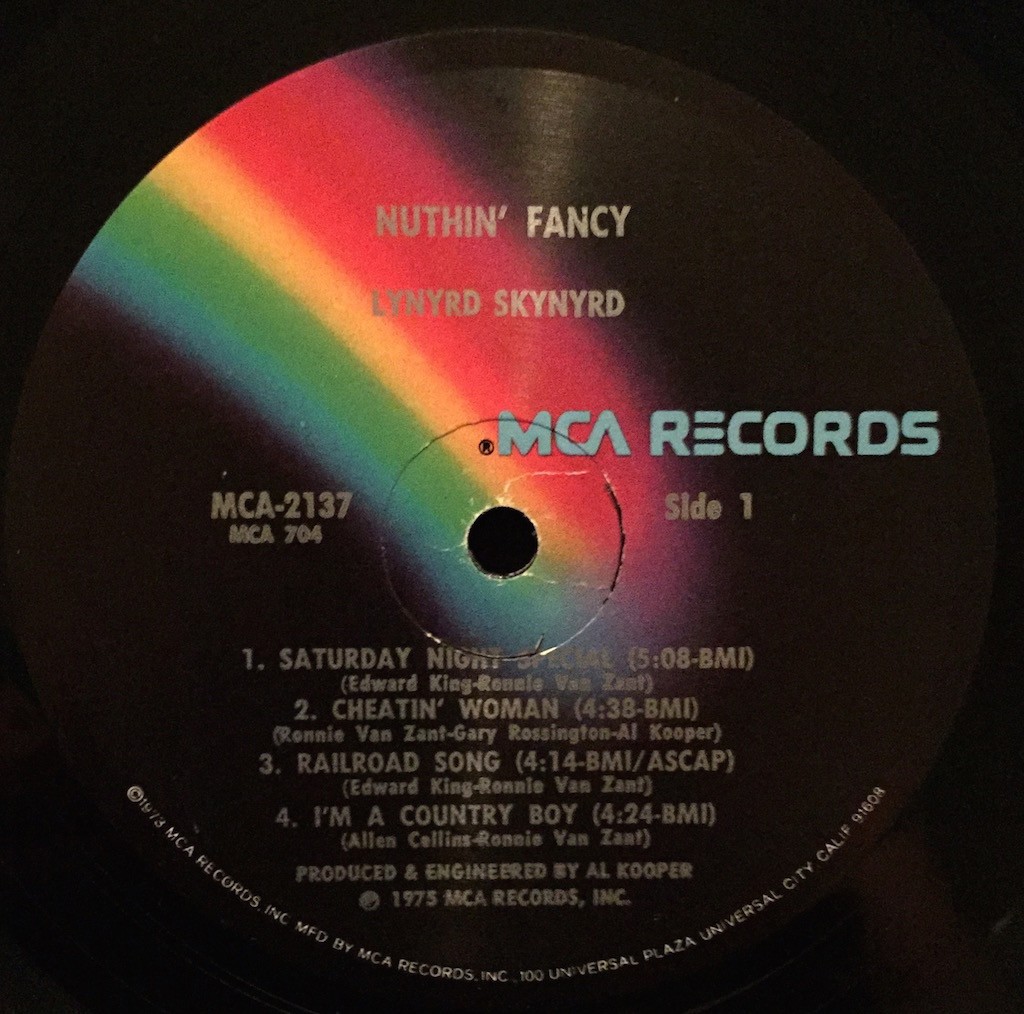 Mine is an early copy, as evidenced by the labels and the lacquer numbers (W3), but this album should not be difficult to find. Musically, the album is bluesier than the earlier records and is noteworthy for several tracks, none of which had been on my radar at the time of the album's release. "Saturday Night Special" was a single from the album that is not exactly a ringing endorsement of hand-guns; "Cheatin' Woman" is a slow bluesy boogie with that characteristic moaning vocal and some great slide work; "Railroad Song" huffs with a mouth harp and bass drum opening, chugging into a countrified rock song that breaks little new ground, but is played in top form. (I keep thinking that the drumming on this band's records is sorely underrated and this song is as good an example as any).[7]
"On the Hunt" reminds me a little of the early work of the great English rock/blues band, Free (not just "The Hunter" title, from Tons of Sobs, but grinding stride and brilliant hard blues rock guitar, and the vocal that sails above it all). It's one of the great tracks on this album. "Am I Losin'" brings us back into country mode and is a fine tune, not because it is so novel, but because it is so well played. "Made in the Shade" starts with a talking part- and a hillbilly sojourn but quickly turns into a blues; the bass (credited as a Moog bass) and kick drum provide a counterpoint to the mandolin and dobro and make for an entertaining listen. The album finishes with "Whiskey Rock-A-Roller," a jaunt that is unmistakably Skynyrd and deserves to be cranked up.
Ed King performs on this album, his last with the original band (he rejoined in the post -77 reboot of Skynyrd). Overall, the album is more restrained but is a great listen. Sonically, it is a pretty impressive piece of vinyl for a standard issue record from a major label. Note the deadwax inscription:[8]

I don't own a copy of their fourth album, Gimme Back My Bullets, so I'll take my shots from Skynyrd fans if necessary. Ed King had bailed by this point, Tom Dowd had taken over production duties and the band no longer had three guitars until Steve Gaines joined. Gaines appears on One More From For the Road, a live double record and Street Survivors, the last album by the original band.
One More From the Road was released in 1976. It's a double album, and this is not filler- in fact, some Skynyrd fans prefer these live performances over the studio versions. Gaines is playing on these recordings, which reflect the band at their peak. I've gone through a few copies: a good sounding copy that had come my way was a second issue, bearing a double catalog number, no booklet insert and lacquers W-3/7/7/7. Sadly, it suffered from break-up on demanding passages- whether it was poor manufacturing quality or damage from a previous record player, I don't know. Another copy, slightly later (with lacquers in the W-7-11 range) also had decent tone, but was trashed. I located yet another, earlier pressing (with earlier lacquer numbers than either of the above copies) which is en route to me now. I can update my remarks after I receive it.
For what it's worth, all of the MCA and Sounds of the South copies in my possession were pressed at one of the MCA-owned plants formerly established by Decca and located in Pinckneyville, Illinois or Gloversville, NY, bearing a symbol like this: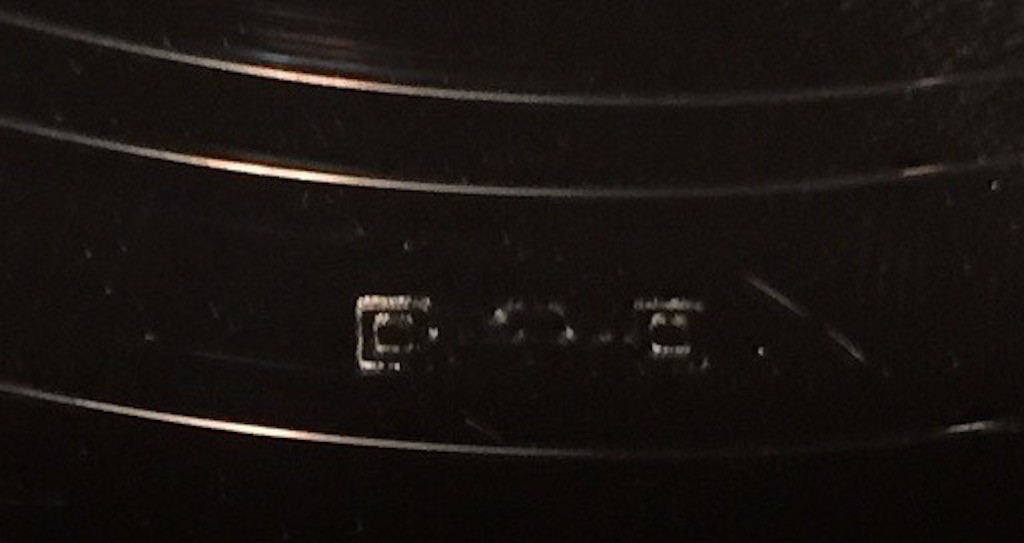 I own an early pressing of the fifth album, Street Survivors, which is infamous for its unfortunate juxtaposition of flames engulfing the band members on the front cover.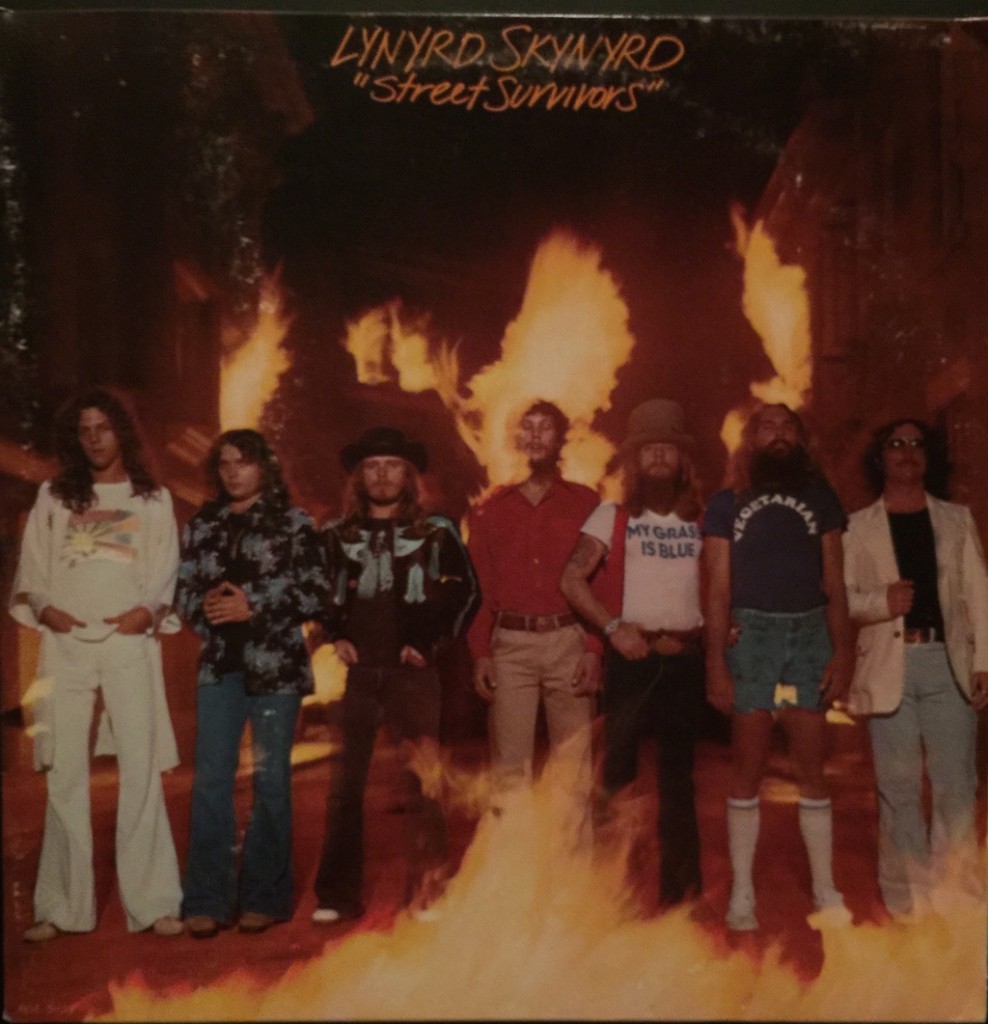 The album was released only days before many of them died or were horribly injured in a devastating plane crash that also killed the pilots and road manager, as well as Steve Gaines, who had stepped in to replace Ed King, and Cassie Gaines, his sister who was a back-up singer. (Steve Gaines added a vitally important dimension to the band's guitar work and his appearance on Street Survivor was his studio album debut with the band). The cover was quickly replaced by airbrushing out the "flames" and the album eventually went multi-platinum.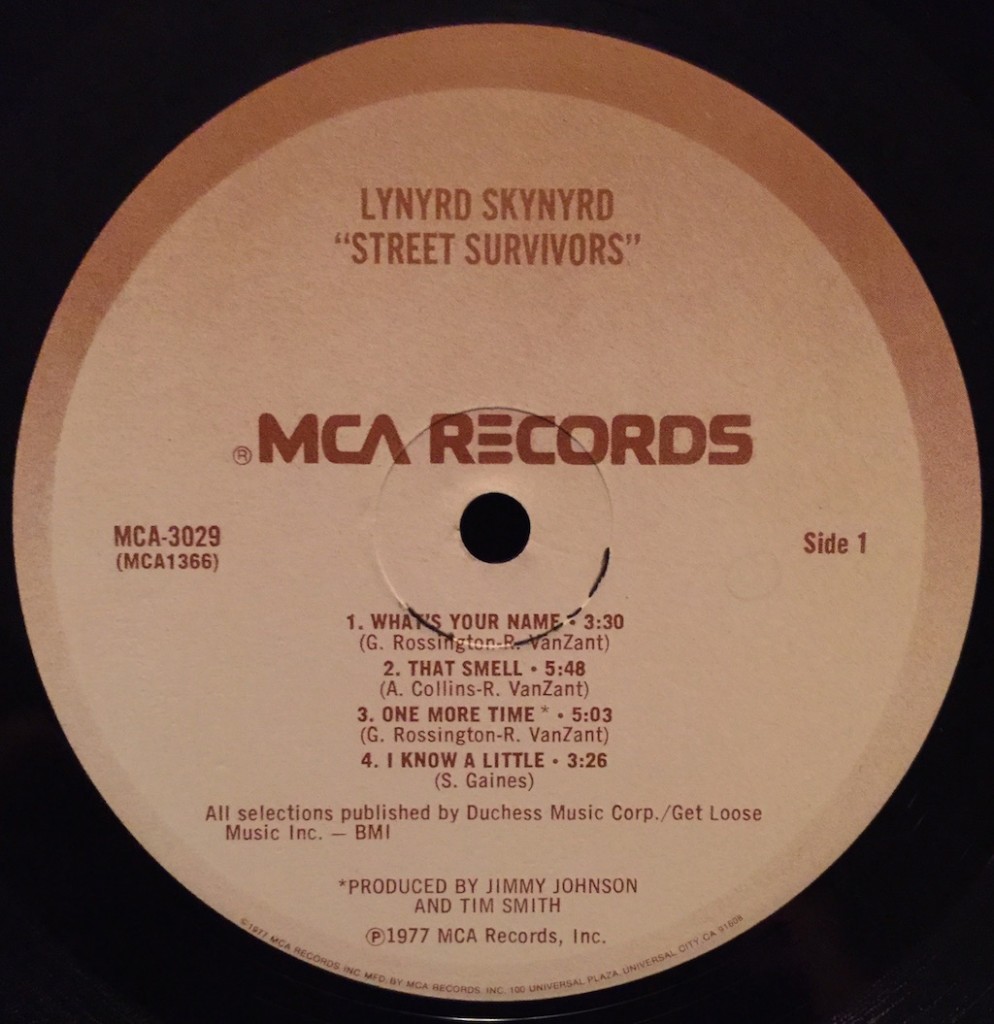 My copy has matrix information that includes CR 7 F7/ CR 6 F6 along with "Mastered by Capitol" in the deadwax, along with the initials "KP" (Ken Perry).

Street Survivors is worth getting for two reasons: it is the last of the "original" band (with the addition of Gaines), and contains some great tracks. Musically, this is probably the peak of the band's work (and sonically, probably the best of the albums covered here, though the Kendun mastered copy of Second Helping is also a joy to hear).
I had forgotten how good these guys were at taking bluesy stuff, shoving in tasty rock licks and then driving it home with stinging guitars, in perfect synch with each other, with a strong rhythm section. "That Smell" is far better than I remembered it, but listening to it on a hi-fi rig is way different than hearing it on the radio. "One More Time" is also a great country rock ballad, and shows the bands' ability to turn down the volume and play the minor keys with a good "hook" but without the predictability of most pop and hard rock. It's a beautiful song. The guitar solo comes in right on time, and hits all the buttons; the backing vocals shine too. "I Know a Little" is an impressive recycling of old time "rock and roll" from the days of malt shops and Happy Days, played magnificently with a jazzy attitude that slides into dueling guitars; you realize the Allmans weren't the only band with guitars weaving in and out of each others' lines and playing off of them.
Listen to how they break on "You Got that Right"- the guitar passages are just right, tight and crisp, and back to the verse without a wasted beat. And it doesn't have an over-produced quality either; just no unnecessary indulgences. "I Never Dreamed" could be an alternate take from the Layla album – great song, great playing, better recording and far tighter ensemble work by a band that had been working together for a long time. (The muted pick/pinch effect reminds me of Robbie Robertson's best work for The Band, but is just one delicious aspect of many on this track). Where is this song on people's radar today? It's a killer. Side two finishes with a rollicking R&B shouter, "Aint No Good Life," a gritty mix of urban blues, country twang and real soul. Another masterful track. And then it's over. Forever.[9]
♦
The Skynyrd catalog has remained enduring, as reflected by the variety of re-masters, deluxe packages, audiophile re-do's and reissues over the years. I have not sought out all the potentially good sounding copies of the albums discussed here, so I'm happy to hear from readers who have made comparisons of various pressings on vinyl, domestic or ex-U.S.
I grew to love Lynyrd Skynyrd's music over time; the multiple guitars, and the drive of the band put them right up there with other greats from the era: the Allmans[10]; the Lowell George era of Little Feat (which always had its Zappa-esque moments); and the other bands, like ZZ Top, The Band (whose influence on other artists remains considerable to this day) or Canned Heat which, as mentioned, I don't consider "southern" (though the Heat did more than any rock band to draw on the full range of blues motifs).
Although Skynyrd definitely tapped into something that was uniquely Southern, it also reached far broader audiences who could identify with the "let it rip" hard driving sounds of the band. At the time, the whole country was going through a crisis of confidence-the broken economy, the emptiness of life (the '70s were pretty bleak, post-Vietnam, post-Watergate, even if you weren't Southern) and the general malaise of era; the plaintive wailing over the layered, hard driving guitars, and that good 'ol boy, southern toughness. (I gather that these guys were hard drinking, hard living types, but that certainly wasn't unique to the South or even to the era).
But lurking behind all that Southern rebellious stuff –and these guys weren't the gentry– they were more blue collar/redneck (certain aspects of which I have grown to respect—the honor and dignity part, the scrappiness and lack of pretension)[11] –was some very serious musicianship: "Free Bird" may be a cliché (there's not much to the lyrics) but it is a good ballad, with all the contrasts in light/dark, soft/loud and slow/fast that justify its reputation as a power anthem.
Skynyrd also was an antidote to an increasingly corporate rock sound, and with the Allmans' sad losses (of both Duane and Berry Oakley), stood out as one of the best guitar-driven bands of the era. They had the ability not only to rock, and rock hard, but to set it up by slowing building a song to a crescendo. ("Free Bird" is much like "Stairway to Heaven" in that respect and is recognized as "athemic" for much the same reason). Unlike some later hard rock bands, these guys understood the dynamics of music and the need for contrast- they were not playing at "11" all the time. And that's one of the many reasons I like their music. Hard rock works best when its loud, kick-ass elements are juxtaposed against softer, tastefully subdued parts.
Without treading too heavily on the current cultural themes where much of "Southern" symbolism is now being revisited or banished as a vestige of a troubled, dark time in American history—one that led our country to war with ourselves– Skynyrd was, in my estimation, one of the great things to come from the South. They were a hell of a band, and one that should be given their due on musical merit without resort to stereotypes.
__________________________
[1] The other powerful cultural element of the band is the relentless use of the "Free Bird" call-out at concerts of other artists, the more inappropriate, the better. This is something that has provoked some artists to rage. I figured by now, someone had written a doctoral thesis: "On the Origins of Shouting 'Free Bird' at Concerts; with Particular Attention to Irony." I couldn't find that, but quite a bit has been written about the subject.
[2] Kooper's autobiography, "Backstage Passes & Backstabbing Bastards: Memoirs of a Rock 'N' Roll Survivor" is worth reading; not only for a plain telling of the realities of the music business during its heyday, but for Kooper's involvement and influence across a vast sweep of popular music. As to Skynyrd, Kooper first heard them in a "bucket of blood" bar he was hanging out in regularly after he moved to the South; he said that the first time he heard the band play there, they called out a song in "C#," a rather off-putting key. He was sufficiently impressed with what he heard to eventually sign them.
[3] There are, of course, exceptions: e.g. the George Piros re-master of Led Zeppelin 1 from the mid '70s pressed at Monarch is one of the best versions of that album I have ever heard.
[4] Are there uncredited Melltron "strings" here by Roosevelt Gook a/k/a Al Kooper?
[5] If you don't get the reference, look it up. You'll get it immediately.
[6] The old Stevie Wonder records from the '70s sound great on Kendun-mastered copies; other copies sound muffled and closed-in. Kendun was the facility that helped Steely Dan when they had major problems with the DBX encoded master tape of Katy Lied.
[7] Artimus Pyle took over drumming responsibilities on this album from Bob Burns. Pyle also survived the air crash.
[8] The opposite side of the record countermands these instructions.
[9] The band has regrouped over the years, and is led by founding member Gary Rossington. He is a survivor.
[10] The Fillmore album is musically, if not sonically, so exceptional and the range demonstrated by the band at their peak, from blues to jazz to rock, so fluent in fusing these elements that it almost defies categorization. Skynyrd is more straight-ahead "southern rock" and sets a standard virtually unmatched in that respect.
[11] As a Yankee who grew up near the West Virginia border and lived my adult life in New York City, I have come to appreciate certain aspects of southern culture that I didn't understand when I was young: in a word, genuineness. I now spend time in Austin, and appreciate Texans for that same quality.