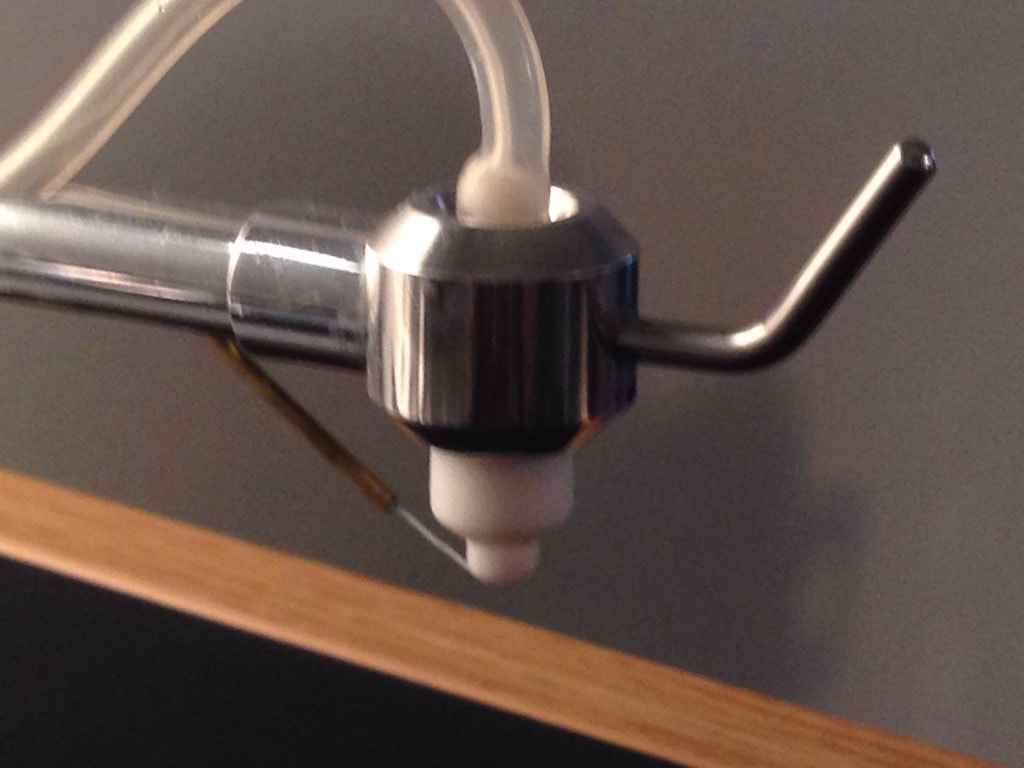 Introduction:
For decades, I had a pretty casual relationship with record cleaning.   I own a lot of records, bought my first vacuum record cleaning machine in the mid-80's and didn't give record cleaning much thought:  I'd use one brand or another of commercially available fluid (there were fewer options in those days and occasionally I'd mix up some home brew), apply it, vacuum it using the "cleaning machine" and done. Clean is clean, right?
What started me down the path of exploring vinyl record cleaning in more depth over the past couple years was a combination of circumstances: I had purchased some highly collectible old records at a decent price that just wouldn't play well- they had a noticeable distortion on certain passages- a 'fuzzy,' 'clipped' sound that I (used to) associate with groove damage. If it was newish record or one that was easily replaceable- I would do just that. But, given the relative scarcity of the records in question and their cost, I pushed on- trying to improve the playback quality of these blighted discs through a combination of cleaning methods, using manual scrubbing, enzyme fluids and ultrasonic cleaning.  And I largely succeeded, but not without some effort. What this taught me was that cleaning was far more than a clean looking surface, and made a profound difference in the playability of a record.
I can't say that my approach was "scientific" in the sense that I knew precisely why a particular combination of methods achieved better results.  I had purchased one of the new ultrasonic record cleaning machines and had already cleaned many hundreds of records with it. For a number of years, I had been experimenting with various enzyme-based cleaning fluids specifically designed for vinyl records.  Using both conventional fluid cleaning and vacuum, combined with ultrasonic cleaning seemed to work synergistically.  But, the records I had ultimately been able to "revive" had already been through all those steps at least once and still had "issues" until I doubled down, did multiple cleanings, some longer enzyme soaks and reversed the sequence of steps I used. (I will explain some of my "tricks" in a later installment but for now, know that I have not found a foolproof method to any of this). Of course I was mindful of the old adage that repeated cleanings, no matter what the method, result in some level of improvement.  But, I did learn one thing: what I thought was irreparable groove damage was in some cases the effect of ground-in, glued-in contaminants that I could remove from the grooves, if only with some difficulty.  Which left me with a lot of questions and led to exploring different approaches and methods to vinyl record cleaning.
How could I meaningfully evaluate the results of my cleaning efforts? Each old record is, in a sense, sui generis, in its unique history of contamination, making valid comparisons of cleaning two different records virtually impossible. (I could, perhaps, expose new records to the same contaminants and evaluate the results). There were a lot of other "unknowns": were different vinyl formulations  more susceptible to the effects of contamination or inherently more noisy? Was there any way to identify the particular contaminants affecting a given record or match that to a cleaning approach that promised better results? Was there one "all purpose" method or combination of methods that worked effectively, across the board on a wide variety of different records with different problems?
Despite the fact that much of this should be a matter of chemistry, plastics and hard science, there is a lot of information that I seemed to be missing- the exact formulation of certain vinyl compounds from which records are made, to the extent it matters, is not something you can readily look up. What goes into the various cleaning fluids on the market today is largely proprietary, making it difficult for the average user to analyze what ingredients work best; what we have, instead, is largely anecdotal evidence of effectiveness of different cleaning methods based on user experience. At the same time, some records, even new records, exhibit problems that no amount of cleaning will ameliorate. Bad pressings, warping, deep scratches, off-center spindle holes and damage caused by abuse, sloppy handling or inappropriate packaging may be irreparable. But, many records, including records that I would have written off as "damaged," actually suffered from the effects of contamination, sometimes decades of grit, dust, sleeve detritus and the residue of past "cleanings" as well as the effects of cigarette smoke and other airborne pollutants that could, with some effort, be removed. We are also told about the effects of "mold release" compounds and the need to remove them from the surface of new records, something about which there seems to be little clear information.
All of that led to this piece, which was borne out of self-interest and a degree of intellectual curiosity- were there any hard "facts" and guidelines that one could apply? I read quite a bit, poked around on the Internet, and even started a thread on the Hoffman board about 'Best Practices' to compare notes with other users.
It is easy enough to report my findings, which I will do. But I also have many unanswered questions, which I'm going to try to come to grips with by tapping some "outside expertise" in the course of writing this piece (which i envision as a continuing series of articles, rather than a single piece).
The first installment of this series on record cleaning begins with a visit to the U.S. Library of Congress archive, responsible for the restoration and preservation of our national repository of sound recordings. See Part II- Cleaning and Archival Standards of Care.