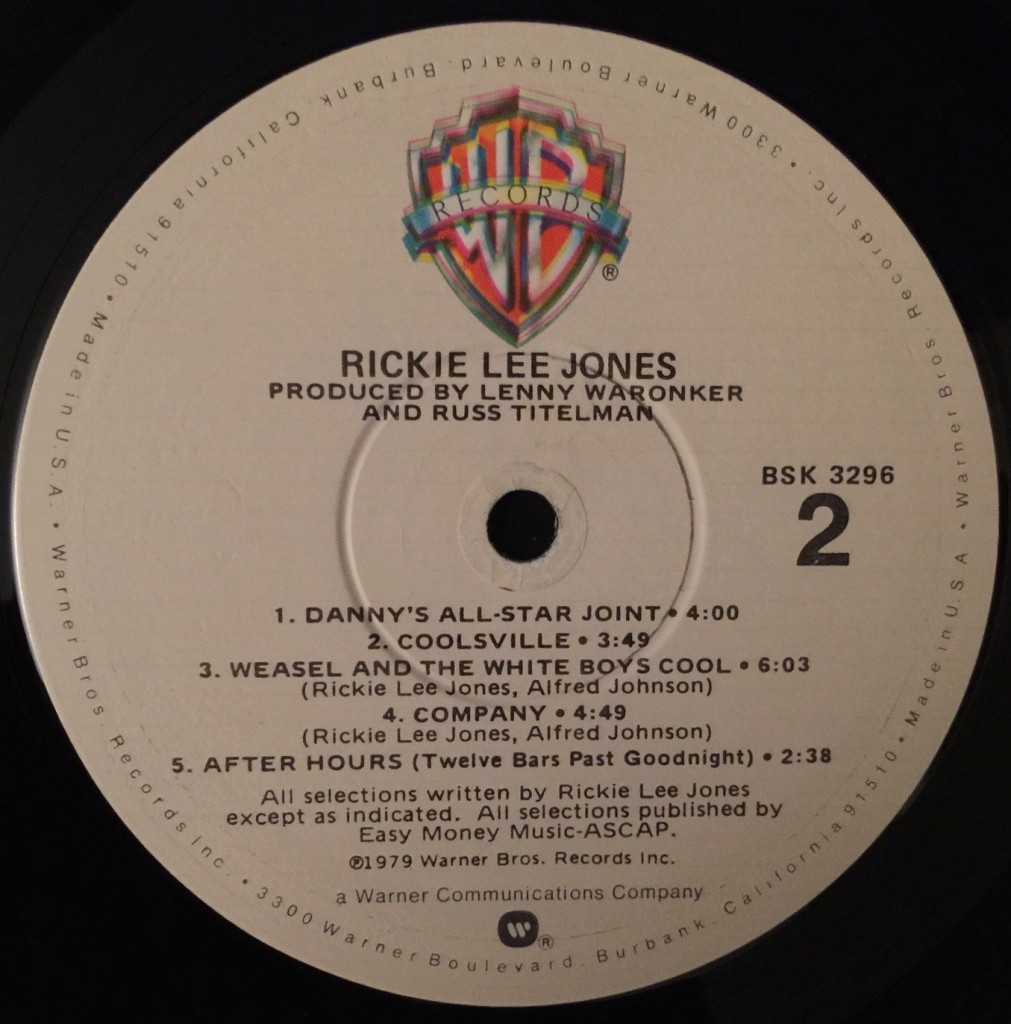 Rickie Lee Jone's self-titled album was an auspicious debut in many respects: "Chuck E.'s in Love" generated almost constant airplay here in the States and elsewhere. (I spent the summer of 1980 in London and remember it as a radio constant there too). But it contained far more: moody, jazzy pop with a "hipster" (read: beatnik, not millennial) streak; studied reflections on emptiness ("Last Chance Texaco"), beat-driven jive ("Danny's All-Star Joint"); stylized retro-pop from the 1940s ("Easy Money") and street-smart cool ("Coolsville" and "Weasel and The White Boys Cool").
The artist was accompanied by first tier players all the way around- Dr. John and Victor Feldman on keyboards, Willie Weeks and Red Callender on bass, an enviable list of percussionists that included Jeff Porcaro, Steve Gadd and Victor Feldman (again), to guitarists Buzzy Feiten and Fred Tackett (who doubled on mandolin). Randy Newman gets a credit for synth.
Production is credited to Lenny Waronker (who eventually became president of Warner Records) and Russ Titelman, who were both responsible for a lot of great records at Warner. The record was engineered by Lee Herschberg (with Loyd Clifft). Herschberg, who shortly thereafter became the Director of Recording & Engineering at Warners, is also credited with mixing and mastering the record.
How did a "new" artist get such stellar support on her first outing? It appears that Waronker (who, at the time, was the head of A&R) and Titelman were both captivated by what RLJ was doing and pulled out all stops on this one. Jones won a Grammy for "Best New Artist" of the year.
By this time, the Warner "label" design had changed, from the old "green" label that started this series, past the so-called Burbank "street scene" (palm trees) label design, to a more modern, creme-colored label with a small 'WB' logo at 12 o' clock. Despite the cosmetic changes, Warner was still delivering fresh new music with first class production values.
This is another album for which I have a stupid number of copies; stupid, largely because the standard issue sounded great. But that didn't stop me from buying many more different pressings over the years.
The "Standard Issue" Pressings
Straight from the major label, the standard pressings sound great. What I had to hand wasn't necessarily even the first pressing or even from the "best" pressing plant; two of them are clearly from the Winchester (Capitol) plant;[1] the third, which bears some indicia of the same plant (or metal parts)[2] doesn't have the usual Winchester symbol : —–<I
All three deliver a superb balance of detail, warmth, soundstage and all the other "audiophile" attributes without sounding artificially "spectacular" or analytical. The bass is taut, the record is fairly dynamic, percussion is very palpable without sounding "zingy" or bright and Jone's vocal is clear and open (though she can sound nasal, it seems to be an affectation that is not a constant of her voice or the recording). In short, a terrific pop/jazz recording. All three of these copies were comparable in sound. If I were hunting for an early standard issue, I'd look for a Monarch pressing (these are generally known to be punchy sounding) or one from Specialty Records Corporation (a swoopy "S" with the letters 'R' and 'C' tucked into the shape of the "S"). But, chances are, a  "used bin" copy from the era is going to sound just great.
The Old Mo-Fi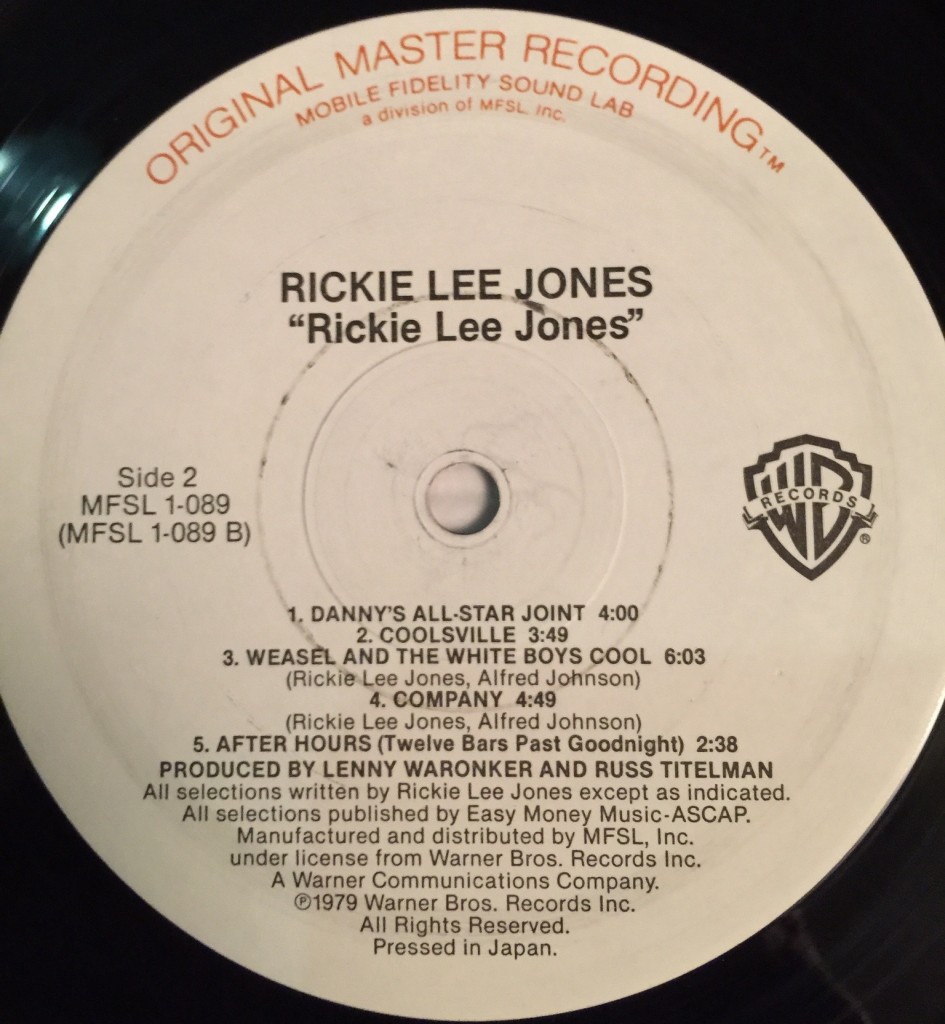 I jumped on the Mo-Fi re-master of this album when it came out in 1983. The company made high quality audiophile vinyl and released a lot of rock and pop records that I liked. I bought many of the Mo-Fi releases back in the day and still have most of them. But, there are few of these older Mo-Fi releases that, for me, have stood the test of time; I now prefer certain standard issue older pressings or other re-masters (including some of "new" Mobile Fidelity records, which are not the same records). Much of this has to do with a "tweaked" sound characteristic of many of the old Mo-Fi releases that emphasized the bass and high frequencies- these were very "hi-fi", but as my system improved and I spent more time listening to various pressings of the "same" record, I found many of the old Mo-Fi's to be less appealing because they sounded "fiddled with." One thing is beyond dispute, however:-the vinyl formulation used for these records was fantastic, and has probably never been equaled or exceeded.
Despite my personal view of the EQ choices of most of the old Mo-Fi pressings, the old Mo-Fi of the RLJ debut is one of a handful that I really like; it doesn't sound too bass-heavy or splashy and that JVC "SuperVinyl" formulation reveals what a silent surface should sound like. Though the standard pressings more than hold their own here, the Mo-Fi gives the bass a little more "oomph" and those quiet surfaces make a significant difference- it isn't just lack of surface noise, it is less "murk" and more music is revealed in the process. This is one old Mo-Fi that is worth seeking out. The tone is slightly darker than the standard issue copies mentioned above, but it gives a little more weight to the sound, and doesn't sound like information is missing.
Japanese Pressing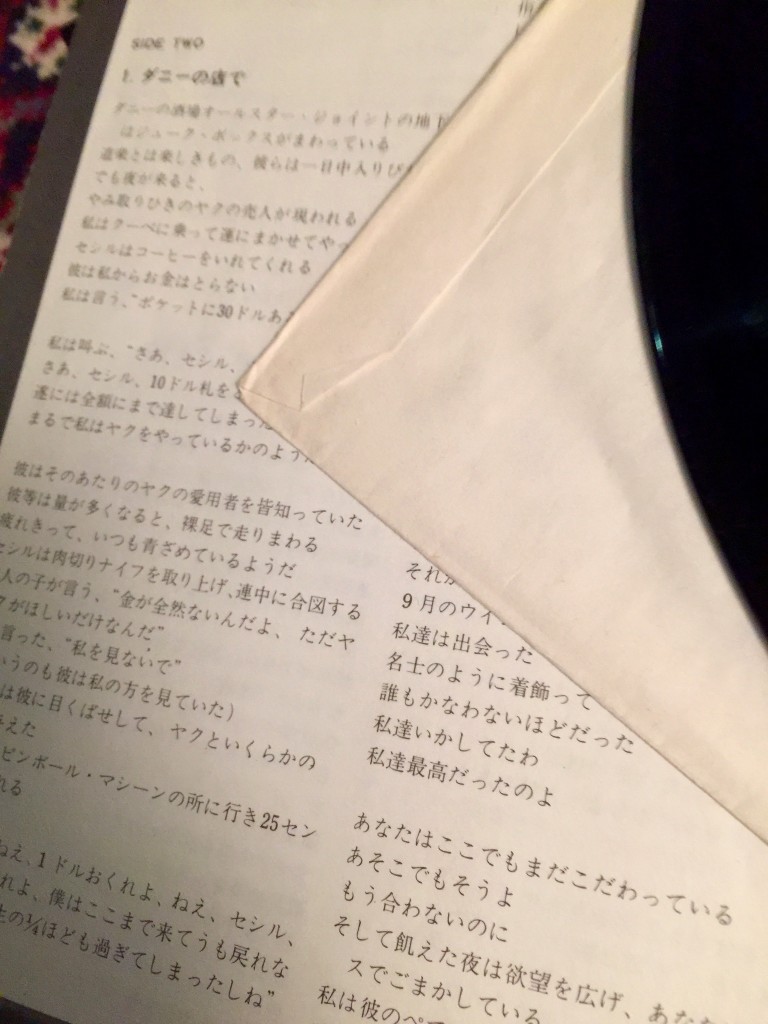 There have always been complaints about vinyl pressing quality and Japanese pressings came into vogue for their quiet surfaces. The problem with many Japanese pressings is that they tend to sound bright, come from later generation tapes and often trade off those nice surfaces for an analytical quality that I generally find unappealing. This one isn't in that camp; it does have those nice, quiet surfaces, it isn't quite as "weighty" in its delivery as the Mo-Fi, but it is a very good sounding record too. Bass is a little more "one note" than the standard issue copies or the Mo-Fi but it isn't strident, as some of the Japanese pressings can be.
UK Pressing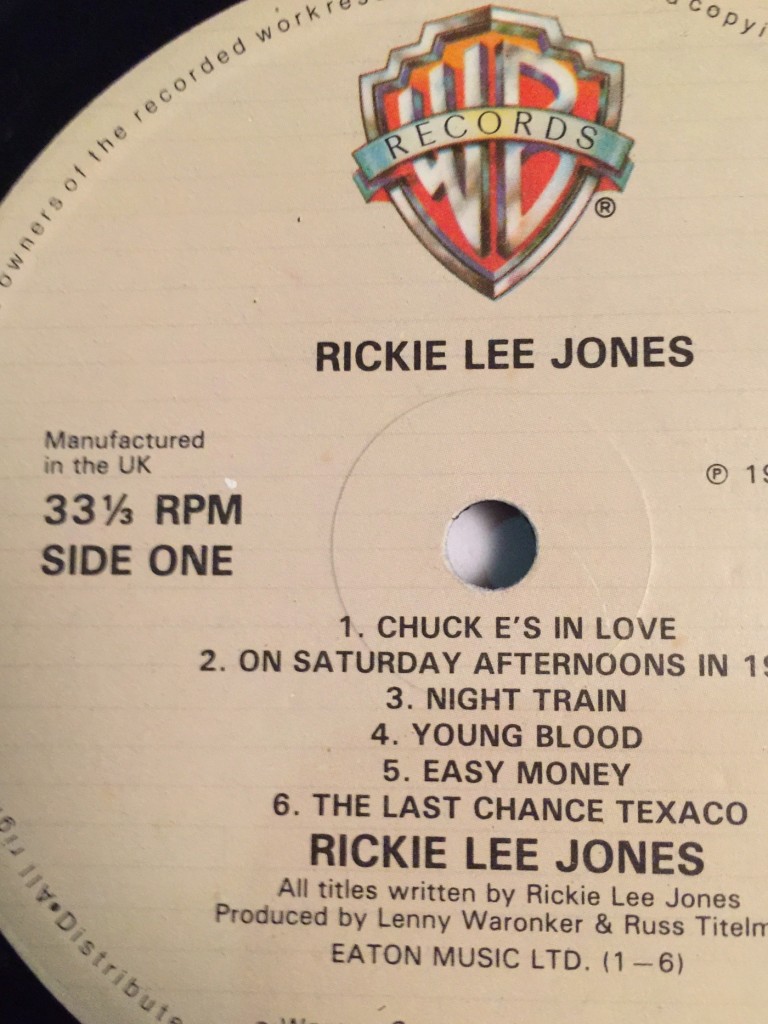 I don't know why this copy sounds as good as it does; I assume a later generation tape was used, the surfaces are a little noisy (especially compared to those superb Japanese vinyl formulations), but there is a warmth and heft to this copy that draws me in; in some ways, it is like the old Mo-Fi on the bottom end; it doesn't have the high frequency energy of the Mo-Fi but it isn't a reticent sounding record either. The piano tone sounds just right and RLJ's vocals are sublime and very "out of the box" sounding. I don't think the bass is as forceful or punchy as the U.S. pressings (or the old Mo-Fi for that matter), but the tone of this record is very appealing to me. I just wish it had better surfaces.
AcousTech/Rhino Re-master
Highly regarded re-master, circa 2008, by the Hoffman-Gray team operating under the AcousTech moniker, this was not a pricey "re-do." Athough I'm not sure whether it is still in print, I bought a sealed copy last year for around $20 online (to complement the one I didn't realize I already owned).
Hearing it back to back with the UK is a study in contrast; it is much more dynamic and sounds far less dark than the UK. Compared to the standard issue (at least the copies easily to hand, which may not be the ultimate "standard" pressings), it betters them in several respects- it sounds less compressed, has more information from top to bottom and the surfaces are quiet. (In the US, these were pressed at RTI). It is also a brighter sounding record than the old Mo-Fi.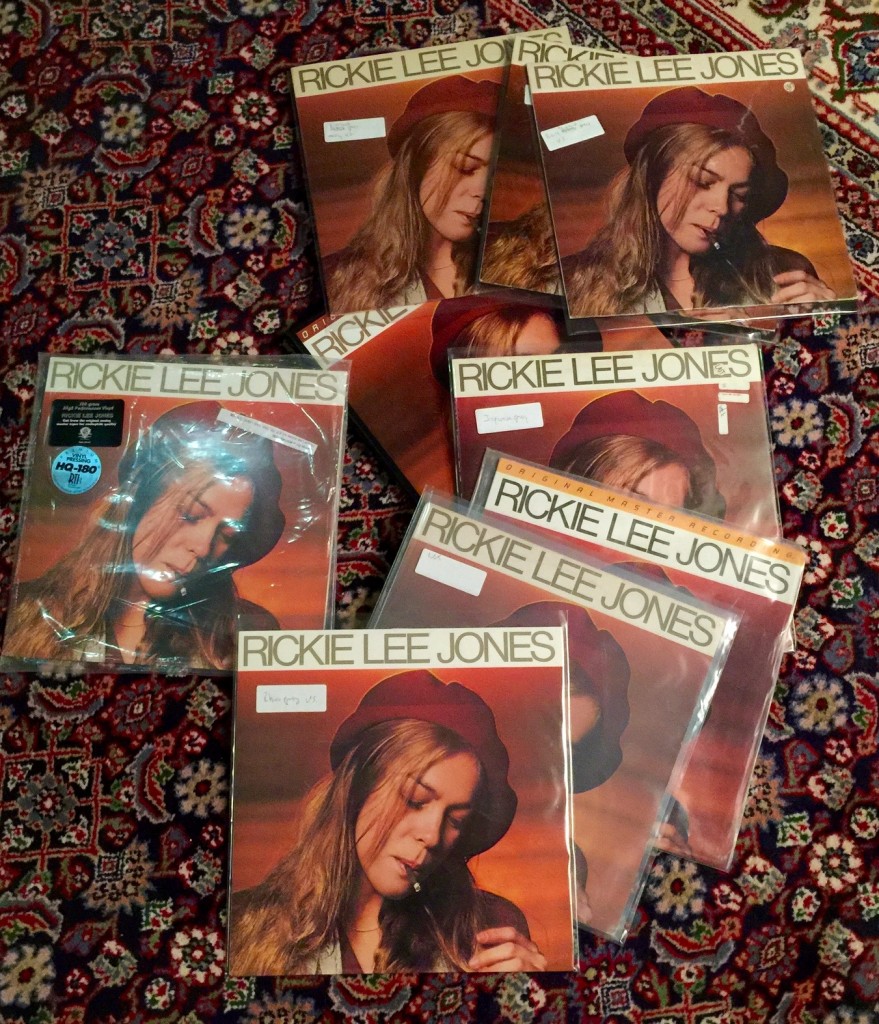 "New" Mobile Fidelity 45 rpm
Tonally, this sounds different than the old Mo-Fi; it isn't as dark or weighty; there is a lot of high frequency information here. (The Hoffman also delivers a lot of high frequency energy). Kick drum is superb, as are the tom-toms. The soundstage is bigger and deeper than the others. The record is very "spectacular"- probably the most "WOW" sounding of the bunch. I'm not sure that makes it the "best" but it is very revealing, and the 45 cutting speed gives it a "continuous" quality that, as is typical with such records, gives fewer cues that you are listening to a record playing.
Concluding Notes:
This is such a well-produced record, I think you'd be safe to buy a standard issue pressing and be done with it. The others are all different shadings of emphasis, with different strengths and weaknesses. I also like the Hoffman cut (as well as the old Mo-Fi, which is unusual for me).
I was a big fan of RLJ's early albums, particularly her debut album, and the follow-up, Pirates (which, unfortunately is a pretty nasty sounding recording, though its introspective songwriting still has a powerful hold on me decades later). [3]
RLJ went through many ups and downs during her career, and her live performances reflected that (I heard her perform many times in the early days).
If I had to pick one other recording from her considerable body of work, it would probably be her 1983 EP, Girl at Her Volcano, a mix of live and studio performances that are credited as being recorded on a 3M Digital System and being digitally mixed and mastered.[4] Notwithstanding that, this is a great recording. It also was released on Quiex vinyl, a "virgin" vinyl formulation that was commonly used for promotional pressings and commercial releases at the time. I also have a Japanese pressing of this EP that sounds terrific.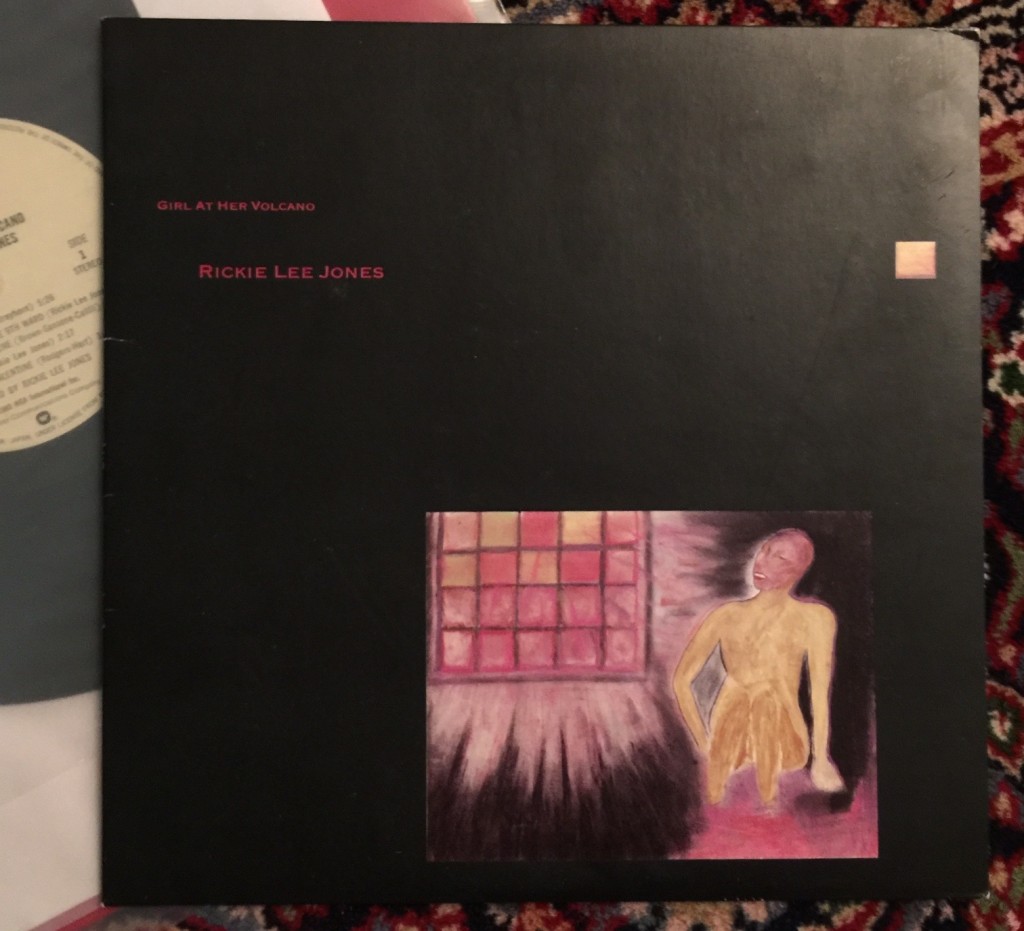 Well worth picking up Girl if you haven't heard it or don't own a copy.
____________________________
[1] One copy shows: BSK- 1-3296 WW4/BSK-2-3296 WW3 #3; another is: BSK-1- 3296 WW2/BSK-2-3296 WW1.
[2] SUB BSK -1- 3296 – JW1/ BSK -2- 3296   JW3
[3] I have multiple copies of Pirates as well, and the best sounding one, to my ears, is the recent Mobile Fidelity re-master.
[4] I'm not sure if all the tracks were originally recorded via digital media.