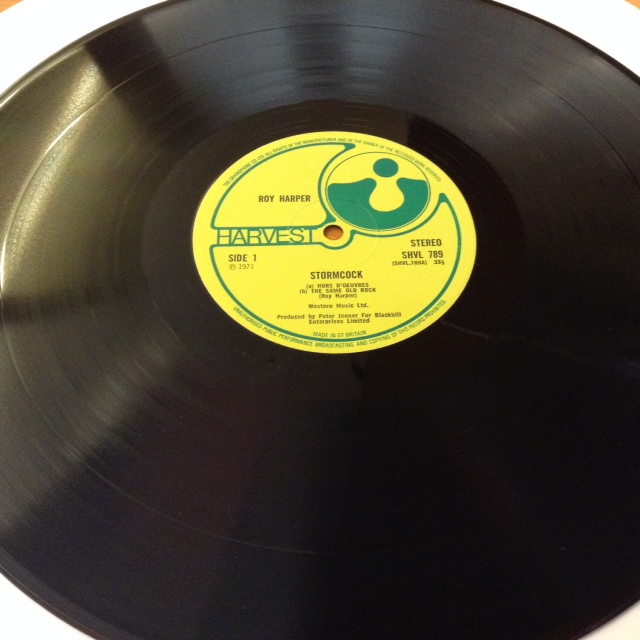 Roy Harper's Stormcock is another one of those significant, but sorely underrated, albums that deserves renewed attention. Roy Harper was never a commercial success on this side of the Atlantic, and even in the UK, was considered an acquired taste. But he was hugely influential to bands like Led Zeppelin (whose "Hats Off to Roy Harper" is really a take on Bukka White's old "Shake 'Em on Down") and is known to Pink Floyd fans as the lead vocalist of the song, "Have a Cigar" on the great Wish You Were Here. He also influenced Ian Anderson, whose baroque-like folk pieces were inspired by Harper's work. Even Bowie's Hunky Dory has been cited as a tapping into the same vein. But, Harper as Harper? Very little broad public recognition of his own work these days, despite its beauty and power.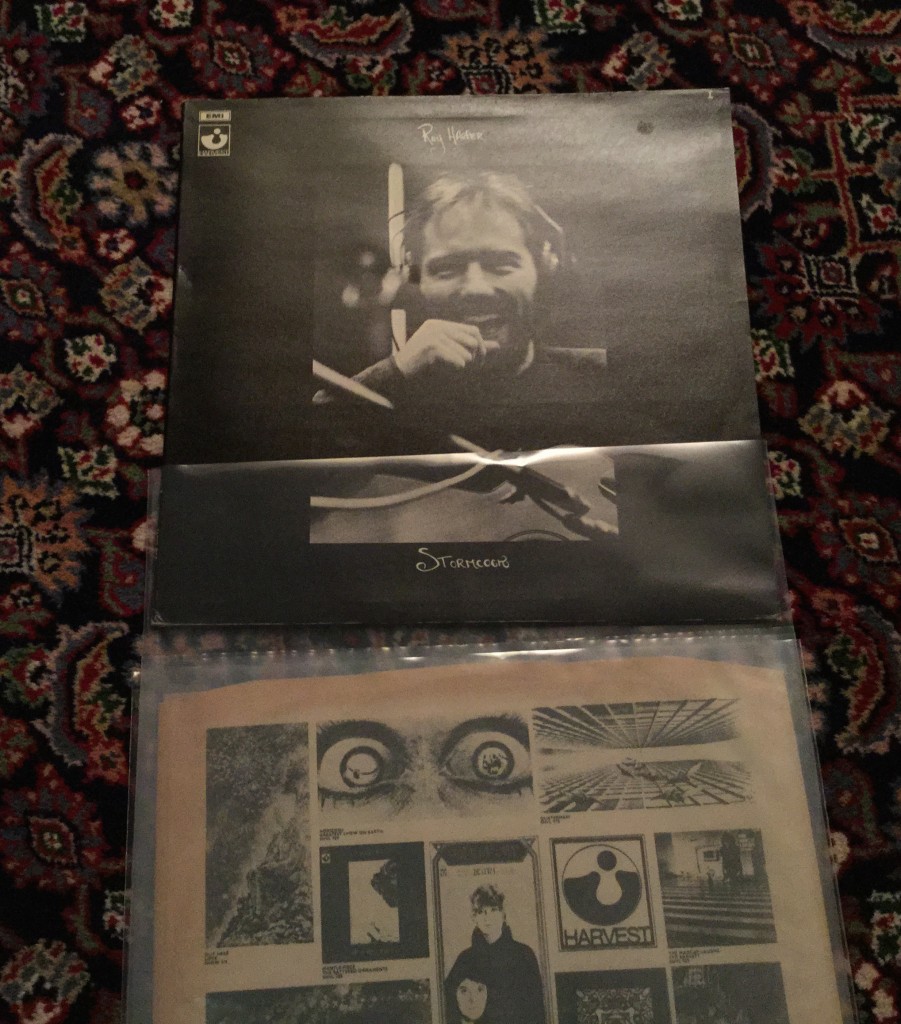 Stormcock was critically acclaimed on its release, but owing to its format, got no radio exposure and the record did not sell well. The album contains four tracks. The first, "Hors D'Oeuvres," is just that- an opening taste, of descending chords, powerfully rung as a backdrop to a distinctly English vocal part; the lyrics could be something out of Dickens' Bleak House. This is not sing-song folk music of the easy listening variety, but something much darker and more involving. The harmonic overtones of the guitar ring and decay. Harper's voice wraps the downward progression with mixture of vocal styles, from lilting to deeply resonant, as song moves relentlessly to its end. It is the perfect opener.
Jimmy Page, playing under the pseudonym S. Flavius Mercurius, lends his considerable guitar skills (in a period when he was really at the top of his game) to "The Same Old Rock," which is probably the strongest track on this record. (If you are a fan of Led Zeppelin's folk acoustic work, this hits buttons that Led Zeppelin did not try to tap on LZ III- it is a very satisfying piece of work). Harper's voice is hard to characterize here: he's able to work vibrato, blues inflections and a pure clear tone and switch up styles almost measure to measure.
"One Man Rock and Roll Band" gives you a bit of a Bowie vibe, but mixed with Page-like guitar work (though I'm not sure Page played on this track) that comes close to a blues; it also depends on some strange processing in the vocals that I find distracting. We come back to a very English folk sound in the last track, "Me and My Woman," that brings to mind some of the acoustic parts of early Tull. I'm not so happy about the orchestral parts- I think they are unnecessary and rather than adding power, they detract from the force of Harper as a solo performer.
It is nonetheless an ambitious, avowedly un-commercial album that demands repeated listening. You may listen to it once, and think- hmm, odd, strange, different. But, I can almost guarantee the songs will haunt you, and bring you back for repeated plays.
I looked for a good copy of this record for a while. It was released on Harvest, and first pressings do not bear the EMI nomenclature on the record labels. I found a UK first pressing from a seller in the Mid-East that was in impeccable condition. I haven't compared it to any later pressing, so I can't tell you how much is lost in later reissues. The album is well recorded (Abbey Road) and, at least the first pressing is well-mastered. Since this album is somewhat off the beaten path, you may be able to find a first pressing for little more money than a later repress. The real key is finding one in great condition. Highly recommended for the adventurous listener.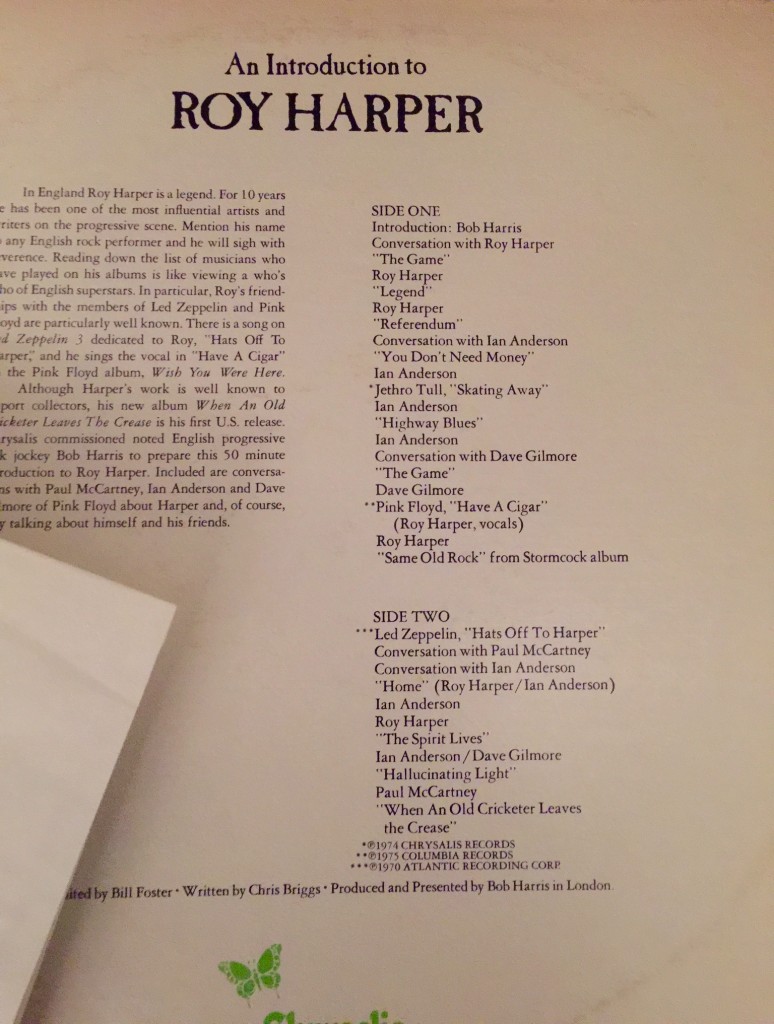 Postscript: I found a fairly rare vinyl transcription of An Introduction to Roy Harper, which was apparently commissioned by Chrysalis in the mid- '70s and included interviews with Harper, as well as Paul McCartney, Ian Anderson and David Gilmore. It was presented by Bob Harris, a well-known BBC disc jockey who was keenly familiar with progressive English music of the era. I suspect this was fodder for progressive radio programming at the time. In it, Harper disdains commercial pop and describes himself as a renegade who just "picked up a guitar and started to do it." It has tracks from Harper's earlier albums as well as selections from Tull, Pink Floyd and Zep. But the interesting parts are the interviews: you get the impression that Harper is an honest a songwriter as they come, commercial consequences be damned.