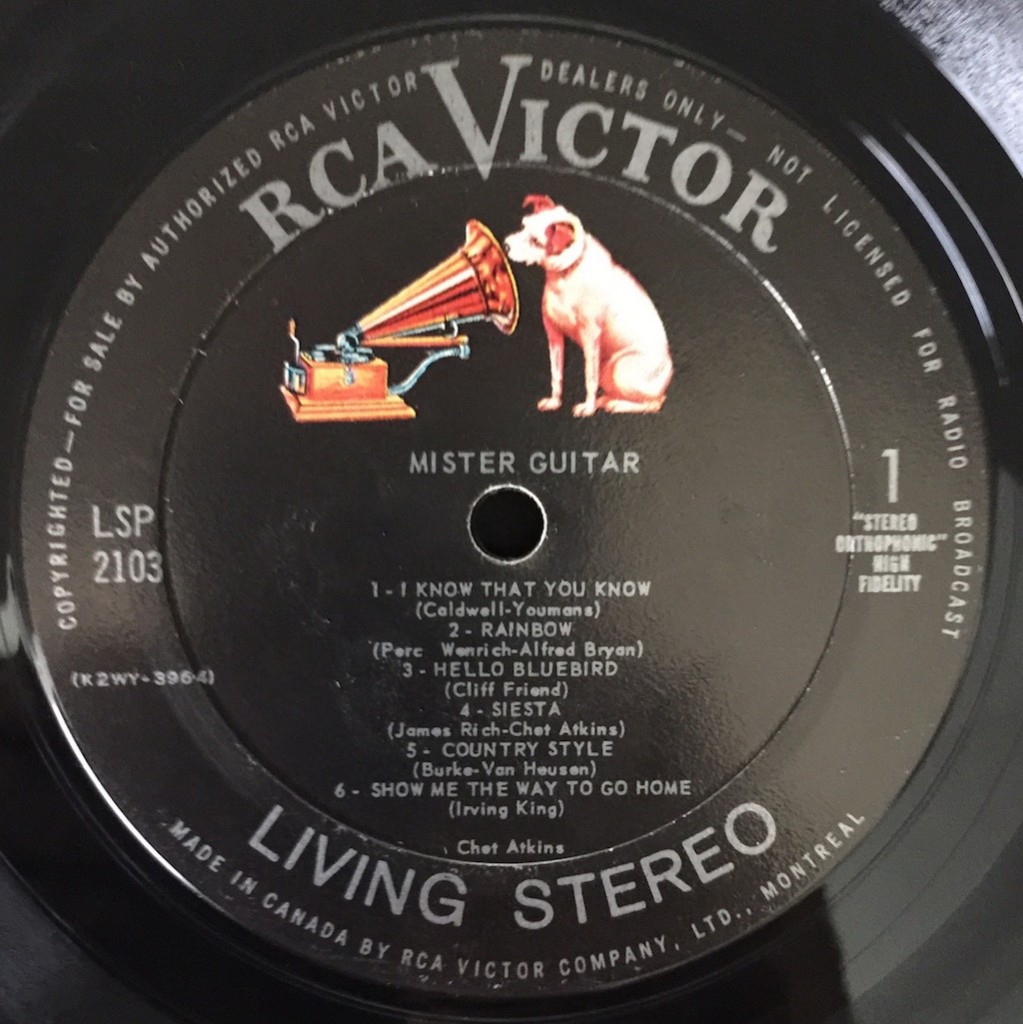 Inspired by my recent discussion with Guy Van Duser and his life-long admiration of Chet Atkins, I not only bought a copy of A Session with Chet Atkins, but also dug into my collection and found a number of great Atkins records I hadn't listened to in years. I thought it might be fun to pull these out and have a listen. This is hardly an exhaustive overview of Atkins' recorded output, but more of a casual stroll through some memorable recordings that I happen to own.
First up is the Session album: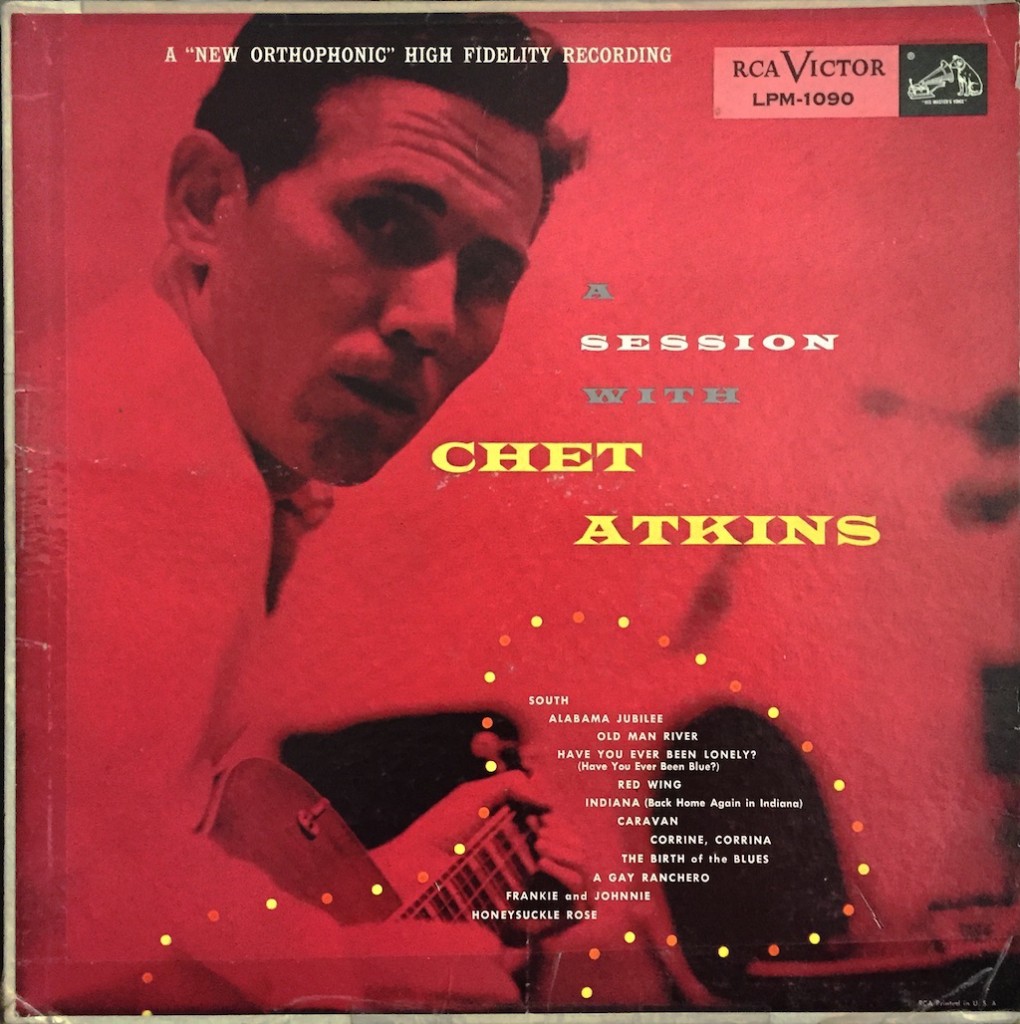 Holy smokes, Chester! I never expected this old mono record to sound this good. I'm not even optimized for mono, and sonically, this thing is a killer. The playing is just stunning- there are some serious players on this thing, and they fit together so smoothly the tunes have an organic quality- you aren't listening to the individual players so much as how the fiddle melds with the pedal steel, and that bass just thumps along, as the piano comes in with a flourish. This is as good a record of what we now might call "roots" music as I've ever heard- it's hillbilly jazz, or country "swing" or ragtime/Dixieland played "western" style, all rolled into something else.
I usually relegated Chet to a top-tier guitarist of the easy listening variety- given all the later "pop" stuff he did, it's easy to understand why I missed the early records. It's also something that you can probably appreciate after you've been around the musical block a few times, and realize that this level of playing is not common- it's rare. The recording is also first rate and in my estimation, is a must own record. As far as I know it hasn't been reissued, but I found a quiet player recently for less than ten dollars.
In Hollywood: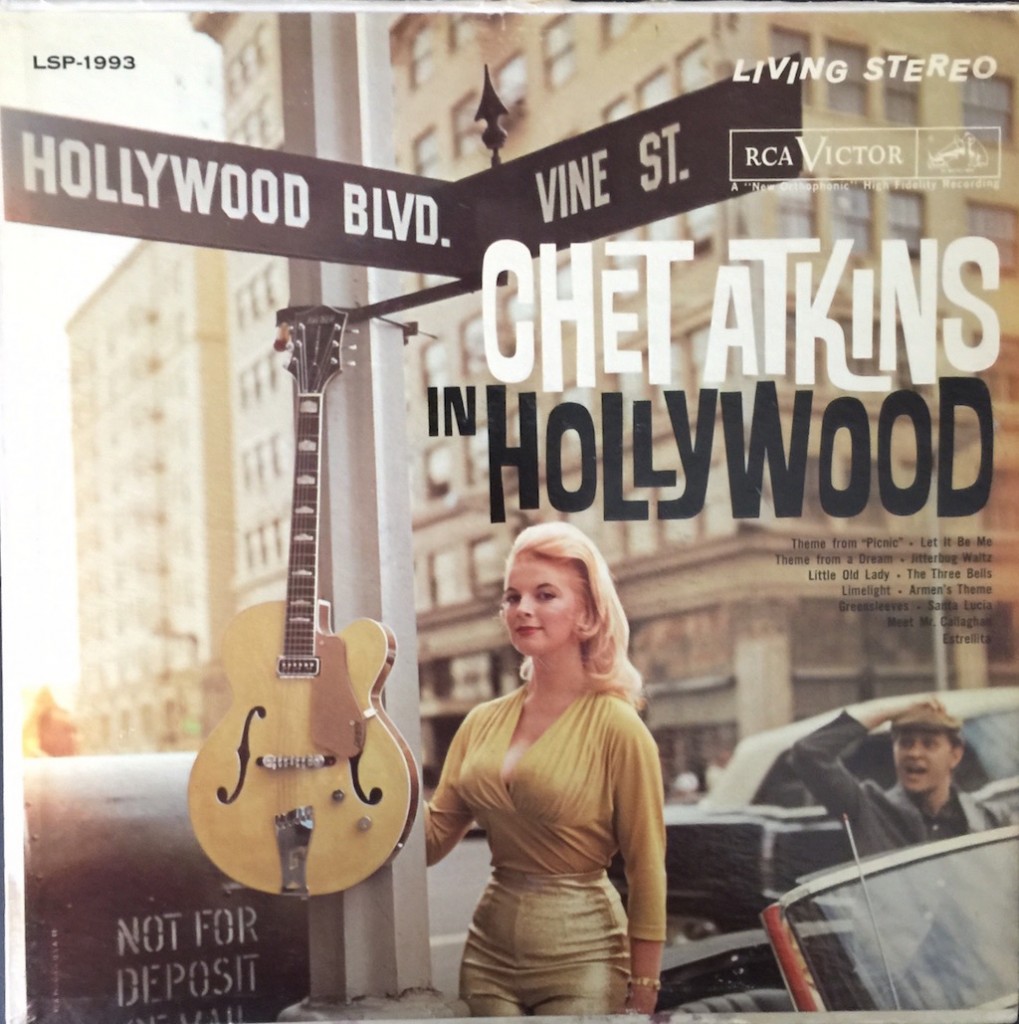 That's not the original cover; in fact, this isn't even the original record but a reissue from 1961. Chet apparently took the original orchestra tracks and re-did his guitar parts. I've seen complaints that the orchestra is a little schmaltzy, but I can live with it; again, we hear Chet play with such unerring accuracy, his tone and nuance more than make up for that "big Hollywood" sound behind him. In fact, it's a nice contrast- because Atkins' playing sounds so deceptively simple (it's not) and you can follow the melody and relegate the orchestra to the background. If memory serves, this was one of the Atkins' discs on Harry Pearson's "List" and for good reason. Stunning sonically, but now more appreciated than ever (by me) for the heavenly guitar work of a master. And for what it's worth, the back cover is just as amusing as the front- the beatnik style artwork of Hollywood is period cool.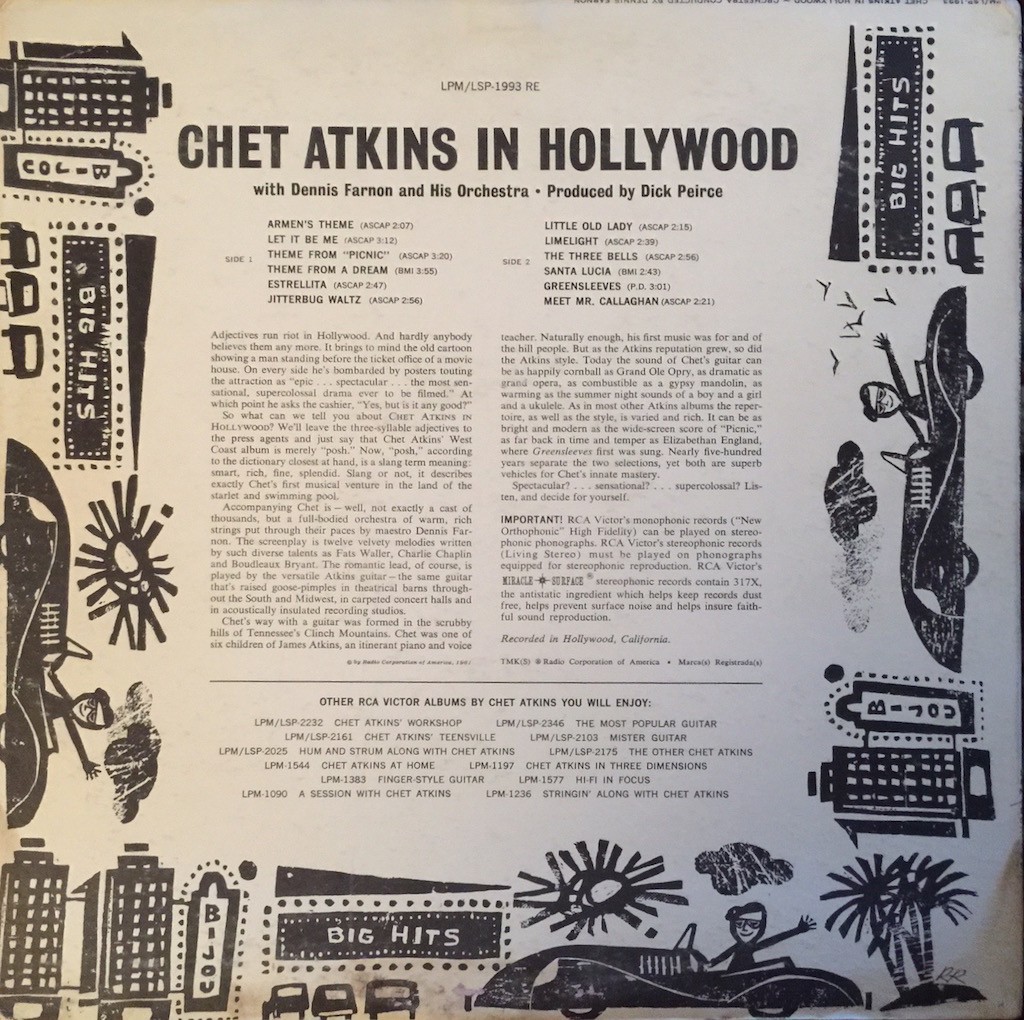 Mister Guitar: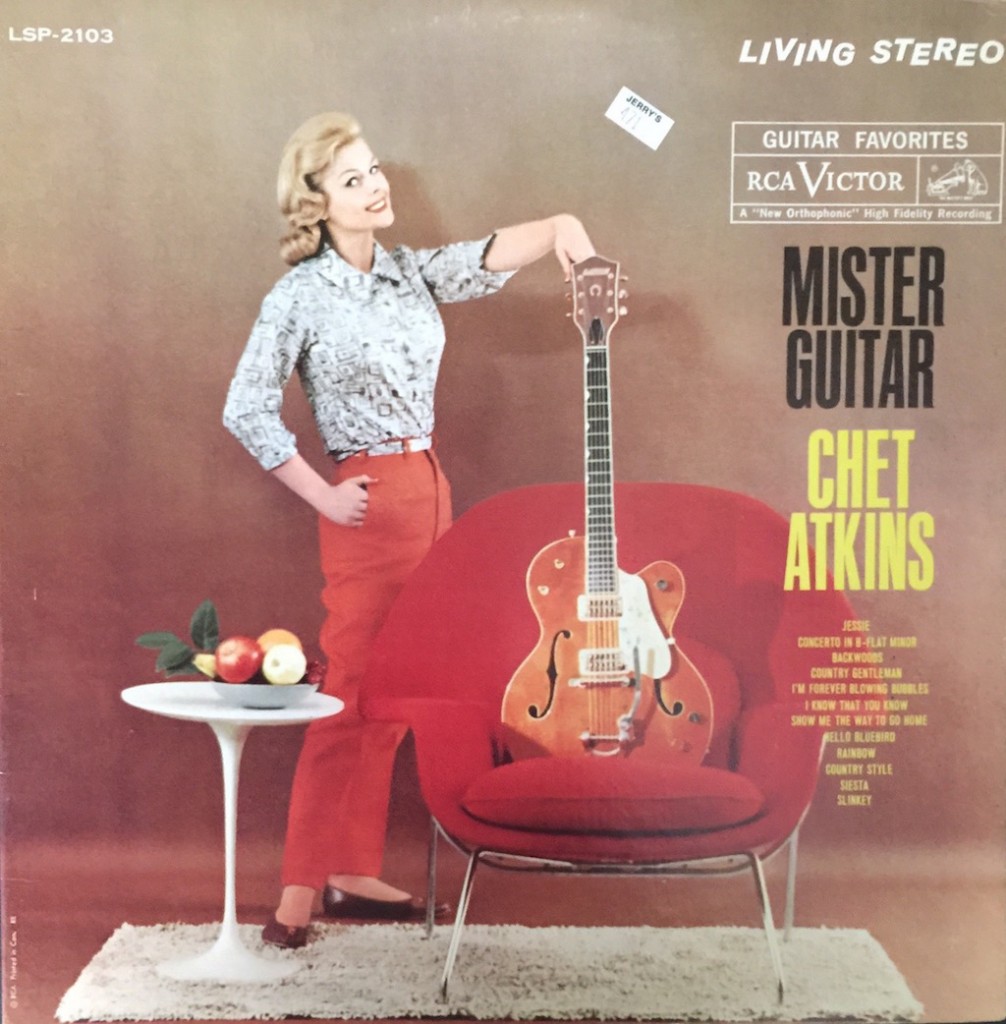 That cover isn't the original either but changed when the record was reissued in 1961. My copy is a "dealer copy" from Canada, has great rich upper bass and brings out the full-bodied tone of the guitar. Gone are the lush orchestrations; the proceedings are more straightforward. Engineered by Bill Porter, who worked on a number of Chet Atkins' records. Another can't miss record.
The Other Chet Atkins: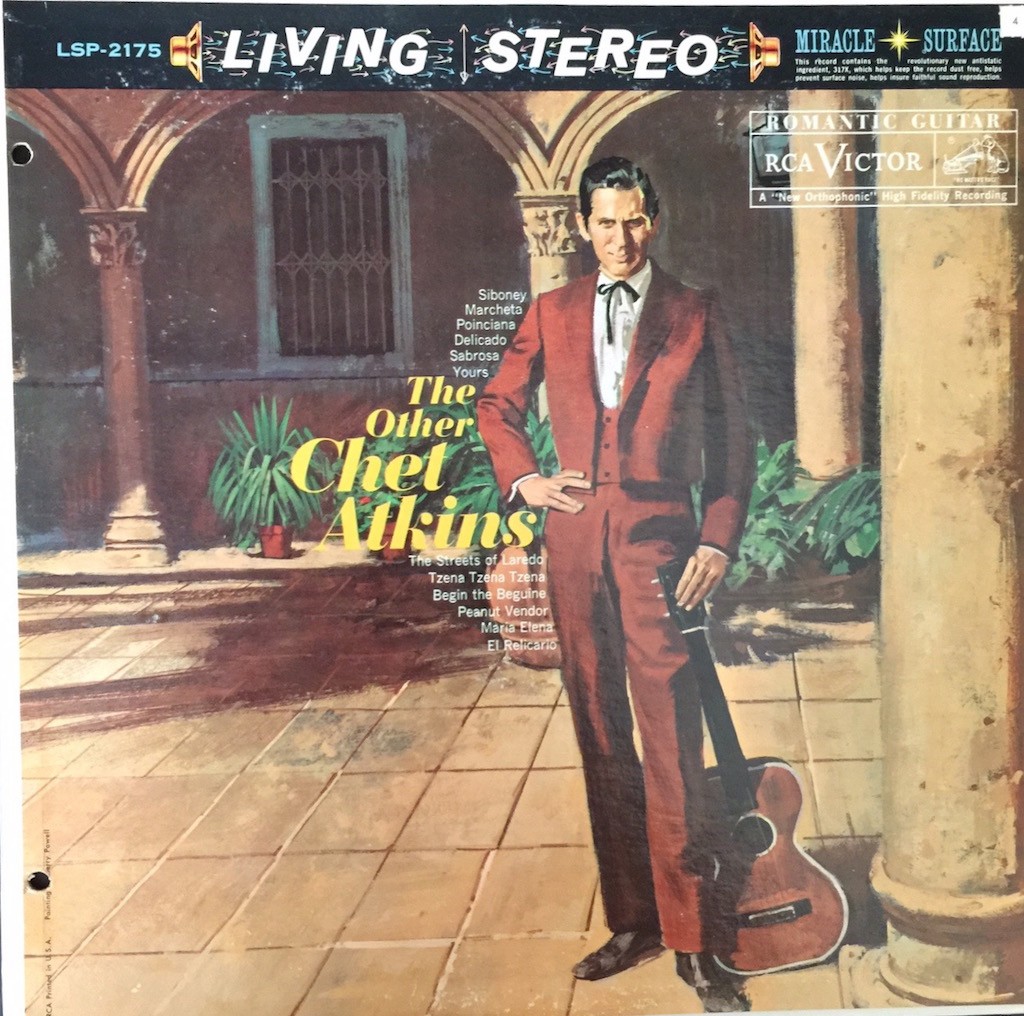 This is Chet going "going Latin," but starts with a Cole Porter tune (though one which has some Latin influences). I think there were a lot of musicians who got caught up in this sound in the early '60s, but this recording holds up, largely due to Chet's playing- he can fingerpick, keep that rhythm going and still slide a subtle jazz lick in; the deeper you go into this record, the better it becomes. There's some beautiful stuff here, and the percussion is a treat. I cannot tell you by the exacting standards of Spanish or classical guitar whether this is considered the genuine article or a facsimile, but Chet's impeccable technique makes for an engaging listen.
Caribbean Guitar: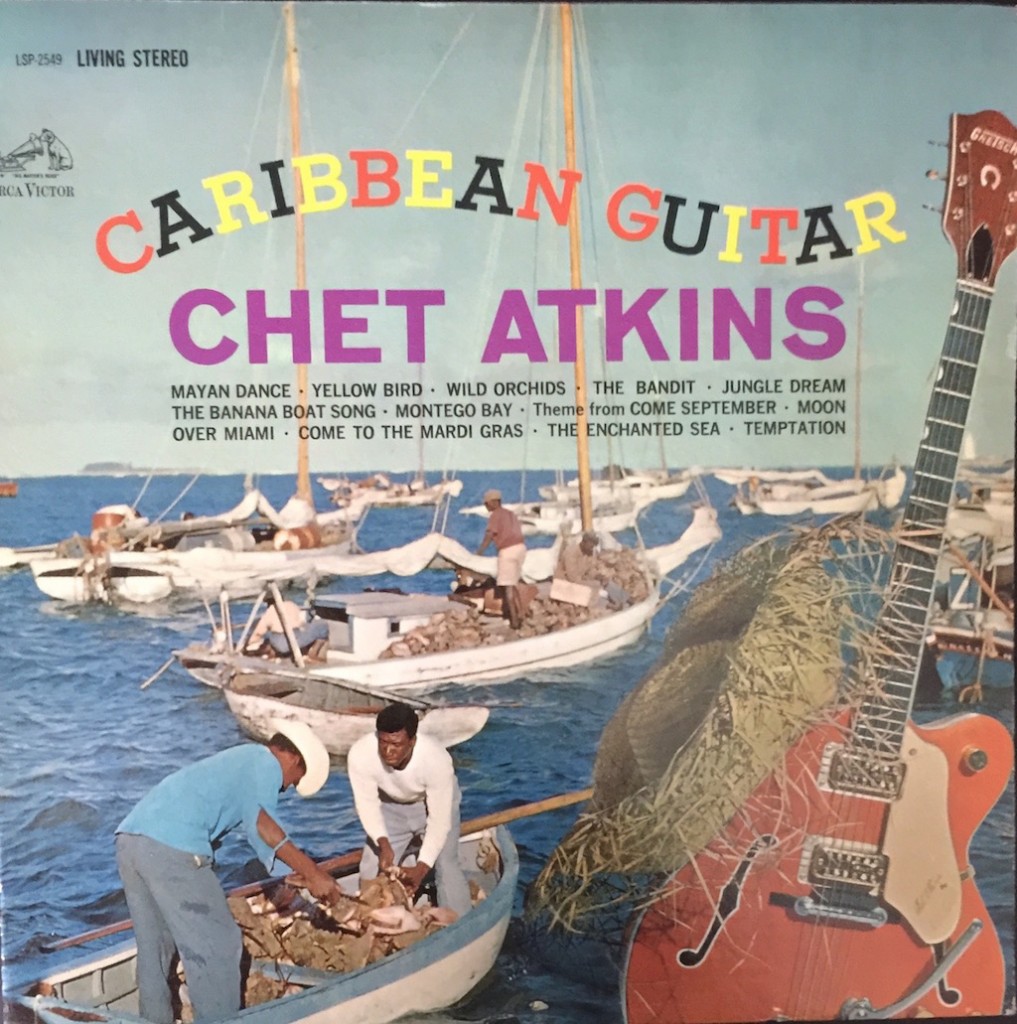 One of the other trends in the early '60s was Caribbean music and Chet was apparently not one to miss such an opporunity .[1] He could pull it off, though. Another well engineered, well-produced, well-played record. Sometimes, I got a little lost, thinking I was listening to Hawaiian music, but there were tinges of Spanish influence mixed in, so maybe it's the real deal. It's a great record, even if we are viewing the world through the lens of the guys who virtually invented the "Nashville" sound.
Down Home: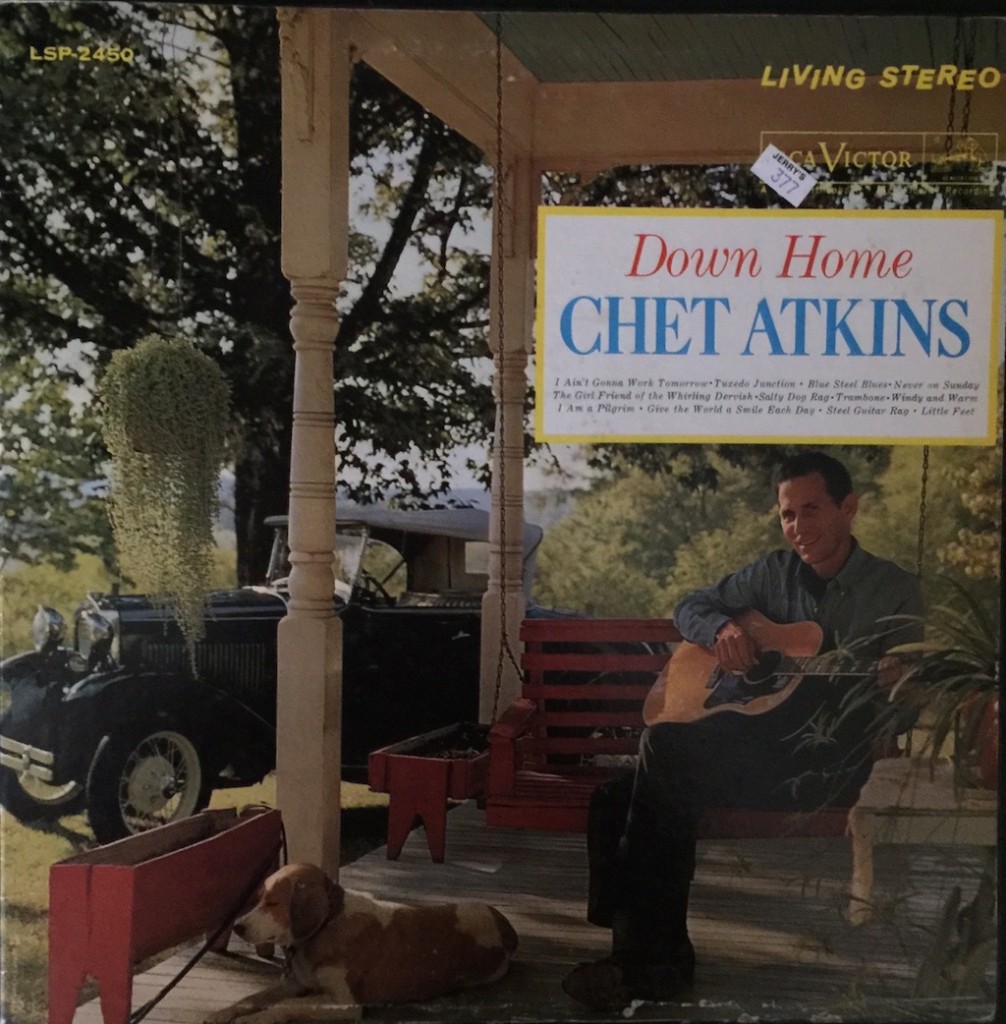 When those horns blare out in the first track you know you're listening to more than just a bunch of good ol' pickers- the production values on this record are extremely high, and the album swings. It's more jazz than you'd expect, and Chet's picking is so immaculate, you realize why he earned the moniker "Mr. Guitar." My copy is a Canadian pressing- it's warm, rich and lively. The horns sound lifelike. It looks like I paid $3.77 for this record at Jerry's in Pittsburgh a few decades ago. Adjusted for inflation, and discounted by the fact that there is no huge demand line for most old Chet records (at least the more common records that were pressed in quantity), you can probably find it for little more today.
Pulling out some of these records, I happened to find some old "audiophile" inner sleeves I used at the time: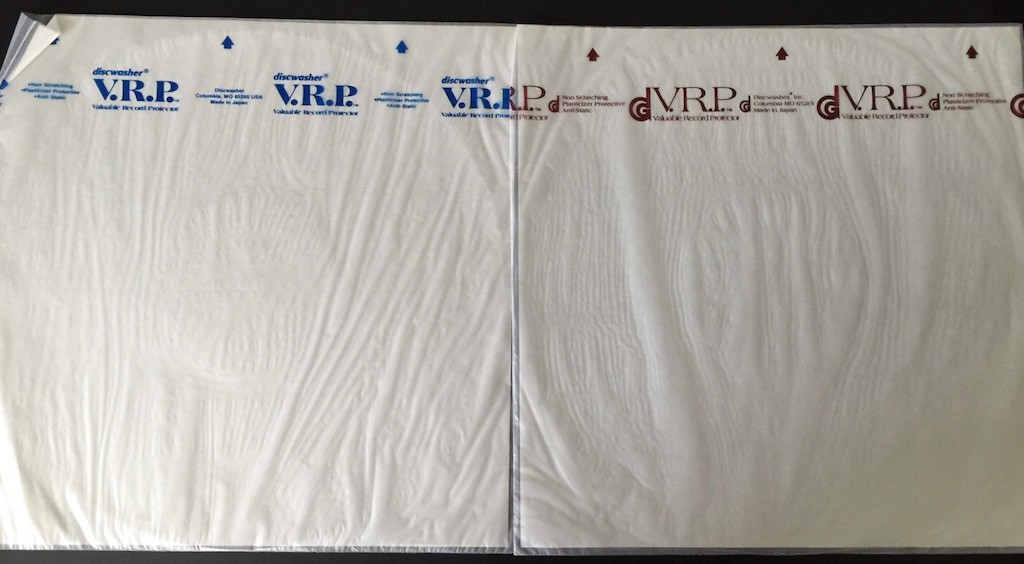 You can guess how long it's been since I cleaned and played these before digging them out again!
Some of the records had their original sleeves preserved as well: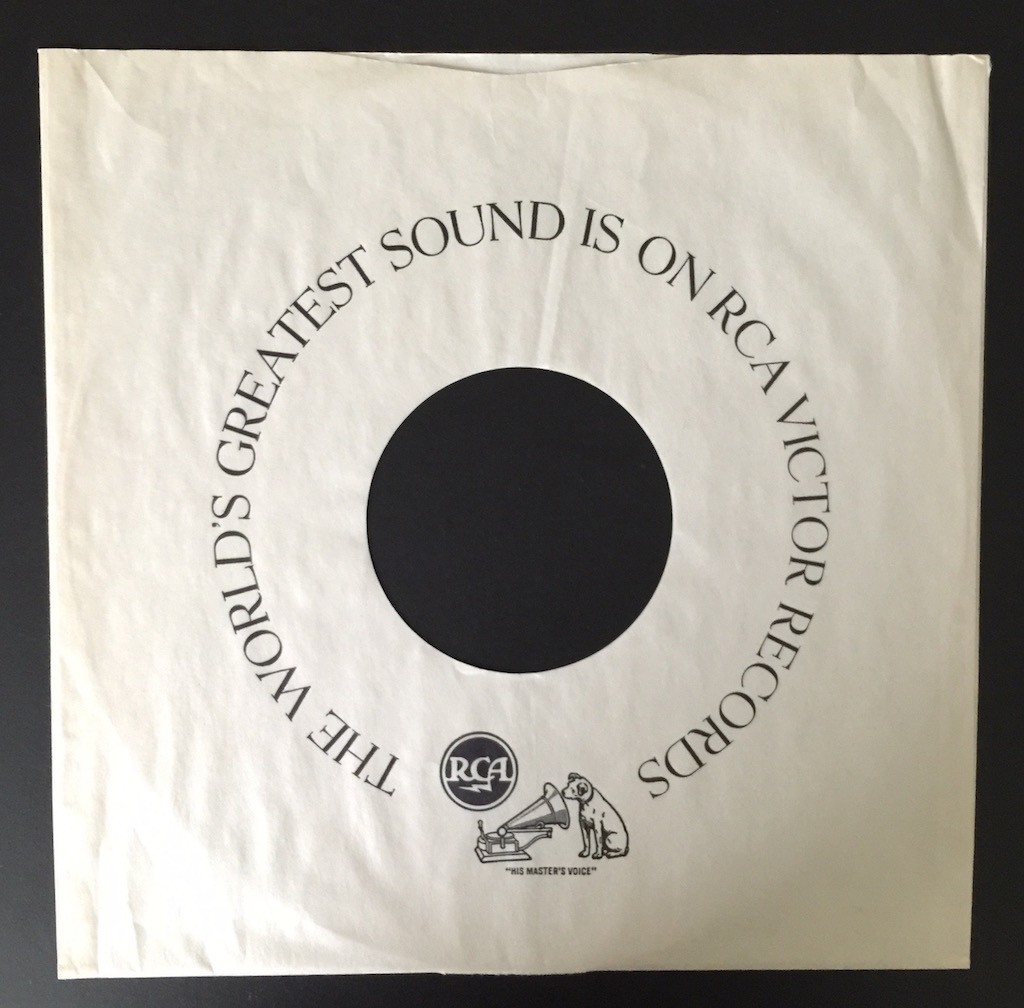 This inner came with one of several of the Canadian pressings of Atkins I own.
Chester & Lester: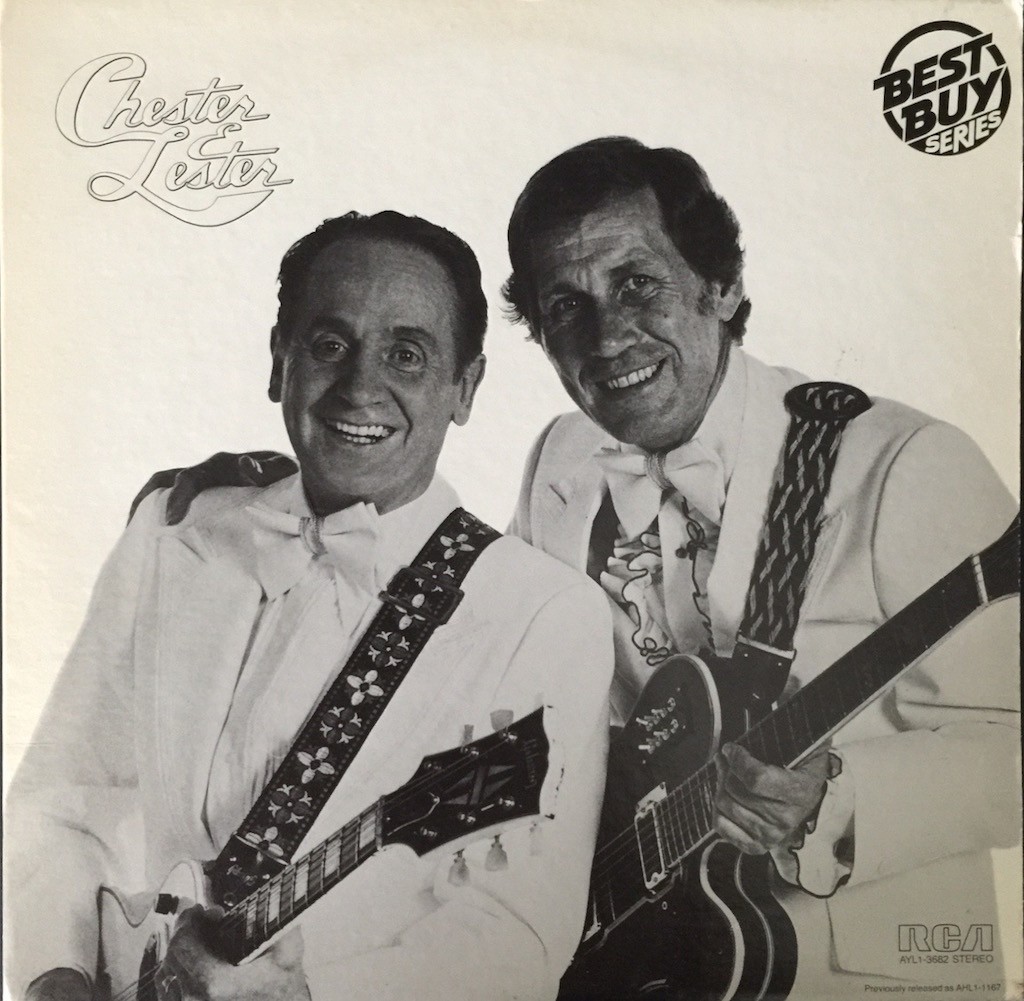 This is the latest of the batch readily to hand, and is one of a number of different collaborations Atkins did over the years; who better to combine forces with than Les Paul? It's fun to distinguish who is playing which parts; the recording, though a later era RCA, is fine sounding. (Mine was labeled a budget release, which likely retailed for 4 or so dollars back in the '70s when it was released). The studio chatter is great as these guys work out the piece while the tape is rolling. I'm putting this one into the category of must have, not because of the reputations of these two legendary players but because their playing here shows why both were legendary. Together, they are extraordinary.
There are two or three more than I'm still trying to track down in my stacks, including Chet Atkins in Three Dimensions and Finger-Style Guitar. There are a couple on my "to buy" list, including Hi-Fi in Focus, Progressive Pickin' and String Dustin' by the Country All-Stars, an EP of early sessions that falls into more rarified territory. There are probably a dozen more that I should own.
We'll try and pin down some essential Chet Atkins in another piece. Atkins had a huge discography and seemed to bounce between country, popular and jazz styles with abandon. (His credits range from writing and arranging to producing and performing). One nice thing about most of these records: they are inexpensive and in most cases readily available. My copies, which were purchased used, decades ago (except for Sessions, which I bought a few weeks ago and is the oldest of the bunch), still sound great. They also reflect a pretty catholic approach to "collecting"; I probably bought one or two because they were on the old "HP List" but I'm hardly a serious collector of Chet Atkins records. Yet, I wound up with a fair number of good records for which I paid almost nothing and decades later, appreciate them even more. This process of discovery, even if somewhat aimless, is part of the fun of record collecting. And Chet Atkins, as a single musician, is such a rich vein of music that it's pretty hard to go wrong.
___________________________
[1] Nor was RCA or some of its other artists. I have a whole series of "lounge music" recordings from this era on RCA that includes Hugo Winterhalter Goes… . Gypsy; South of the Border; Latin. I hope Hugo didn't complete the series with …"Insane." Perhaps Americans were becoming more worldly, and interested in other cultures. RCA had another series, Music For a… Chinese Dinner at Home; Backyard Barbeque, etc. Recipes were included on the back of the outer jackets. We'll leave this topic for another time.