Almanac- Nock-Maupin-McBee-Marshall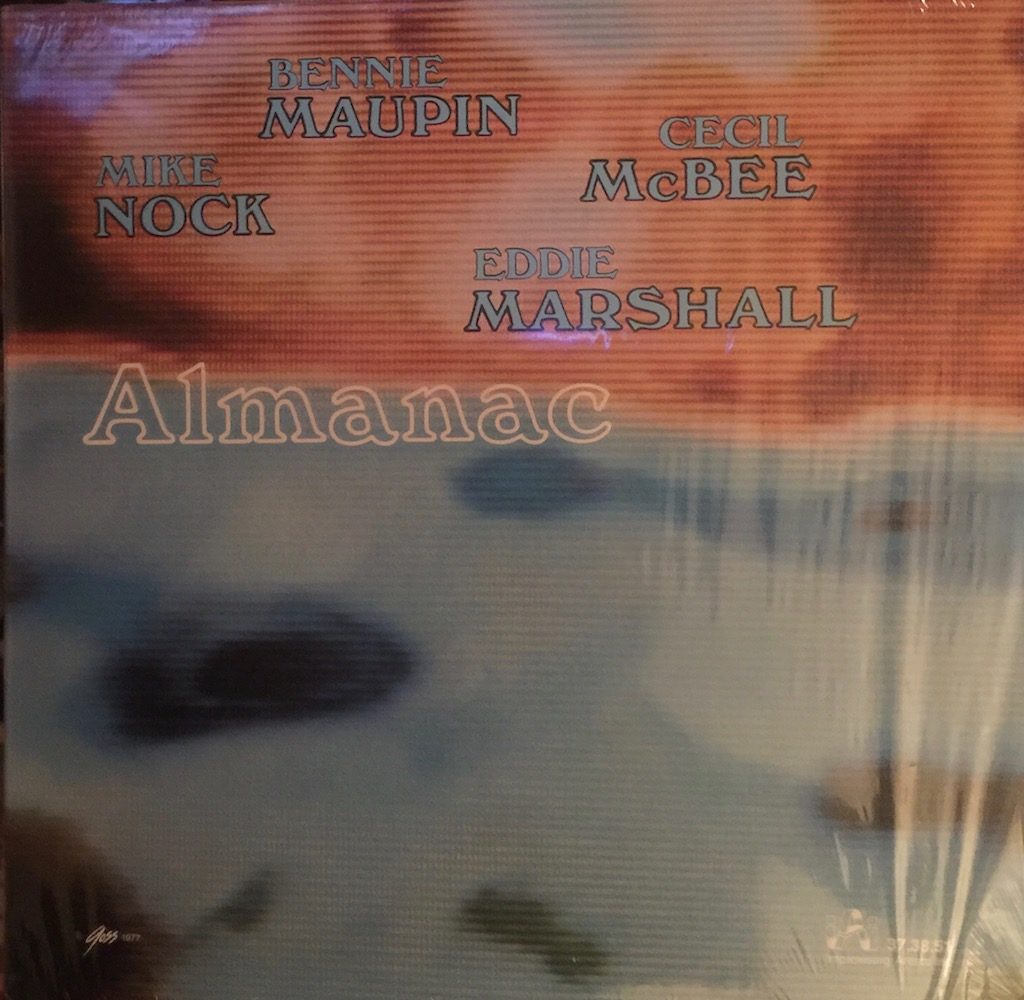 Almanac, featuring Mike Nock, Bennie Maupin, Cecil McBee and Eddie Marshall is a stunning album that draws its power from the strength of its performers, compositions that are melodic but adventurous and a recording that is so good that it qualifies as "demo" material. This is not "safe" jazz, but it isn't aimless either: it works because the compositions are strong and the players are up to the task.  The recording, made at Columbia University, was mixed by David Baker and it's wonderful, chock full of goodies that aren't there for sonic wonderment but are essential parts of the music; the performances – from musicians who are powerhouses in their own right —-are entirely cohesive and spirited.
It's a fine line, straddling more avant-garde sounds with music that is both accessible and challenging without sounding discordant. This album manages to find that balance.
 Almanac is also a sleeper right now—you can find it online easily for little money. (I found a sealed copy for less than $30 US). [Correction: I double-checked my purchase- i paid $9.99US plus shipping!]
The compositions are largely Nock's; he is known for a strong sense of melody and his piano work is impeccable. Bennie Maupin is a legendary woodwind player whose credits include Bitches Brew and Herbie Hancock's Mwandishi trilogy (as well as the hugely successful Head Hunters), among many other notable collaborations. Cecil McBee is somewhat of a house favorite here (as the number of reviews of his work on this site show)—an incredibly tuneful bassist with an uncanny knack for melody and rhythm.  Eddie Marshall worked with many of the name brand jazz greats, overlapped with Nock in The Fourth Way, and toured with The Pointer Sisters, among many others.
What happens on this album is as close to magic as any piece of recorded music can be; you are drawn in by a combination of elements that happen as one- the tone of a real piano, played with great intricacy and timing, with all the harmonics and gravitas that instrument can bring to bear, horn parts that veer and declaim in pitch perfect utterances, drum work that is delicate and entirely simpatico with the tune and a double bass that can deliver rhythmic drive, and leads using almost classical motifs. Combined, these sounds are mesmerizing—you don't have to try to get your head around what the players are doing—it unfolds naturally, and though it has the air of improvisation, it makes complete sense, musically. That's another line- between studied and improvised– which is drawn almost perfectly here.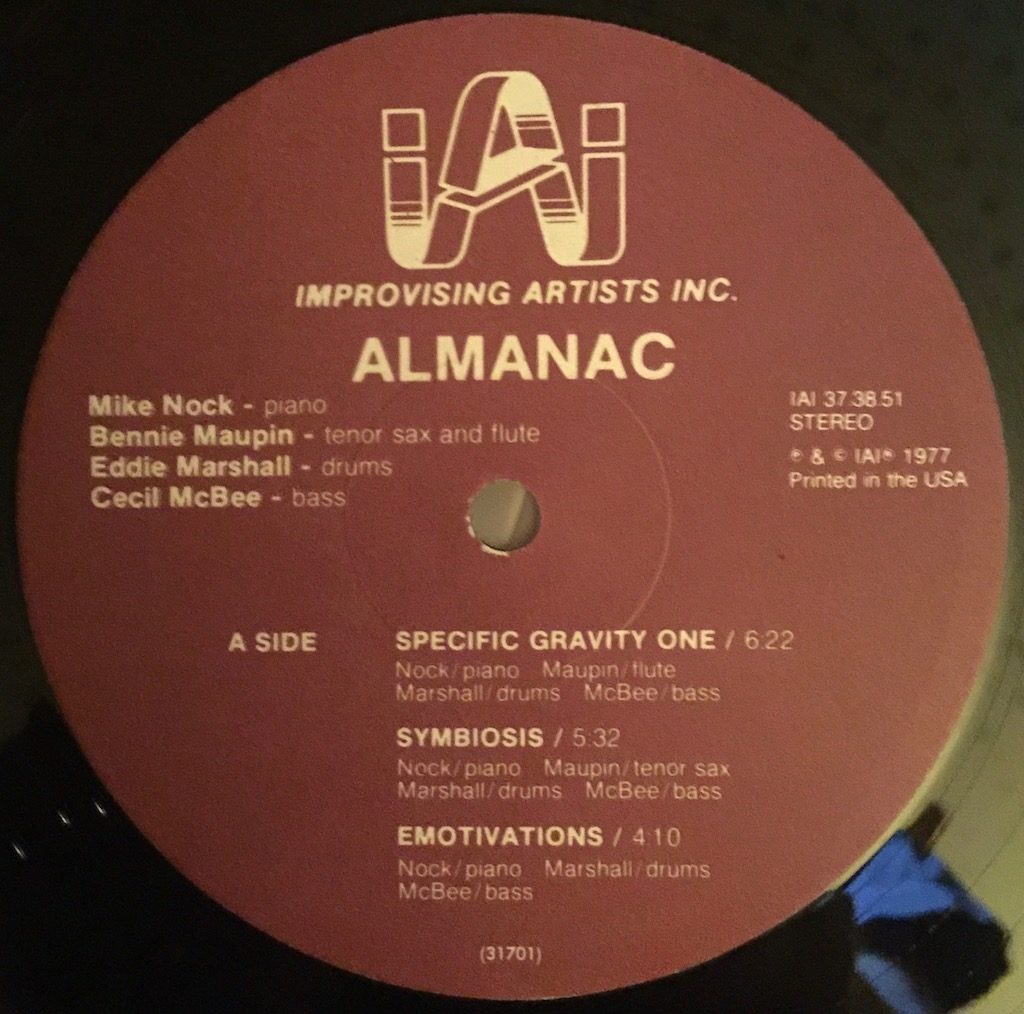 Side A begins with "Specific Gravity One" – and that composition opens with some spacey sounds, bowed strings, flute and cymbal taps as the highest registers of the piano are struck repeatedly, leading into a lush flute melody. The refrain on the flute is juxtaposed against some cool bass sounds (sliding notes) and piano holds the center, cymbals still a tapping. The piano takes a more dominant role as things progress; the plucked notes on the bass are wonderfully set against the piano and drum/cymbal work. The flute reemerges and picks up the original theme. Things sort of slide away to nothing at the end with some murmurs from the bass.
"Symbiosis" begins with a bass groove, piano, drums and the horn leads- a classic small combo sound. The dynamics of the horn are wonderfully nuanced as is the voicing, from raspy to full flare; Nock has a nice piano interlude here and as it progresses you get to hear the full body of that instrument. Nock has a very stable hand- he's playing fast, but it doesn't sound rushed or frenetic, more like precise and note perfect. The horn eventually returns and the piece takes a slightly darker tone but the there's an uplifting aspect- you can hear a nice rim shot a few seconds before the piece ends.
"Emotivations"- a shifting set of chords on the piano that lead into intricate studies of the notes, as Nock winds up and heads up-register; the piano is playing what could be a horn part here (except for the chords). Another display of keyboard virtuosity, accompanied by the steady beat of the bass and drums. Single notes from the theme are eventually called out on the piano; the snare, cymbals and kick drum are very impressive.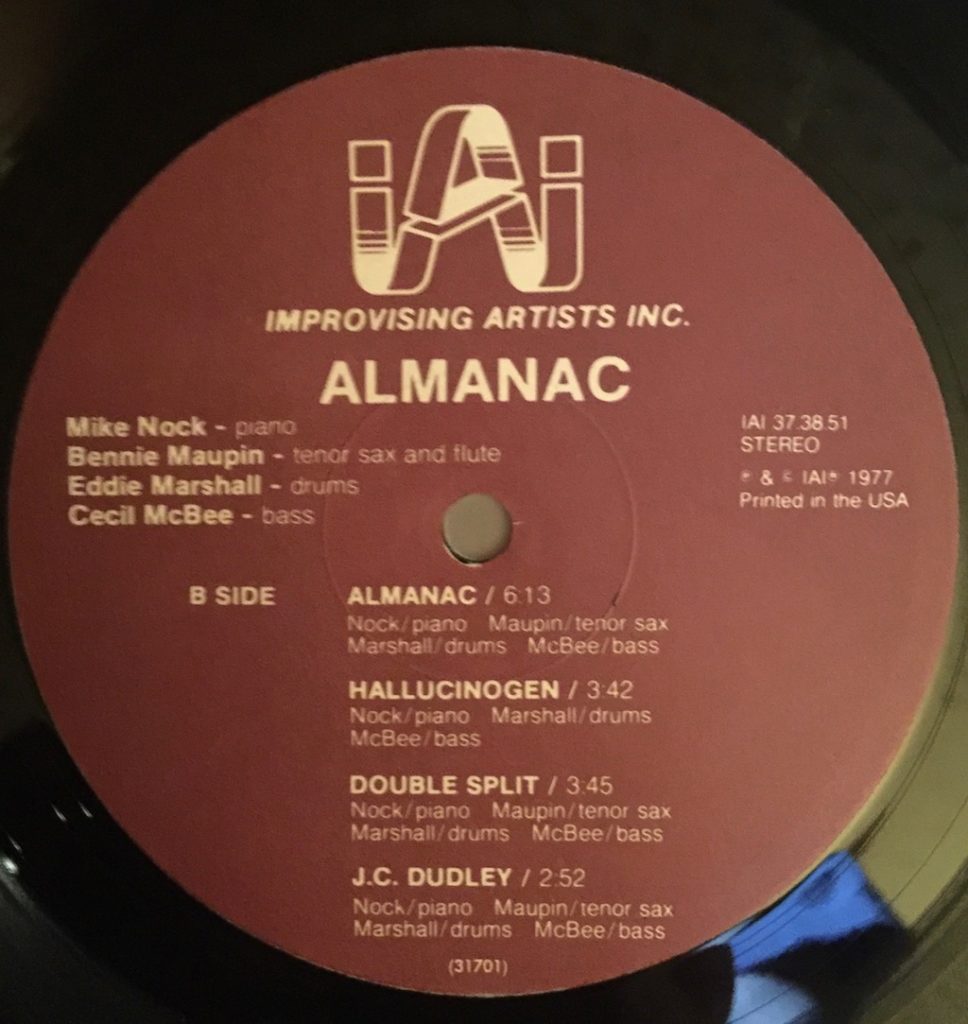 The B side starts with the title track, "Almanac," written by Bennie Maupin. This is the sole composition on the album written by someone other than Nock. You can immediately tell the difference in style; the horn leads in a wonderful display of Maupin's talent—he goes high-low and everywhere in between, summoning a range of sounds from his instrument. Nock eventually intervenes with a piano solo that seems to describe the area around what Maupin just played—Nock's sense of timing is pretty close to flawless. McBee solos, mostly plucked and a few double stops, then goes all melodic for a few bars before the horn swings back in, honking a 'bump-bah' set of two notes and wraps.
"Hallucinogen"- intricate piano starts us off, McBee's bass in the nether regions, fast rolls on the snare and some dramatic struck chords on the piano, until everything goes chaotic (briefly) and then returns to form- with McBee testing the upper limits of his instrument, sawing away as the drums roll and the piano interjects trills. The sound quality here is really impressive- I am often disappointed by piano recordings and this one is way above the norm. Beautiful finish on this piece.
"Double Split"- this may be the most "traditional" composition on the record. It gives Maupin a chance to shine and he brings a bluesy, soulful sound to what would otherwise be an old school exercise. The piano is almost like barrel-house stuff on the right hand.
"J.C. Dudley" – perhaps the most adventurous piece on the album. Fast paced, horn driven, and lots of notes being played, some dissonance; an interplay between piano and horn, Cecil intones at great depth and various drum sounds come forth to bring us to a spacey finish. That last note is a killer.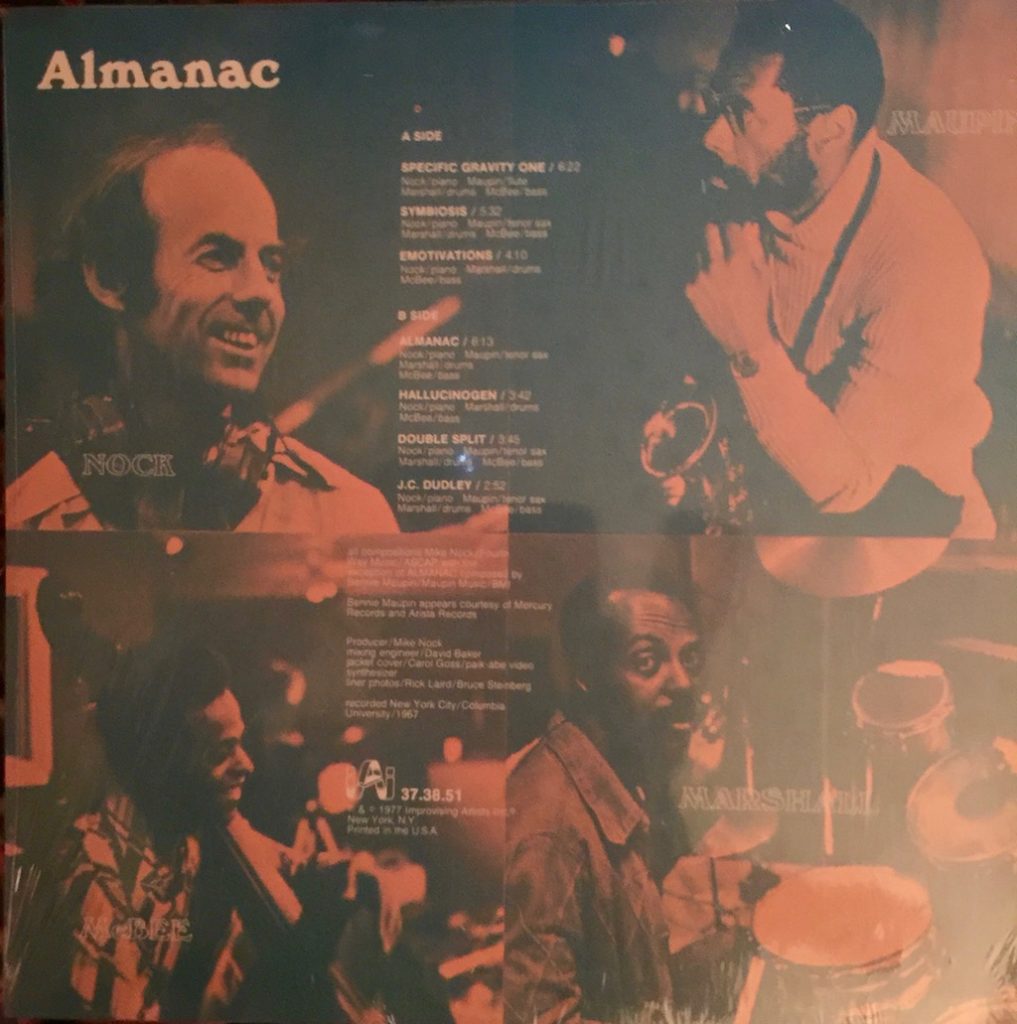 Perhaps one of the reasons Almanac sounds so good is the mixing by Dave Baker- a well-loved engineer whose entire life was devoted to recording. He leaves a vast catalog of work that is well worth exploring, and earned many accolades during his lifetime, among them from the audiophile community.
My copy, pressed on a decently thick slab of vinyl, was flawless. It was pressed at Wakefield Manufacturing and apparently mastered by John Bittner.
 Almanac is an easy find online and scores strongly both for music and sonics.  This is a top flight entry into less straight-ahead jazz that can be enjoyed by those just venturing into deeper jazz waters as well as experienced listeners of post-bop styles.  And you can find clean copies now, cheaply. Strongest recommendation. 
Here you go: https://www.discogs.com/master/view/351081
Bill Hart
Austin, TX
October, 2019