BRAHJA- Self-Titled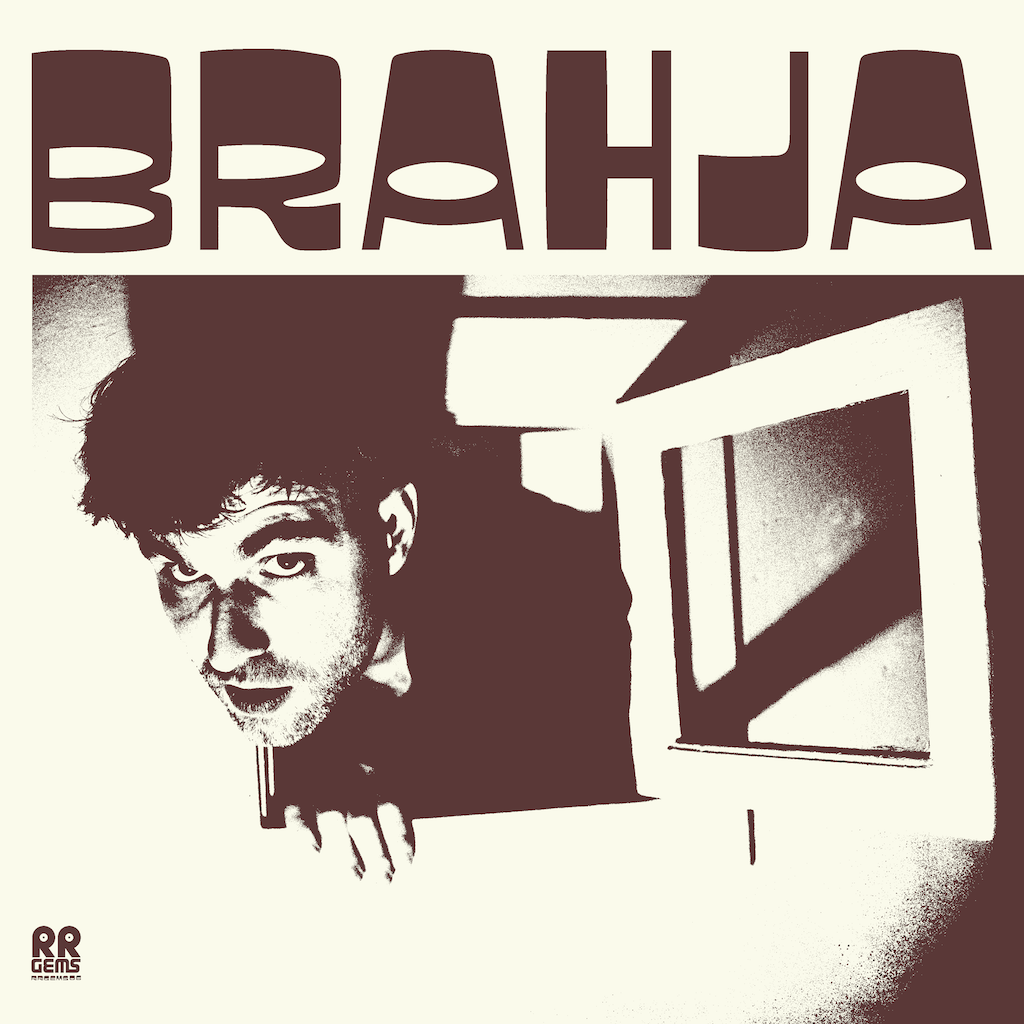 A cooperative of musicians, led by Devin Brahja Waldman of New York, recorded this album in a de-sanctified church in rural Quebec (with additional recording and mixing in New York); it captures a marvelous mixture of sounds, textures and melodic themes composed, arranged and produced by Waldman (whose friends refers to him as "Brahja"). The group on this album is comprised of some core members who have played together for 11 years; many of them met in Montreal, where Waldman attended music school.
 The album starts with "In the Mess," cymbal tapping, drone and an ascending tone horn riff mixed with "ghost voices"; the piano is evident as is the bass (with great tone), but the dominant aspect is that relentless cymbal tapping with assorted squawks, little instrumental filigrees and a haunted assembly of horn sounds. As the piece evolves, it morphs—staccato notes on the piano and what sounds like the aural equivalent of thermal changes in the atmosphere. There is a music video on YouTube released by the label[1] but I prefer to listen without any visual interpretations imposed and let my imagination wander.
"Keepers" follows, with a nice plucked bass lead-in and mellow horn with the snap of the snare at the end of each bar. Some of those odd background sounds surface, but there is a primacy to this piece- the piano sounds are firmly grounded, and what sounds like a flute (but is an alto sax) wraps around; there is a massed voice section that presents a halo and the sax and snare keep pace. The piece winds down nicely.
"Qwikness"- opens with a piano and horn part, guitar fills and solid drum work. You get to the main theme quickly and it's a good one; this is a perfect foundation for improvisation and it comes in the form of flute-like sounds combined with horns. There is some intricate interplay among the instruments as the track ends.
Side A finishes with "Just Passing Thru," rim shots, cymbal splashes, horn riffs in abrupt, short phrases as the sax squiggles and squirms like a caged animal; relief comes in the form of a lilting horn part, set against some deep bass (great tone again) and ascending notes on the synth.
Side B opens with "Ineffable Intro," a beautiful, haunting lead line on the horn, with the piano chumming the waters and ethereal voices in the background. There is tension here as the piece develops—a sort of dark noir meets open spaces, with some spoken words in the background.
"Medicine Woman" follows- descending line, great bass and drums. (I could love this riff! Ba-ba-ba-ba- baba-Bum). Really nice opener for the horn that alternates between two notes- and then you get it—it's like a spirit dance, modernized, jazzified, and the bass tumbles out; the horn goes up a third, gets into minor keys and returns to the main theme while the bass is steadily plucking out that rhythm. Very cool piece that could work great live and gradually go loud.  We even manage to get some Eastern motifs as the piece heads down the back stretch. The bass playing here is wonderful. Everything coalesces at the end with a pretty finish as the horn unravels and we return the main theme in a major key. 
"Return of the Good Enemy" –deep rumblings on the lowest registers of the piano invite a tinkling response on the upper reaches of the keyboard, which is tracked with the synth, making the right-hand sound almost out of tune. The bass and drums are funky here; another good beat with the trippy excursions on keyboards and synth.
The album wraps with "Welcom to Wohlom," deep bass and struck cymbals with a synth frequency riding above. The track sounds quite spectacular —piano and vocal fills, muted, almost distant horn flares in the background, as we enter into a more mystical realm of horn sounds, very mellow (here the synth works to great effect).
The record itself was flawless, dead quiet and all of the various sounds were clear, full of tone and the percussion and high frequency harmonics rang true. Very spacious sound and effective mixing bring up the different instruments at different times, each with their distinctive qualities. Waldman had a lot of material to work with and the question was how to pare it down to get to the essential character of the compositions:
 "This was the first time I had ever mixed a record—I had a lot of material to work with—original tracks, plus overdubs— I made several mixes over the course of 18 months- every time I came back to it, it became clear what was necessary and what wasn't.
My ears grew so much in the process of mixing- this has also informed how I play live."
Waldman described his creative process: realizing musical themes playing the drums, then composing more fully on piano, working with bandmates to familiarize them with the music and develop arrangements for the different parts. In recording, Waldman is responsible for arranging and producing and plays a variety of instruments as do other band members. Though the pieces and various instrumental parts are fully sketched out, he leaves room for spontaneity in the performance. The result seems very organic, but is quite structured.
When asked about genre, Waldman doesn't focus on it — he regards such characterizations as too confining:
"I didn't put the label spiritual jazz on this, but it's probably as good a descriptor as any to distinguish it from the broad field of different kinds of jazz—
As a musician I don't think in terms of genres, all the years of listening—to various styles—I want the same freedom; I'm allowing a lot of influences in; I don't want to close anything out."
I asked about his influences, which are quite eclectic:
 "The list is ongoing, flipping through my record collection, —Freelancing by James Blood Ulmer; Science Fiction Sessions by Ornette Coleman, Quiet Song by Paul Bley. Also, in my current rotation is Praed, Nadah El Shazly, Delay by Can, the Krautrock band, the Velvet Underground, Broken English by Marianne Faithfull, Alice Coltrane, Fresh by-Sly and the Family Stone—Angels and Demons at Play, Sun Ra and Liquid Swords by Gza."
Waldman cautioned that the above list was simply a snapshot of what was next to his record player at the time we spoke, and didn't necessarily reflect all of the performances, artists and recordings that have influenced him over the years.
A fascinating moment occurred during our discussion when I asked about contrast- light/dark, loud/soft—those aspects of music which provide dynamics, create and resolve tension and map the contours and theme of a piece:
"Paul Bley once told me that when you make something pretty too long, it ceases to be pretty. He would tell me, put something ugly there—beauty is revealed in contrast."
You can hear these shifts throughout the compositions on the album; not just key changes, or changes in rhythm and melody, but juxtapositions in sound that change the texture and feel, using different instruments to shade, reveal and advance the exposition of the piece.
Waldman regularly plays NYC clubs and tours; the band which recorded on this album appears for larger shows, but Waldman is itinerant; Paul Bley was a mentor, and credits range from his work with William Parker to performing with Malcolm Mooney from the band Can.
The record is well made (pressed at Optimal in Germany), well recorded and reasonably priced. I'm inclined in a couple of directions about this record—I'd say it is esoteric in some respects, but it's also the perfect late-night album to put on when you aren't trying so hard to find a tune. Listening is more of an atmospheric experience.
 Brahja can be found directly through the rr gems website: https://www.rrgemsrecords.com/product/brahja-rrgems06 and at various retailers.
Devin Brahja Waldman's site is: http://www.brahjawaldman.com
Bill Hart
Austin, TX
October, 2019
_________________________________________________
[1] Which you can find here:
Photos by arrangement of Devin Brahja Waldman