Clifford Jordan- Glass Bead Games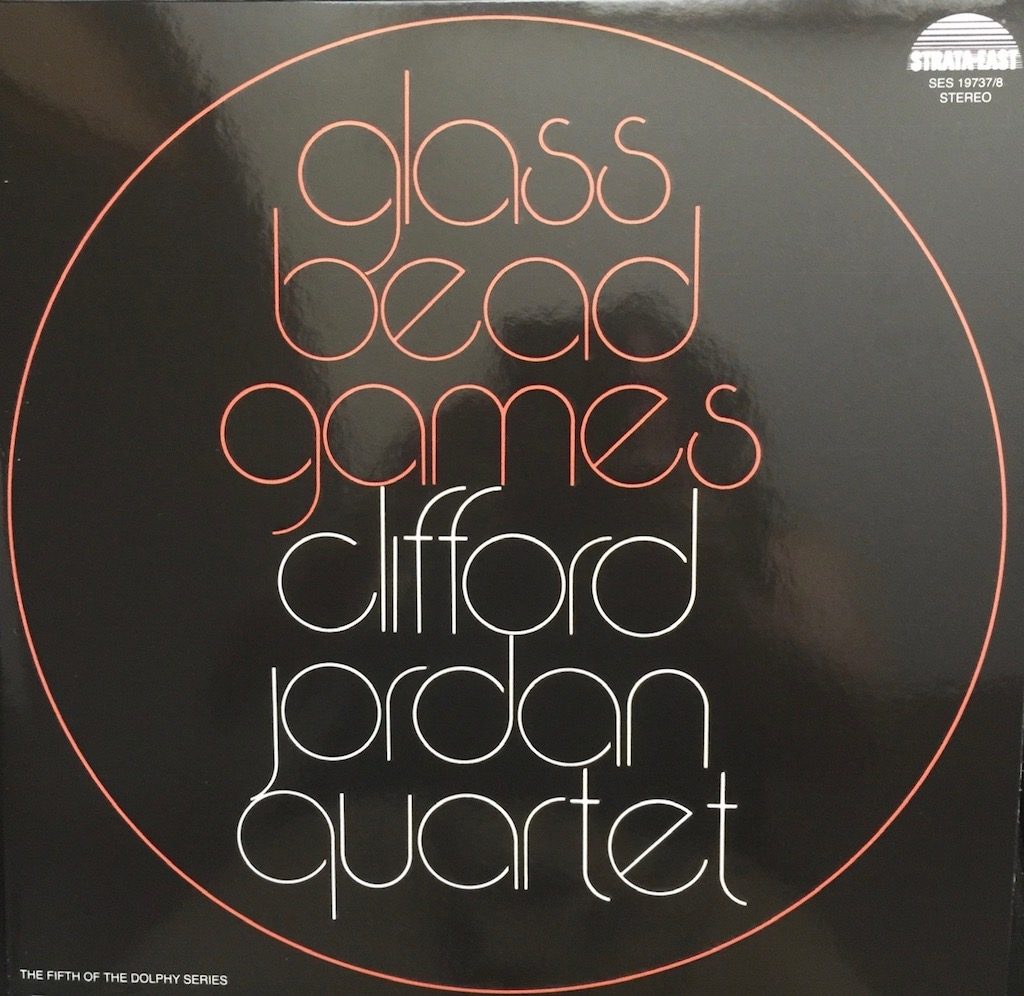 Glass Bead Games is the second album[1]Jordan released on Strata-East in 1974, following In the World in 1972. Like In the World, it relies on two different groups of musicians, including Stanley Cowell, one of the co-founders of the label and Bill Lee, whose family participated on The Descendants of Mike and Phoebe reviewed here. 
Unlike In the World, Glass Bead Games is a two record set. The album seems to garner universal praise, with prices to match. It has been reissued on vinyl several times. I thought it might be helpful for readers, both those familiar and unfamiliar with the album, to review it via the latest reissue from Pure Pleasure, which seems to have licensed a number of titles from Strata-East, along with other spiritual jazz records from labels such as Tribe and Nimbus West. A shoot-out with an original U.S. pressing will be added here eventually.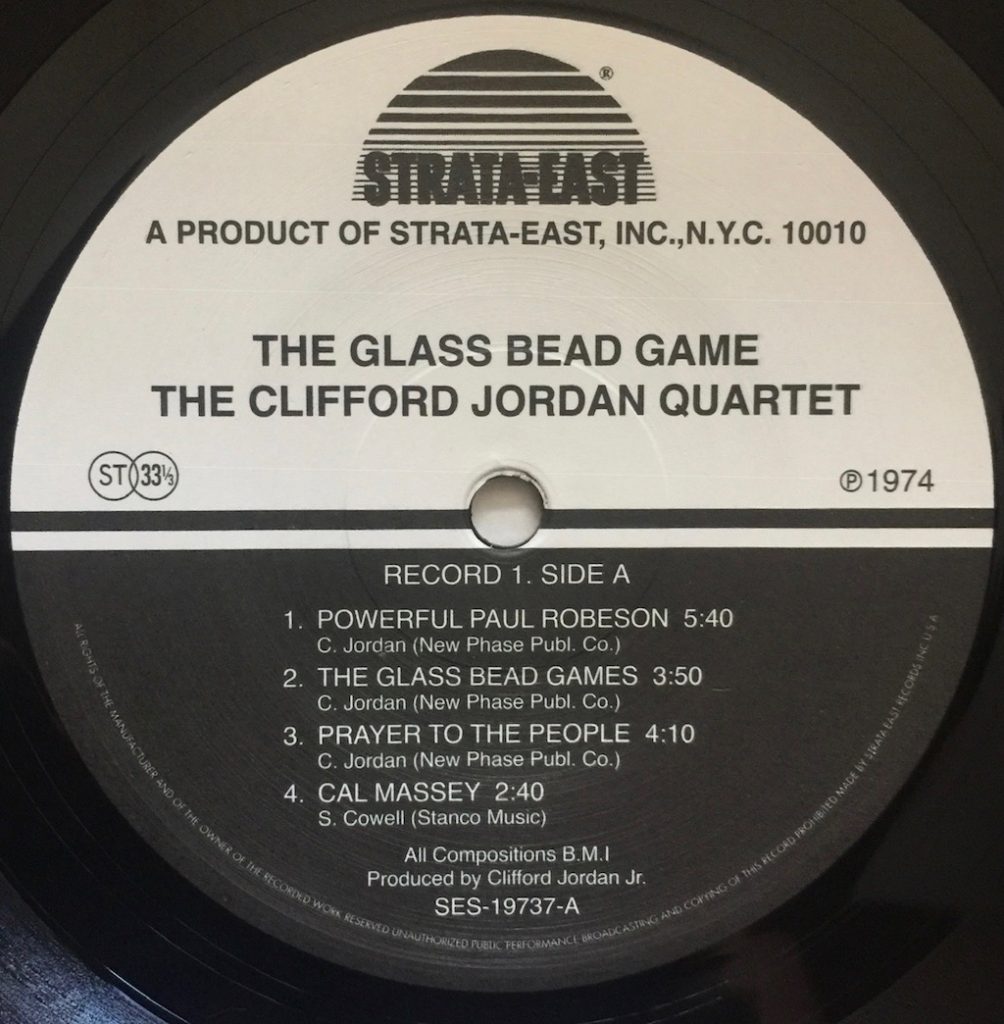 Record 1- Side A
The album starts with an elegant horn part, bluesy, an almost classical piano part and good drive on "Powerful Paul Robeson."
The title track uses a minor key phrase as a springboard for some great horn flights. This is a piece in constant movement –the piano parts are fast excursions against a backdrop of bass and drums and the horn returns, fluidly hitting minor/major/minor with a gorgeous key change to resolve the track.
"Prayer to the People" slows down the pace, but has some wonderful horn parts and the interplay with the bass hits a groove in the middle of the track that is full of soul. This strikes me as an optimistic piece, something that takes an almost gospel-like song deep into soul-jazz territory.
"Cal Massey" displays Jordan's command of the horn which directs the piece from the get-go; it's hotter jazz than the preceding tracks, with more insistence.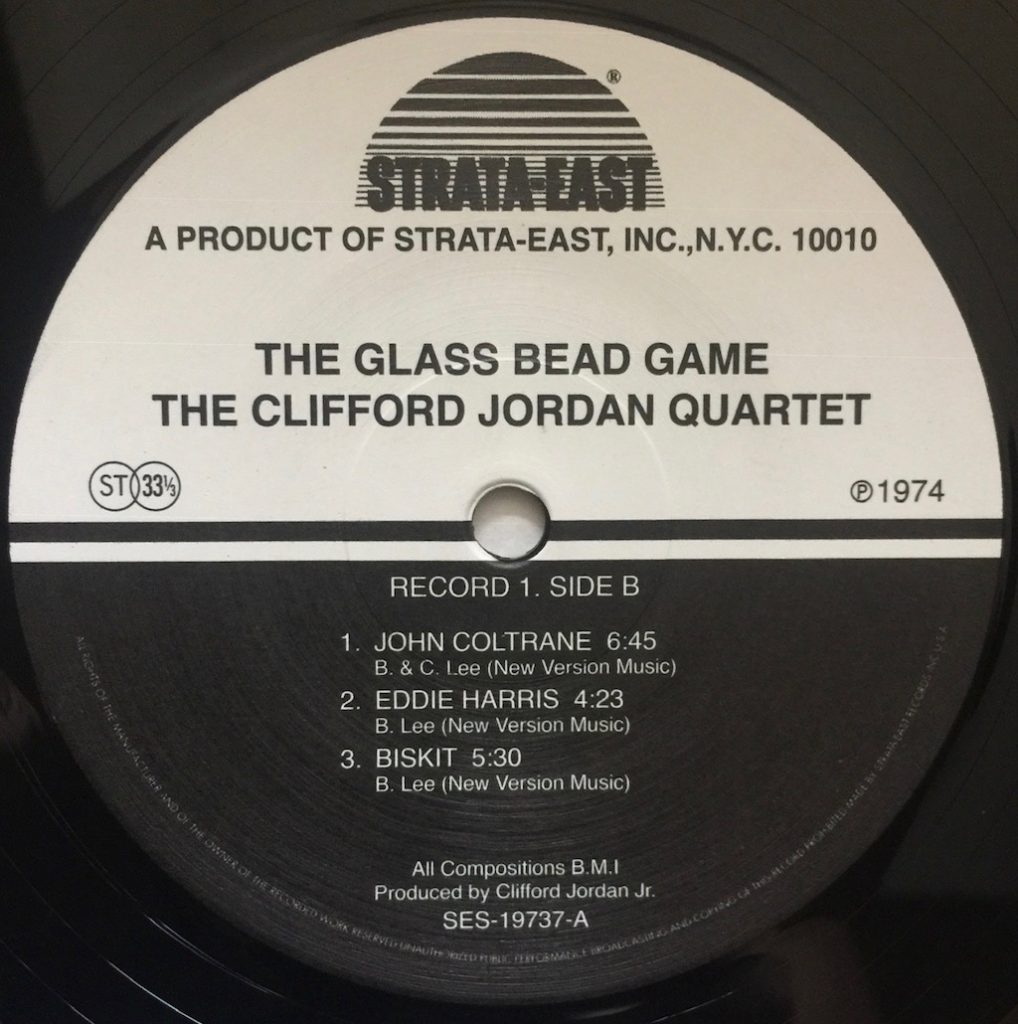 Record 1 Side B
"John Coltrane" starts with bass and what sounds like piano strings being strummed, harp-like, with the horn striking more Eastern-influenced motifs; there's a tranquility at the center of the piece that roots it; some wonderful percussion, tambourine rattles and chanting voices. The horn swells bringing the piece to a close with a flourish, ending with plucked bass descending and a held note.
"Eddie Harris" follows that last note of "John Coltrane" with what sounds like a reprise as the bass, then percussion and horn join in faster paced tune; the piano takes over in the middle with some lovely cymbal work and a good beat. When the horn returns, we are in a groove and it's a good one. The horn and bass work in tandem toward the end as the bass solo's out.
"Bisket" picks up immediately with a strutting horn call and return to a phrase that gives plenty of opportunity for Jordan to wail. He's pulling a lot of sounds from the horn, and the band acts as a backstop giving full attention to the horn.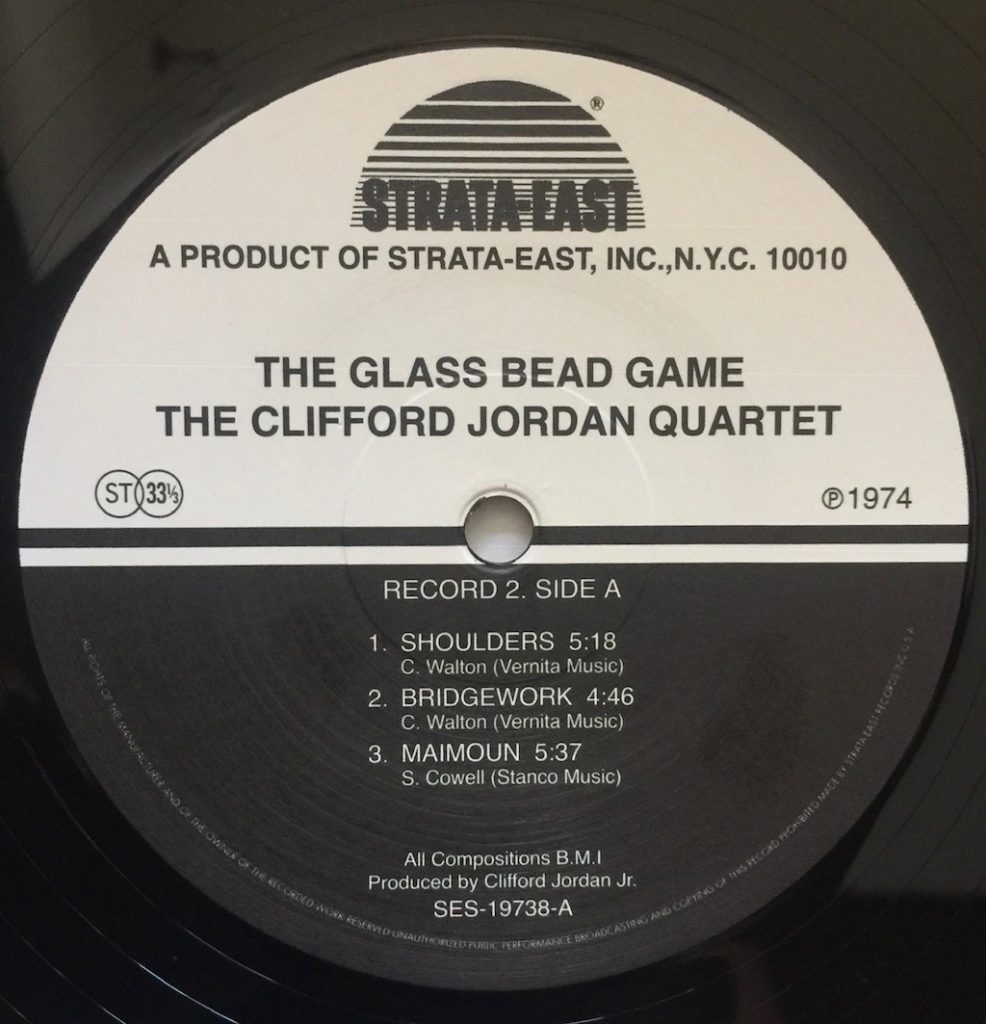 Record 2 Side A
"Shoulders" is a more adventurous track, its fast pacing and intricate piano work giving an urgent feel to the piece.
"Bridgework"-piano and horn in unison, leading the melody, with some lovely piano interludes and an up tempo beat on the drums; the bass plays counterpoint here and when the horn comes back in, everyone is in a different plane, but working in harmony. It's a cool transition.
"Mainmoun"- lovely slow piano intro, with octaves top and bottom and the bass picks it up, setting the beat; the riff against which Jordan plays is a simple one. This piece is stunning because the slower pace gives the instruments more time to resonate and fill the space and the horn is very soulful. The piece wraps with a return to the piano front and center, and concludes with bowed bass, reminiscent of Side 2 of Marchin' On by the Heath Brothers (also on Strata-East and one of my favorites on the label).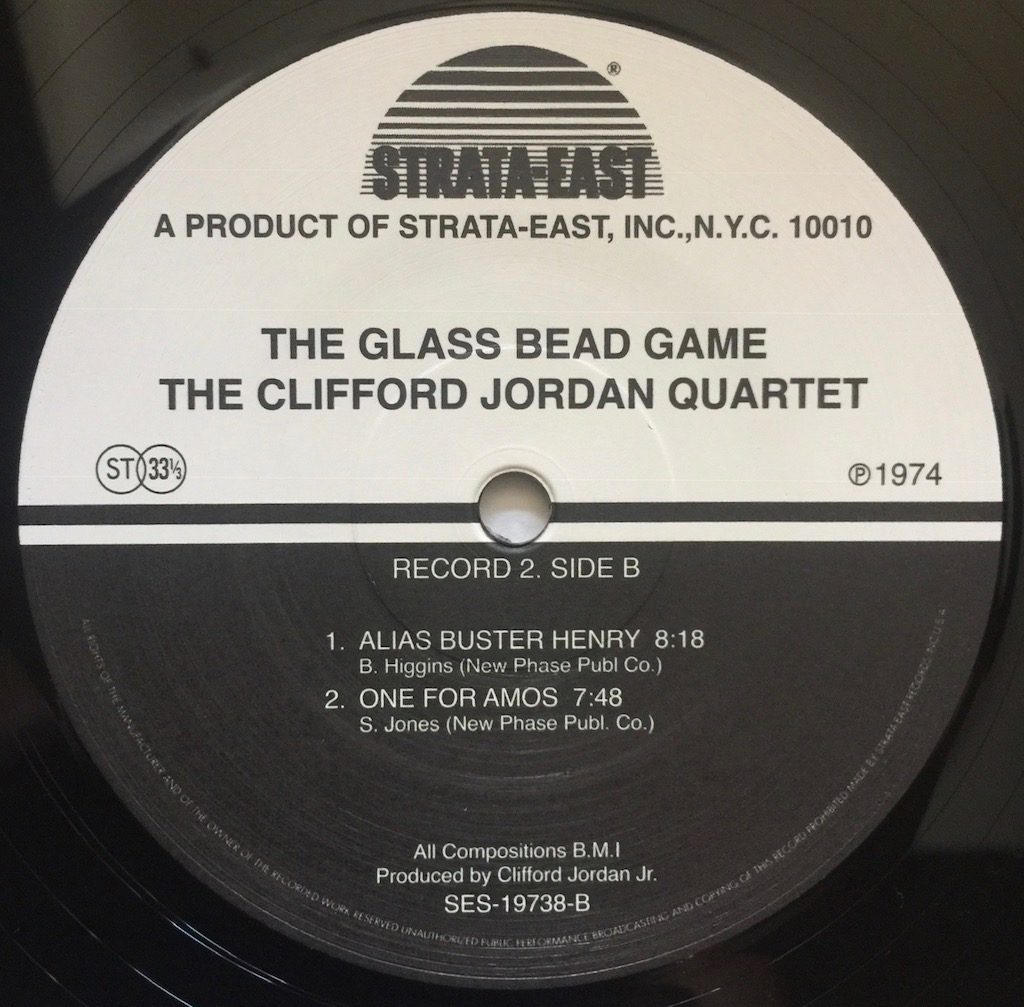 Record 2 Side B
"Alias Buster Henry" starts with drums and the band quickly assembles; there are stops and starts, where the main theme is explored by different instruments; the drums act as a transition point to these different paths. A more complex piece with some wonderful interplay between bass and piano; then the drums remind us to change up- and then—drum solo time! We return to the full band for the finish.
"One for Amos" strikes a great melodic line from the first few notes, and the bass picks up the beat and carries the weight as Jordan shows his ability to shade light/dark, major/minor, loud/soft and fast/slow tempi. This piece is as good a showcase of Clifford Jordan's versatility as any on these two records. The piano parts are wonderful too, as is the bass playing. This track could be considered a master class for modern jazz.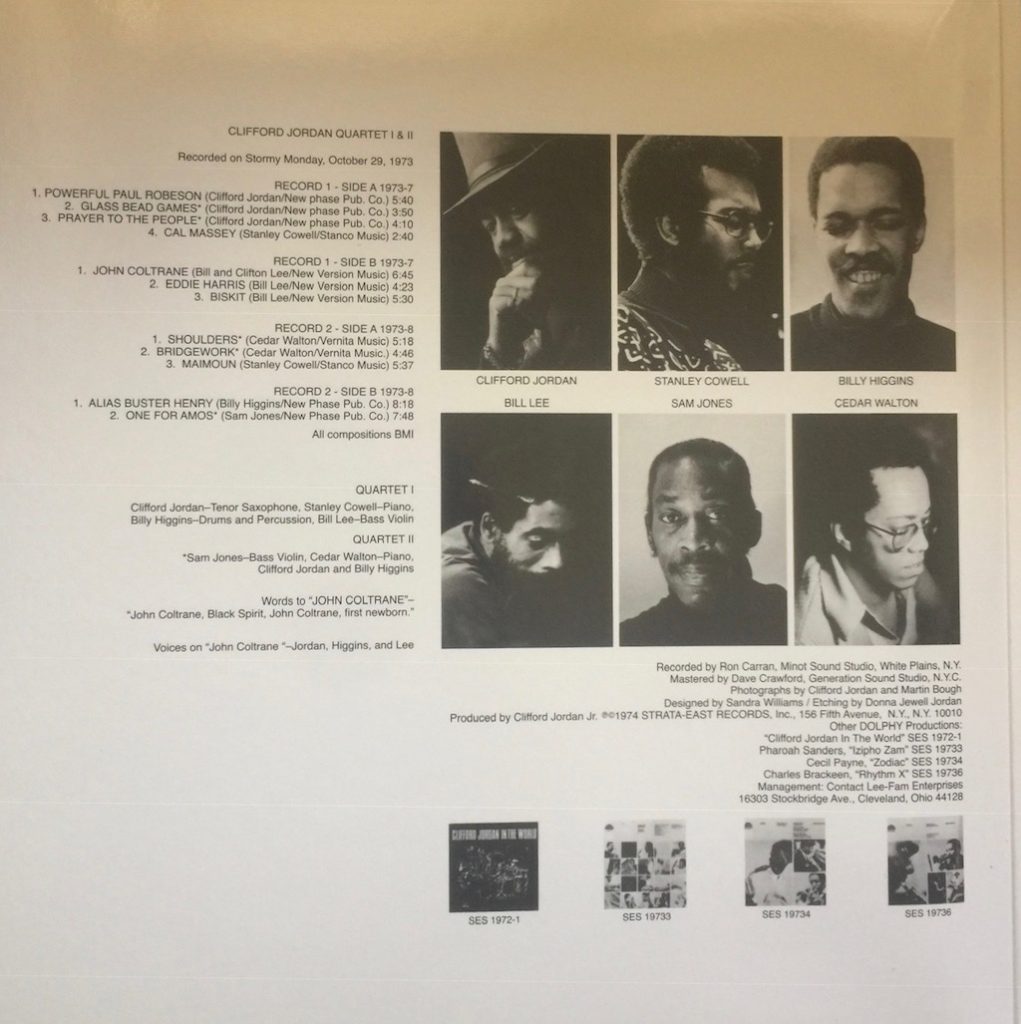 I tried to listen for differences in the playing style and performance of the different quartets, but had a hard time doing so (perhaps someone who is more intimately familiar with the playing style of the personnel could better discern this). Billy Higgins on percussion was a constant throughout both records; bass duty was alternated between Bill Lee and Sam Jones as was piano, by Stanley Cowell and Cedar Walton.
One of the enjoyable aspects of the album was the variety of relatively short tracks, but there's a lot of music packed into these two records.
The Pure Pleasure reissue is first rate- quiet surfaces, lots of body to the instruments, deep bass and a full rich sound. This may be one of the best Pure Pleasure reissues from the Strata-East catalog I've heard. Although we will compare it to an original U.S. pressing, on its own merits it is easily a "must buy" if you are a jazz music listener. On cost alone, compared to an original U.S. pressing, taking into account both the music and good sonics, it is a winner.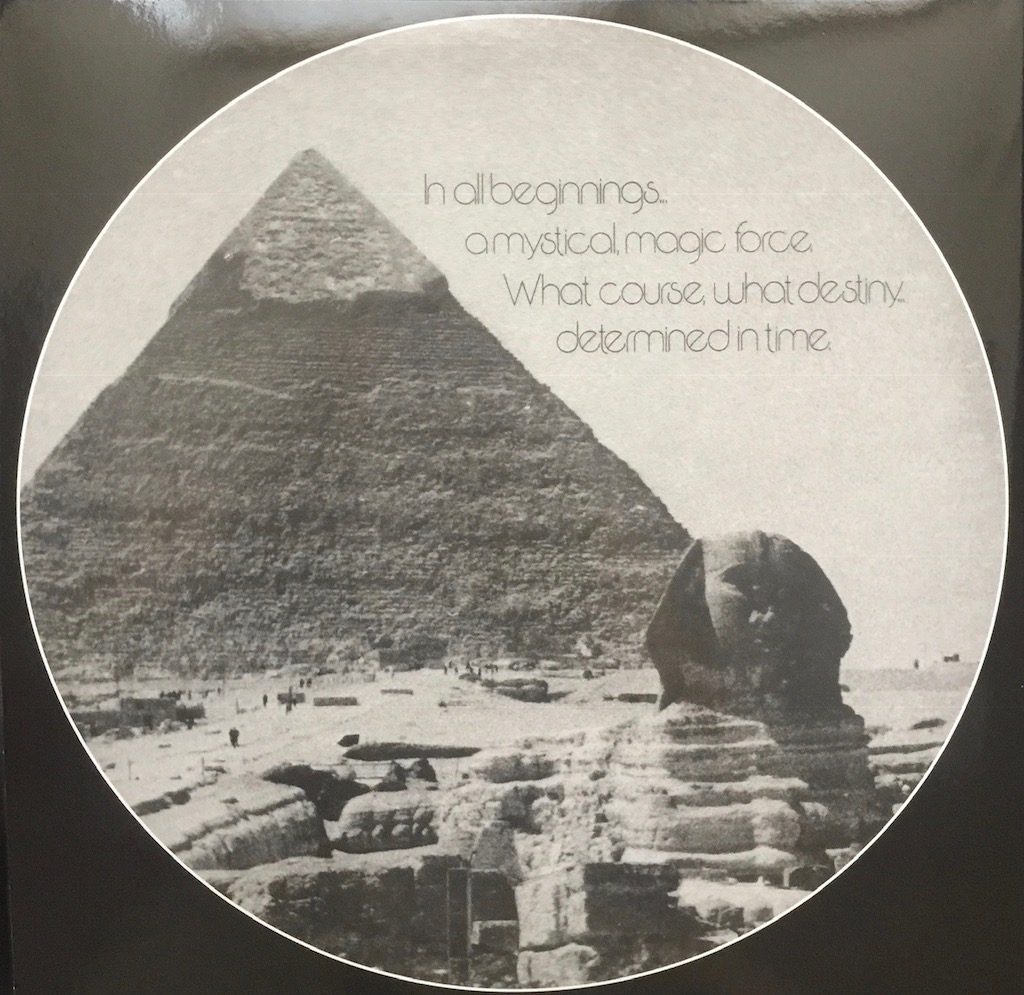 Bill Hart Austin, TX May, 2019

---
[1]Jordan seems to have had a long fruitful relationship with Strata-East and appears on a number of their records and acted as a producer of others. See Discogs Clifford Jordan + Strata-East. Perhaps it is more accurate to say delivered or released as a band leader.