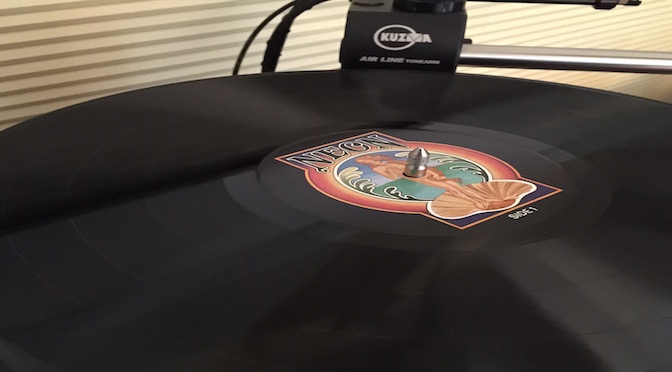 I am delighted to include a piece by Ken Golden, entitled "Prog Rock Obscurities" on some of the more obscure, but still accessible, masterpieces of "prog" rock. Ken has not only become my "go to" guy on matters "prog" but has an interesting history:
After years of crate digging and buying some of the most obscure (and ultimately valuable) period "progressive rock" records (when they were still obscure, but far cheaper), Ken launched a company, The Laser's Edge, in 1987 to distribute digital copies of rare progressive rock recordings. That company is not only still in business today, but has expanded to embrace new issues (and reissues) on vinyl. Ken set up an in-house label in 1990 to reissue rare progressive and psychedelic rock albums, and did some "ultimate" records: classic bands like Spring, The Load, Faithful Breath, Secret Oyster. This business also expanded to include current bands in the genre, including: Riverside, White Willow, Indukti, and Eloy.
Not content to leave well enough alone, Ken launched a sister label in 1997- Sensory Records. This label focuses on current bands working with the broad scope of progressive metal. It has since become Ken's most active label. Notable artists on the Sensory roster include Spiral Architect, Zero Hour, Gordian Knot, Delain, and Circus Maximus. According to Ken:
In 2001 a third label was spun off. Free Electric Sound is our fusion label. Woodenhead, Scott McGill/Michael Manring/Vic Stevens, and Mörglbl have helped revitalize a dormant genre. Then, in 2012 Modulus was born.  It presents reissues of rarities that we feel needs to find an audience.  This is a limited edition series presented in a "mini-LP" style tip-on sleeve that mimics the original LP design.
Ken, his distribution companies and labels are considered important resources throughout the world in the progressive rock genres. The VinylPress is pleased that Ken agreed to do a piece identifying some of these tasty morsels –not all of them are stratospheric in price and some can be found as reissues.
I suspect we've barely scratched the surface here. Most of us know the mainstream prog rock records, from bands like YES, ELP and others. For a long time, I regarded the genre as dated- some great music for its time, but the heavy on formalism and keyboards. But, I had missed a few things. First, there was a huge body of prog that simply eluded me: material from countries like Italy, Germany and eastern Europe. Further, the genre had continued to evolve, even after it was no longer "in fashion" in mainstream musical circles. This stuff didn't get radio play, at least in the States, and was largely unknown except among the cognoscenti; much of this material represented a fresh "take" on the genre, following some unexplored paths of music.
Once Ken knew that I was an avid collector of Vertigo Swirls, I started to get messages from him–the constant being: "Do you own X?" In many cases, the answer was easy: "Huh?" Once I started to dig into some of the Italian and German records (as well as the more esoteric UK albums), it took  little convincing to jump on many of his recommendations. In some cases, the only impediment became price. So, Ken makes some recommendations for cheaper alternatives to the original pressings where possible.  As I try to keep pace with Ken's recommendations and discover more on my own (though I have yet to catch Ken out on a record he is unfamiliar with), I will include additional reviews of some of my favorites. I already have a pretty big pile that I listen to frequently. Reviews of some are long overdue. In the meantime, enjoy Ken's article.