Gary Bartz and Maisha-Direct to Disc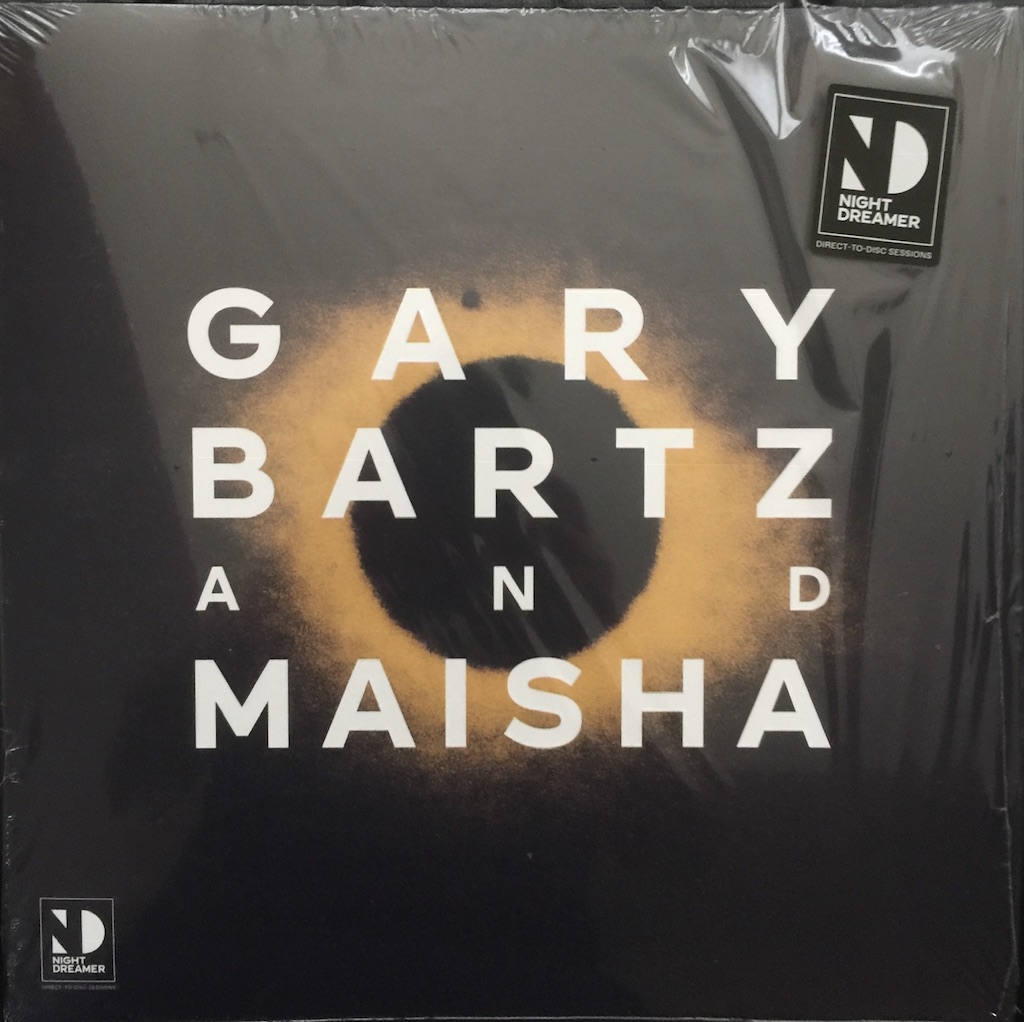 Gary Bartz and Maisha eloquently answer the question about the direction of modern jazz today.
Bartz is a heavyweight player whose credentials take us back to the roots of post-war modern jazz; the list of notables with whom he performed as a sideman is long and impressive, from Blakey and Miles to Eric Dolphy, Max Roach and McCoy Tyner. His album, Another Earth, with Strata-East co-founders Charles Tolliver and Stanley Cowell and the great Pharaoh Sanders, is a classic. Bartz has kept moving through the years, exploring jazz, funk and fusion. As I was warming up the system today, I was listening to Woody Shaw's Blackstone Legacy, another album on which Bartz plays with an outstanding roster of cohorts.
Maisha is a relatively young UK-based "collective" led by drummer Jake Long. Their explorations into spiritual jazz were influenced by some of the very performers with whom Bartz collaborated over the years. The idea of combining these forces—one of the first-generation performers from the era of spiritual jazz with a modern group of interpreters– grew out of a shared performance on stage; the interaction between Bartz and this new generation of musicians invigorated all of the musicians and led to further touring and appearances.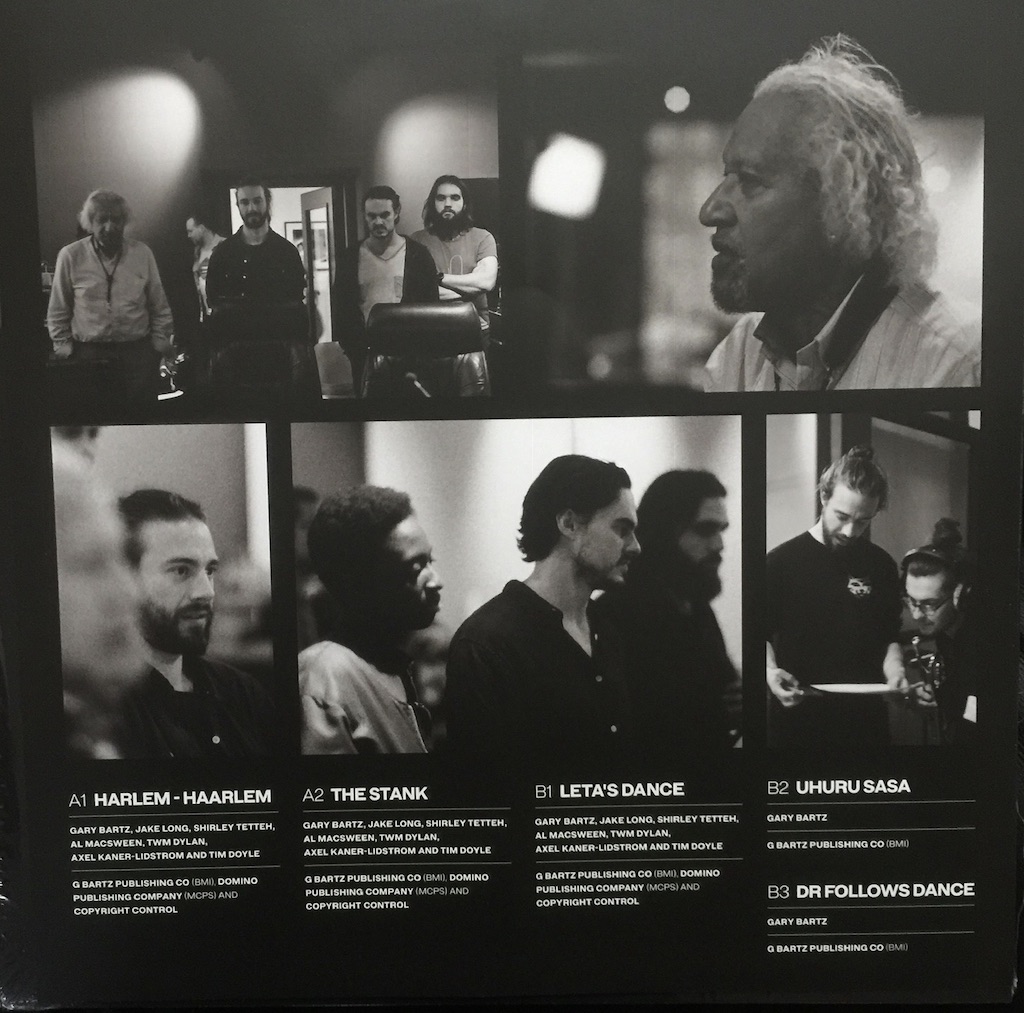 This album not only captures that magic but goes a step further—it is cut as a "direct to disc" album from two nights of performances in the Netherlands in late October 2019. For those without long memories, "direct to disc" was a proven way to increase the sonic performance of an LP by eliminating the normally critical step of "recording"; instead, the performance was cut to the acetate as it occurred, without a tape machine, leaving no room for mistakes, retakes and overdubs. The format was popular for a period in the audiophile community back in the late '70s, and was utilized by several labels, most notably, Sheffield, with the great Doug Sax mastering at the lathe. In most cases, the best that could be said about many of those releases was that they "sounded good." The music was often "safe" and unadventurous and tended to the banal. I have shelves of these records that I acquired new at the time of their release, but rarely listen to any of them these days.
This one is different. It consists of five tracks, each emphasizing different faces of the music, from Afro beats to funk to soulful jazz:
Side A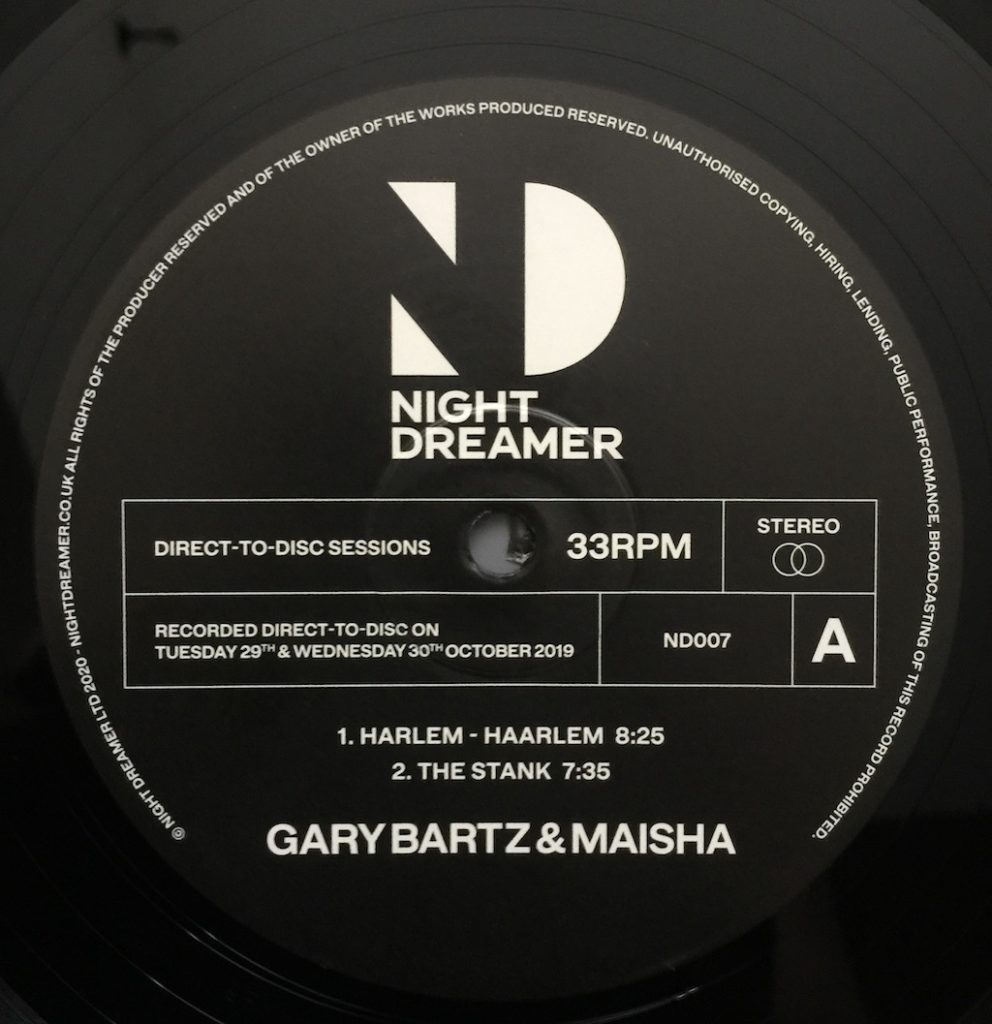 "Harlem-Haarlem"—a funky, soulful excursion that taps into a seemingly familiar riff—the band gets to show its stuff here. Bartz is spot on, note perfect and melodic as hell. These musicians sound like they've been playing together forever. Nothing too exotic here, but that's part of its appeal—it's an exercise in harmony and rhythm with a soulful swagger.
"The Stank" –– an exploratory opening on the horns leads to some pure funk. The sax is sweet here as the band steps back to deliver a steady, cool stride that gives Bartz a foundation. Nice guitar solo from Shirley Tetteh that mixes jazzy riffs with a style that reminds me of early T-Bone Walker.
Side B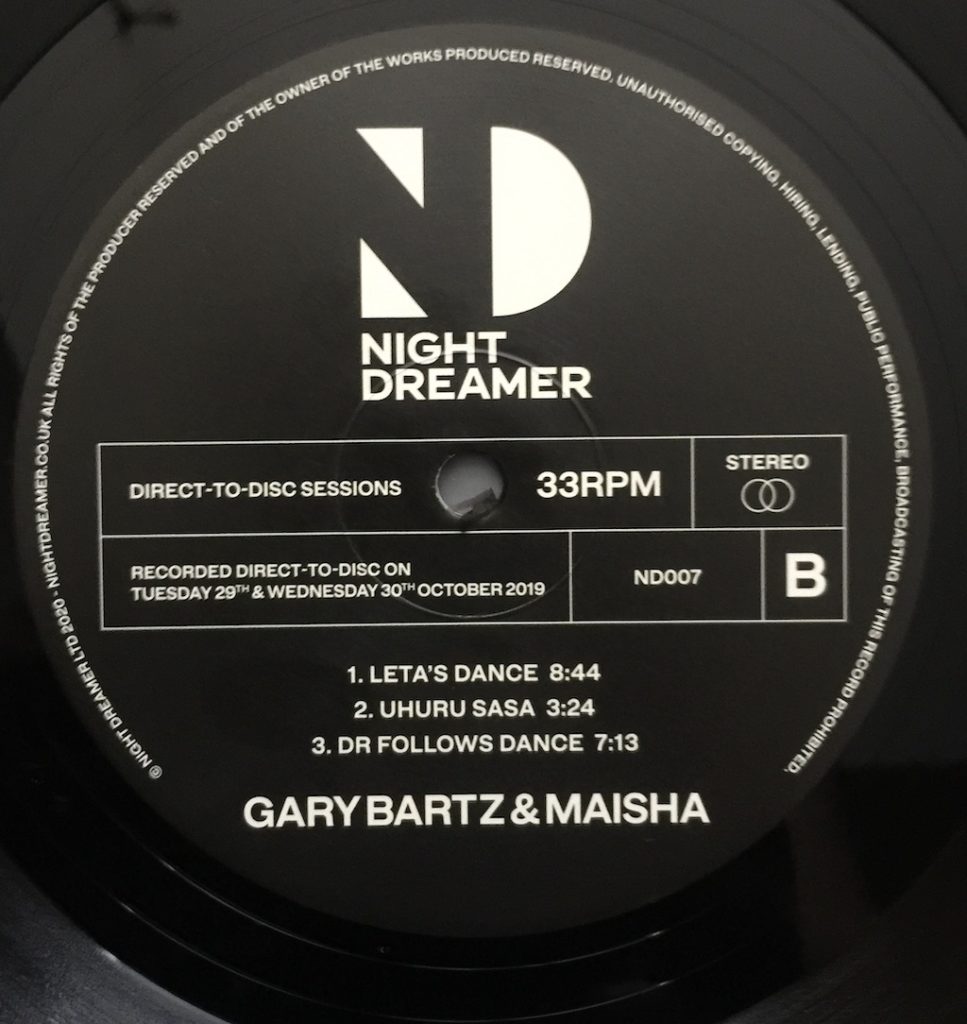 "Leta's Dance"- cymbal rolls bring you into a pastoral setting, instruments murmuring, percussion rattling softly as the bass picks a line and we are led in a gorgeous melodic dance with all kinds of stylistic influences—an upbeat pace, like Brazilian dance music, but the sax keeps it a little more serious, and there's this great piano work by Al Macsween that breaks up the original theme. When we return, horns in unison, the band churns away with a funky beat while the horns elevate the song.
"Uhuru Sasa" ––Bartz shows some classy major/minor moves against a silent background to bring this track in fluidly from the preceding piece—it's a seamless transition even though the two songs are entirely different in tone and style. This track showcases the old school/new style sound as effectively as any on the record.
"DR Follows Dance" –– another seamless transition as the bass grabs the first notes and leads into a mix of funk and ethereal sounds. Percussion on this record is outstanding both for the performances and the sound quality.  Another cool guitar solo by Shirley Tetteh. The band works the funky line as a backdrop for Bartz whose intonation is marvelous—he gets that sax to sing.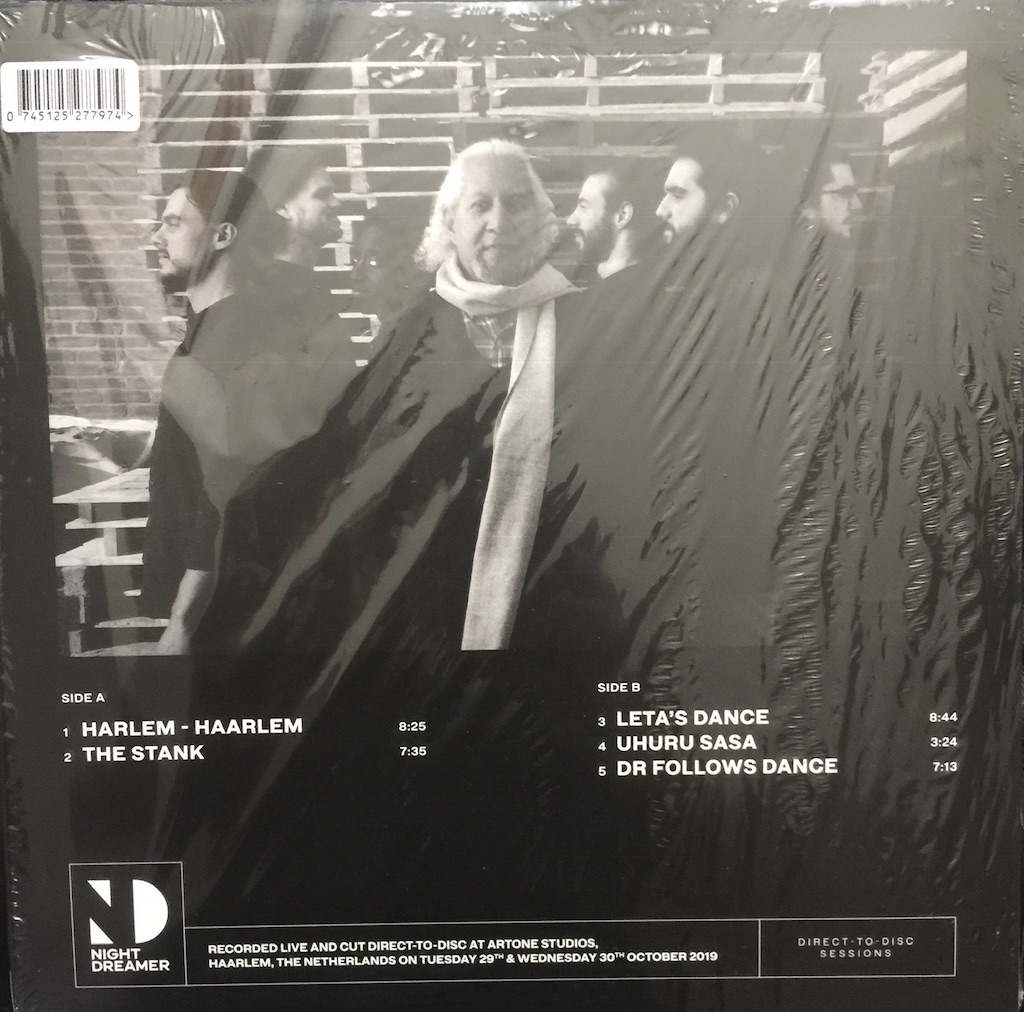 The energy of a live performance also adds to excitement here; many performers will reach beyond their limits in the inspiration of the moment, being supercharged by the presence of an audience. And, because the direct to disc approach does yield considerable sonic benefits, when it is used to deliver music that is a little more adventurous than the usual fodder found on such releases, the result is stunning. This is one such album: interesting modern jazz, captured live and cut direct to disc. It also isn't terribly expensive, so you aren't risking much by trying it. Maisha's debut album is also worth buying and Gary Bartz has a large catalog that is well worth exploring. This album may get you hooked on both.
The album can be ordered through Bandcamp and is also available through various retailers, including (at the time of this writing) Amazon.
https://nightdreamer.bandcamp.com/album/gary-bartz-maisha-night-dreamer-direct-to-disc-sessions
Bill Hart
Austin, TX
July, 2020