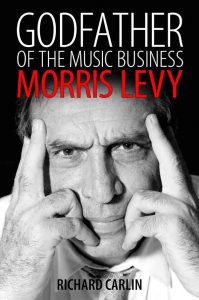 Interview with Richard Carlin, Author of The Godfather of the Music Business: Morris Levy
Why a book about Morris Levy? Was it the dearth of information about him, the shadowy reputation or something else that drove you to research and write this?
RC: The project did not start as a Morris Levy biography. I was doing some work on a broader project- about a generation of mostly Jewish men who were the children of first generation immigrants-all from the Bronx, who were successful in the music business. I was familiar with some of the published material on Levy- there was a fascinating interview of Fredric Dannen done in Rolling Stone, which was then enlarged in Dannen's Hitmen. There was also Stiffed, which recounted the whole debacle with MCA, but it only focused on one aspect of Levy's business dealings. It turned out that Levy's career ran the longest, and covered the jazz era as well as the peak years of the industry- in the '70s. And yes, I was also fascinated by Levy: He had this reputation as a tough, bad guy in a rough industry. But, I was also surprised to learn some positive things about him, despite his reputation.
How long did it take you to research and write, because you not only cover a lot of ground, from the post-war years, and the jazz era, to Levy's death in 1990, but you obviously dug into a lot of details that were, at least to me, previously unknown.
RC: As the book evolved, it took roughly six to seven years. It took shape over time, as I moved away from a broader look at the Jewish music entrepreneurs of the '50s into a book exclusively on Levy.
You also substantiated the story I heard about the "roast" of Levy at a UJA dinner—we'll leave that for readers who are unfamiliar with the story, but it always made me laugh.
RC: Levy seemed to take pride in his tough guy image and used it to his advantage. It wasn't a delicate business- the music business—and I certainly don't excuse or defend much of what he did. He was clearly in the business to make money, not to "develop" artists. But, he also had a close relationship with Count Basie and helped relaunch his career in the later '50s. And Birdland was integrated long before that became acceptable even in a place like New York. The 52nd Street clubs weren't integrated, and if Birdland was not the first it was among the first integrated clubs on Broadway.
The book has a very "real" quality in the sense that you are reporting, in a matter of fact way, all the twists and turns in Levy's life. It makes for fascinating reading and covers a huge time span—perhaps one of the most dynamic in the industry, so the reader gets more than a biography, but a more complete picture of the inner workings of the industry as it developed after WWII.
RC: I wanted a balanced view of Morris Levy, and tried to be even handed in how I presented the facts. One "truth" I've learned in some of the other work I've done that it is often the outliers, the "little guys," rather than the big companies, who were the real innovators. They were often responsible for changing the shape of the industry. Levy wasn't known for his devotion to artists, or for breaking any new musical genres, but he was a very clever operator, and took advantage of touring as a way to promote record sales. It was also a fascinating era, so there was a lot of ground to cover.
You've written several books about music and edited many others- in fact your day job is as a music editor for another major publisher. Are you are frustrated musician? How did you get involved in the field?
RC: I did a lot of freelance work writing about the music industry and the figures within it. And yes, I do play, but it's hardly mainstream—I play the concertina, and am involved in traditional Irish folk music!
♦
Richard Carlin maintains a website/blog at www.richardcarlin.com where he posts extended excerpts of material that either did not fit into the book or where Carlin has found additional information. There are also some interesting photographs on Carlin's site.
  Photos (including author photo) are courtesy of Richard Carlin and any further reproduction is expressly prohibited.