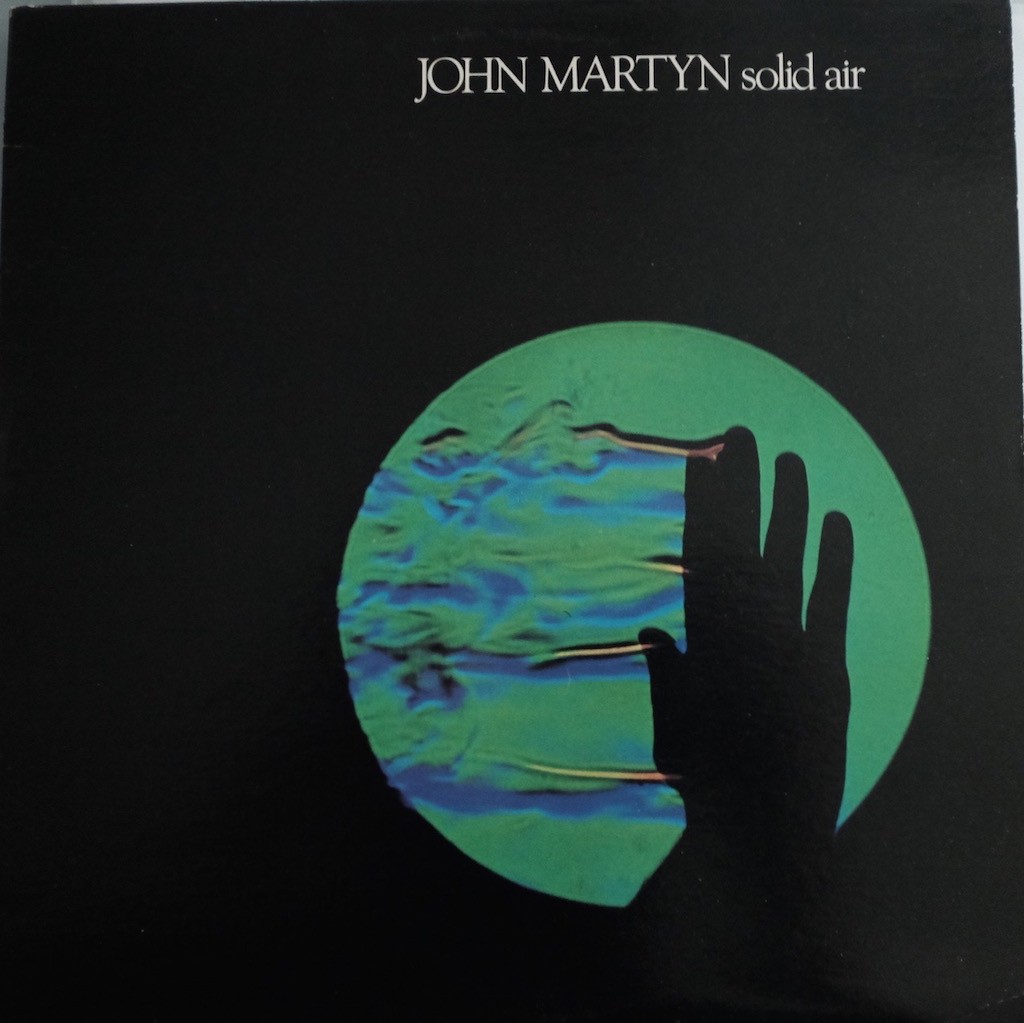 Long associated with Chris Blackwell's Island Records, John Martyn's most enduring album, Solid Air, is now considered a classic representation of British folk-jazz fusion by a troubadour raised in Scotland who did not consider himself a folk artist. A troubled and mercurial character, Martyn worked with some of the best musicians and behind the scenes talent in the business—including Levon Helm and Stevie Winwood– but never seemed to achieve his due. By the time of this album, Martyn had parted ways with Joe Boyd, the preeminent producer of the English folk movement at the time, yet wound up working with most of the musicians from Fairport Convention on this record (whom Boyd produced) and dedicated the title song to Nick Drake, another talent produced by Boyd.
The album was superbly recorded and co-produced by John Wood, who had also worked on the Fairport and Nick Drake albums and engineered previous Martyn albums. Bassist Danny Thompson, who had also worked with Martyn on this and a number of his other records, added a symbiotic dimension to Martyn's playing- listen to the interplay between Martyn's guitar and the bass on the title track- the two seem to read each other without sounding studied- there is an easy, jazzy flow (the horn part here is brilliant too).
Martyn developed a style of using his voice as "horn"- rasping, resonant and on occasions blaring. The title track shows how effectively all this comes together.
Martyn was also known for using various effects, including an Echoplex, which enabled him to achieve a rich, complex tone.[1]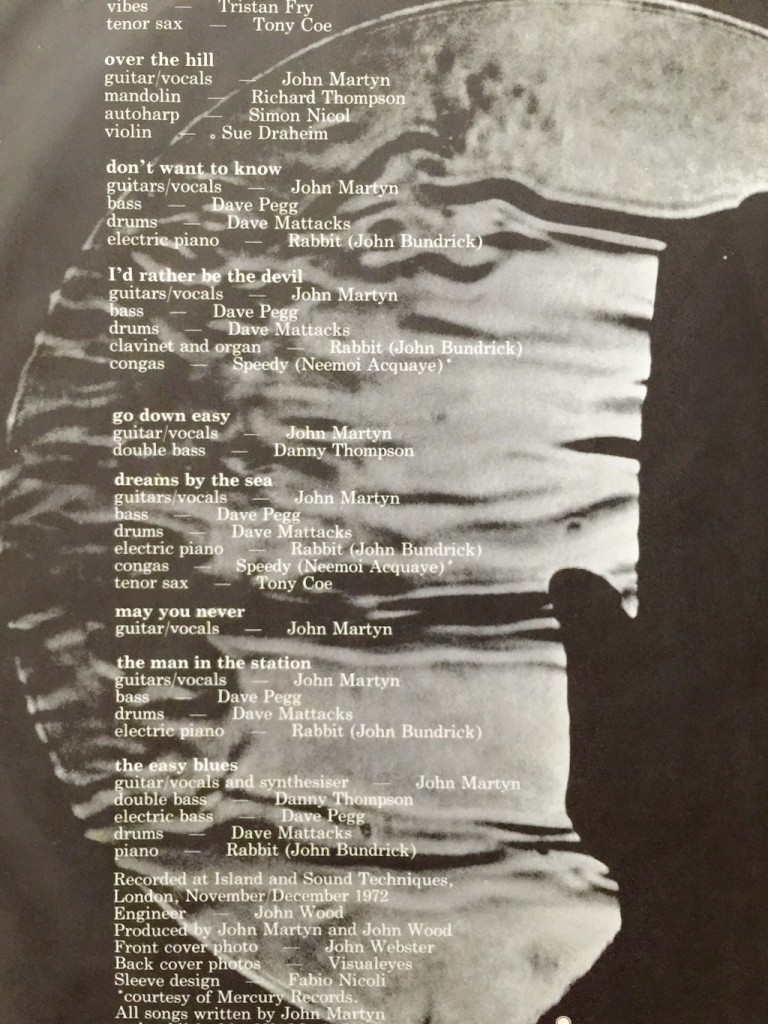 John "Rabbit" Bundrick, who had appeared on Johnny Nash's hit, "I Can See Clearly Now" and later worked with Bob Marley, contributed some serious keyboard talent. Listen for the virtuoso playing of Sue Draheim, a classically-trained violinist who explored folk, Celtic, Cajun and country blues with extraordinary flair. Her work, combined with Richard Thompson's mandolin and the autoharp on "Over the Hill" is a frenzy of stringed instrument interplay. "Don't Want to Know" is mellow jazz piece with a haunting, repetitive refrain. Bundrick's keyboard work here is spot on and makes for a killer track.
Martyn's rendition of the old Skip James "Devil Got My Woman" (here entitled "I'd Rather be the Devil") takes James' Bentonia-school string work and falsetto vocal style into a modern dimension; it percolates as a jazz piece that doesn't stray far from its blues roots, but transforms the work into something different: clearly, Martyn didn't need to conjure up someone else's devils. "Dreams by the Sea" is pure funk; it's almost Curtis Mayfield in another, better world.
The track, "May You Never," became a perennial for Martyn, and was covered by Eric Clapton on Slowhand; an earlier version was originally recorded by Martyn with ex-Free guitarist, Paul Kossoff.[2]
"Man in the Station" has great changes and dynamics, scat and rock with an insistent drive. Another fantastic track. The album finishes with "The Easy Blues"- a more traditional burst of blues, but played to perfection.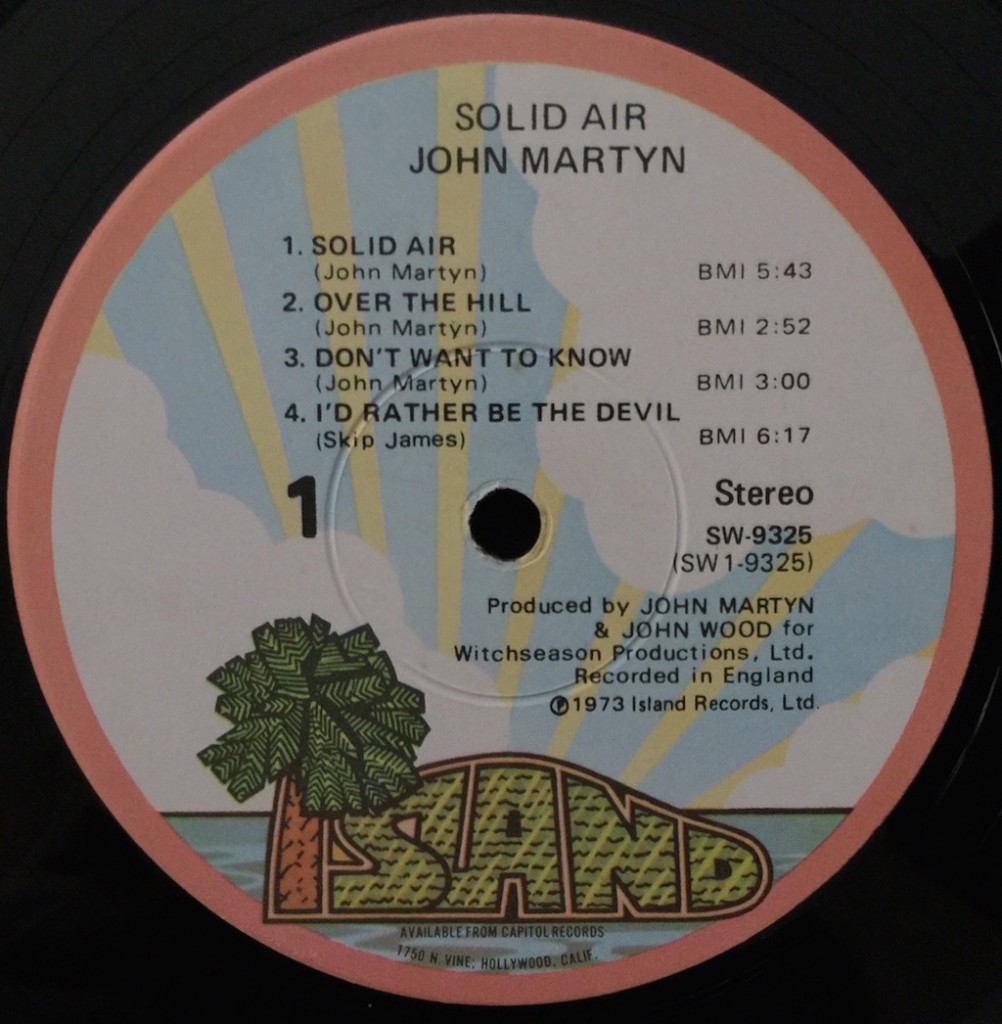 U.S. "pink rim" mastered by Lee Hulko
Pressings: the "go-to" is probably the UK pink rim, mastered at Sterling by Lee Hulko. These pressings are now harder to find on the cheap. U.S. pressings from the period can also be found with the Sterling "LH" inscription (my U.S. pressing is noisy but that may be a function of past owners, not an inherent characteristic of these copies).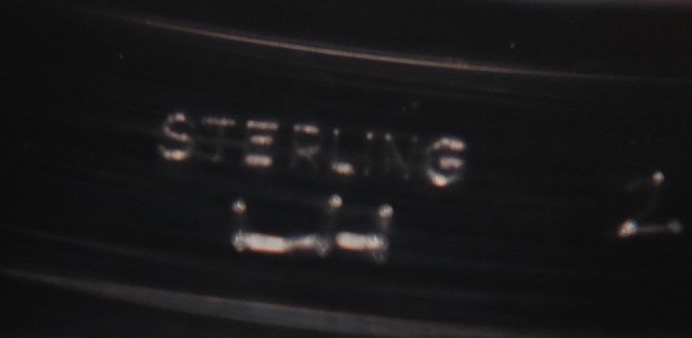 deadwax inscription for Sterling "LH"
I recently found a Canadian pink rim mastered by "The Laquer Channel" that sounds great.

very faint 'TLC' inscription on Canadian pressing
I can't comment on the Simply Vinyl version (1999) or the current vinyl issue from Universal, which appears to derive from a digital master.
Martyn was apparently a troubled, irascible character never fully satisfied by his own, considerable talent. We may cover more of his recordings in future installments. This album is probably where I'd start. For what it's worth, I found this to be one of the most enjoyable reviews I've written because in the process of listening to the record once again (to write this), I marveled at how fresh and inspired it is.
________________________
[1] The Echoplex was essentially an analog tape delay in a small-ish box, which included an additional preamp stage and was portable. It was extremely popular among electric guitarists. Today, the effect is often simulated with a variety of effects pedals.
[2] There is a recent RSD 7 inch single that is available with the Kossoff version.