Lou Bond- self-titled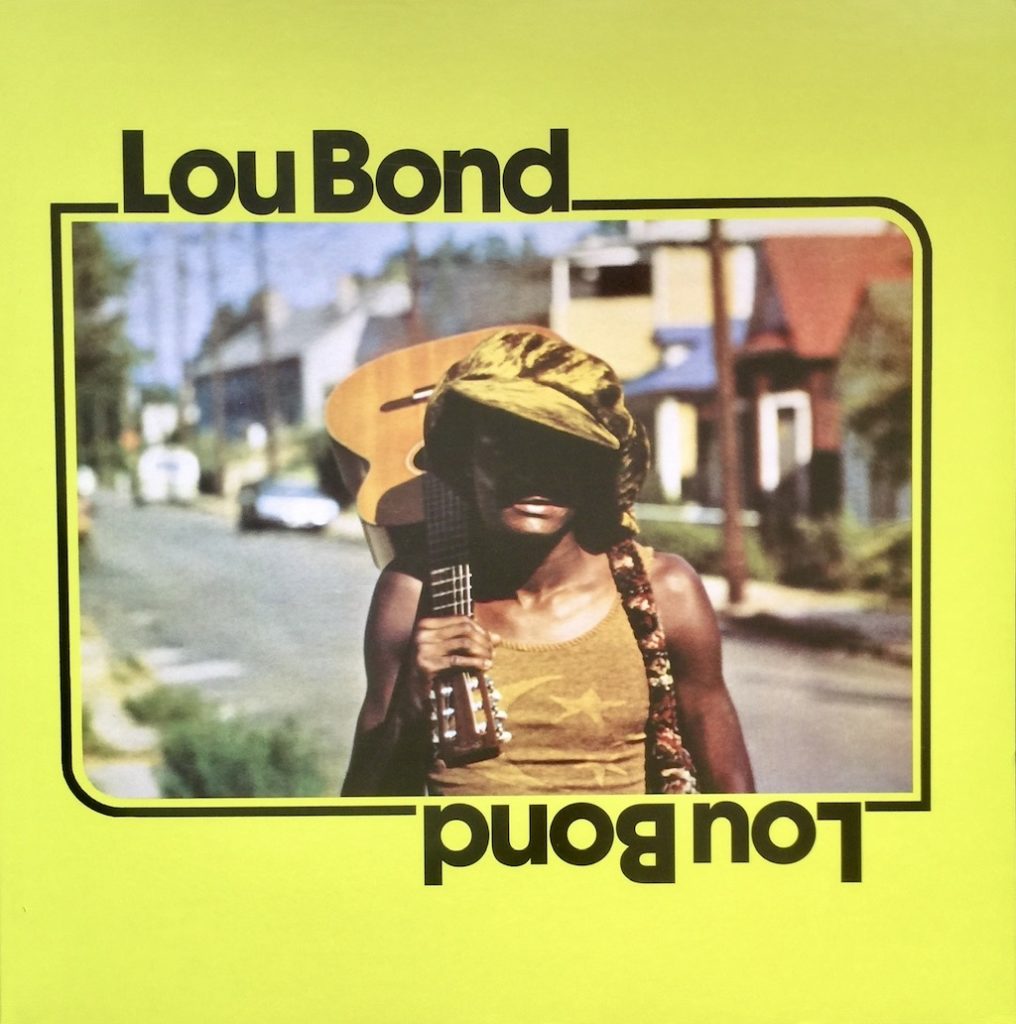 Lou Bond is an under the radar soul man whose self- titled album is a mixture of deep period soul with tinges of pop, folk and more than a few surprise covers—not exactly a mainstream soul sound. The Lou Bond album apparently got lost in the house of Stax, overshadowed by the bigger name crooners who fit more into the mold. But with the passage of time, and a sample from the album on an Outkast record, among others who tapped into the soul of this album, Lou Bond can now be appreciated for what it is.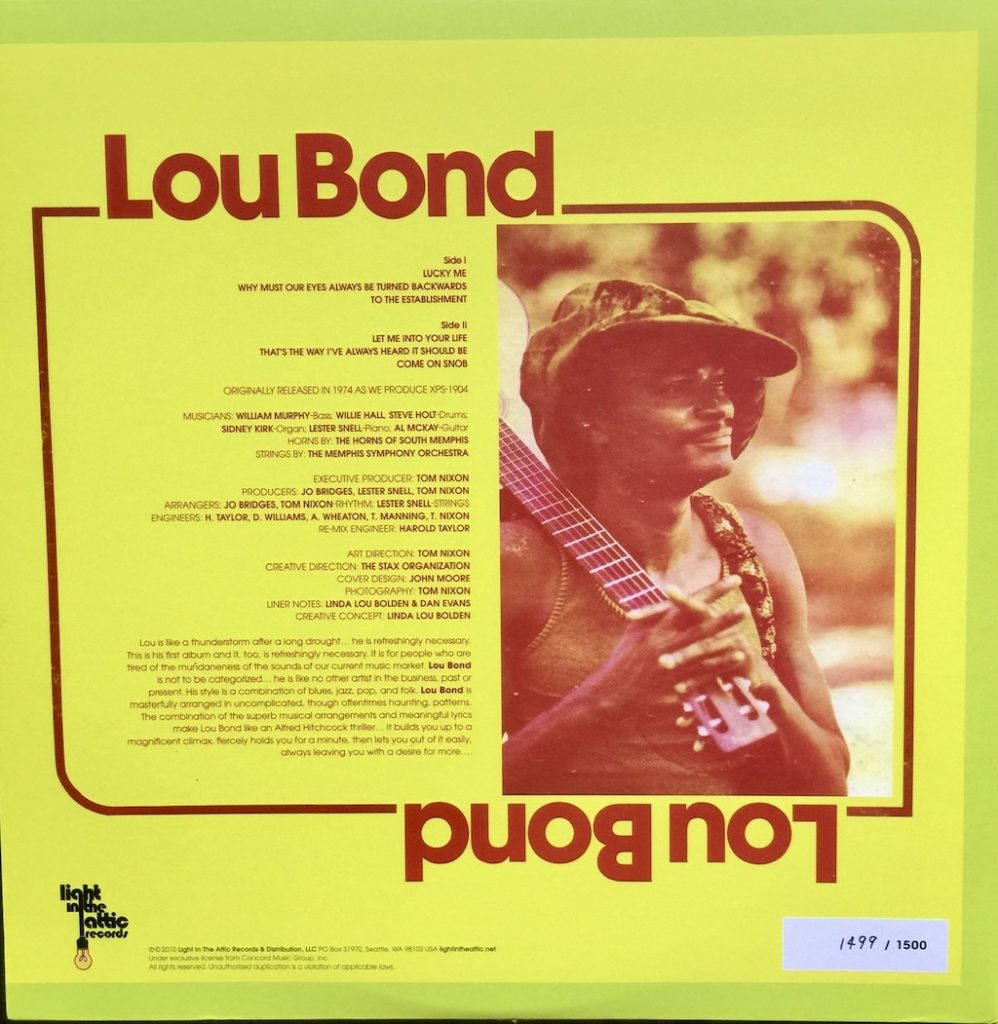 Reissued by Light in the Attic (LITA) in 2010, I found a sealed copy of Lou Bond in the secondary market that was one of the last copies made (if you believe that the numbered jackets actually reflect the order of pressings). LITA says on the hype sticker that the album was made from the original master tapes. Prices of the LITA reissue seem to be in the same ballpark as an original pressing, which I did not have to hand, though that may make for an interesting comparison (no promises).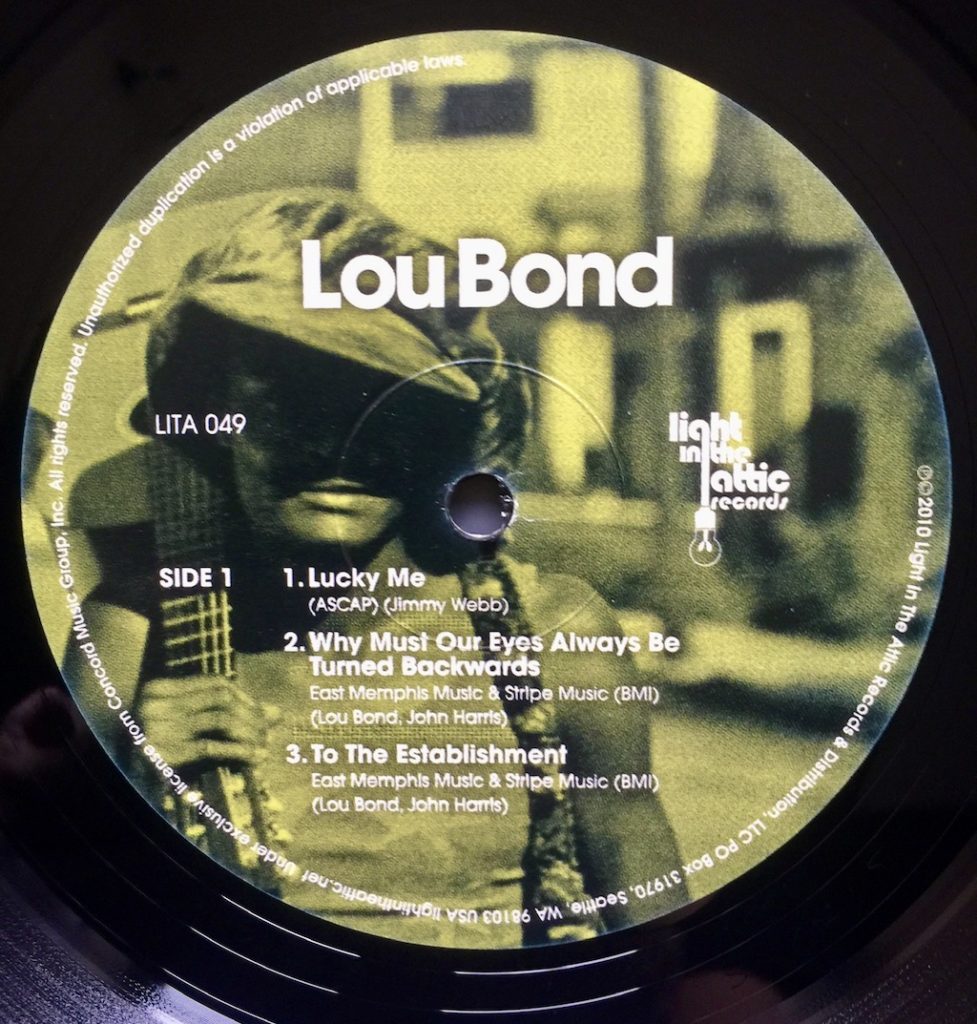 "To the Establishment" may be the best-known track from the record—no doubt due to more recent sampling by other well-known current artists, this track has every drop of that old school sound milked out of it. It's stunning. But there's more, some of it pretty unique for any artist, let alone a Stax-signed soul singer. Among the unusual pleasures packed into this LP (which comes with a bonus 45):
"Lucky Me," a Jimmy Webb tune arranged as a slow soul ballad that somehow works here (Webb, as many of you know, penned some of the great Glenn Campbell tunes as well as MacArthur Park).
"Why Must Our Eyes Be Turned Backwards," co-written by Bond and John Harris, who also co-wrote the "big" track on this album, "To the Establishment."
"Why Must Our Eyes" is soul + a political commentary of the day—a sort of Gil Scott Heron style thing that is more Memphis than Chicago or New York and benefits from Bond's ability to emote—this gives the next track its power.
"To the Establishment" is probably the most famous piece of Lou Bond's music and the centerpiece of this album, though there are other gems. Listen to this track and you'll likely buy the album—he's not to be compared to Issac Hayes or Marvin Gaye. Lou Bond makes his own mark here and it's a lasting one—the bass line is brilliant hitting the minor notes and changing where the flat is placed while Bond just wails over the rattle and splash of the drums, the distant echo of the horns and the sound as he intones – the result is stunningly beautiful, and soulful as hell. The string parts don't get in the way either. (Nothing like soul grit with a full orchestra, eh?) This is the stuff, a virtuoso performance by Bond. This track should be on the list of Hall of Fame Soul performances (wherever the hell that list is kept). And it teaches you what soul is really about—not posing, not just getting a certain sound, or singing certain words, but like the much-maligned blues, emoting. This track is deep soul of the best kind, beautifully arranged and performed. No wonder some big artists years later sampled it for their albums. (I dig Outkast—their track which includes the sample is fittingly called "Wailin").
There's more goodness on the flip side.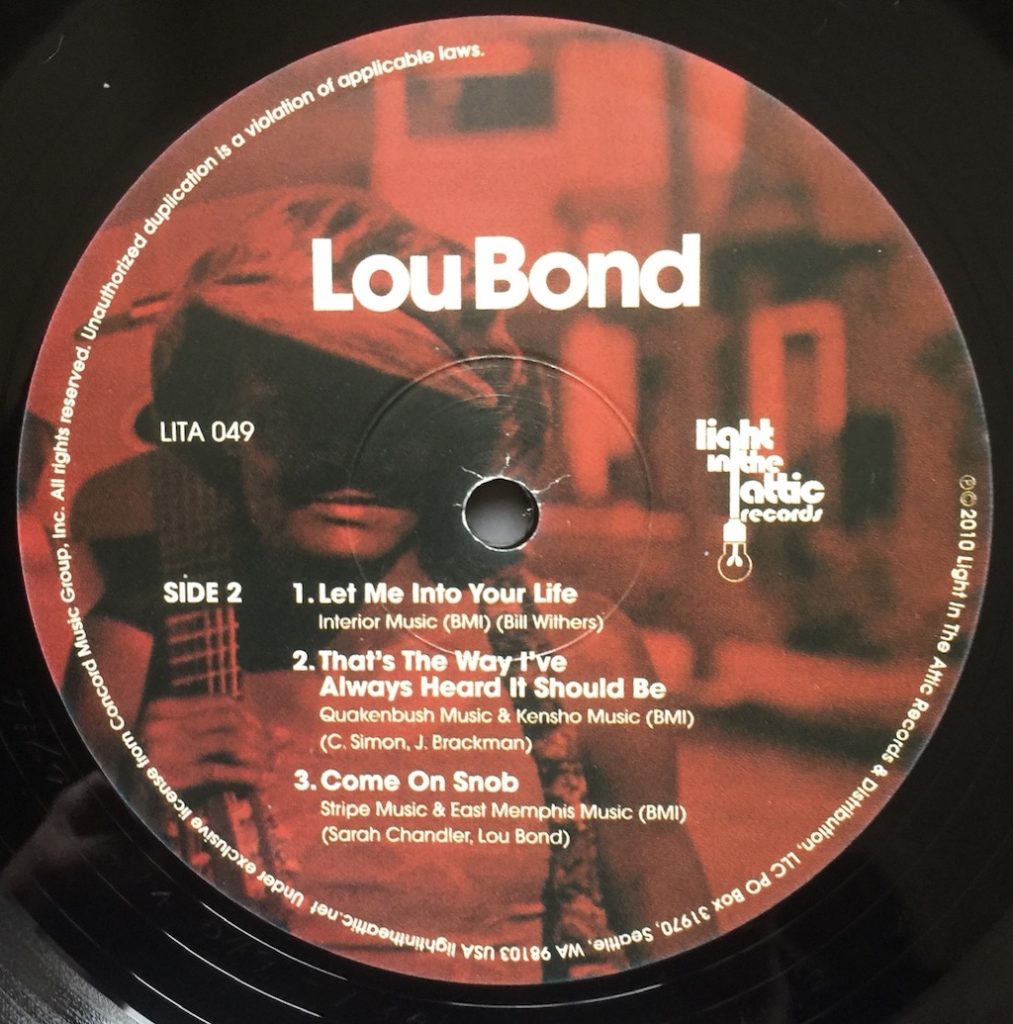 "Let Me Into Your Life"- written by the great Bill Withers. Hard to argue that one—Bill Withers was a great performer and gifted writer but Bond brings his own influence to the slow, wistful ballad.
"That's the Way I've Always Heard It Should Be"- at first, I thought, bad joke, taking a Carly Simon soft rock hit (credited to Simon and Jacob Brackman who has some serious credentials, just look him up), but this isn't a baritone version of Carly.  Bond changes the song, and if you didn't bother to recognize its pop origins, you can appreciate the plaintive quality Bond brings to the tune. The arrangement is good too—yes,  there is a string section, but the bass and Bond's voice dominate; the track doesn't have a saccharine quality. It not only works but brings a different perspective to a pop confection.
The album finishes with "Come on Snob" co-written by Bond and Sarah Chandler. Bass and flute start, with strings introducing Lou's voice in a natural way—he has real range and it shows here.
The LITA reissue also includes a bonus 45 with two tracks, "I'm For You" and "Motherless Child (Live)" which I did not listen to for the purposes of this review. (I will get to them eventually).
I like this album so much I probably will buy an original too. Lou Bond had the magic. And it's preserved on this album.
Bill Hart
Austin, TX
March, 2021