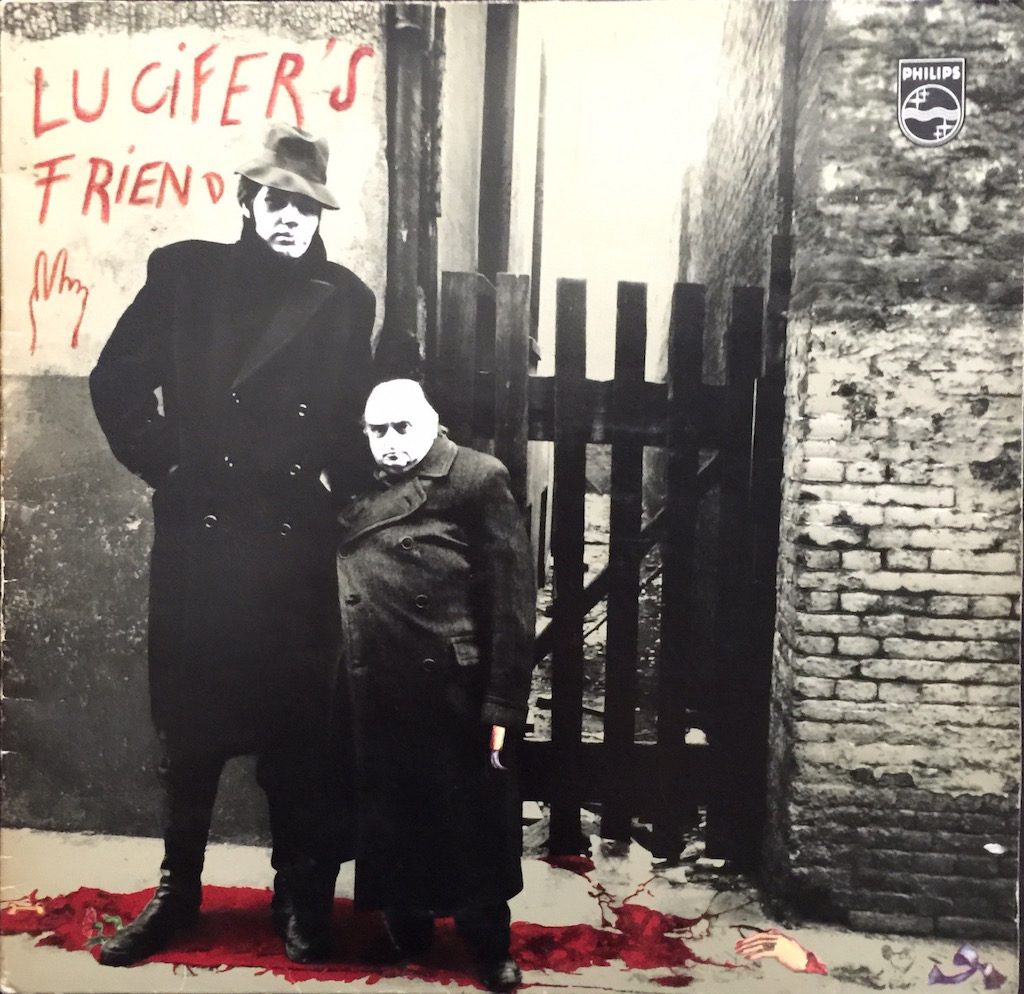 If you mixed Zep riffs with Uriah Heep vocal parts, played by Black Sabbath and added in some organ parts ala Deep Purple, you'd be describing the debut album of Lucifer's Friend. No surprise about the vocals- John Lawton later went on to sing for Heep, but already had that full-throated wail on this record. The band is essentially a German heavy rock band that has been labeled, after the fact, as "proto-heavy metal." That's fair, in the same sense that early Sabbath and Deep Purple (and even the Iron Butterfly) anticipate some of the "heavy" rock that followed, before speed metal, thrash and growling "cookie monster" style vocals took over much of what we think of as "metal" today. This is far more musical to my ears, with great natural sounding vocals, juicy organ fills and some strong melodic riffs that will stay with you. You have several choices on vinyl, among them an original German press on Philips circa 1970, the U.S. pressing a few years later on Billingsgate and a more recent re-do, in 2010, released by Universal on the Vertigo label. (Repertoire also reissued the album on vinyl in 1990).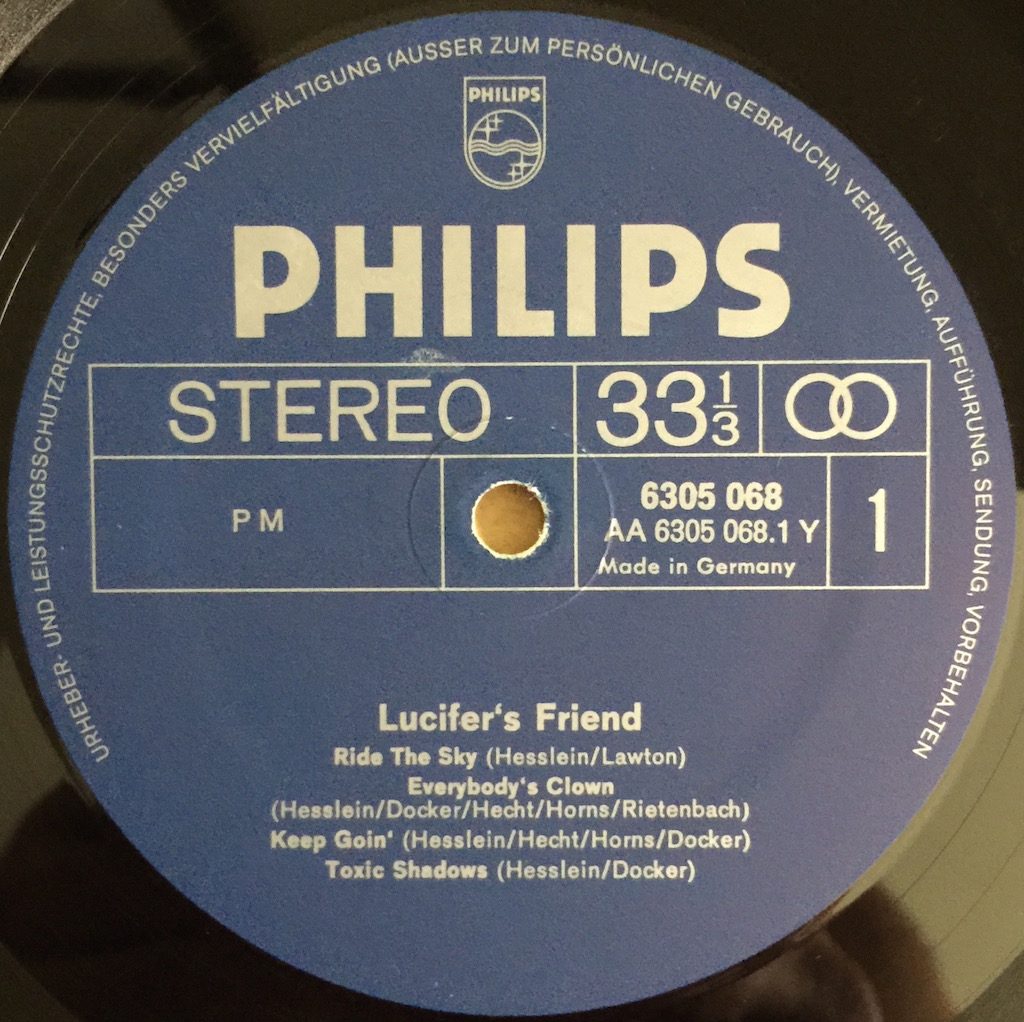 I thought it might be instructive to compare a first German press with the more recent Uni-Vertigo reissue, since they represent the two most logical extremes- early, more expensive pressing v. cheaper, more readily accessible "new" pressing. (The Billingsgate[1]and Repertoire pressings seem to be in the middle pricewise, but I didn't feel compelled to buy 4 copies of the album for this piece).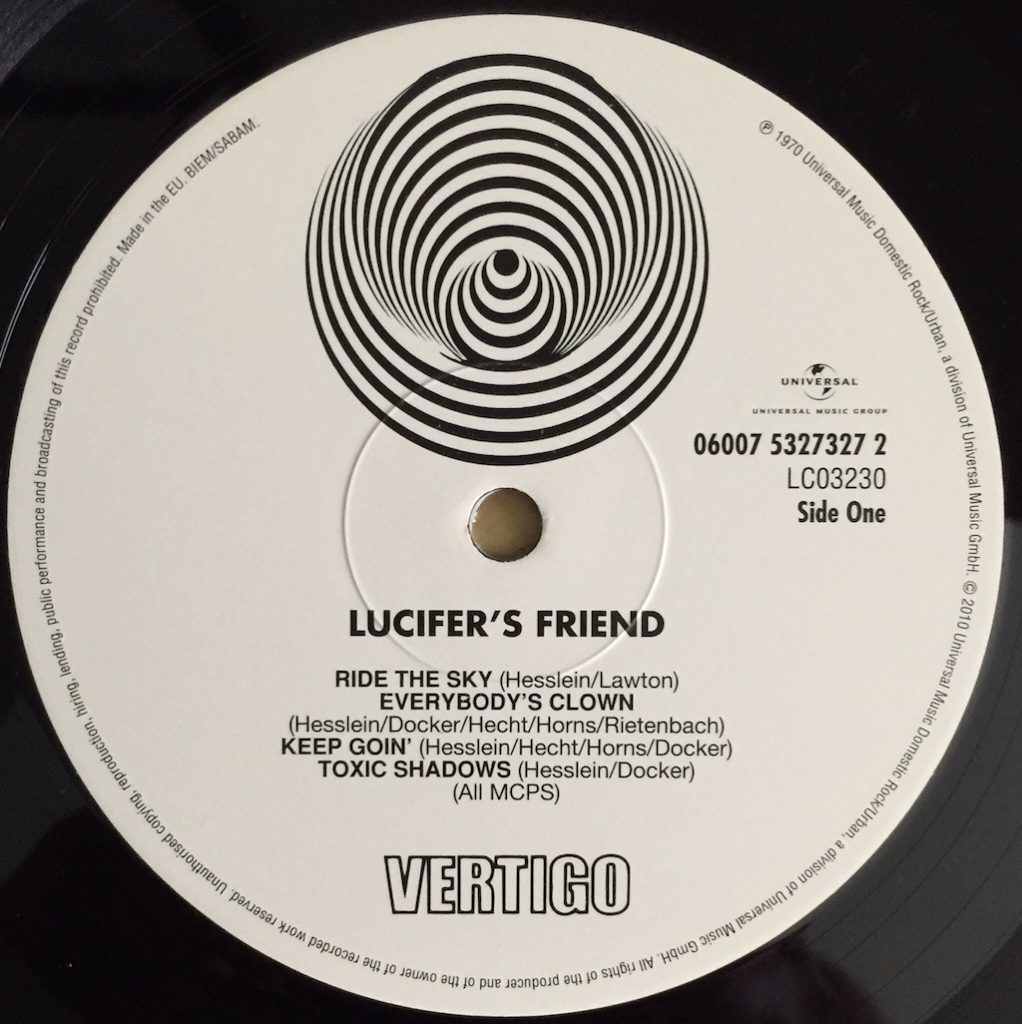 Here's what I heard, comparing the Philips first press with the Uni-Vertigo: the first track, "Ride the Sky," is great wailing rocker (in fact, when you go back to the first Heep album after listening to this record, you'll find these guys put the same sound together better in my estimation). The opener enjoys a very "Immigrant Song" riff that blares out on occasion, but that's almost beside the point of this song- it stands entirely on its own. The shortcoming of the opening track is that, for some reason, that song doesn't have the best sonics of the record. But this is not a one-track record. Pretty much every track on the album is worthwhile. "Everybody's Clown" kicks butt- Sabbath fans will dig this, as will fans of Deep Purple (Mark II or later). "Keep Goin'"- the third track–keeps getting better. Even more early Sabbath-y style goodness- this is not a complicated tune, and now you are starting to hear some good sonics, too. (The bass line will stick with you- I pretty much guarantee you are going to hear this song in your brain on repeat and say "what the X$#@ is that? Until you pick this record back up and go to the third track). The first side finishes with "Toxic Shadows" (like I said, this isn't a complicated record) and it works- same band, same style, different song.
Side two is similar but different. More kicking hard rock, thumping bass, wailing vocals, driving drums and lush organ fills. I get bored easily, and this album didn't bore me. In fact, every time I see the album on my shelf (more about that below), it makes me laugh.
How does the Uni-reissue, bearing a Vertigo label,[2] compare?
In some ways, it sounds pretty good. The first track doesn't seem to suffer from the congestion of the original pressing, but it doesn't have the "air" and dimension of the original German Philips. If it comes from a digital transfer (I'm not sure), it doesn't have acute digititus- it's listenable but everything starts out just a little flatter dimensionally compared to the old German Philips and the bass seems to blend into everything else, rather than being easily recognizable as a distinct instrument with its own tone. As the record opens up, it gets better, like the original, and the bass has more growl (not deeper or louder, just more distinct).
One of things I pondered was why this record wasn't originally released on the Vertigo label back in day. It fits quite nicely into the line up of bands (unless the presence of Sabbath loomed so large that it made no sense to have a band of the same type sharing the label). But, Germany had its own unique Vertigos that didn't issue in the UK at the time, so that question remains unanswered.
My take is you could live with the Uni-Vertigo. But if this record really grabs you, as it did me, you may want to just bite the bullet and find an original German Philips copy.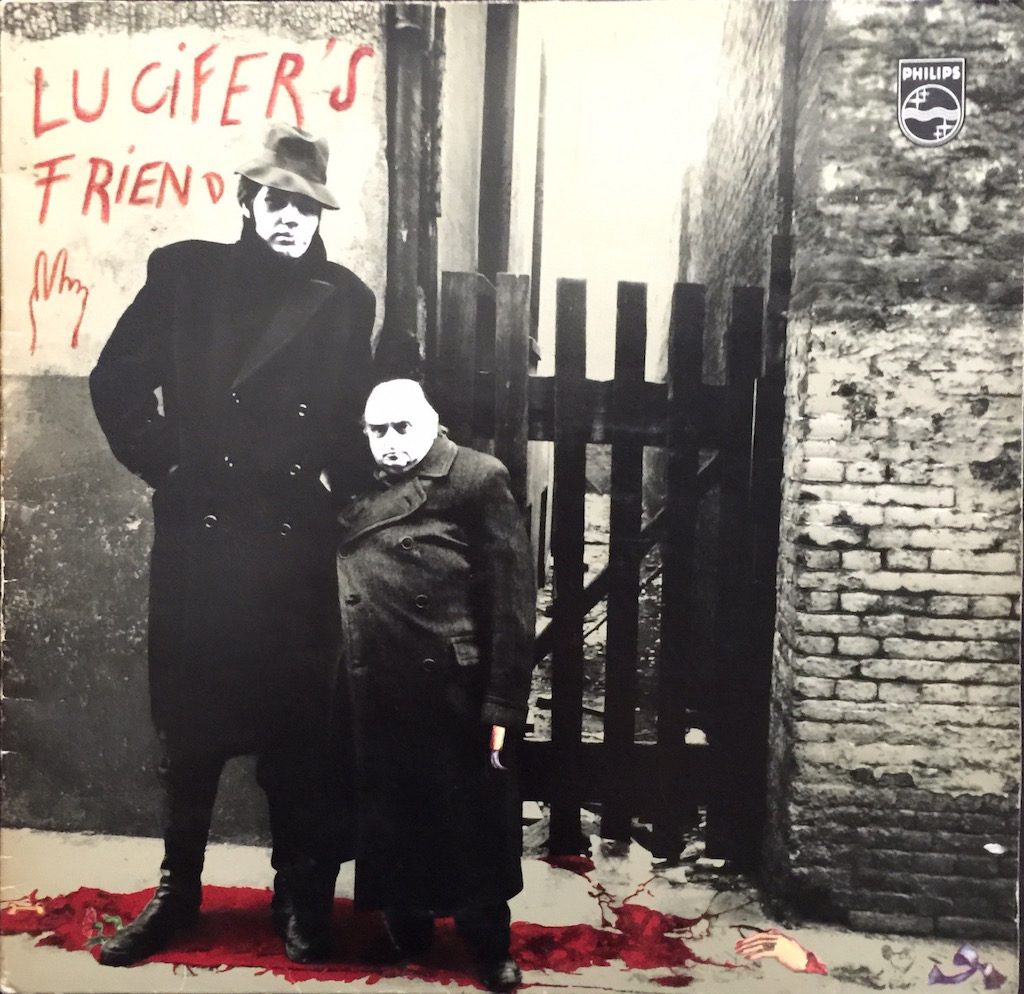 Either copy gives you the other important feature of this record that I saved for last- the cover art shows a ghastly pair of men- tall and small, reminiscent of Lurch and Uncle Fester from the Addams Family. There's even a dismembered hand tucked into the lower right corner of the front cover.
This album amuses me to no end, the playing puts a lot of other early "heavy rock/metal" bands to shame and it's a bit of an outlier. The band did go on to make a number of albums after this first, self-titled record, but they seemed to like changing styles from album to album. I have a few of their subsequent records, but this first album, like many first novels, may be their best.
______________________________
[1] The other oddity is that the Billingsgate copies released in the States appear, for the most part, to be "quad" mixes, as in the old (matrixed?) quadraphonic format. This makes sense because Billingsgate did not release the record until 1973, which was probably the peak of the "quad" record era. There seem to be some "promo" copies on the market as well, but as the price increases you start to get into German Philips territory.
[2] Vertigo came into the Universal fold some years ago through its acquisition of the Polygram companies. The early Vertigos are highly sought after, some are obscure and very costly. The original Vertigo Swirls were addressed in depth in a series of pieces in TheVinylPress beginning with an interview of Olav Wyper, accompanied by reviews of some of the top records. Here's a link that will get you there.