Milt Ward and Virgo Spectrum- Obscure Grail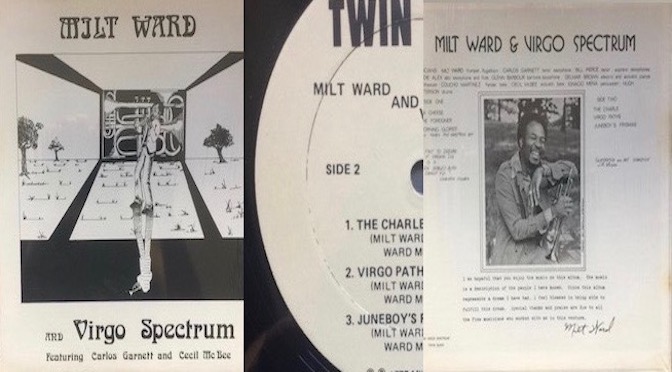 This album, with Milt Ward as band leader and featuring Carlos Garnett on tenor sax and Cecil McBee on bass is fairly rare- it comes up occasionally for sale, but it took me time to get a copy. Released in 1977 (according to the copyright notices on the labels) on the utterly obscure Twin Quest label, little seems to be known about Ward or the sessions. He did appear as a trumpet player on a few other albums. Given the album's rep as a "grail" it is surprising how little is known about it, particularly given the line up.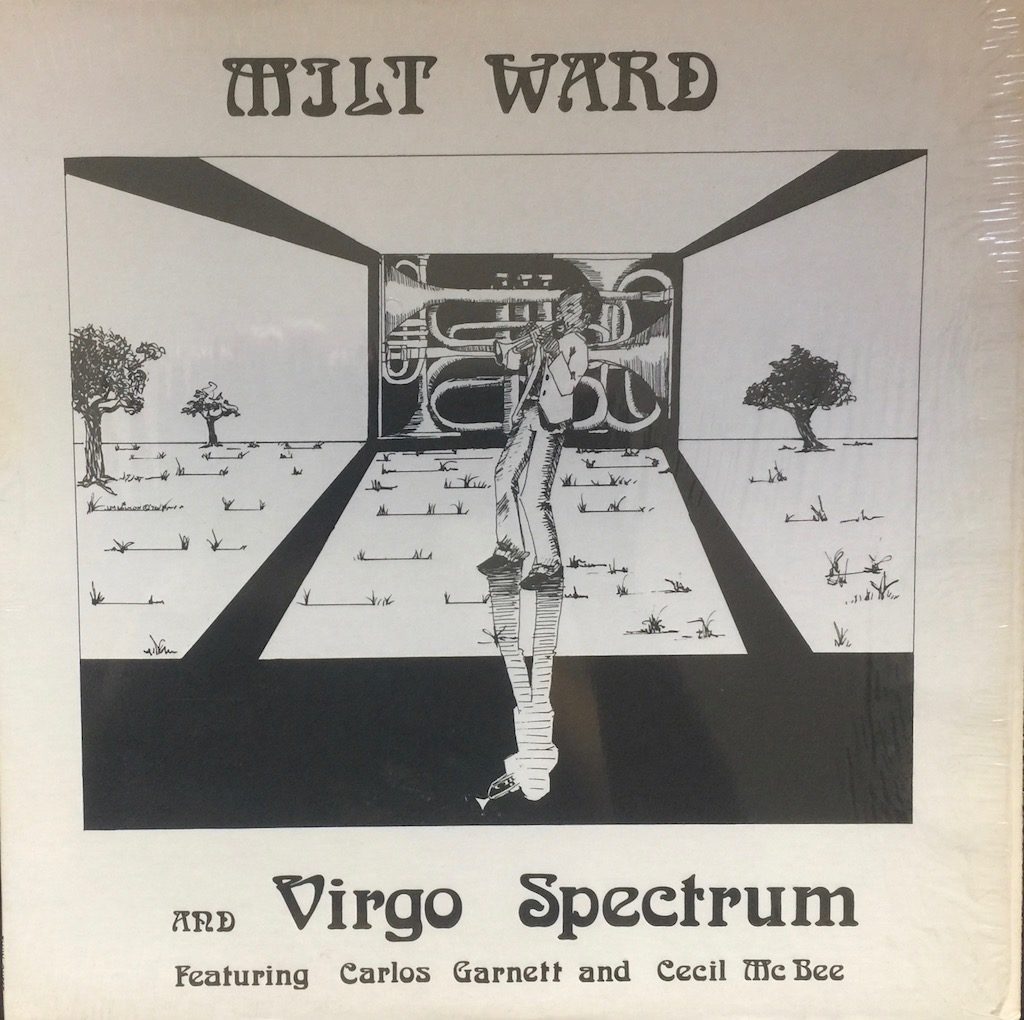 Milt Ward's sole release as a band leader, the album includes a number of Ward's own compositions, playing trumpet as well as flugelhorn. It fits under the genre heading of 'soul jazz' which could mean almost anything- here, the horns dominate at first.  And it's an impressive horn section that includes not only the aforementioned Carlos Garnett (Mingus and Miles, among others) and Bill Pierce, a stalwart who was the chair of the woodwinds department at Berklee School (known for his work with Tony Williams and Art Blakey), but a host of other horn players with whom I had no real familiarity: Eddie Alex, Glenn Barbour and our leader, Milt Ward.
Side One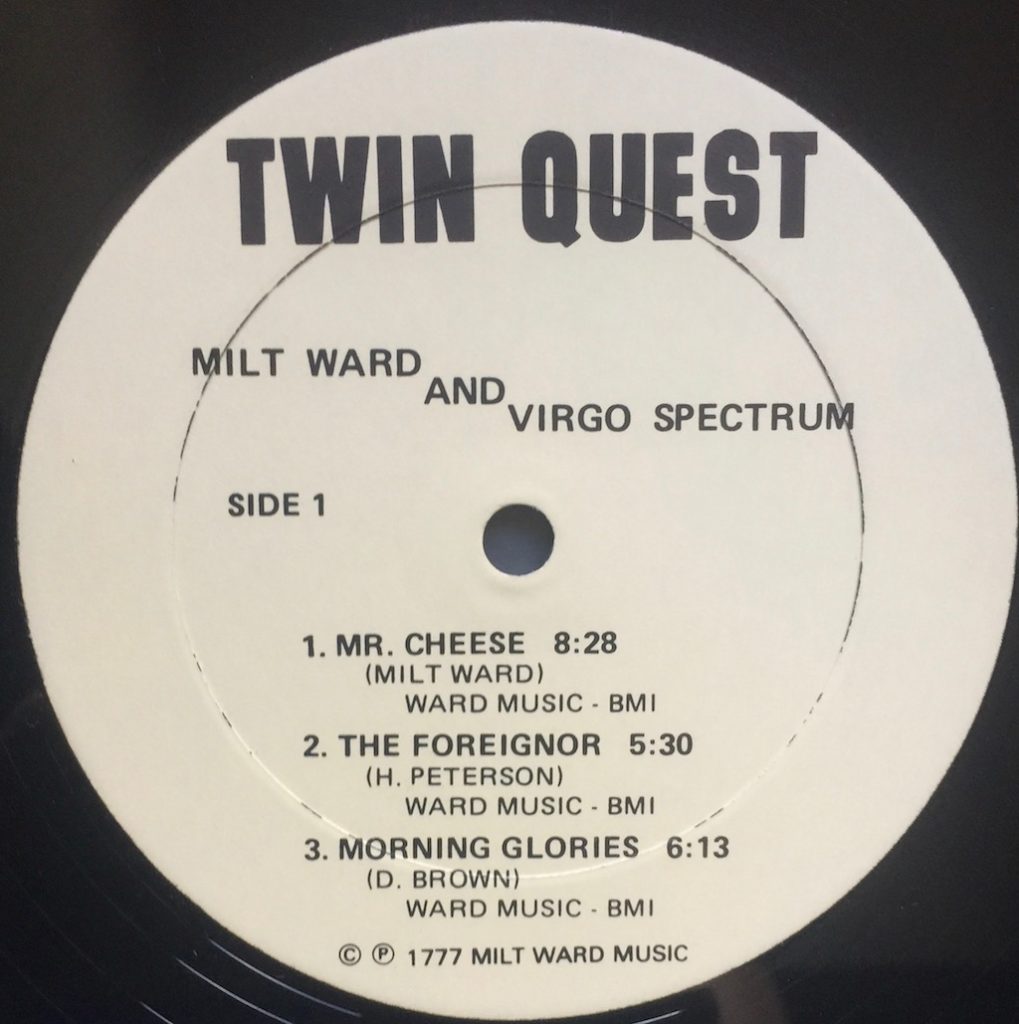 When McBee comes in part way through the first track, "Mr. Cheese," the horns have already spoken against a bass and drum beat with some wonderful flute weaving in and out. The horns come back in together, and the solo that follows chips away at the high notes while the electric piano does that chime-y thing and we're off on another horn solo, deeper, bigger. The way these guys pull together is pretty impressive- I have no idea how much time they rehearsed, but they don't get in each other's way.
McBee has a nice part here, and then another horn solo, with a different character and tone. The band starts to increase pressure just short of the six minute mark, and soon, we're into another sound altogether- synth, trumpet, a variation of theme and the flute returns, with some fillips from the horns, a funky bass and electric piano riff and the horn section is all harmonious, with a flash and dead stop.
Things really take off on the second track," The Foreign[o]r"- a glorious piece of East meets West flavor where Ward and McBee leave no one behind: the sax parts are killer, as is the percussion work. This is a pretty expensive record to buy for one track, but this one might convince you. Stunning.
"Morning Glories," the last track on first side, starts with piano, horn and various shimmers of percussion (with some deep tones likely generated by the synthesizer) that lead us to an almost pastoral moment of soft piano, horn and bass thrumming, triangle, bells and other assorted percussion and synth in the background. Ignacio Mena is credited with the percussion work and it is a marvel. The mournful horn that leads us out has a Latin soul.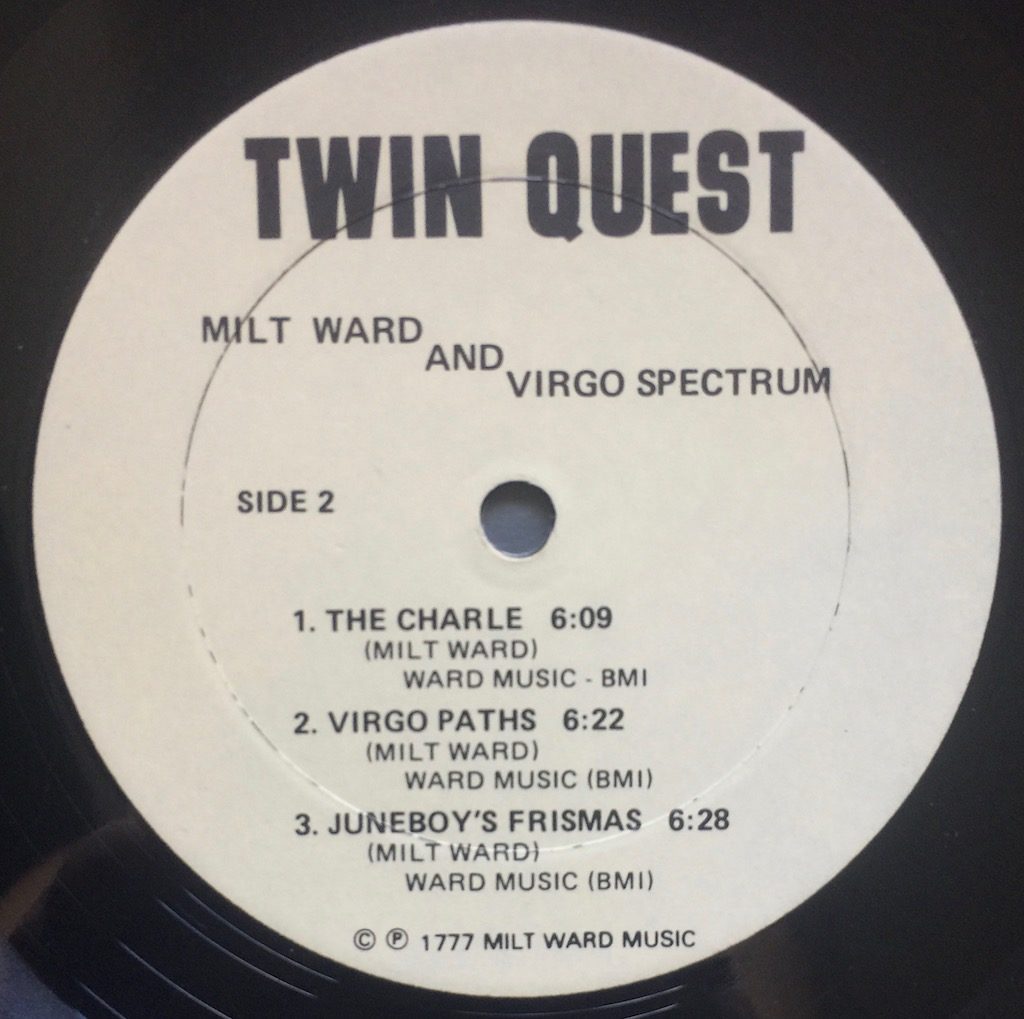 Side Two
Starts with a full horn complement on "The Charle" with some cool synth parts and leads into some vigorous horn solos. This piece is a little funkier, due to the electric piano and beat but at its heart, it's that big horn section that delivers. McBee has a metronomic steadiness, but climbs and descends like he's playing a melodic instrument. There's also an electric bass on this album, credited to Coucho [Cucho?] Martinez. This is a big sounding piece.
"Virgo Paths" follows- very upbeat horn sounds pointing skyward, the synth does a futuristic number that sounds like a computer run on vacuum tubes and then the soprano sax takes off, leading us on to a medley of instrumental explorations by the horns, including Ward's trumpet. This is a pretty hot piece of music with a lot of rhythmic drive – the horn parts become complex due to their interweaving.
The album finishes with "Juneboy's Frismas," which starts with a bit of cacophony before settling into a solid Latin groove.   The drum work in particular here is impressive and if you crank this track it's a big "Wow." The sax solo that follows is pure bliss and that climbing bass just punches. Another bit of cacophony and McBee solos—various percussion sparkles, and the drum kit is holding the beat as McBee plays exactly what you expect even though you've never heard it before. The horns coalesce at the end for one last big splash and we're out.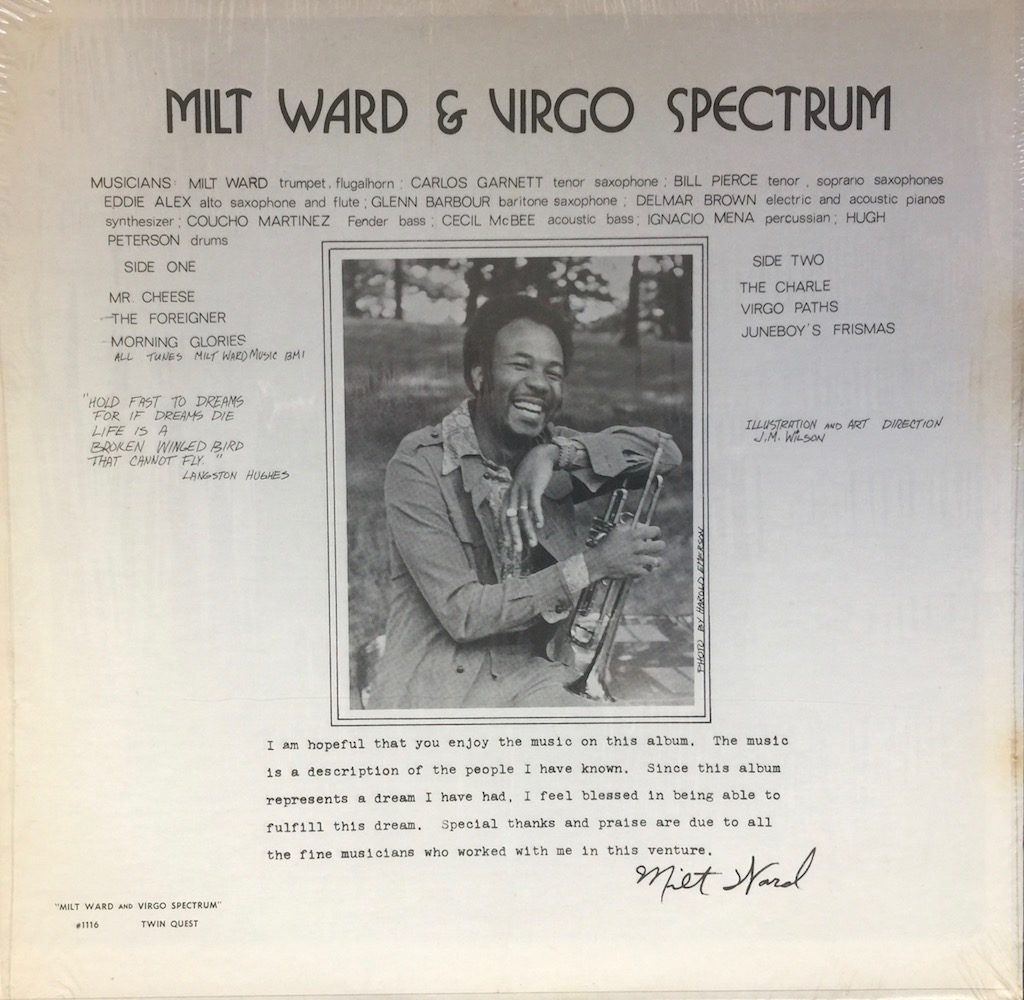 This isn't mainstream jazz. It's a bit on the esoteric side; however, the moments of cacophony aren't excess but accents,  and are not a constant. My copy was very clean- it was probably an unplayed copy- and stamped on both sides with "Masterdisk" in the deadwax.
I'm going to try to get more information about this album—I have some calls out to a few of the personnel and some others. I will supplement this piece accordingly.
Bill Hart
Austin, TX.
September, 2019
October 16, 2019 Update: Bill Pierce, who was the Chair of the Woodwinds department at Berklee and figured prominently on the album, was kind enough to respond to my questions about Milt Ward and the album:
I'm glad the album has gotten recognition- it's great for Milt Ward and his legacy. I met Milt at Berklee; I got there in 1967, Milt came to Berklee then or in 1968, along with a player named Stanton Davis. Both had been in the Air Force- Davis had enlisted specifically to get into the military band; I think Milt was a regular enlisted guy but managed to get into the band. They were both in Vietnam.
When they got to Berklee, we all became friends and started playing together, with Eddie Alex (who is also on the album). It was mainly R&B. We had a gig at the Sugar Shack in Boston and eventually became the house band; there were a lot of big Motown acts that came through there; Motown had a "book" for the music and typically hired the horn players locally to save money. We backed The Four Tops, The Dells, Stevie Wonder and a long list of other well-known Motown acts.
Eventually, Milt got a gig as the horn section leader for Stevie Wonder and I got hired as part of that. It was an ensemble of six horns and we created a "big band" sound for what Stevie was doing then.
Milt was very entrepreneurial- he was always working.
His band at the time was called the "Ultra-Modern Jazz Quintet Plus Two."
Milt was a pretty straight guy, but had a good sense of humor. One of Milt's compositions was "IBBY" which was inspired by a Major Mudd, a character on local TV who wore a spaceman outfit and had a ray gun- and whose tag line was "I'll be blasting you" —
He had a son, Milt, Jr. Some of the titles on the album are about his son, who had a few nicknames, including "Mr. Cheese." The song, "Juneboy's Frismas" referred to how his son mispronounced the word "Christmas."
I remember working on the sessions in Boston. Milt left room on the tracks for the featured soloists.  I'm not sure that 1977 date you mentioned (the copyright notice dates) reflect when the album was recorded.
The core of our band with Milt is on that album- me, Milt and Eddie Alex. By this time, Milt had moved to New York.
Sadly, Milt died when he went to the hospital for an operation—it wasn't something life threatening, but he passed away.
I'm glad people are still finding Milt's music.
Ø
Bill Pierce is very active and plays in the States and Europe. He is currently part of the Ralph Peterson Messenger Legacy, which will be touring in Europe soon.
Thanks to Bill Pierce for sharing his memories and helping us better understand this wonderful, obscure record.