TOO MUCH- s/t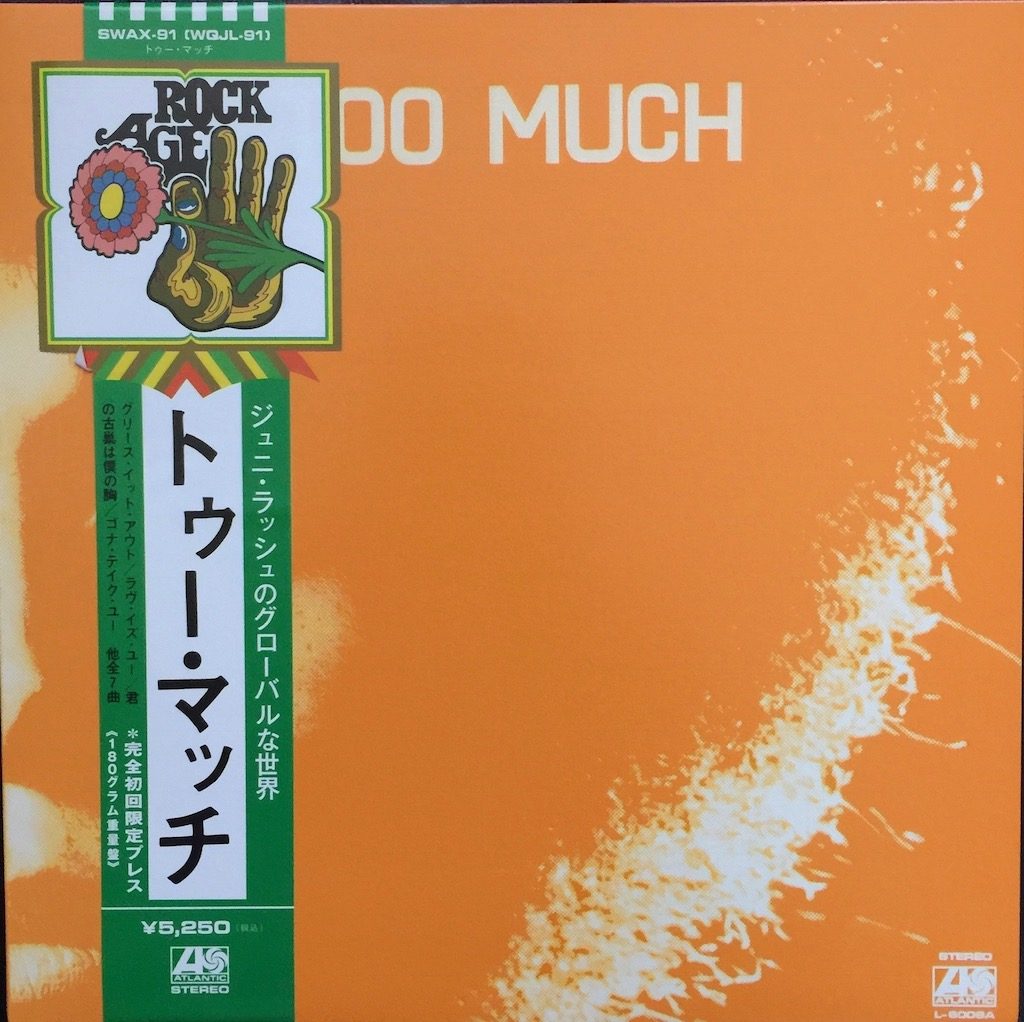 Too Much, by the band of the same name, is a pretty rare Japanese psych record with English lyrics issued in Japan by Atlantic in 1971. Critics have rightly dismissed it because it contains some tracks that should never have been included: a cover of Dylan's "I Shall Be Released" and some long form prog that winds up the end of side two. But for heavy rock fans, the other tracks, including "Grease it Out" more than make up for those transgressions.
Original pressings are scarce; Warner Japan reissued the album in 2011, and again in 2016. I recently acquired a copy of the 2016 pressing. It is good sounding for a psych/fuzz/heavy rock record and can be cranked up to pretty prodigious levels without ear bleed. There is one track, "Love That Binds Me" that channels Zep's "Since I've Been Loving You." Depending on the pressing of your Zep III, this one may sound better purely as a matter of sonics.[1] "Love is You" is another hard driving "heavy" rock track, with a boogie meets proto-metal quality- it doesn't cut new ground, but if you like Zeppy- Sabbath, it more than passes muster.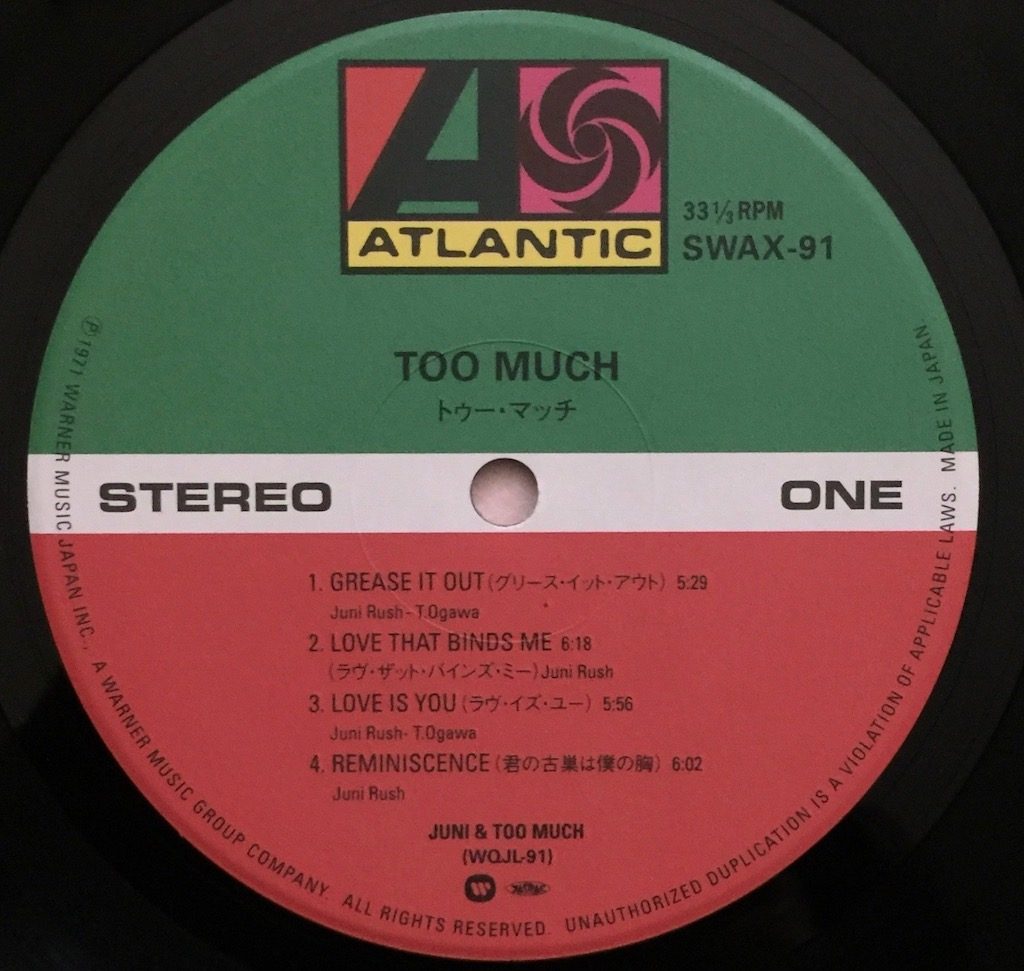 "Reminiscence," which finishes side one, opens with bursts of noise, leading into a guitar singing blues, but transitions into more of a ballad, vocals front and center, keyboard fills and a nice pick up riff by the bass. Part of the chorus reminds me of some of the great Vertigo prog stuff. Guitar breaks out for lead, dirty and weeping, then back to the ballad for another cycle. Guitar cranks up again for lead- more dirty licks, played well—I'm not a big shredding fan, a "less is more" listener when it comes to electric guitar lead parts. This works.
Side one, though a little uneven, acquits itself well, and is a solid hard psych rock entry. There are even some inspired moments of hard driving rock that may make you want to reach for this album on occasion. Side two is an altogether different matter, though.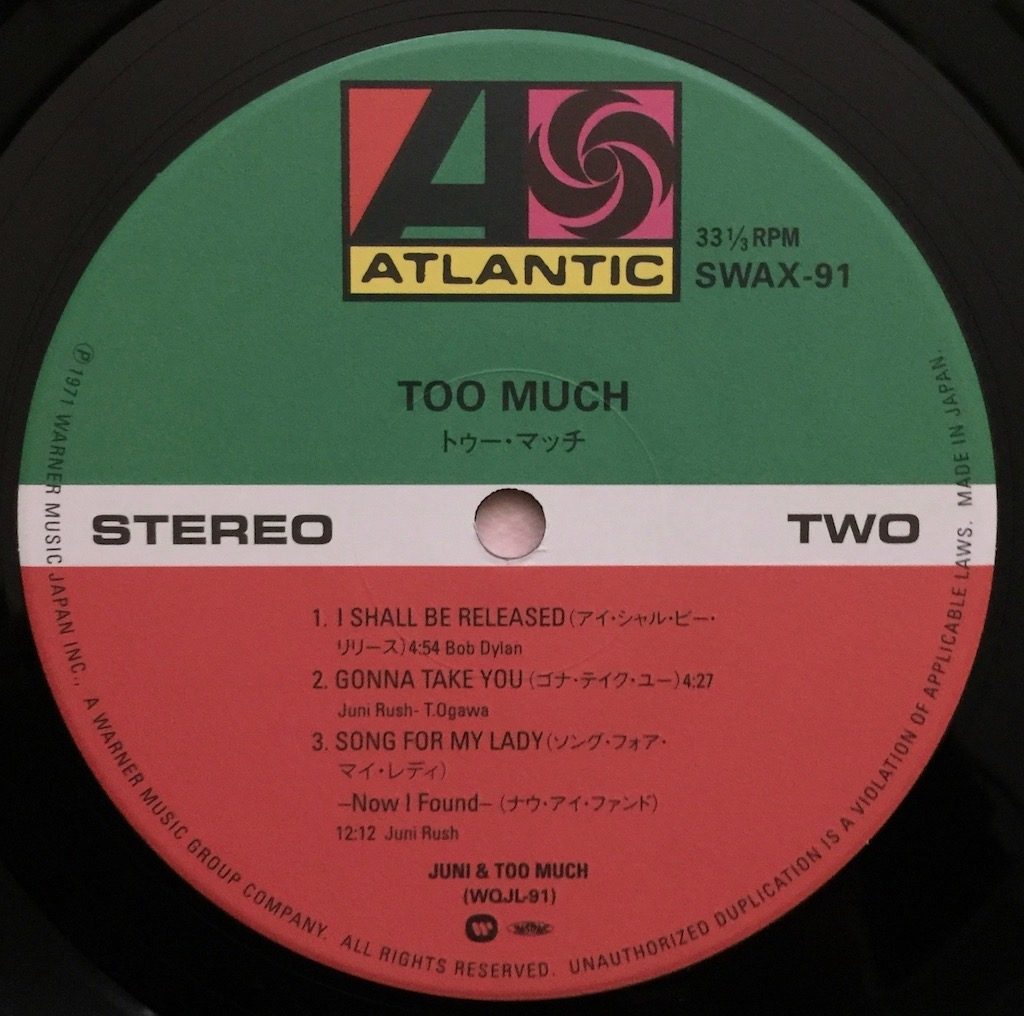 Side two opens with the Dylan track, which is completely unnecessary, and contrary to the spirit of the record; these guys aren't bad players, but I'd rather hear The Band. The recording quality is excellent on this track, but the band's talent is really wasted here.
"Gonna Take You"- we enter into some heavy guitar riff driven territory here- and I can see why the band was sometimes referred to as the Japanese "Black Sabbath." It works. Do we really need this? Maybe not. But if you like this style of music, and want to hear something else for a change- same but different- this might scratch the itch. It is also nicely presented on this record- for all I know this was derived from a digital transfer, but it doesn't suffer from any nasties, and while it isn't quite as bass- heavy as the early Sabbath UK Swirls, it should please all but the most discriminating listeners of proto-metal.
The prog piece, "Song for My Lady," finishes side two.
It has typical long form prog elements — starting with an acoustic opening not unlike something from the first Crimson album. The singer, however, is no Greg Lake. But then, few were. This isn't a bad piece of music; it is well played and recorded (though on occasion sounds a tad bright, but not strident). It doesn't annoy me as it does some critics, like the redoubtable Julian Cope,[2] but the remainder of the side could be put to far better use.
The band seems far better at straightforward heavy psych rock-those are the tracks that shine here. I wouldn't recommend paying a lot of money for an original pressing, but the 2016 issue is worth seeking out if you are into early hard psych rock/pre-metal, Japanese style. My copy has nice surfaces and no sonic artifacts or gremlins. Pretty nice packaging too, for whatever that is worth. Call this a non-essential, fun listen that you may come back to, much in the same way I savor Lucifer's Friend (which is ultimately a far more consistent record, musically). Many later bands rode this train to success with a similar sound; this is fresh, if not entirely original, but it is authentically of the period. Less a "must buy" than a curiosity piece, with some good heavy psych.
Bill Hart
Austin, Tx.
Dec. 1, 2017
________________________________________________________________________
[1] Most of the Zep albums are pretty bad recordings and barely worthy of the band, though I listen to them because of my affinity for early Zep. I haven't yet tackled the whale of Led Zep on vinyl here, but have a substantial pile of Zep pressings to select from and if sufficiently motivated may do a piece on them at some point.
[2] Cope deserves credit for his deep dive into early Japanese psych rock. His view of this album was pretty harsh though. http://www.japrocksampler.com/artists/…/too_much/