Peace & Quiet-self-titled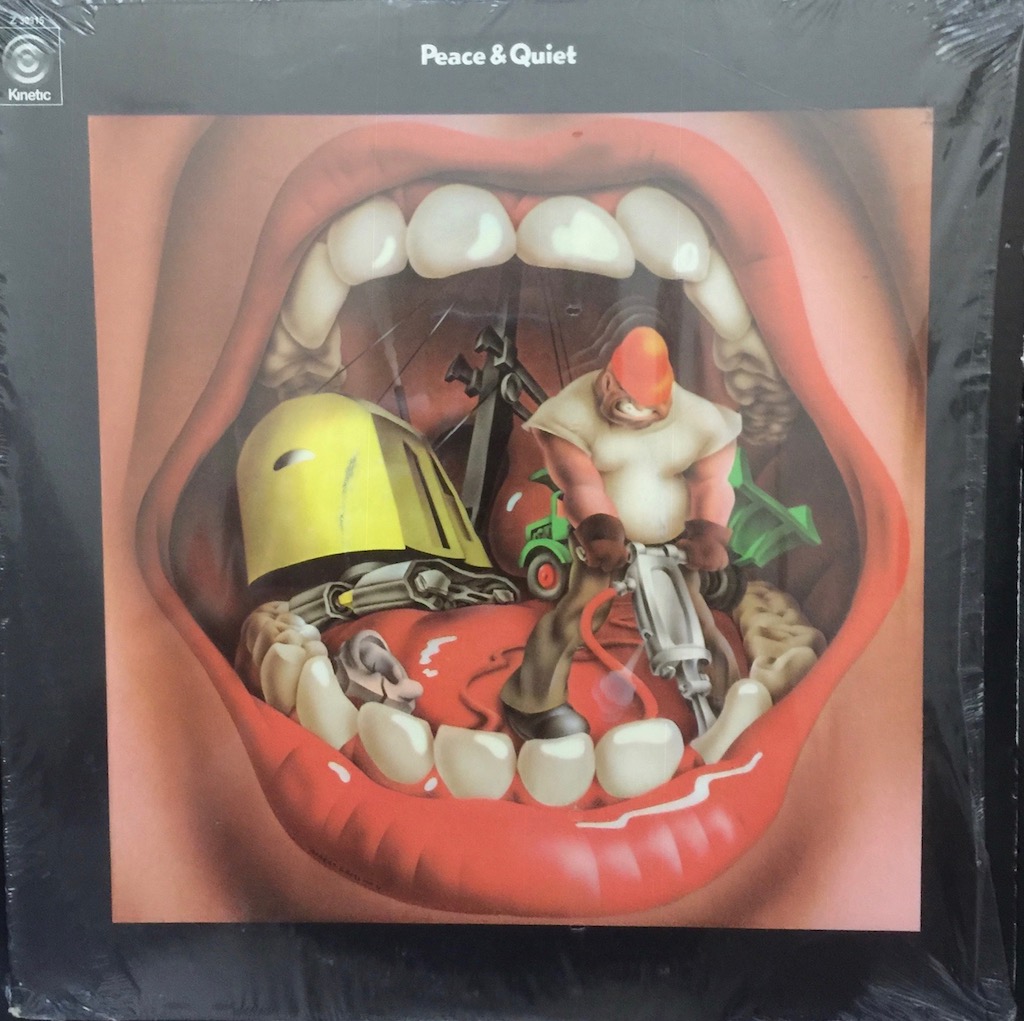 Peace & Quiet is a period hard rock album that is not, as far as know, on anybody's radar. It's got great vocals, a guitar driven, heavy sound soaked with organ and is the perfect alternative to those classic hard rock favorites. The vocal parts here are just outstanding—think about how big the band Three Dog Night was back in the day; they cranked out a huge number of hits based on the strength of their harmonies. Today, almost nobody knows the band, let alone the musicians that played with them, but those harmonies? Ask somebody who qualifies for Medicare. They'll remember. These guys hit harder than Three Dog Night, but their vocal parts have that kind of mojo.
We also have a little bit of a southern rock thing going—not quite Skynyrd but say Marshall Tucker.
Who the hell are they? I found a record dealer web page* which contained some information about the band and this record, including some interesting correspondence: http://badcatrecords.com/BadCat/PEACEandQUIET.htm
Peace & Quiet were apparently Miami based and known as the "Bad Boys," before attracting the attention of a label, Kinetic, which I had never seen before. Kinetic was either a small imprint of, or had a distribution deal with, CBS. That was the big time in this era (even if the imprint itself seems largely unknown). At least half a dozen bands released albums under the Kinetic imprint in 1970, of which this is one. I bought my copy sealed, and likely gave it a cycle in the flattening machine, but it played nicely and sounds great.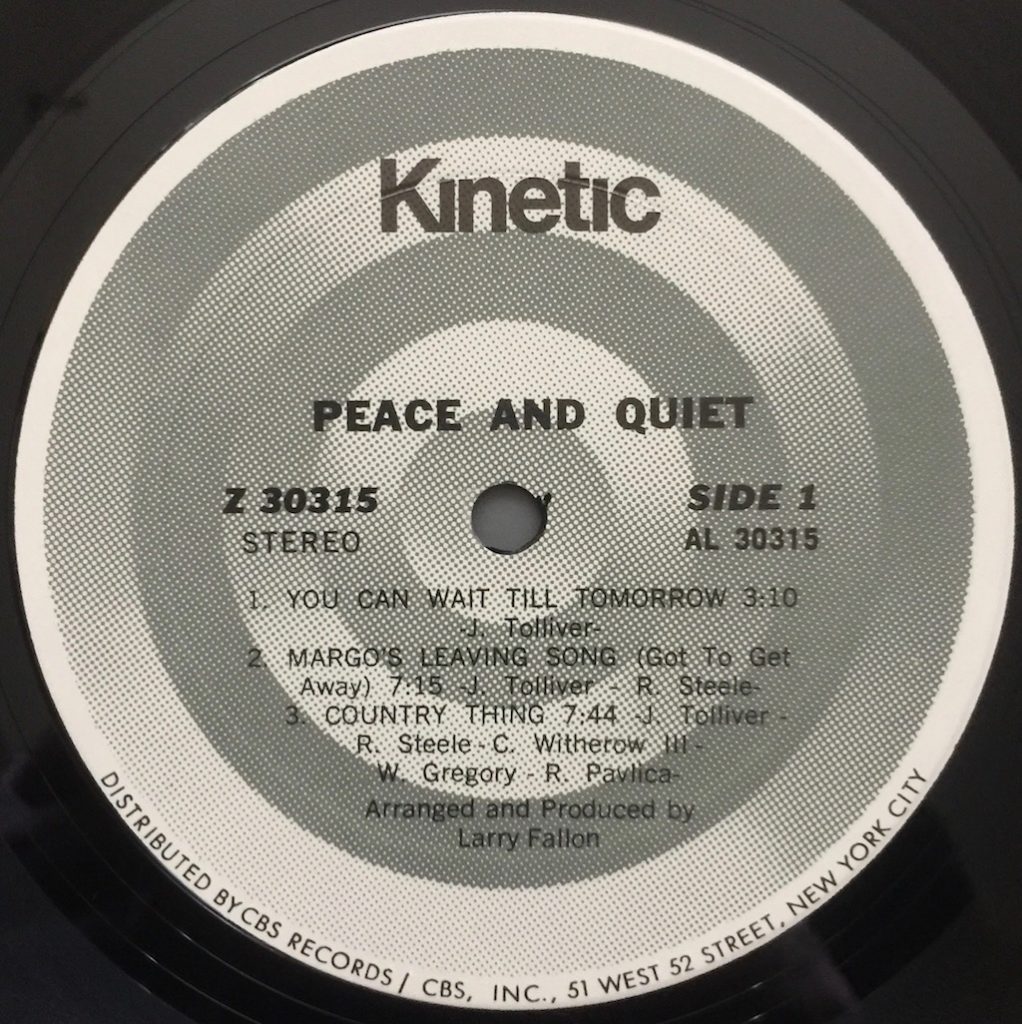 The songs vary in style- from hard rockers ("You Can Wait Until Tomorrow") to mellow ballads ("Margo's Leaving Song"); tell me that this second track doesn't remind you of Three Dog Night. Nice violin part on that track, too, contributed by Jerry Goodman of The Flock and Mahavishnu Orchestra.
"Country Thing" is the kind of track that only a city critter could write- but it's all buffed and shiny, like a Steely Dan object with some lashing guitar bits that have teeth. An almost flawless first side from an unknown band.
The flip side also contains three tracks, starting with "Hear My Love," which juxtaposes an almost Allmanesque boogie with those wonderful harmonies. It's well executed, but I'm not sure it works—bits of gospel mixed with southern rock should gel better than this does, although the instrumental interlude is solid. Maybe it's just too mellow for me.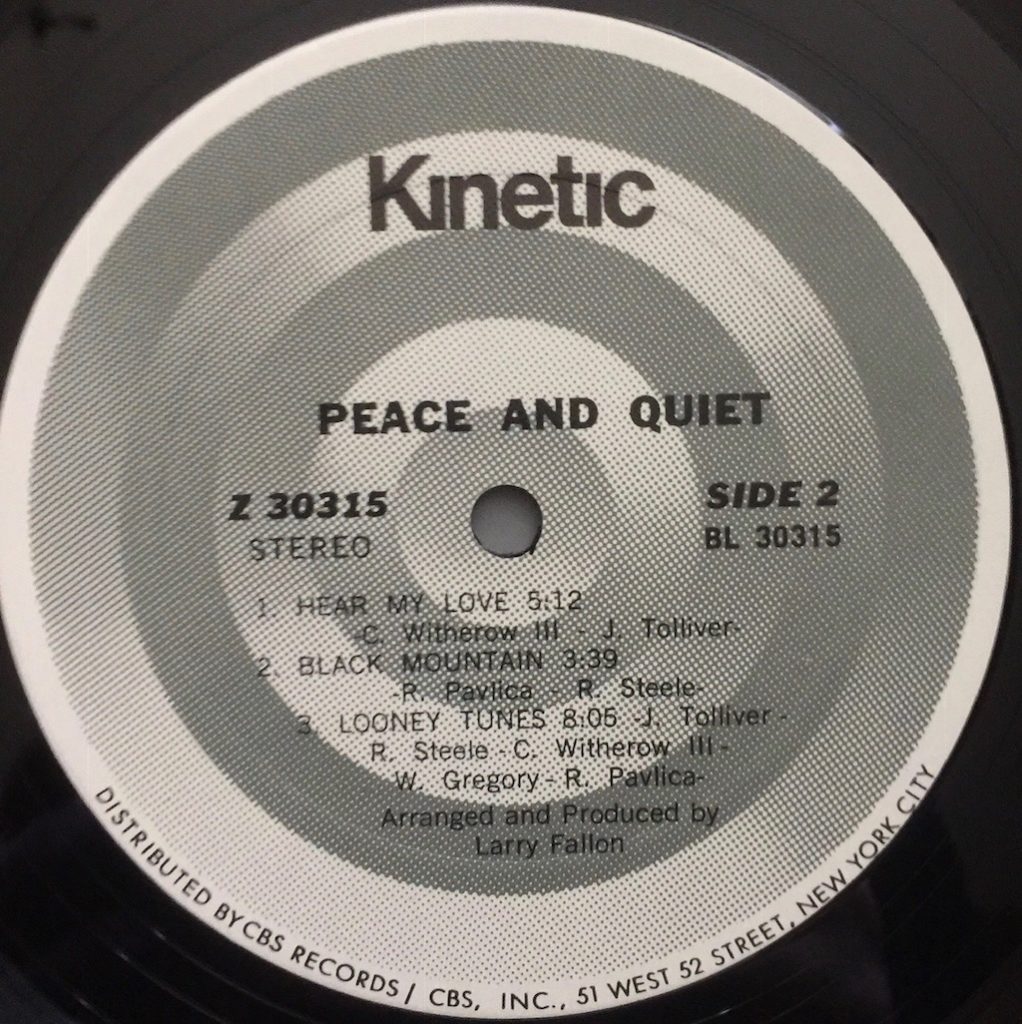 "Black Mountain" takes us back into harder rock territory and succeeds where the preceding track doesn't. Good riff, good lead vocal, nice pace—the organ fleshes this out in a way that bands from that era relied on for good reason. Nothing like that big organ sound when it's well played. Although there are no surprises here, it's a satisfying track.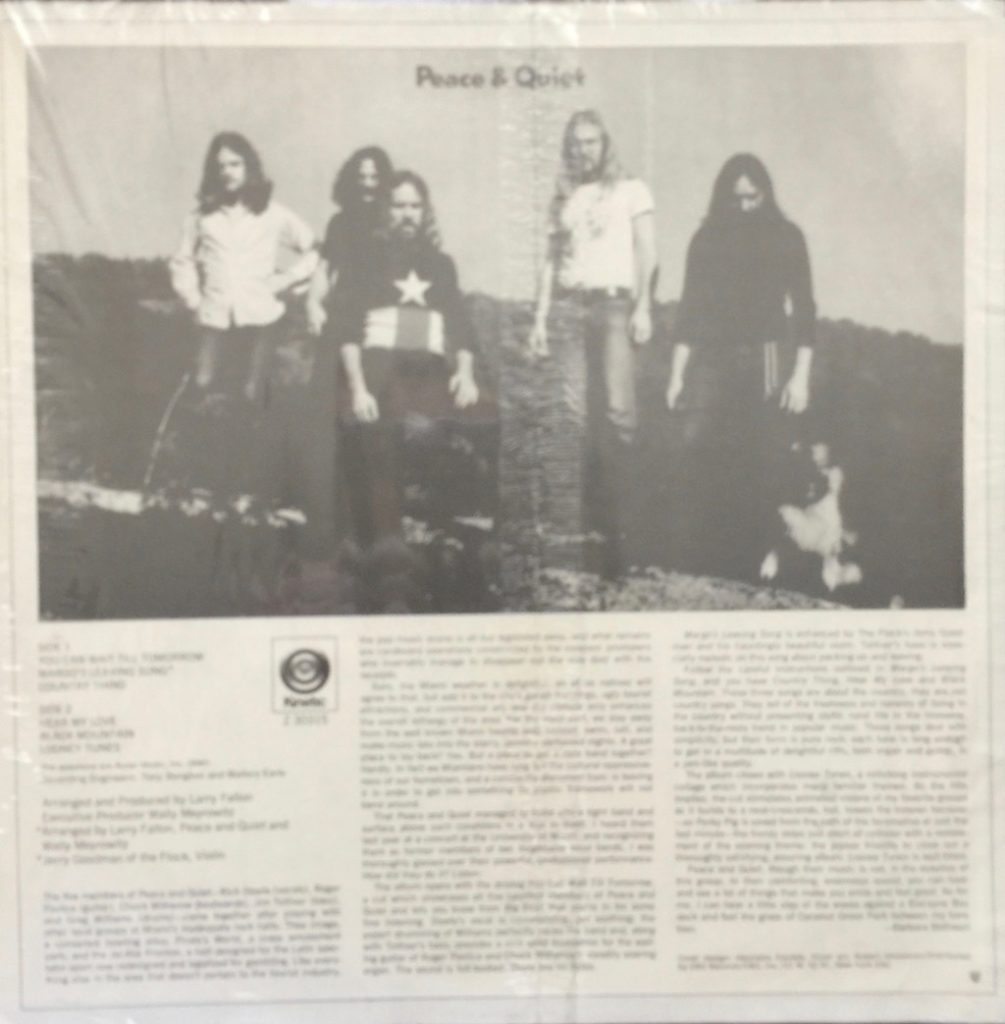 The album closes with "Looney Tunes," a more deranged rocker that has the intensity of electric fusion style guitar, soulful keys and a breathless pace –there's a percussion and bass interlude here that's more jazz than rock. When the guitar returns, it's wild sounding and the organ brings up the tail, setting the stage for a final crescendo of instruments that sound like a jam session at the end of show with all hands-on-board. Nice bluesy guitar finish, with the obligatory drum solo as the song winds down.
Peace & Quiet is definitely worth picking up if you see it. If good harmonies and a little southern rock are your thing you might become a fan. It's not an entirely predictable album and that's its charm. Thank the ever-resourceful Ken Golden for finding this one.
Bill Hart
Austin, TX
May, 2020
_____________________________
*For what it's worth, I didn't buy my copy of this album from BadCatRecords whose web site is linked above for some info about the band, but the site is interesting enough for me to do a little shopping there. Least I can do, given that the vendor appears to do some pretty extensive research on some of the more obscure offerings. He even has a section on tax scam records! See the review of Stonewall here.