Pharoah Sanders Live at the East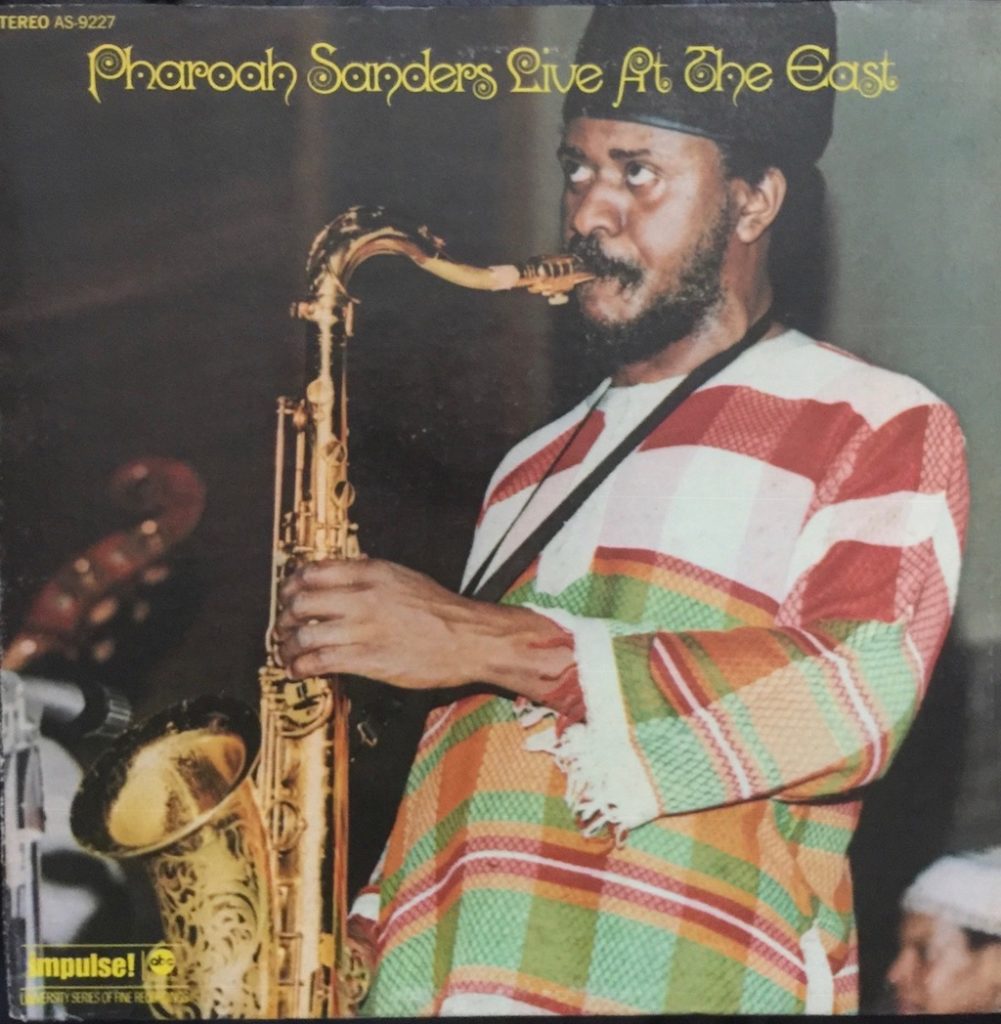 Pharoah Sanders Live at the East was released after Sanders had already come into his own with the album Karma, released on Impulse in 1969. Sanders was well recognized within the modern jazz community, having been mentored by the likes of  Coltrane and Sun Ra. Sanders appears on one of my favorite Alice Coltrane records, Ptah, the El Daoud, released in 1970. In 1972, Sanders released this live album, which can be found at reasonable prices despite the increasing market value of the older Impulse pressings. The line up on this album is stellar, from Cecil McBee and Stanley Clarke on bass, to Carlos Garnett and Harold Vic on flute and tenor, respectively, to Billy Hart on drums.
The East was a cultural center which opened in the Bed-Sty neighborhood in 1969 and played an important role in that historically black neighborhood during a period of turmoil. From what I gather, this album, consisting of three tracks, was not actually recorded at the East but in a studio with audience members from the East in attendance.  It does give you that "you are there" quality, though, and the quality of the recording is high.
Sanders had already developed his signature sound- multiphonic, overblown, but never veering out of control, straddling a fine line between the intense and the serene.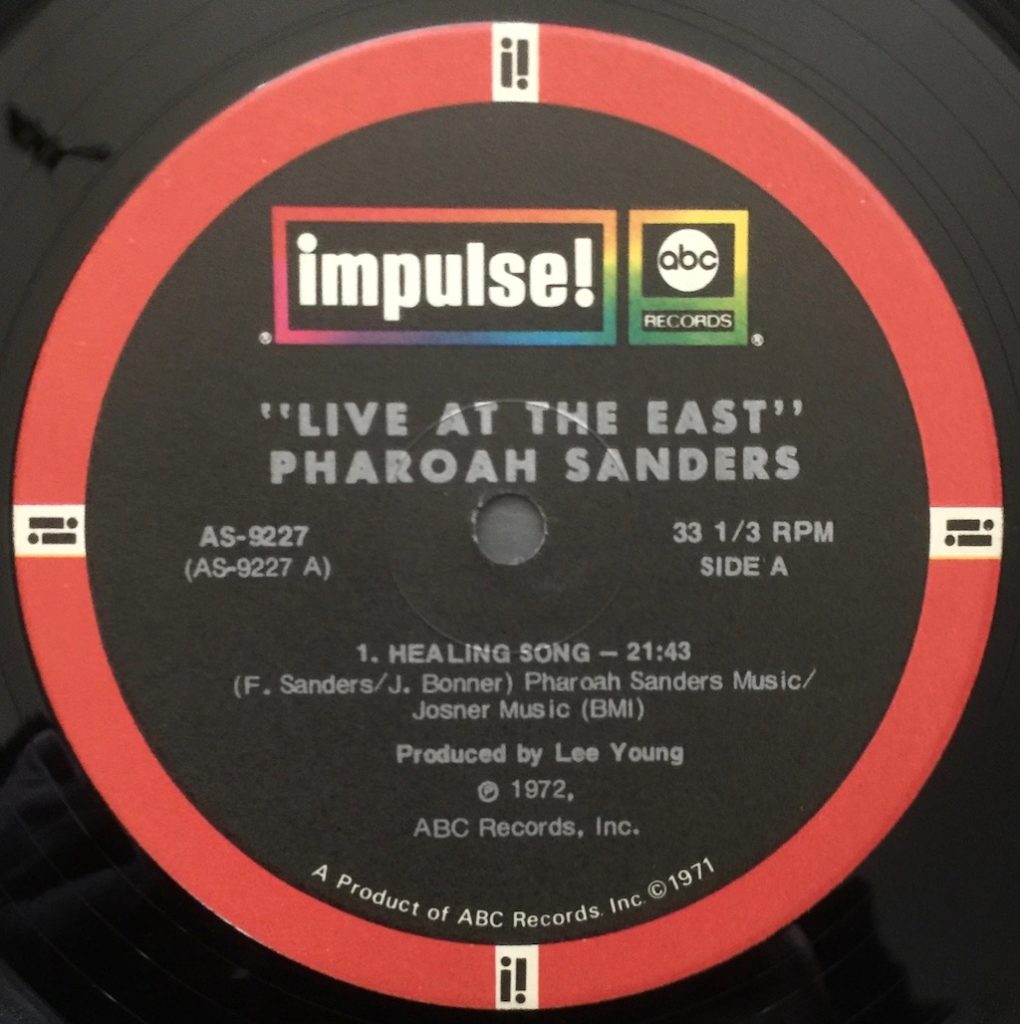 The first track, "Healing Song" starts with an edgy horn blast but quickly becomes melodic as various instruments susurrate and then intone individually; you can hear a cool hook that wraps behind this interlude. This reminds me of the lesson that multi-instrumentalist Brahja said he learned from the great Paul Bley: "…when you make something pretty too long, it ceases to be pretty. He would tell me, put something ugly there—beauty is revealed in contrast." That repeat refrain, while beautiful, forms a foundation for a great horn solo. There's still a lot going on in the background, voices, double bass and Sanders eventually breaks out into his characteristic distorted sound, but it's tempered here. The piano picks it up and Marvin Petersen's work on the trumpet fits perfectly. A sort of frantic shrieking is set up by Sanders to offset the more conventional musical refrain; when he completes the piece, Sanders just nails it. Very satisfying.
For someone who is relatively new to modern jazz, treat this as a jam session and go with it; for listeners more accustomed to a little cacophony, this is mild stuff.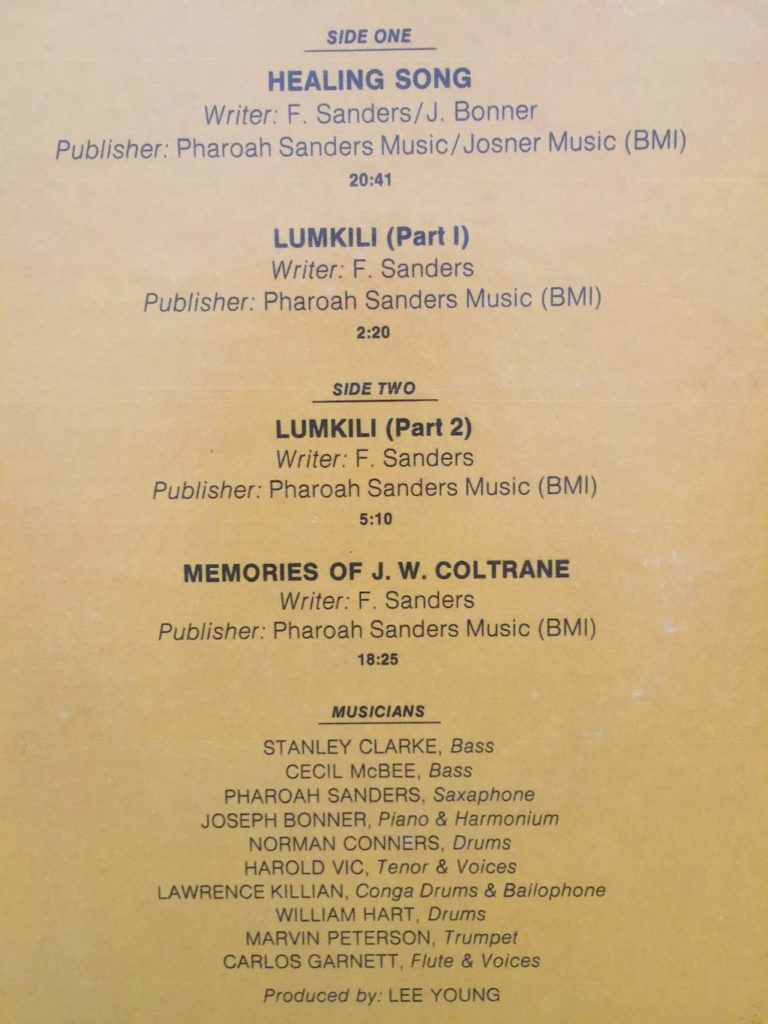 The jacket lists a short track, Lumkili Part 1, as completing side one. My copy is not pressed that way- "Healing Song" takes up the entirety of side one and side two begins with "Memories of J.W. Coltrane," a muted contemplation of instrumentation, chants and percussion that eventually makes way for some incredible bass work. Remember, Stanley Clarke and Cecil McBee both appear but it is not clear if they are on stage at the same time. This track will take you out there – rather than listening for melody, I'm listening to the tone of the instruments- the high plucked notes on the bass, for example and letting the overall performance set the mood.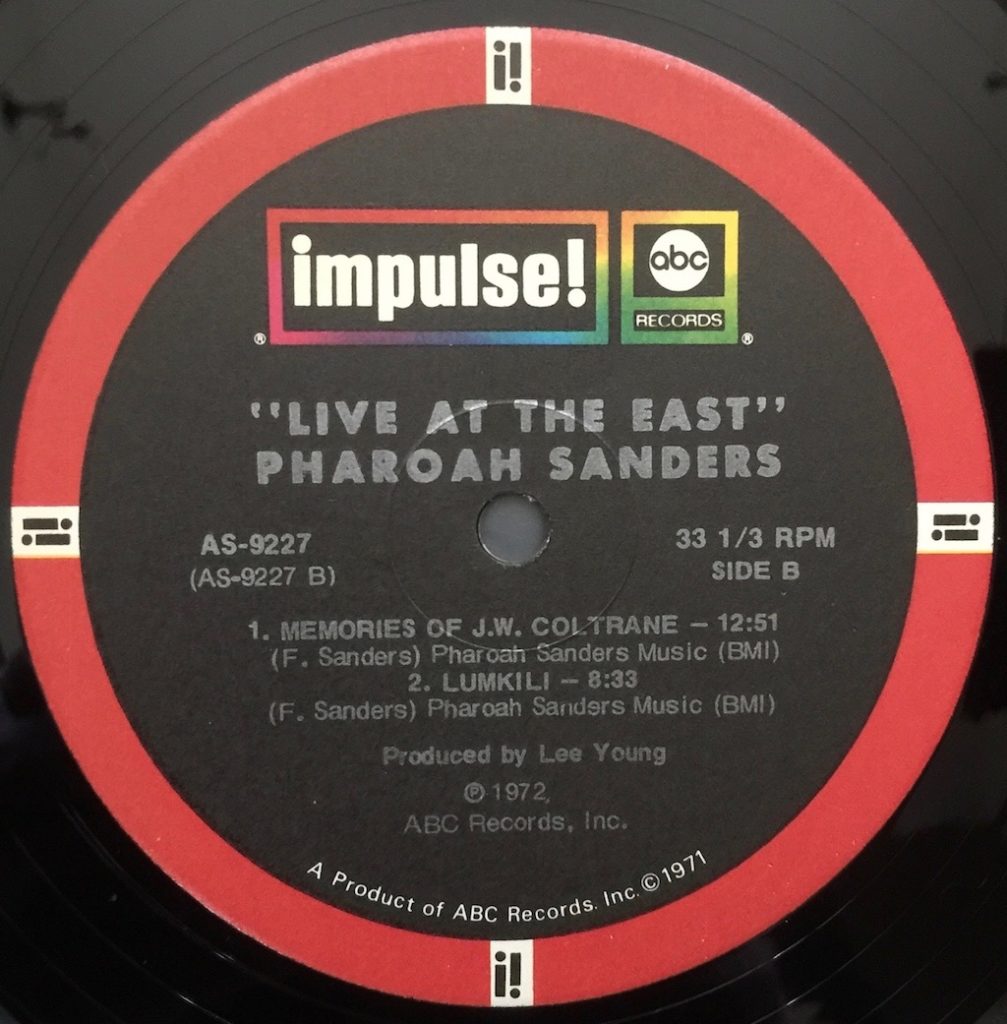 Lumkili appears in its entirety rather than in parts as the second track of side two. We return to a more melodic style, with the sax leading. Sanders' intonation is beautiful as he lingers and dwells on certain "sweet spots" but still respects the timing of the rest of the band. Those high filigrees on the bass sound like McBee's work as the piano fills in the space with trills and flourishes and a lovely lower register that is matched by the bass. When the horn returns, it feels like home-peaceful and serene.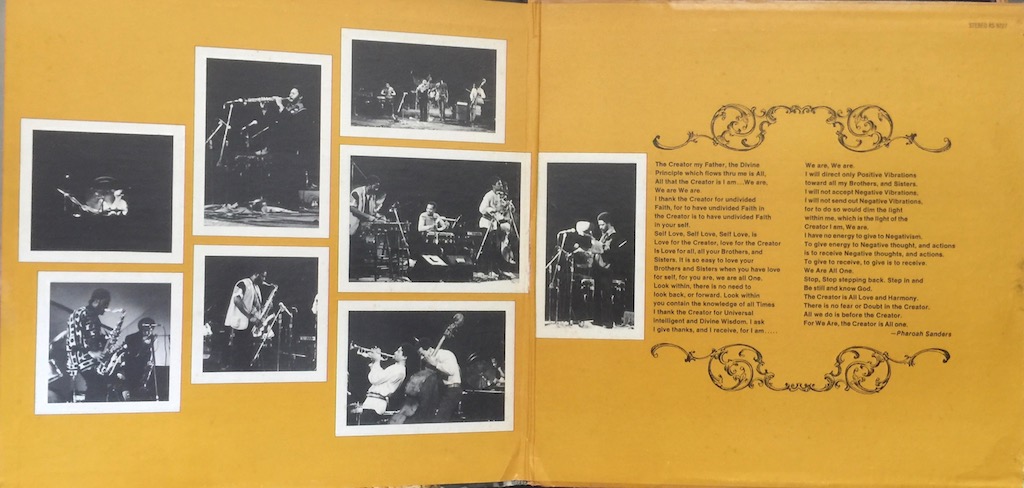 This is not the most popular Pharoah Sanders album, nor is it necessarily his best. Why even bother? Because there are moments of brilliant playing here, and a killer band. This is a cheap entry into first generation spiritual jazz on a label that was one of the wellsprings for the movement.
Bill Hart
Austin, TX
May, 2020