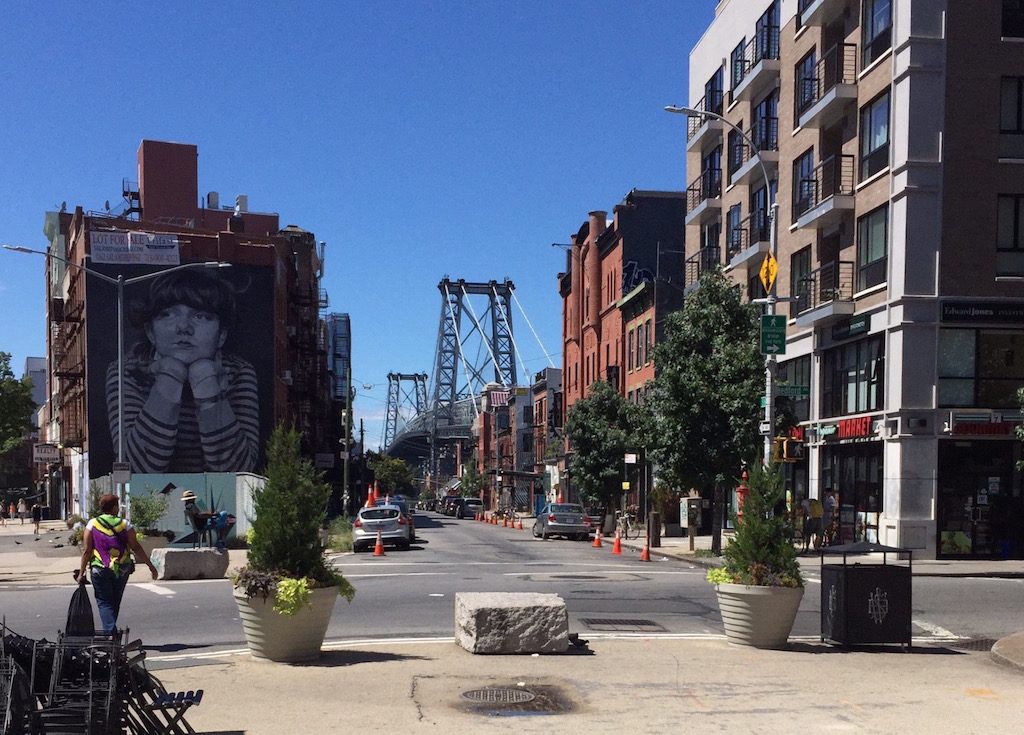 Road Trip: Brooklyn Record Shopping
With the dog days of summer now behind us in New York, it was time for another road trip. This time, we decided to trek to Brooklyn to visit a few record shops (and enjoy some good food along the way).
We lived in Brooklyn back when it wasn't "hip." In those days, Brooklyn was known for more expansive old apartments at cheaper rents than Manhattan and good local restaurants, particularly ethnic restaurants. It was not, however, a destination (except perhaps for the Botanical Garden, the Brooklyn Museum and a few other spots of interest, including a famous old cemetery). Things have changed pretty dramatically.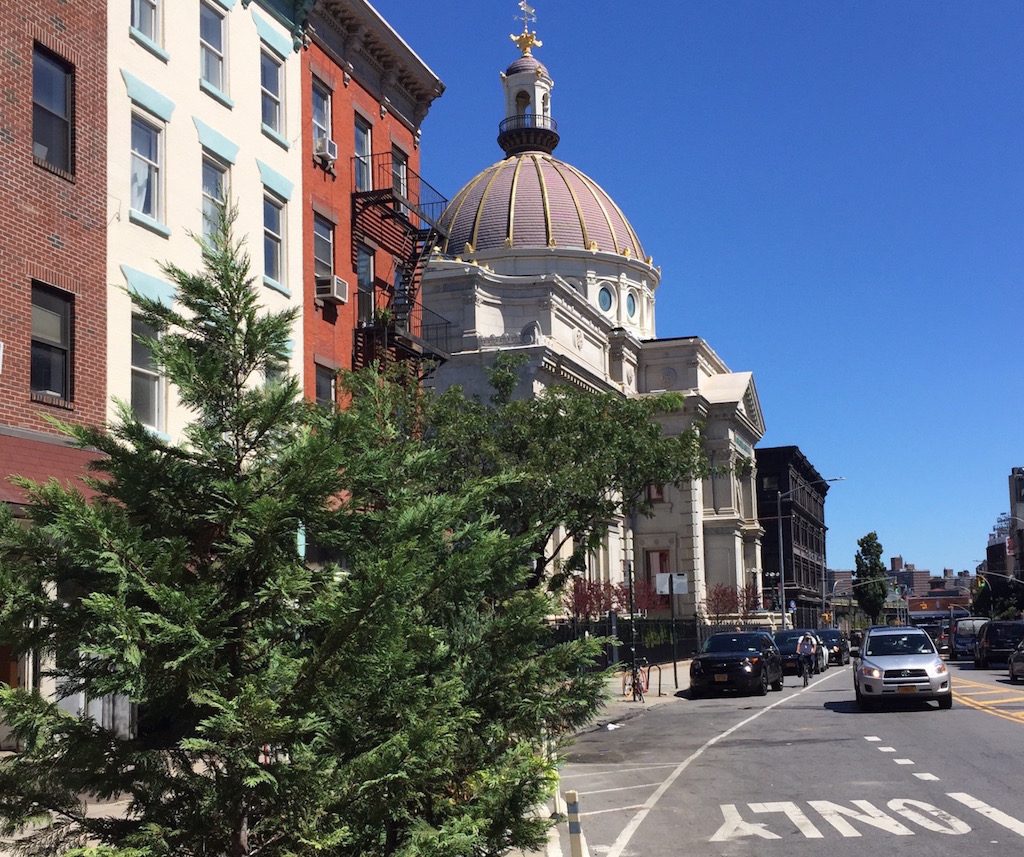 Today, Williamsburg, with its majestic old bank buildings and spectacular views of the Manhattan city skyline, is no longer an "alternative neighborhood." Artists and others who had migrated from Soho or lower Manhattan in search of large loft space and cheap rent have been replaced by a whole new species of urban critter. It's commonly thought of as "hipster" but that misses the mark. It is a scene, a mash up of post-industrial chic and urban blight that is constantly morphing as high rises and stores-both fancy and funky- replace what was once there.
Likewise, I remember the adjoining neighborhood of Greenpoint as a quiet residential community of modest row houses that seemed trapped in the early '50s. Some siding salesman scored big back then—fake brick cladding and scary looking asbestos type siding (with those faded awnings of ribbed, translucent fiberglass) still abound. But, that old neighborhood is far more vibrant now, chock full of eateries, bars and boutiques (and no small amount of high priced real estate). You know you are in trouble when the real estate offices look better than the real estate being offered.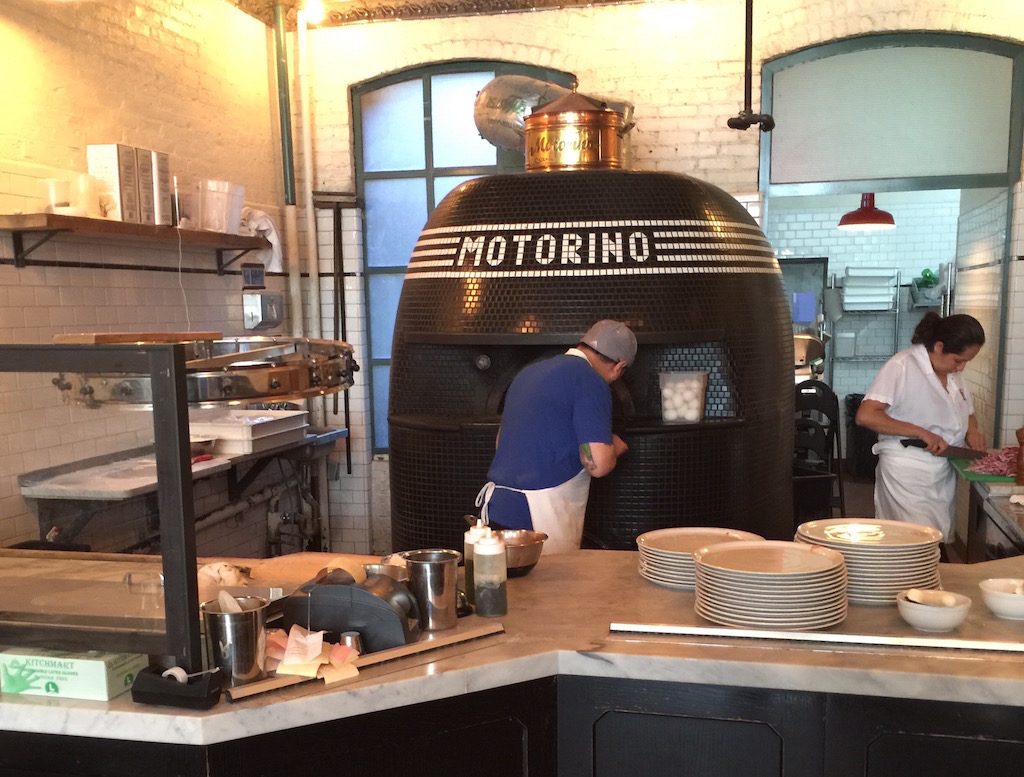 We began our adventure at Motorino– a well-known "artisanal" pizza place in Williamsburg that offers a crust of spectacular crunch and chewiness (with "high end" toppings, including the ever elusive white clam pizza). The side dishes are also high caliber and extremely yummy- I had a fresh beet salad with white anchovy, parsley and ricotta salata.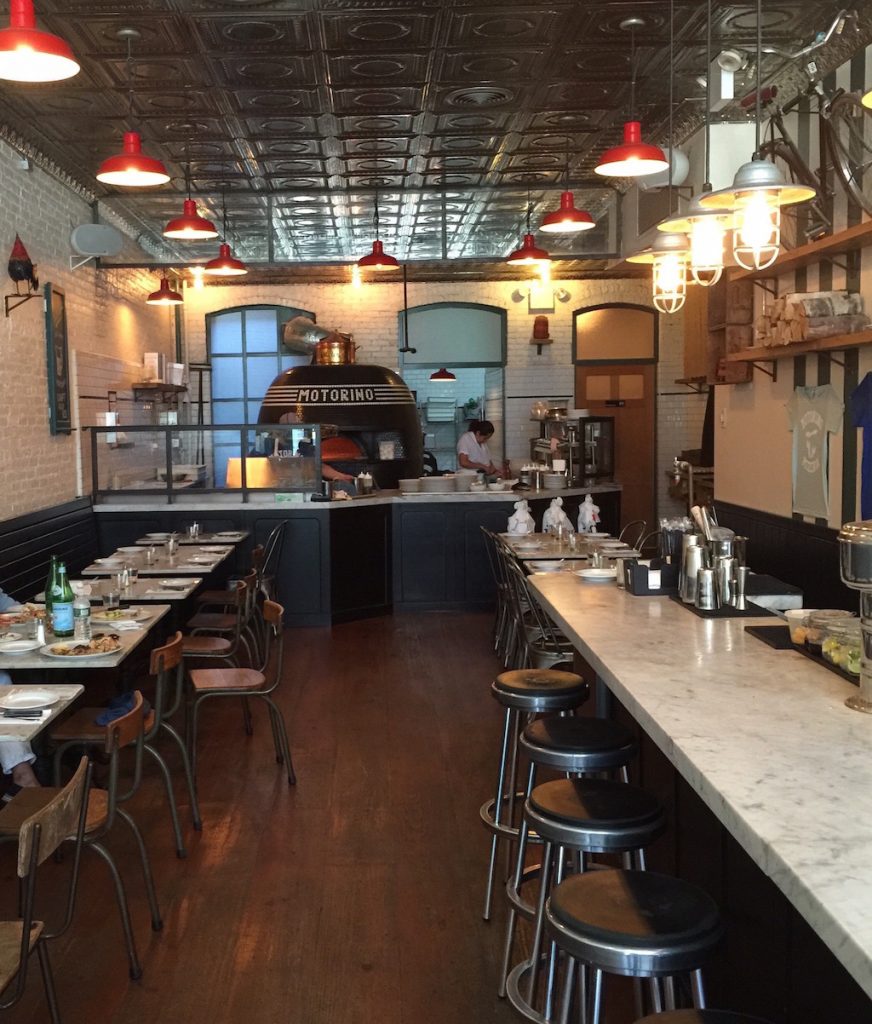 You are going to need some carbs for serious record shopping, and I can't think of a better place. Midafternoon during a weekday, at least in late summer, Motorino is pretty quiet, the air-conditioning is very effective, and you'll have as good a pizza and salad as any you can find anywhere in the world. I've enjoyed the fabled pie in Sicily and throughout mainland Italy, in places as far-flung as Rio de Janeiro and as traditional as the old Totonno's in Coney Island. I'm sure you have a favorite spot, or one on your "list," but you'll be missing a truly great meal if you don't make it to Motorino.
Motorino http://www.motorinopizza.com/new_york/williamsburg
139 Broadway, Brooklyn New York 11211
Phone: 718 599-8899
Once fully charged (I skipped the espresso, but they make a very good Caffè crema), we headed out on foot. Driving in these neighborhoods can be a nightmare of 18-wheelers, film shoots, double-parked delivery trucks and the sort of bumper-to-bumper crawl usually associated with rush hour commuting in Manhattan. (Uber is an option too, for distances that are too far to walk). Some roads work better than others to traverse neighborhoods, as we learned sitting in traffic on Metropolitan Avenue. (Kent Avenue seemed far less congested, but consult a map). Here are the stores we hit, in no particular order:
Human Head NYC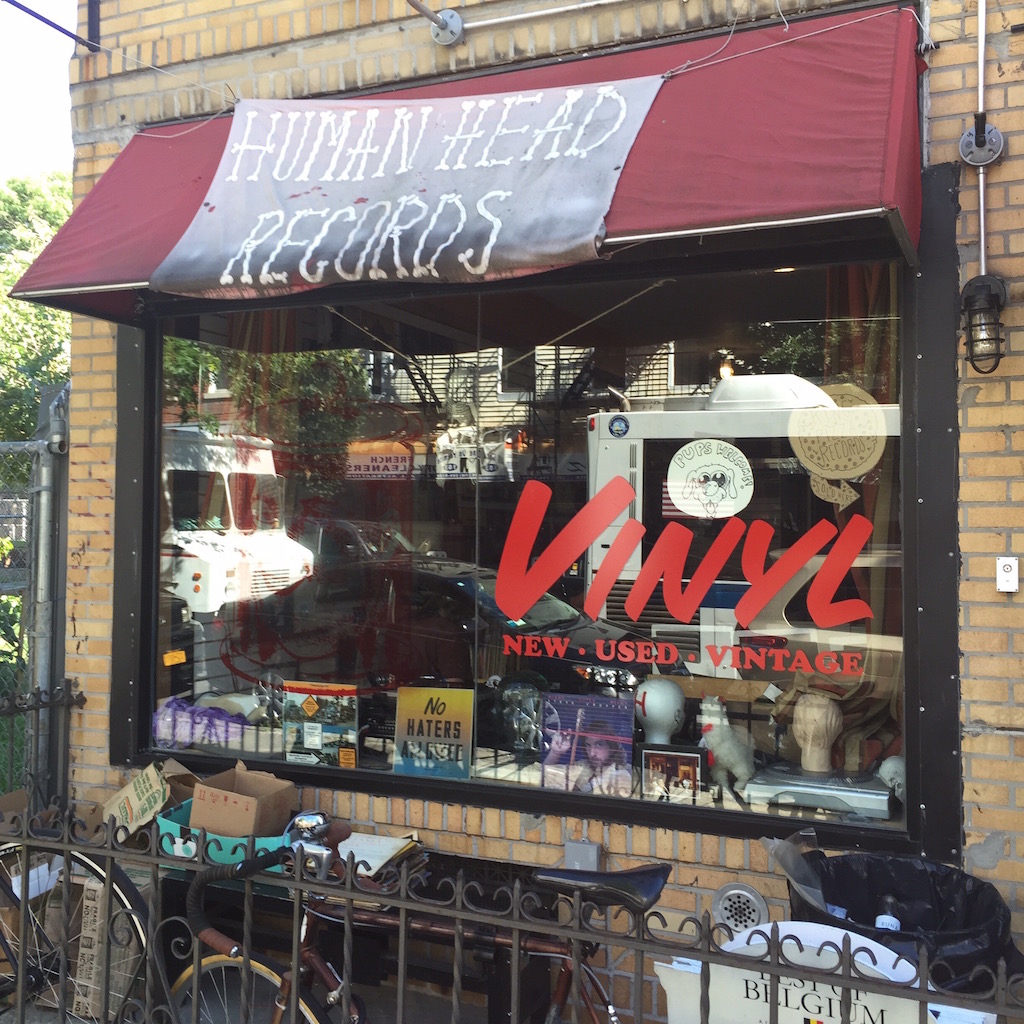 Great shop, well-organized, high quality records, very positive vibe. Travis, one of the owners, was sitting cool and comfy in a front corner of the store, pricing what I assumed were new acquisitions. My buddy Max (up from NOLA for his regular visit to NYC) had done business with these folks and thought very highly of them. I missed an original copy of The Sacred Mushroom that had sold a few weeks before, but these guys are worth keeping an eye on for collectible stuff- they seem to post new acquisitions on Facebook as well as on Discogs- their website has a link to their online "store."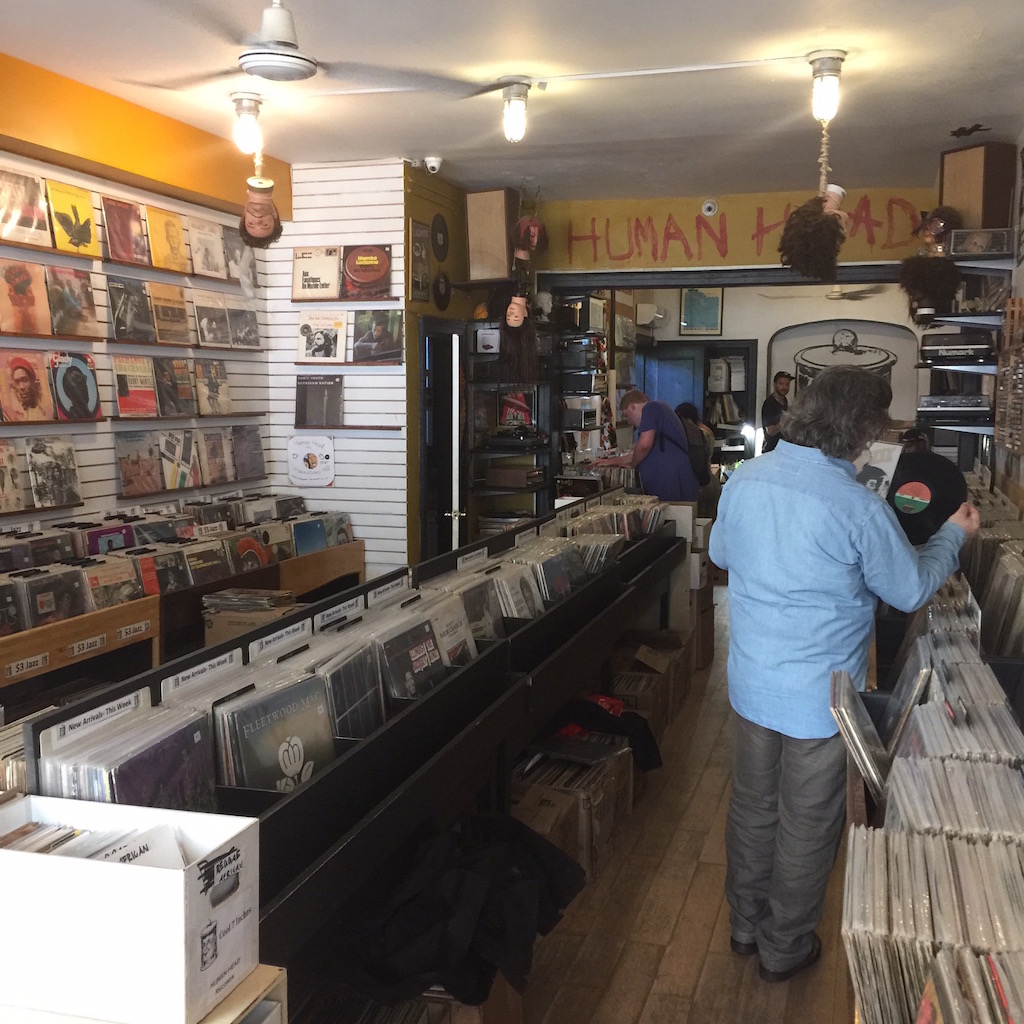 The store is located in Bushwick, an "emerging" neighborhood not far from Greenpoint and Williamsburg. One thing I liked was that these guys had a very curated approach to prog and psych, which was separated from "classic rock," making a targeted mission way easier.
168 Johnson Ave, Brooklyn, NY 11206
Phone: (347) 987-3362
Academy Annex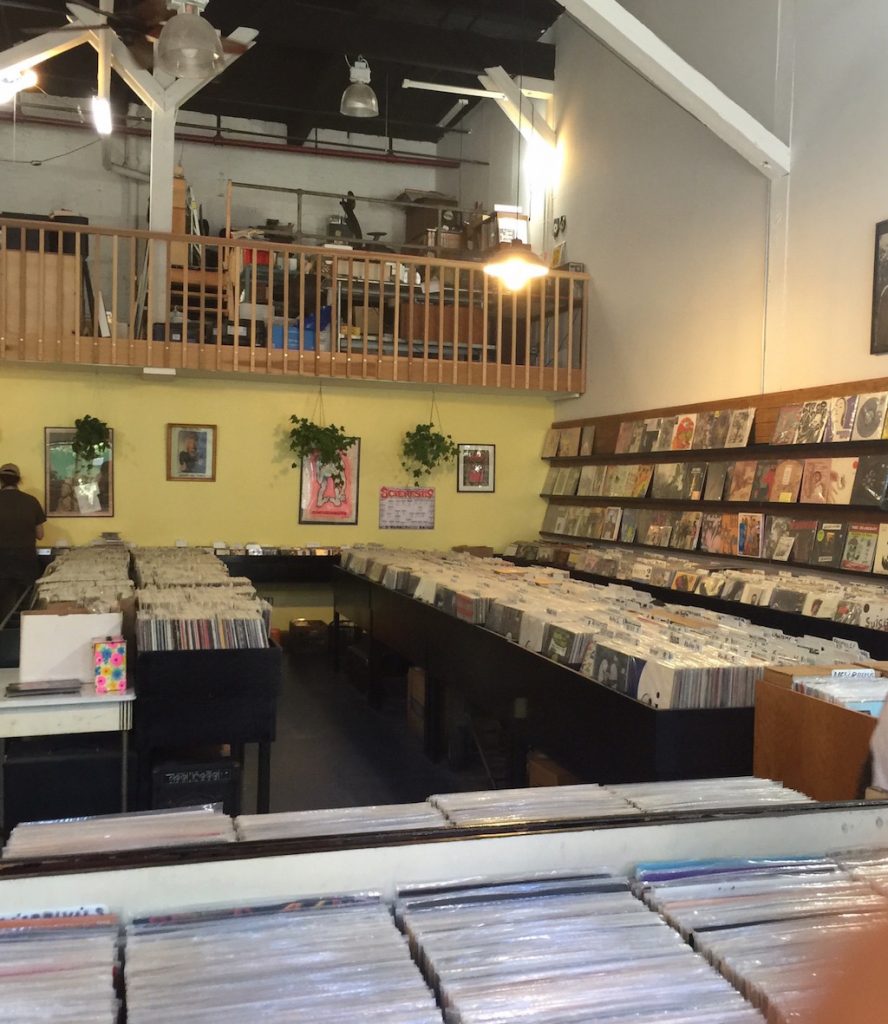 An impressive store, large, clean and well organized. Polite, helpful staff. I remember shopping at the old Academy Records on 18th Street in NYC; though that store is still in operation, there is an offshoot on 12th Street in Manhattan—and the Annex (located right behind the Convention Center in Greenpoint where this year's WMFU Record Fair took place) is affiliated with the 12th Street operation.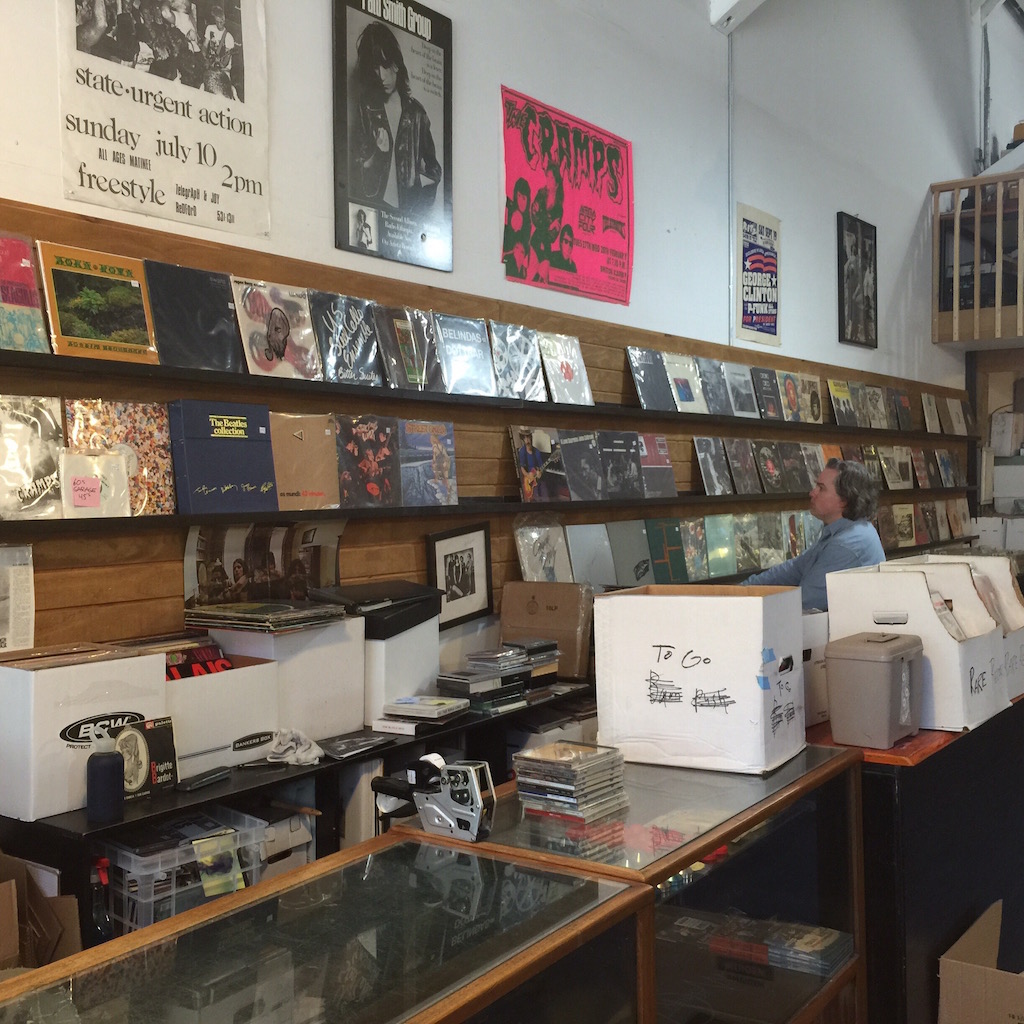 They had two crates of "rare records" on the front counter that were a magnet to me as soon as I walked in: a lot of private label pressings and real obscurities. The walls also had some of the pricier collectibles. Psych and prog was mixed in with "rock" rather than being shelved separately, so be prepared to go through some stacks. Although the main website does not provide specific listings of new arrivals, Instagram and Facebook  provide more detailed information about Annex inventory. Like most record stores, you can find them on Discogs too.  (Look up the story of the Stonewall album while you are at it; one of those classic "barn find" stories that made news a few years ago).
Academy Annex http://www.academy-lps.com
85 Oak St, Brooklyn, NY 11222
Phone: (718) 218-8200
Norman's Sound and Vision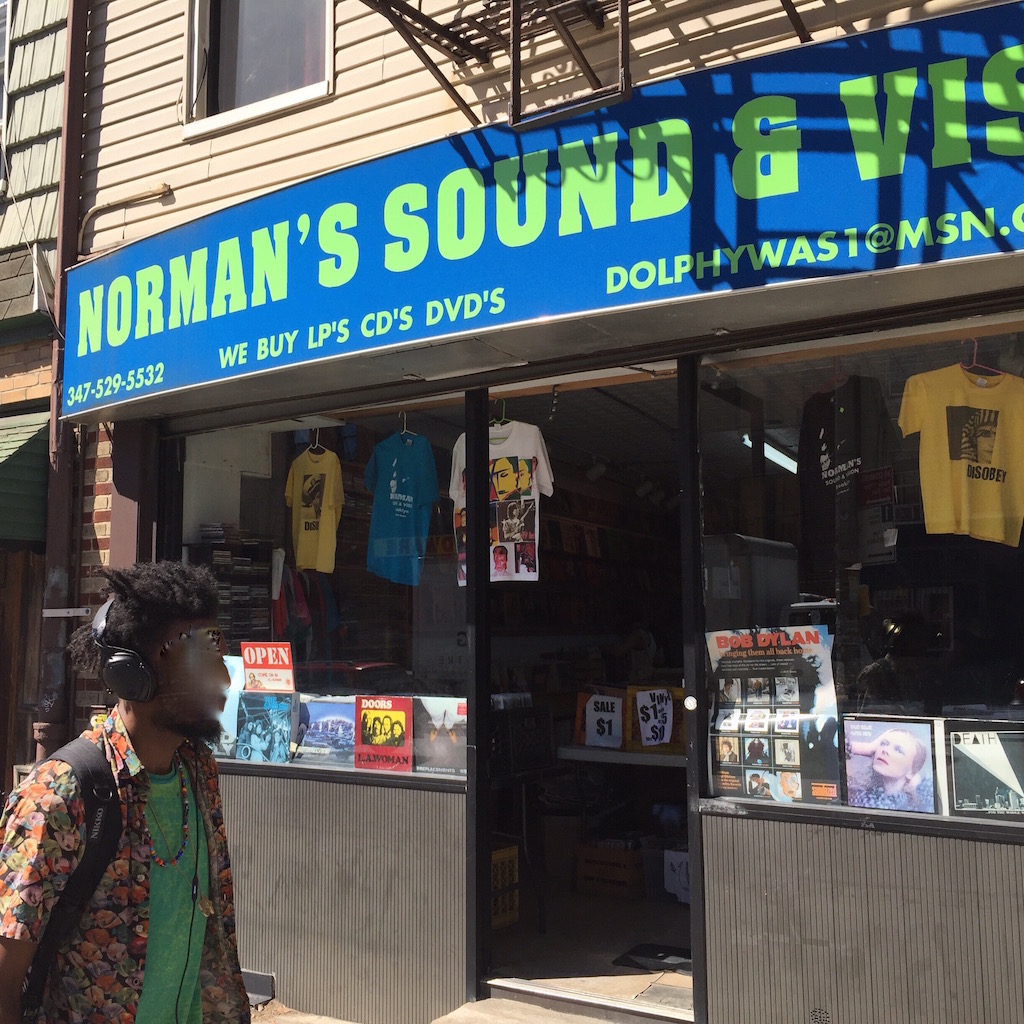 No website as of this writing (though he does have a Discogs presence), and packed to the walls- this is old school bin diving at its best. Lots of common old rock records mixed with better pressings. Prices are reasonable if you find the right pressing, so be armed with deadwax details as well. Norm, who told me he's been buying and selling records for 40 years, knows his stuff and will work with you.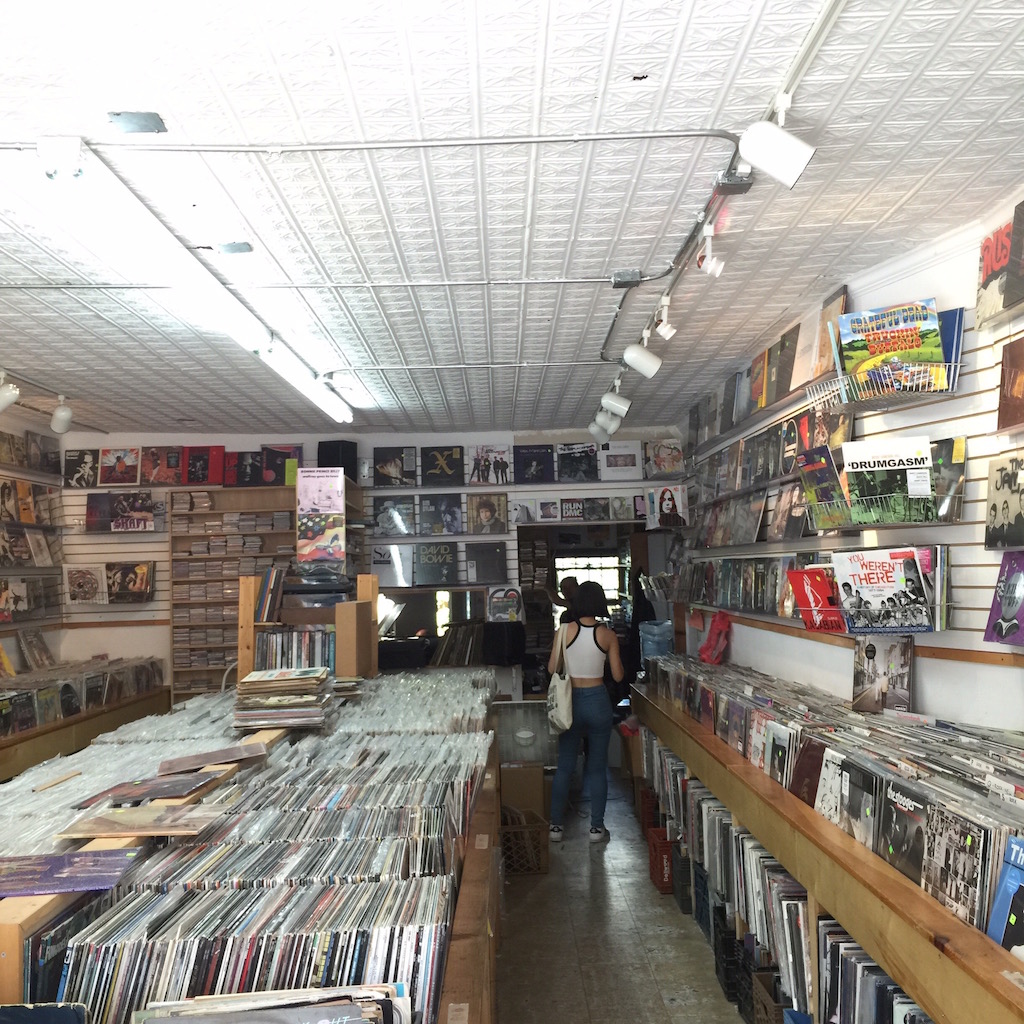 Norman's Sound and Vision
555 Metropolitan Ave, Brooklyn, NY 11211
(347) 529-5532
Interlude~ If you are a fan of pastry chef Christina Tosi's Milkbar (yes, the same folks who created the desserts for the momofuku restaurants), you can take a break and hit one of their bakeries, which is very close to Norm's. Pick up a refresher. You'll need it.
Milkbarstore http://milkbarstore.com
382 Metropolitan Ave, Brooklyn, NY 11211
Phone: (855) 333-6455
Captured Tracks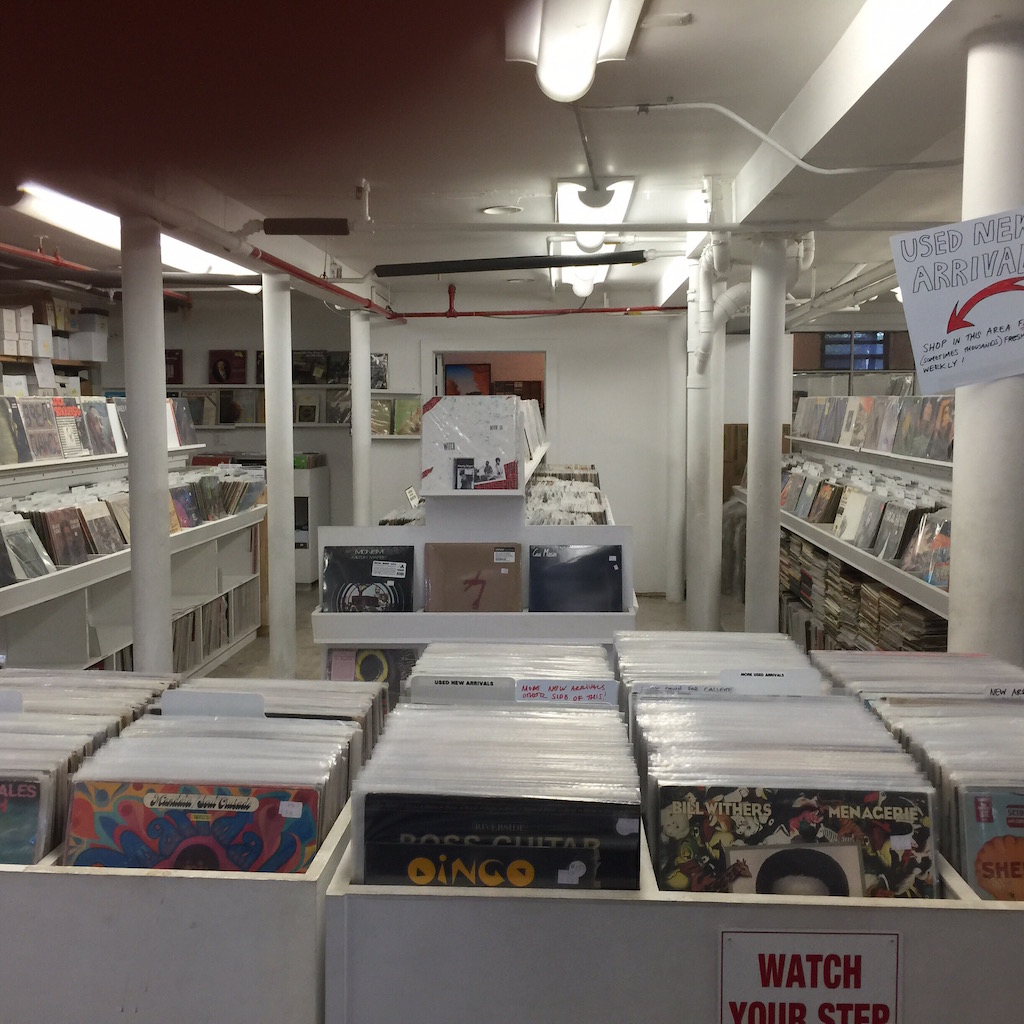 Interesting "under the stoop" shop that combines the bin diving character of old school used record stores with the more "curated" style of modern stores. Lots of dance music. (It turns out one of the guys is a disco fan). The gent tending the counter said he's into oddball electronica and "weird" music. Good enough for me.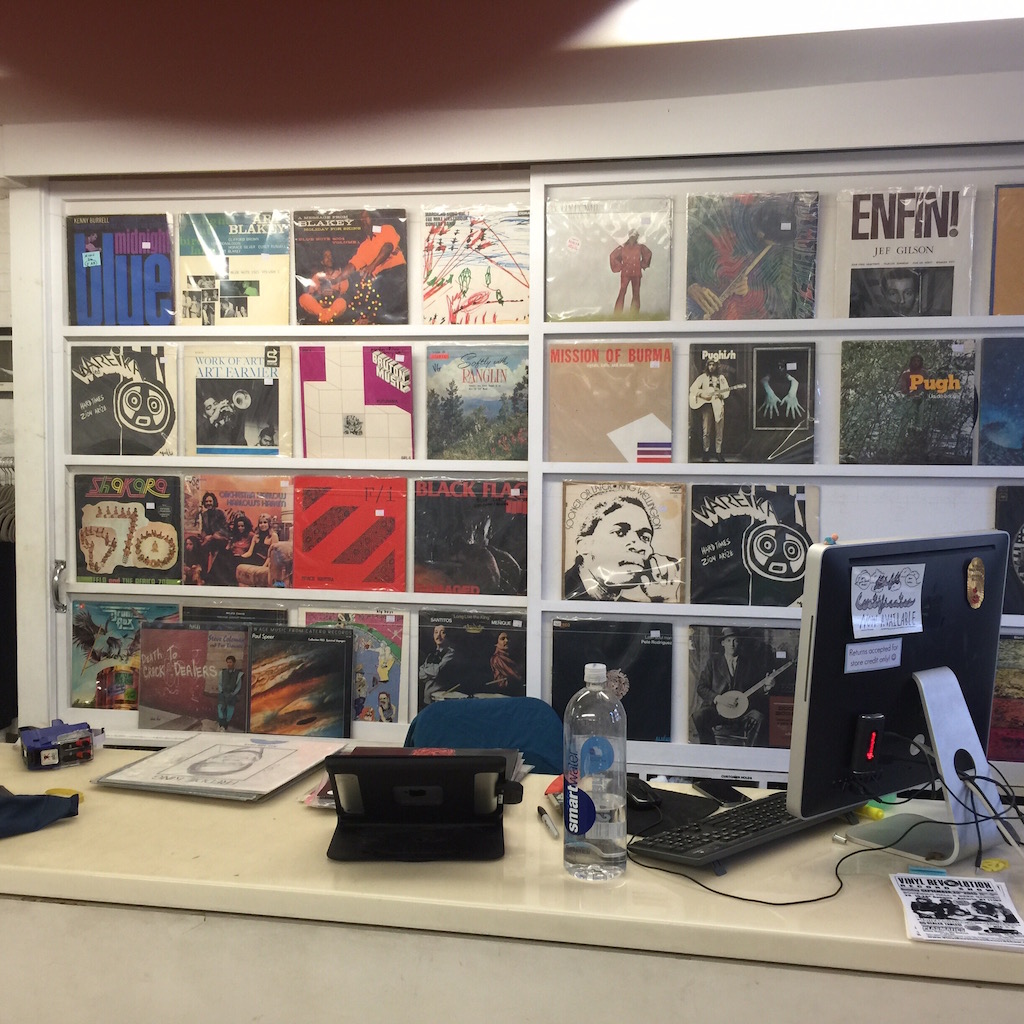 I found a lot of good stuff in the "recent arrivals" bins, all of it pretty cheap.
Captured Tracks https://www.omnianmusicgroup.com/pages/our-brooklyn-shop
195 Calyer St, Brooklyn, NY 11222
Phone:(718) 609-0871
Record Grouch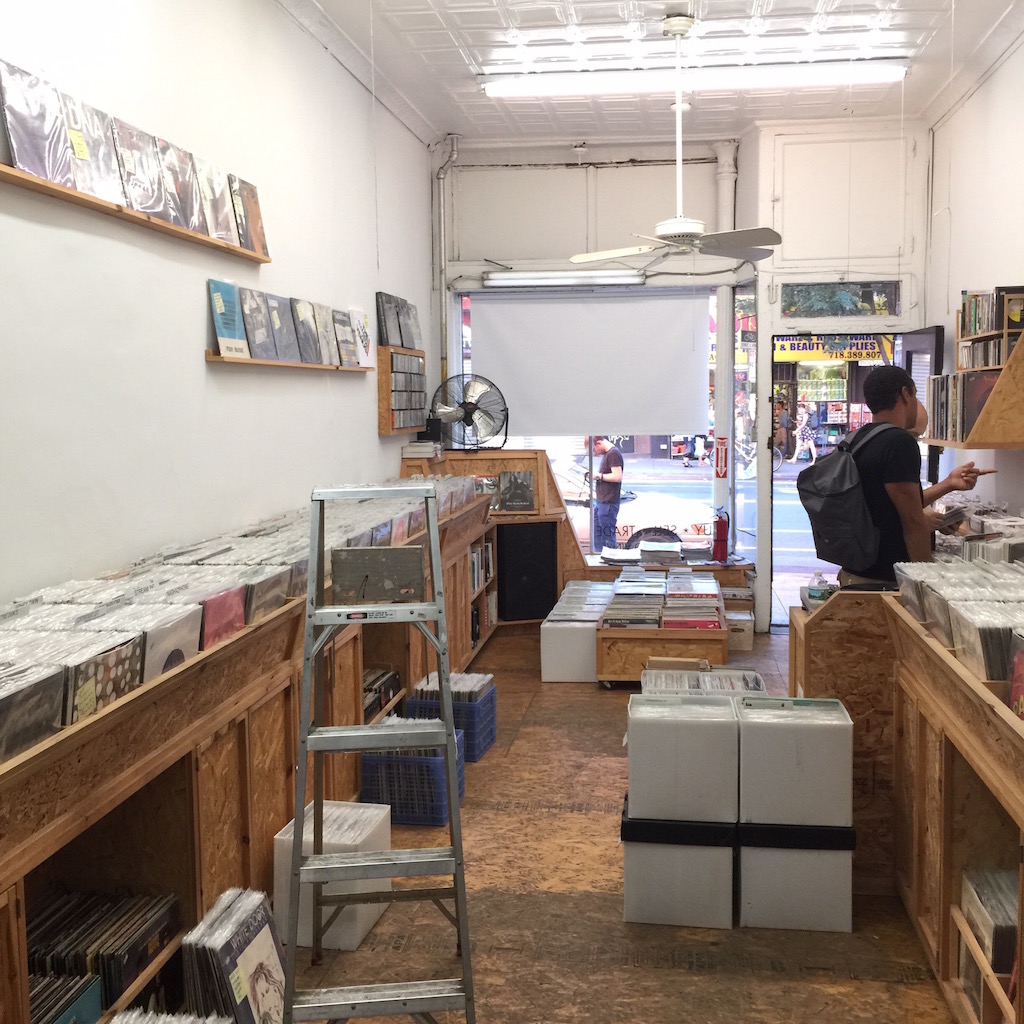 A serious store. Clean, well-organized, deep jazz, hard rock and pretty much everything in between.  Some of the collectibles and obscurities line the walls. At first, I thought the store keeper was living up to the name, but as we got to talking, he proved knowledgeable and friendly. In fairness, we arrived about 20 minutes before closing time, and he was busy pricing new acquisitions. Although the store is packed with records, it was clean and spare- easy to plow through the racks and wooden crates on the floor.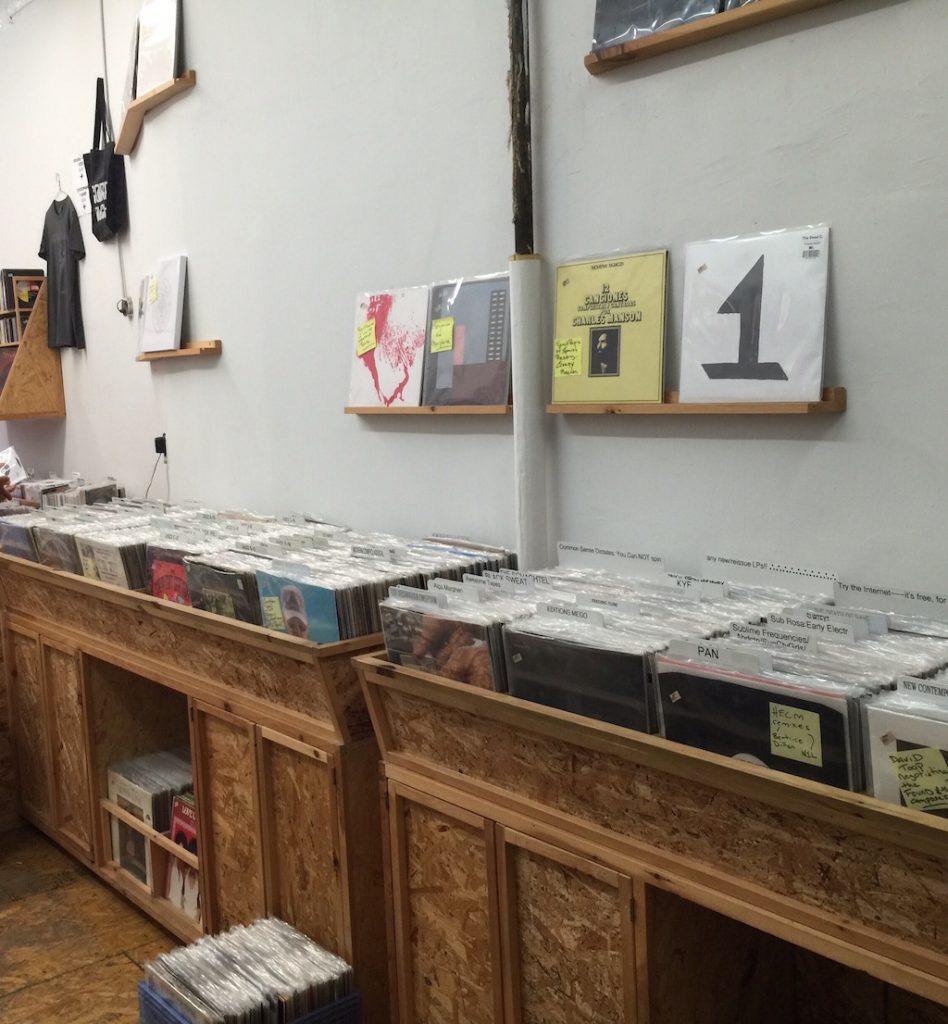 I found a nice Pearl Jam No Code ("E", with all inserts) and a private label prog obscurity tagged with a Post-It note: "deep prog." Never heard it before, but for the price, I was willing to take the chance. Definitely worth a visit.
Record Grouch http://recordgrouch.com
986 Manhattan Ave, Brooklyn, NY 11222
Phone:(718) 389-0122
Ò
By now, it was a little after six. We got back into the car, cranked up the AC and headed into Brooklyn Heights for a killer meal of regional Italian specialties—home made black ink pasta, Sicilian blood orange/fennel salad, grilled octopus and veal tonnato, a dish of chilled veal with tuna sauce– a wonderful summer treat if you can find a restaurant serving it. That was easy: we have been going to the Queen Restaurant for more than 30 years- originally a pizzeria/table cloth restaurant, the owner's sons took their culinary skills back to more traditional, less Americanized dishes. The ingredients are of the highest order (try the fresh peas- just unbelievable flavor) in an unassuming storefront on Court St. One of my favorite restaurants on the entire planet for food quality and taste. Pat and Vinnie are the real deal. You will not be disappointed.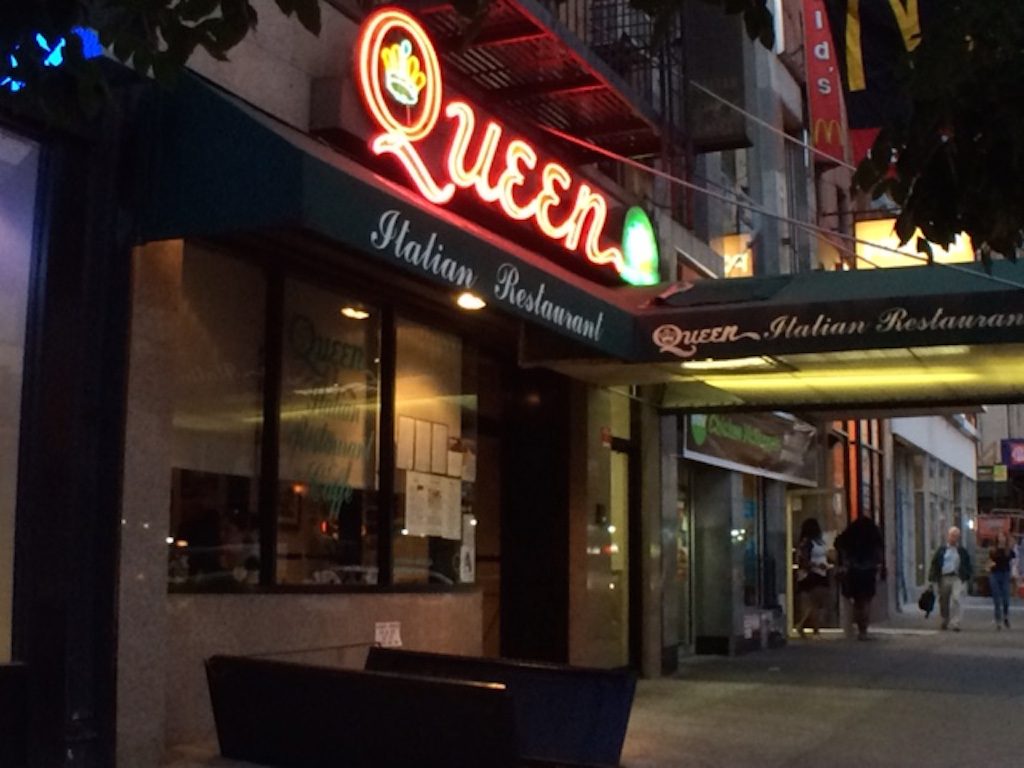 Queen Restaurant http://www.queenrestaurant.com
84 Court St
Brooklyn, NY 11201
Phone: (718) 596-5955
We had a great dinner–six of us (not everybody was part of the record shopping jaunt) and finally headed home about twelve hours after we started out that morning.  Only one record was moderately expensive (the Pearl Jam) and many were under ten dollars. Here's what I bought (not including other stuff that had arrived in the mail that day while I was in Brooklyn):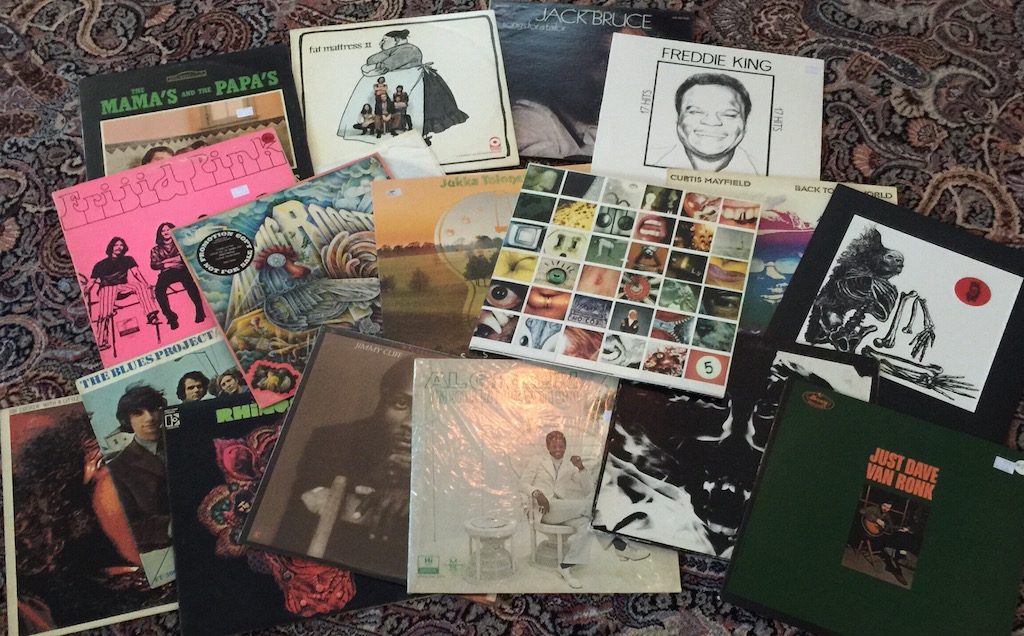 I'll probably write about a few of these records in separate "capsule" reviews to come.
Bill Hart
August, 2016
______________________________________________
Many thanks to Meryl Salzinger, a gifted photographer and longtime denizen of Brooklyn for running over to the Queen and snapping a photo of the restaurant for this piece. Meryl's work can be found at http://merylsalzinger.com