Sabbath's Heaven and Hell: Your Choice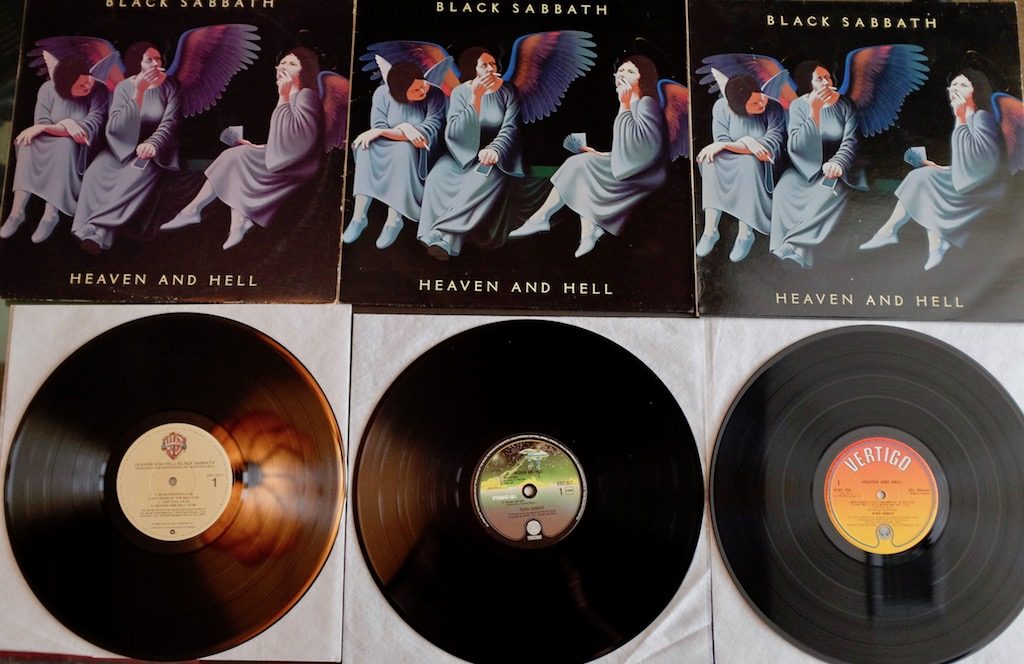 One of the greatest Black Sabbath albums was delivered after the early albums on Vertigo Swirl[1]and subsequent to Ozzy Osbourne's departure: Heaven and Hell, released in 1980, featuring Ronnie James Dio as vocalist. This album represents a high water mark in the band's recorded performances, not only for its two sides chockful of rhythmic, driving songs with the heavy riffage characteristic of the best of Sabbath; the album was a fresh take on the classic Sabbath sound that breathed new life into the band. Dio's involvement didn't just bring in a talent with considerable range as a vocalist, but resulted in a songwriting collaboration with the band's anchor, Tommy Iommi, that marked a departure from previous Sabbath outings: a more upbeat, faster tempo with an enthusiastic delivery that some of the band's immediately previous releases lacked—the band now had a new direction that bridged the original "dark" Sabbath with something more grand and eclectic. Despite the loss of Ozzy, the album sold well at the time of release and has since been regarded as a classic- not only a turning point for Sabbath as a band, but a high spirited take on the very genre the band was credited for inventing.[2]
Part of the recording took place at Criteria Sound in Miami, and benefitted from the participation of producer Martin Birch, whose long involvement with Deep Purple brought a different dimension to the sound—more focus on the midrange, detail and texture—just listen to Birch's work on Wishbone Ash's most notable album, Argus.[3]
Rather than a paean to Sabbath resurrected, the aim of this piece is to compare three different pressings from the period:  U.S., UK and Dutch copies, the last often being credited as "almost audiophile"[4]by those who have done similar comparisons.
The US Warner Bros. Pressing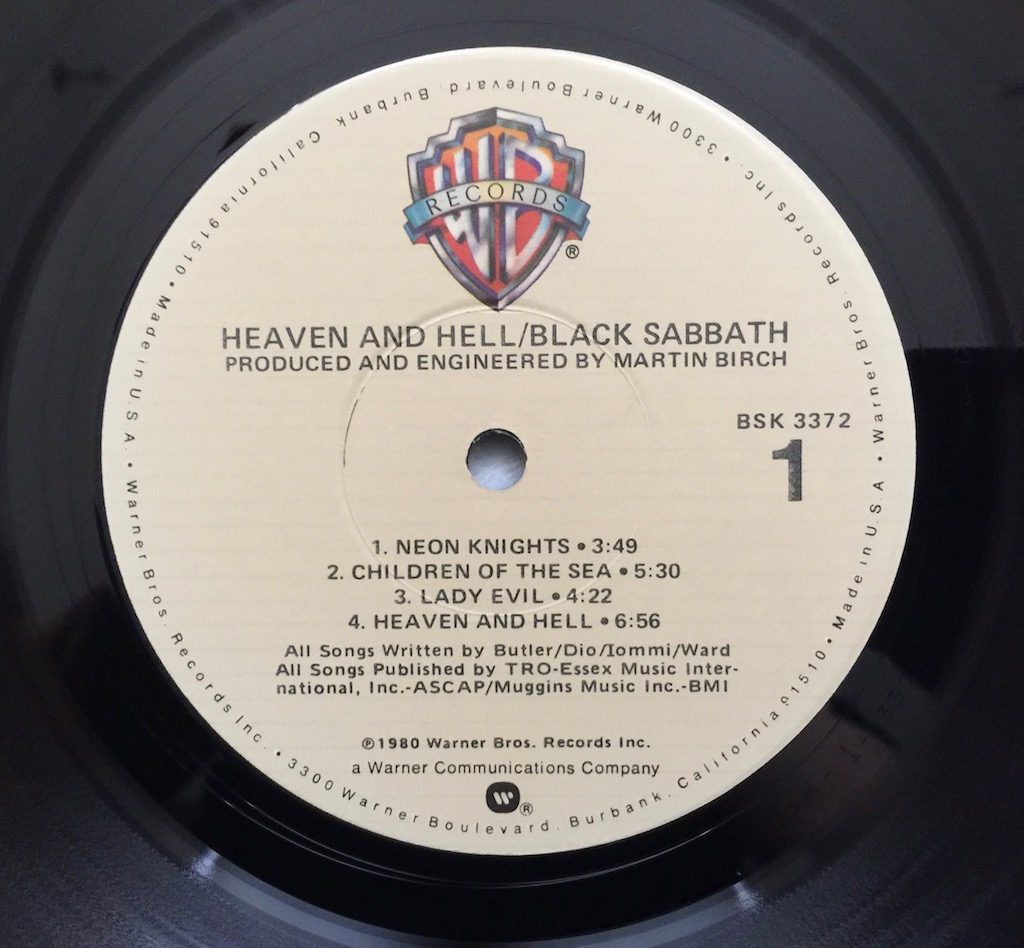 BSK-1-3372 JW4/JW3
Likely pressed by Capitol's Jacksonville plant
This is a fairly early pressing, the inner is one of those poly translucent bags spotted with blue Warner logos. My memory of the first track, "Neon Knights," was that it was somewhat congested sounding given all that is going on, some of it at full throttle, but listening to it for this write-up, it sounded nice and clear (without any over-brightness as a consequence). "Children of the Sea" which starts as an acoustic ballad but pretty quickly ramps up/down to a heavy slow grind, sounds great—nothing seems to be missing- pretty well balanced between bass, mids and highs. I wouldn't consider this a spectacular recording, but it is more than serviceable. It does make you want to crank it –and this record is eminently crankable—it sounds good loud. (My definition of "loud" isn't yours, so call it 80 db "C" weighted average, with peaks higher). At full tilt, "Lady Evil" sounds a tad bright, though. (I'm thinking this particular track isn't as well recorded as some others on the record, but let's see how that comes out in comparison to the other pressings).  By the way, the band's playing is more than you can ask for—just in case you forgot that's why we are here.  The title track sounds better than "Lady Evil" and that brightness isn't nearly as evident when you crank it. What a great song! The recording lets you hear everything that's going on. If I had one quibble (apart from the brightness on "Lady Evil"), I'd like more bombastic bass. But, overall, the record doesn't sound "thin" –at least standing on its own– this is a good commercial release I could certainly live with.
Side two opens with some glorious vocal parts from Dio against driving rhythms and some wicked guitar leads on "Wishing Well." Everything is clear, crisp and none too brittle on that track, though there is a lit-up quality to the record (especially noticeable after hearing the UK and Dutch pressings).  "Die Young"—the vocals are transparent, the bass line is easy to follow; when the band winds up and things get busier, the record retains its clarity. There is some marvelous lashing guitar at the end of this song. "Walk Away" – the intro drums have some impact—I can't say this is my favorite track on the album, but it isn't weak, musically, it just isn't as memorable as some of the others. Side 2 wraps with "Lonely is the Word"—this song starts with blazing guitars, Dio showing his vocal chops as the song develops—reminds me stylistically a little of Paul Rodgers with Free; nice minor key changes –the guitar interlude is beautiful, spacey, you hear a lot of detail without any "etched" sound, and we're back to hard rocking sound as Iommi takes off in earnest—ripping it with a blues-cascade down the fretboard—and there's Dio wailing as the song hits its crescendo. The last segment is nice- guitar flourishes and you realize why Iommi is a first tier player- as the band alternates in a minor key background riff that is searing.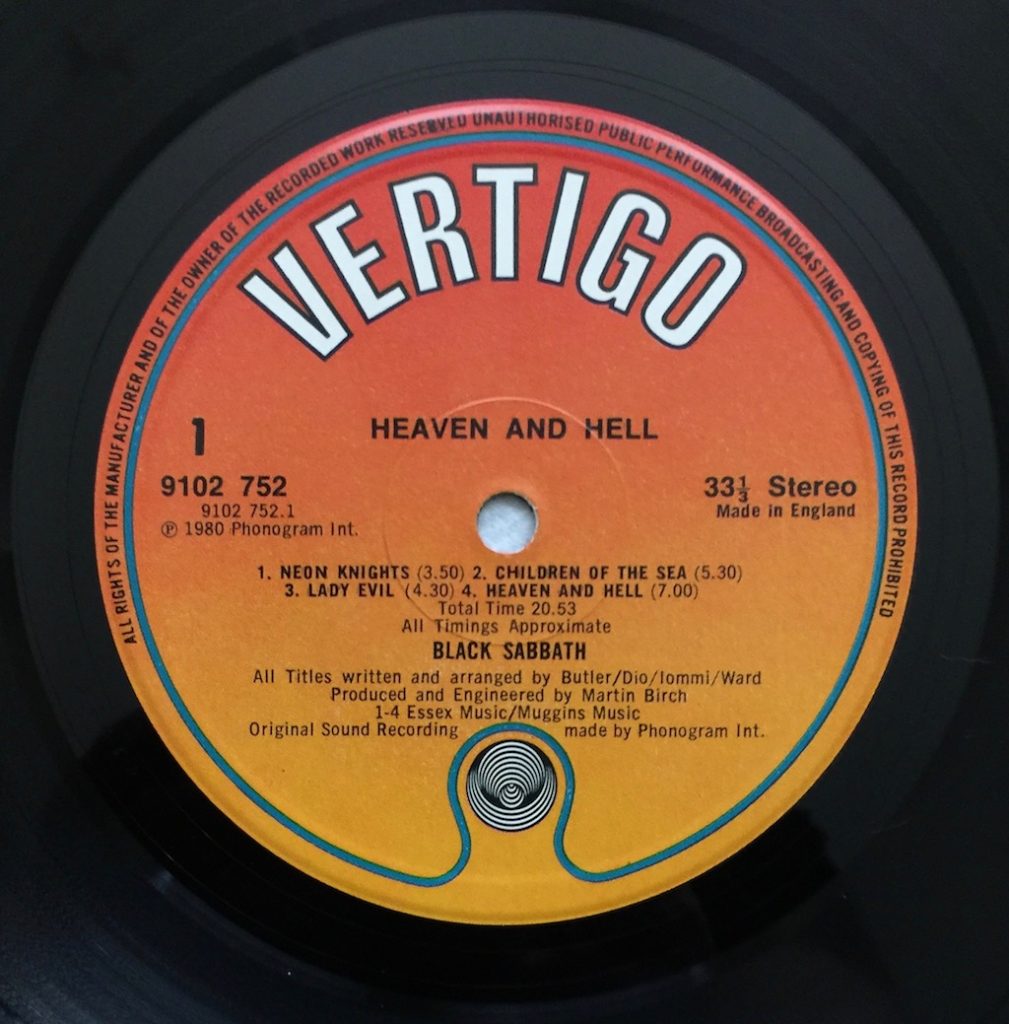 9102752 A (11) 3 ∇ ETH/ B-3  ∇ ETH
Switching to the UK Vertigo, the differences are immediately apparent- it's almost as if the perspective switches—the record sounds louder, deeper and you can now tell that the US copy does sound a little thin and bright by comparison. Is it that UK "warmth" that is often attributed to (some) British pressings? Nothing particularly 'warm' about this sound—it's just more firmly grounded, with a deeper "soundstage" in audiophile terms and to these ears, sounds "better."  "Neon Knights" is followed by "Children"- that ballad/heavy grind and the drums have more 'thwack'—perhaps a little darker sounding but nothing seems lost in terms of detail or bandwidth.[6]
This record is more crankable than the Warner without getting that bright edge I heard on "Lady Evil." Plus there is more apparent bass on the UK copy.  I think this record would be a crowd pleaser for most of you.
It's probably pretty cheap for our UK brethren, so if I were in England, why even bother with the U.S. copy? Us Yanks, on the other hand, are going to fork over a few more dollars to get a UK copy. Well worth it in my estimation. But wait, as they say. There's more!
Side two comes out about the same, this record sounds louder than the US copy out of the gate with more impact- there's more in the lower midrange-upper bass. There's also more contrast in tonality between the edginess of the guitar, the rhythm section and the vocals—I wouldn't call it more "spacious" – we aren't quite into audiophile land, but you can hear it—like everything is a little more distinct (without sounding brighter). Interestingly, "Walk Away" is more interesting to me musically on this copy, so sonics and music do have a relationship; a great sounding record isn't going to make a banal piece of music better, but if you are hearing more, you're likely to better appreciate what's happening during the performance.
"Lonely is the Word" sounds more like a virtuoso performance on this record than on the U.S. copy—again, more contrasts, little shadings of tone, the rip of the guitar all stand out more prominently. It's just a better sounding record, and shows the band off to better effect.
The Dutch Vertigo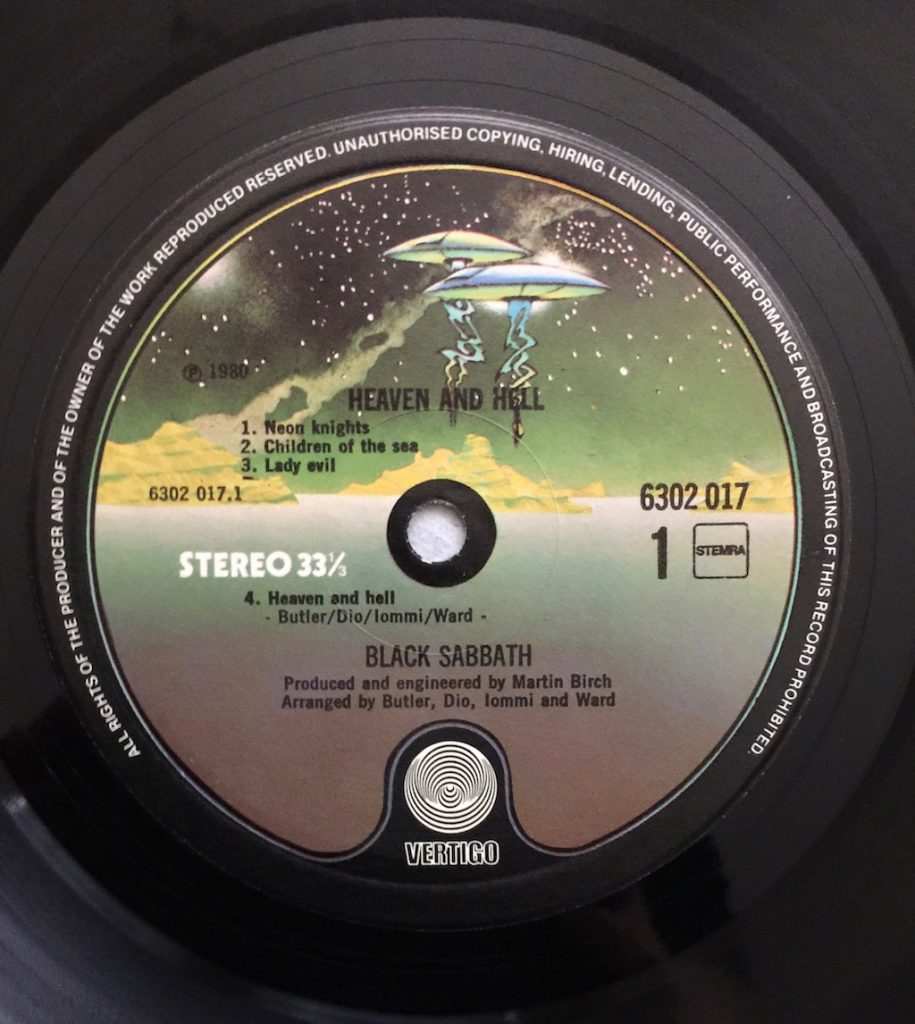 6302 017 1 y 1 111/2 y1
 The Dutch pressing is tonally similar to the UK, at least in comparison to the U.S. copy—at first, I'm not sure what all the fuss is about when I cue up "Neon Knights." Until you turn this puppy up. I think it has more headroom than the UK. "Children" is dramatically better sounding- it has a real soundstage, vocals are imaging more specifically in space, yada, etc. Way better sounding. The drums not only have thwack but sound deeper. Once you spin into this record a bit, you can hear the difference. At full tilt, the record doesn't sound strained either. Although I'm not from the 100 db school of listening- I can crank this beyond my normal listening levels comfortably. That's true, even with "Lady Evil"—which had that edge of brightness on the U.S. pressing. It's apparent on all three pressings that it's there in the recording- I just don't think this track sounds as good for that reason, but it's a little more tolerable on both the UK and Dutch pressings at high volume, say 85db "C" averages; at lower volumes, it isn't nearly as apparent on the Dutch copy.
Side two of the Dutch copy brings even more to the party than the UK—you are hearing harmonic overtones lingering, the drums have heft, more skin sound, the vocals are more relaxed sounding against the tumult of the band. Everything opens up a little more, there's more "palpability"—ugh, I'm really sounding like an audiophile reviewer now. But this record approximates that quality. Will it beat the pants off some audiophile masterpiece, sonically? Nope. In fact, I'd urge you to bring a copy to the next audiophile show and see if somebody peddling a big bucks system is willing to play it during regular show hours. You might blow some minds.
But, most of you knew that—about the music. 
As to the sonics, well, I'm not the first person to conclude that the Dutch pressing is great, so I can't claim to have cut any new ground in writing this piece. It did give me an opportunity to up my game with this record, though. Even doing the review was a blast; I enjoyed listening to all sides of the record multiple times in one sitting.
Conclusion
 This isn't a crazy expensive record. If I was in the U.S., I'd go directly to the Dutch copy, since I think it sounds better than the UK copy described here; it won't cost you much more—in fact, the prices of the UK and Dutch copies are probably comparable, but the cost of shipping from the Netherlands is brutal. You might find a German seller with a Dutch copy—Germany has been a cheaper place than the UK or Netherlands to ship from to the States in recent experience.
If you are a UK or European buyer, nothing should deter you from buying the Dutch pressing. If you already own the UK, is the Dutch pressing worth buying? Depends on how much you like this record. I'm not a hardcore Sabbath fan and think this is one of the best Sabbath records released. Including the first batch on Swirl.  Full Stop.
Bill Hart
Austin, TX.
August 2018
 __________________________________________________
[1]As Sabbath or Vertigo enthusiasts know, the first four albums were delivered during the heyday of the Vertigo (Swirl) label and are valued for their sonics as well as collectability. The band left Vertigo with their fifth album, Sabbath Bloody Sabbath,only to return to Vertigo in 1976. (The US releases were from Warner Bros.) Despite the overwhelming popularity of Paranoid and Master of Reality, I'm a big fan of their debut album on UK Swirl. It's more primitive and doesn't have all of the recognizable hooks of the second and third albums, but the basics are there- the flatted fifth, the doomy gothic heaviness that defined the sound of the band and eventually, an entire genre. I like it for its raw, inchoate sound. And that cover? Probably one of the best pieces of cover art in rock. (Not that the cover influences my listening evaluations but there is a reason why cover art is important, including to influence buying decisions). 
[2]As readers know, other bands were plumbing the same depths, both here in the States as well as in the UK and elsewhere. But Sabbath is rightfully credited with capturing the "doom metal" sound in the same way Led Zeppelin is often cited as the benchmark for heavy blues-influenced rock, Jeff Beck's Truth notwithstanding.
[3]Overdue for review here, along with Wishbone Ash's debut album. 
[4]Fans of "Better Call Saul" will remember the line "almost honor students" from the series' opening scene. It's a backhanded compliment because few of these records had "audiophile" pretensions at the time. You buy these records for the music and try to source the best sounding copy you can find.
[5]On labels, it appears that the Spaceship may have been gradually replaced in the UK at the time of this record by the orange label shown here. Both versions issued in 1980. See http://www.dio.net/biography/discography/BlackSabbath_May1979-Aug1980_LP.html  
Is it likely that the earliest pressings in the UK were Spaceship labeled copies?—probably. Is there a sonic difference between an earliest first pressing in the UK and one from later that year? I have no idea. I could get a bunch of copies and make that comparison, if I was dying to spend money or had to have the earliest possible release of the album. My experience is that record to record variations may moot that, but if you are collector, go for a Spaceship if that makes you happy.
[6]For what it's worth, the treble on Paranoid and Master of Reality is somewhat rolled off on the UK Swirls I have; I find Vol 4 to be too bright and the first, self-titled album to sound the best among the original UK Swirl releases.