Spiritual Jazz- Three Picks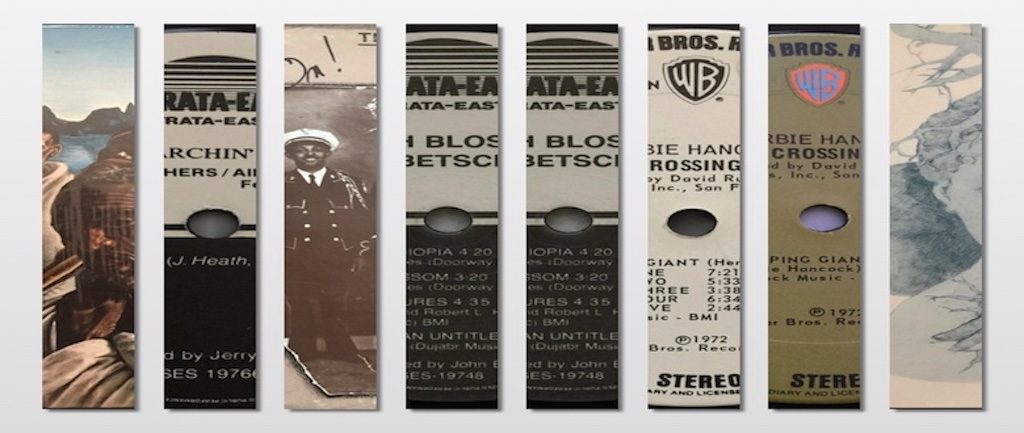 Exploring "new to me" music often forces me to confront my own biases if not outright ignorance. If you asked me how much jazz I listen to, I'd say very little these days. Sure, I've gone through many of the highly regarded "audiophile" favorites and warhorses, usually in the form of reissues from the likes of Analogue Productions (Sonny Rollins "Way Out West" cut at 45rpm is spectacular despite the hard panning characteristic of many early stereo recordings), or other labels, e.g. Music Matters. I have quite a pile of traditional jazz, like Basie or Ellington and some of the post-war material from the usual suspects. I've long been a fan of Ray Brown, but despite his eclectic discography (he played on a Steely Dan album), he still fits into a "straight ahead" jazz style. I have a harder time with free-form and avant-garde jazz; my usual excuse is I might enjoy the music live, in a club, but get bored listening to a recording.
Ken Golden, who has served as a muse to me on many of the progressive rock records I've acquired in the last few years, asked me whether I liked "spiritual jazz." Other than guessing it might be Aretha singing gospel, I had no clue what "spiritual jazz" was. The usual descriptions of the sub-genre all seem to track back to Coltrane and A Love Supreme, an album that I am familiar with but regard with the kind of reverence I pay to Kind of Blue or Time Out; important albums that I don't regularly listen to at this point. Ken pointed me in a slightly more offbeat direction, though, that grabbed my attention. Here are three worth exploring even if you think jazz sucks:
Herbie Hancock-Crossings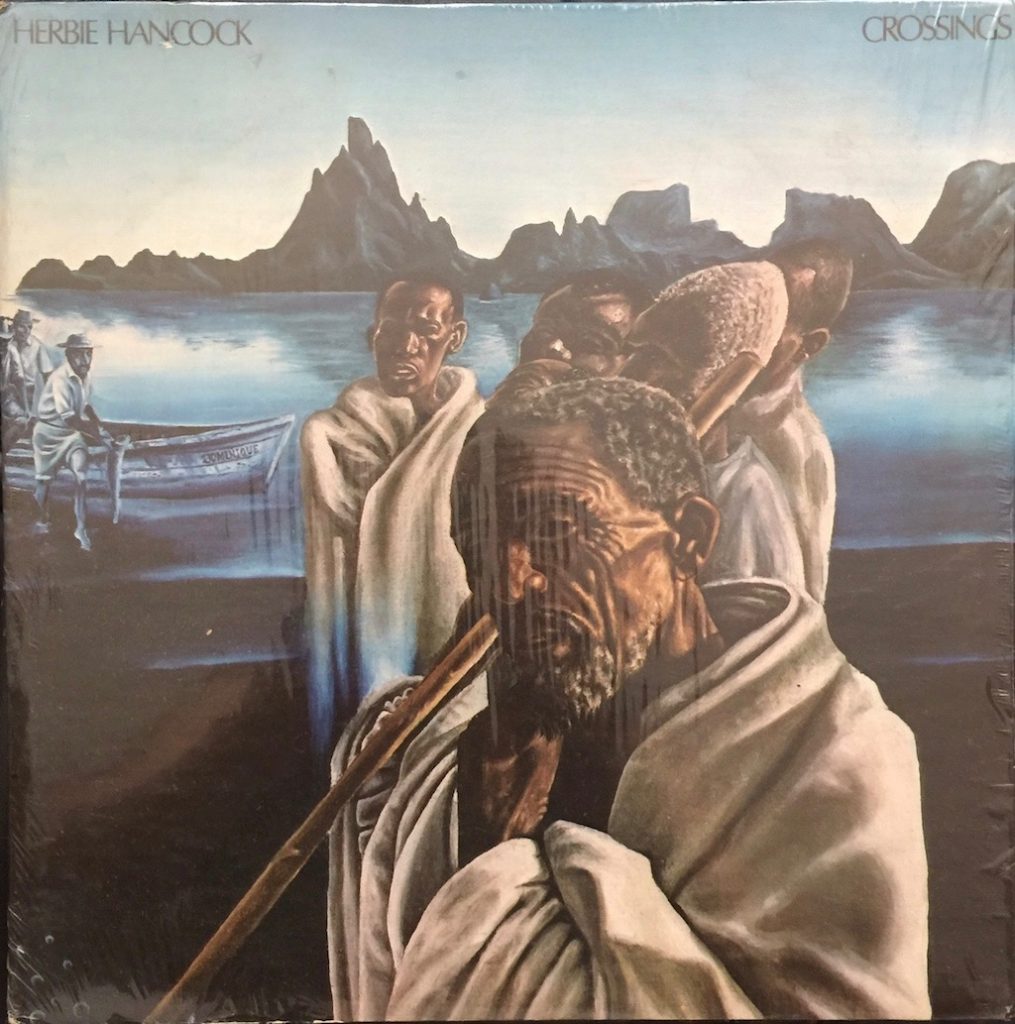 Part of a trilogy[1] of albums recorded by Hancock before he struck platinum with Head Hunters, Crossings mixes African polyrhythms with synth, and you get something that transcends any one genre. A pretty serious band and a good solid recording typical of the Warner "green label" era make this one a winner. Original copies in good condition aren't easy to find—my first copy was a white label promo, but it was noisy.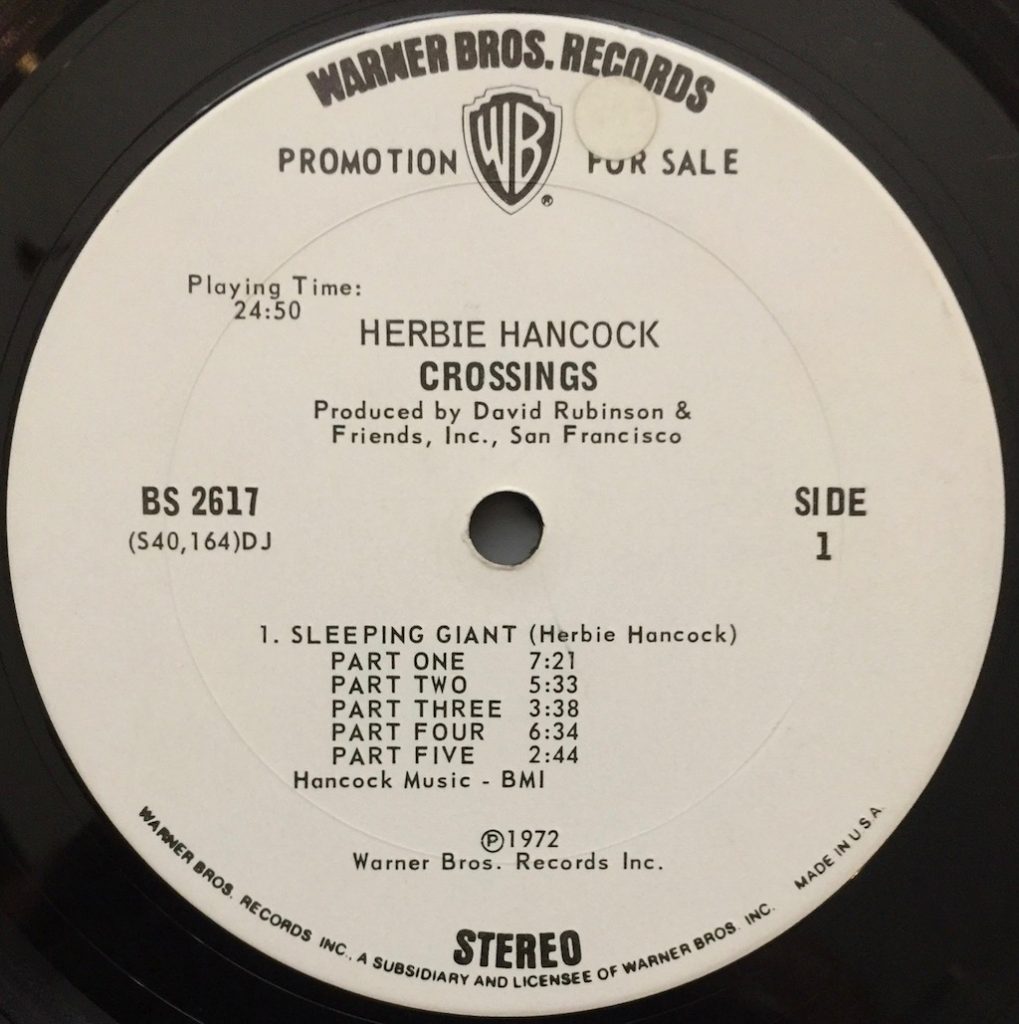 I sprung for a sealed original pressing, something that violates my usual rule about buying sealed old records, particularly those that were shrink-wrapped, American style. I got lucky on that one.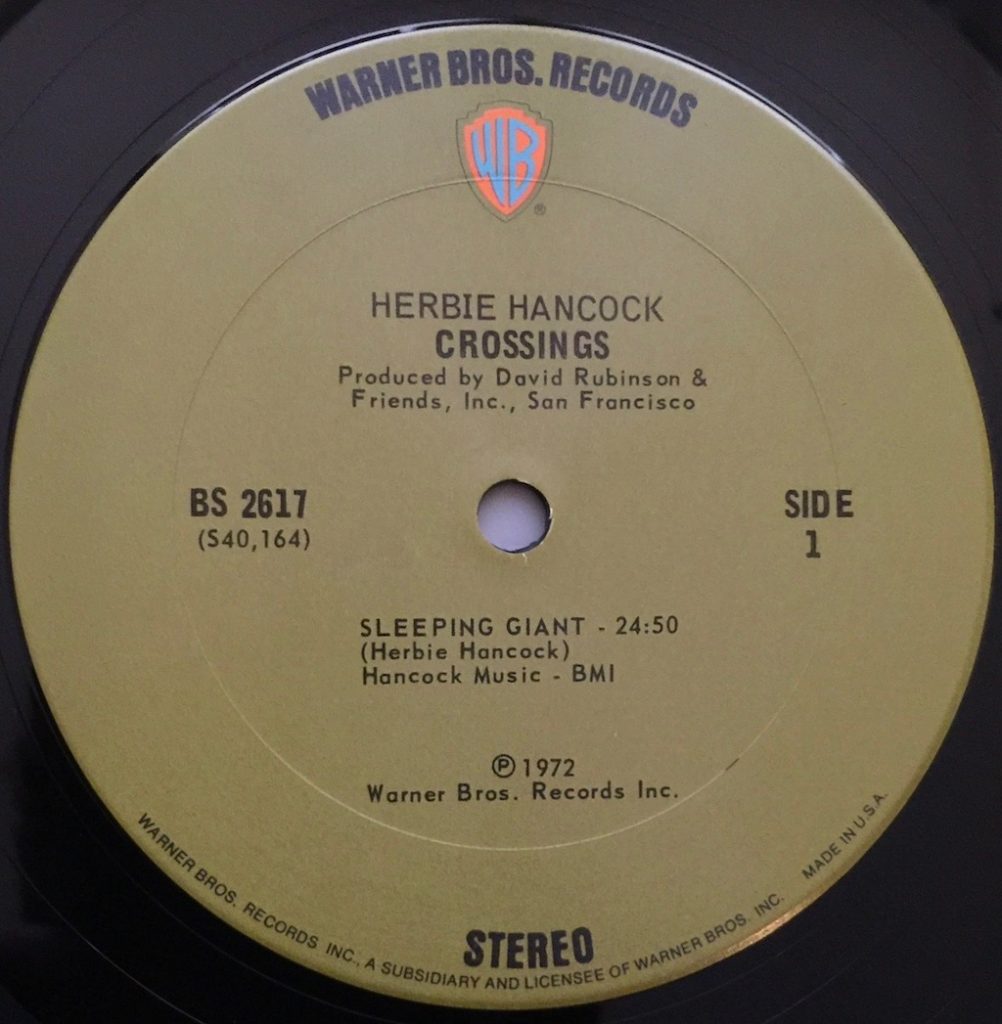 Kevin Gray recently recut the record for Speakers Corner and that may be the way to go. I've liked a lot of Gray's past work and have had very few issues with Speakers Corner pressings, either in sound or pressing quality.[2] I plan to do a comparison of the original US green label and the Speakers Corner reissue and will provide my impressions shortly.
The Heath Brothers- Marchin' On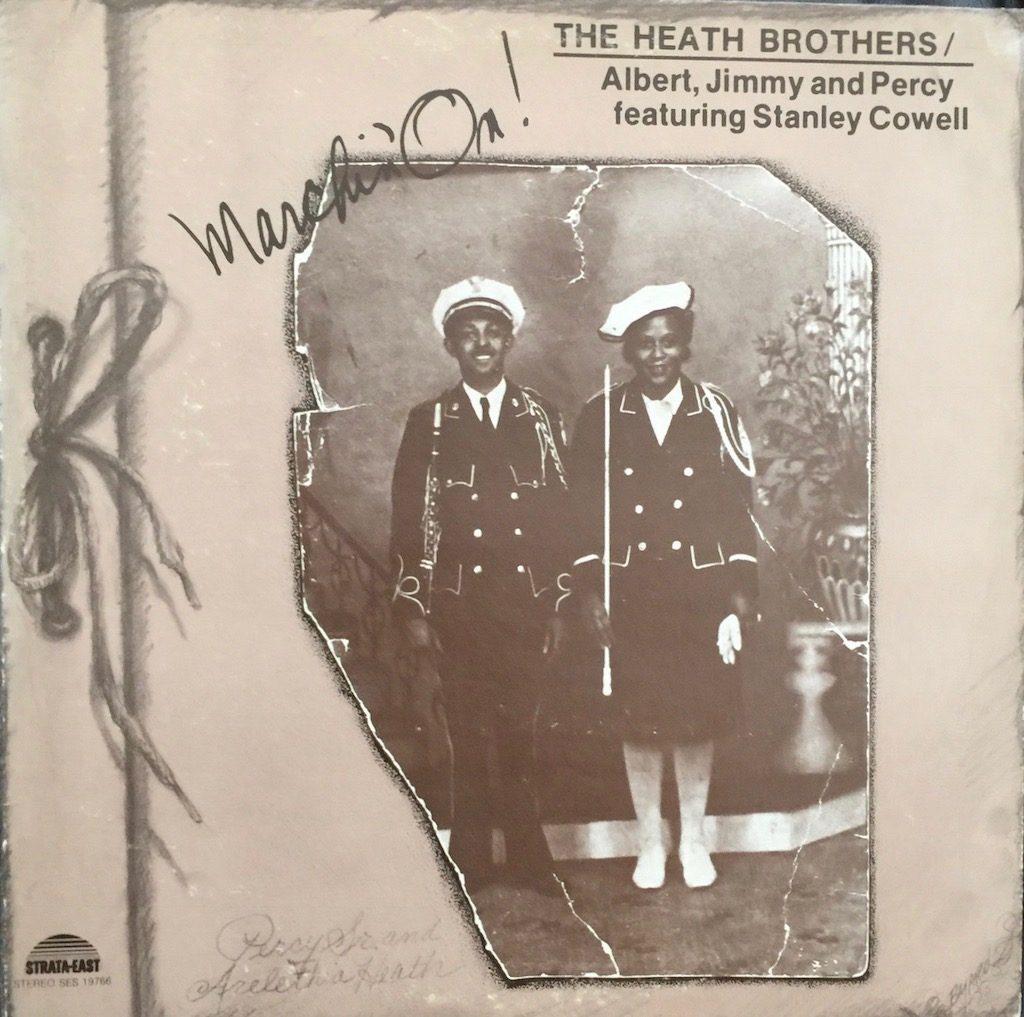 This one doesn't take any appreciation of jazz or avant-garde music to enjoy; the second side, entitled "Smilin' Billy Suite," capitalizes on the sound of a bass viol. The group consisted of Percy Heath (yes, that Percy Heath, known for his involvement in The Modern Jazz Quartet, and Dizzie Gillespie, among many others), together with brothers Jimmy and Albert, along with pianist Stanley Cowell (the co-founder of the label, Strata-East, on which this record was released).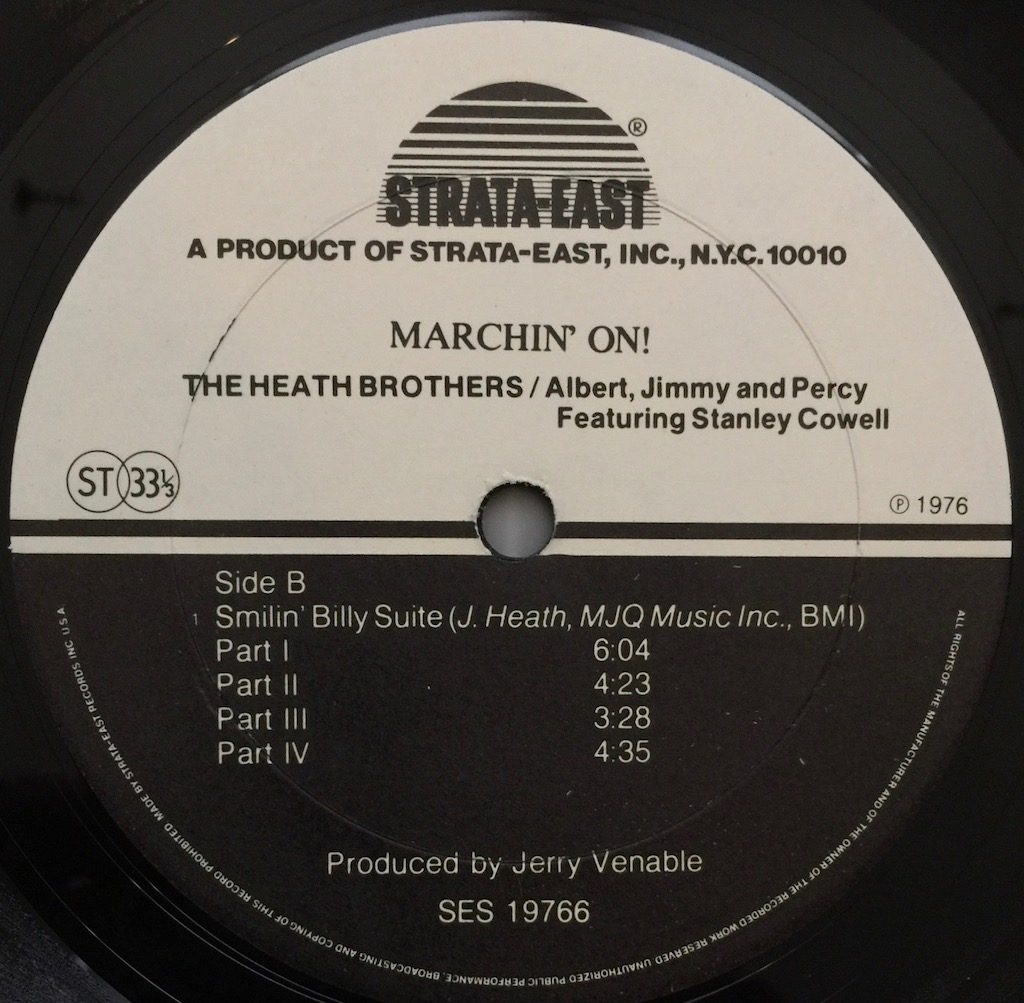 You'd think you were listening to classical music, until the flute and reed instruments played by the brothers weave into the mix. This is not Afrocentric in the same way as "Crossings," but makes the same point with more soul and less exoticism. It is a lovely album. Strata-East copies are fetching real money. I bought one nonetheless and side 2 gets played with some frequency. There is a Dutch reissue that was released in July, 2017 but I haven't had the opportunity to compare it, or any of the previous reissues to the Strata-East pressing. My copy is relatively quiet though I've been told that these original pressings are often noisy. There is an early Japanese release, often an option for quieter surfaces, but it is as almost as expensive as the U.S. original pressings and may be mastered differently.
The John Betsch Society- Earth Blossom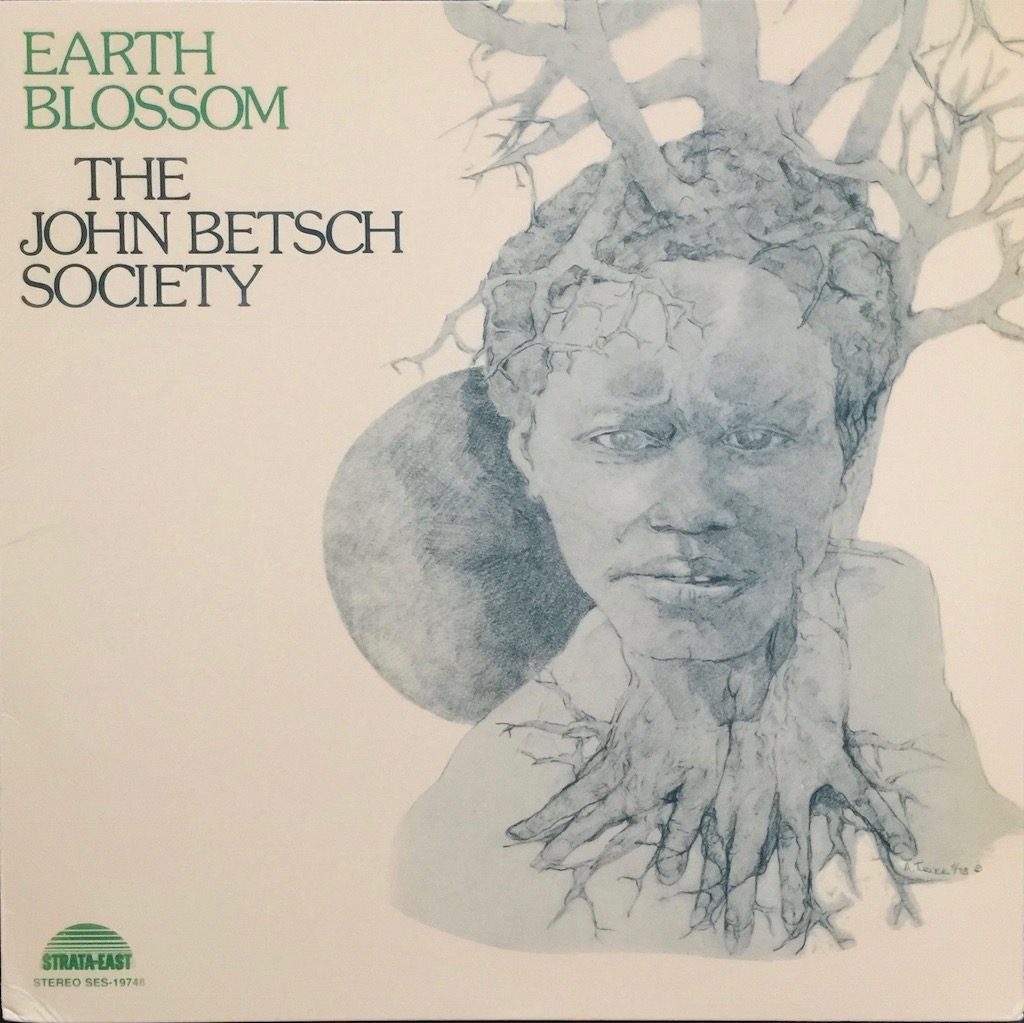 This album is neck and neck with "Marchin' On" in my view and was also released on the Strata-East label. Betsch, a drummer with serious provenance (from the Berklee School to study under Max Roach), leads the album, which is less experimental sounding and more psych/funk inflected. It is very accessible. Original pressings are also costly.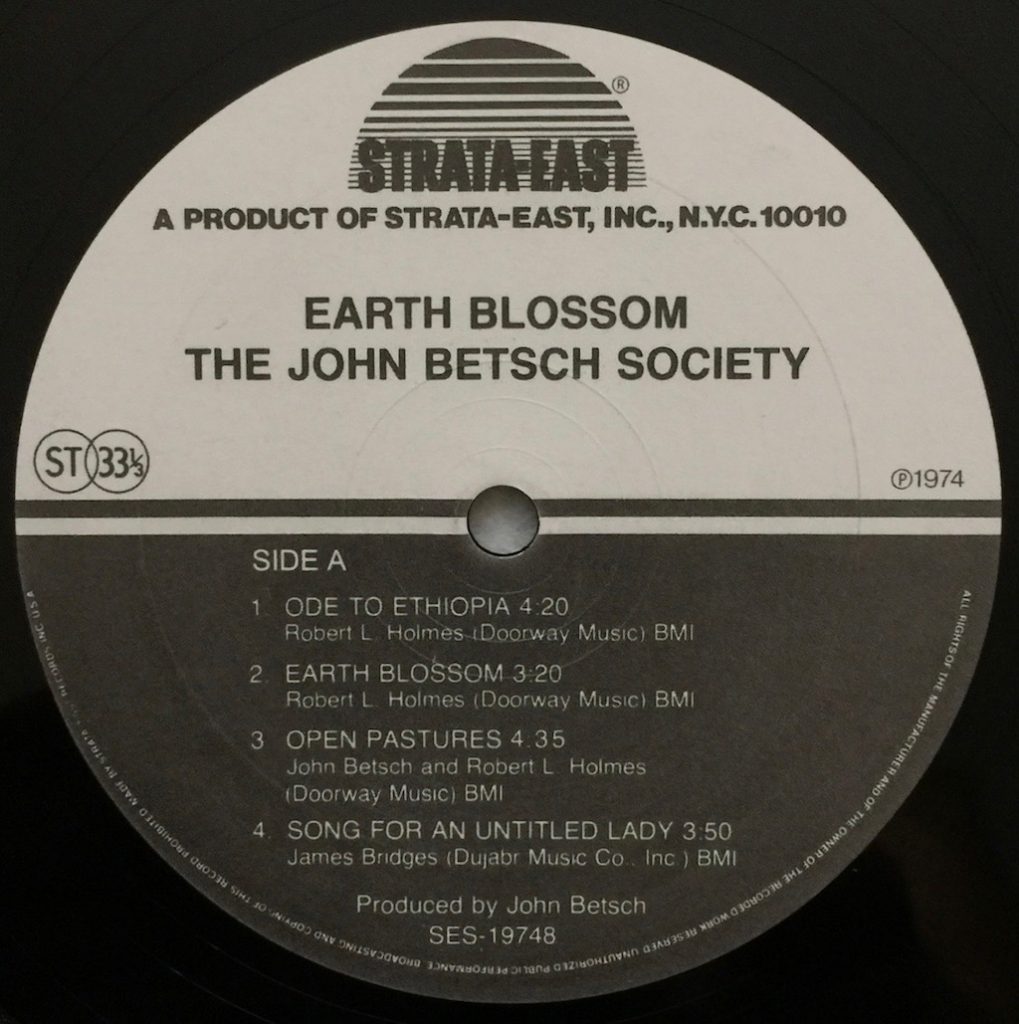 I bought a placeholder copy in the form of a reissue under the Heavenly Sweetness label from France. New copies of that reissue are available in the States for around $20. I can't compare it to the original pressing (yet), but you don't have much at risk by trying this one. If you like it, you'll be on the lookout, as I am, for a pristine copy of the Strata-East pressing at a reasonable price.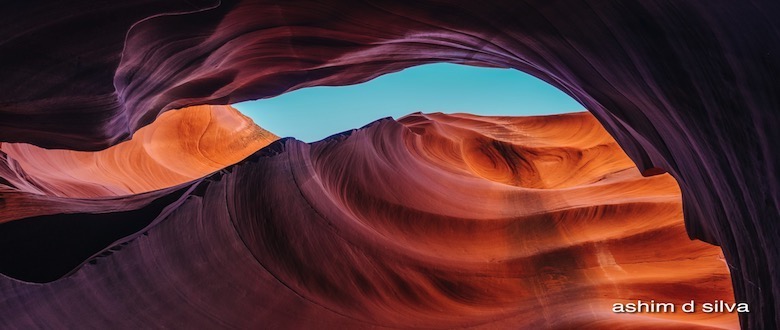 __________________________________________________________________________________________________________
[1] The other two are Mwandishi and Sextant. There are additional albums from the band in which Hancock participated.
.
[2] There is a notorious tape lag in a part of the track "Fire in the Hole" on their reissue of Steely Dan's Can't Buy a Thrill that I find amusing. I believe the company later corrected it.