Steep Canyon Rangers- Out in the Open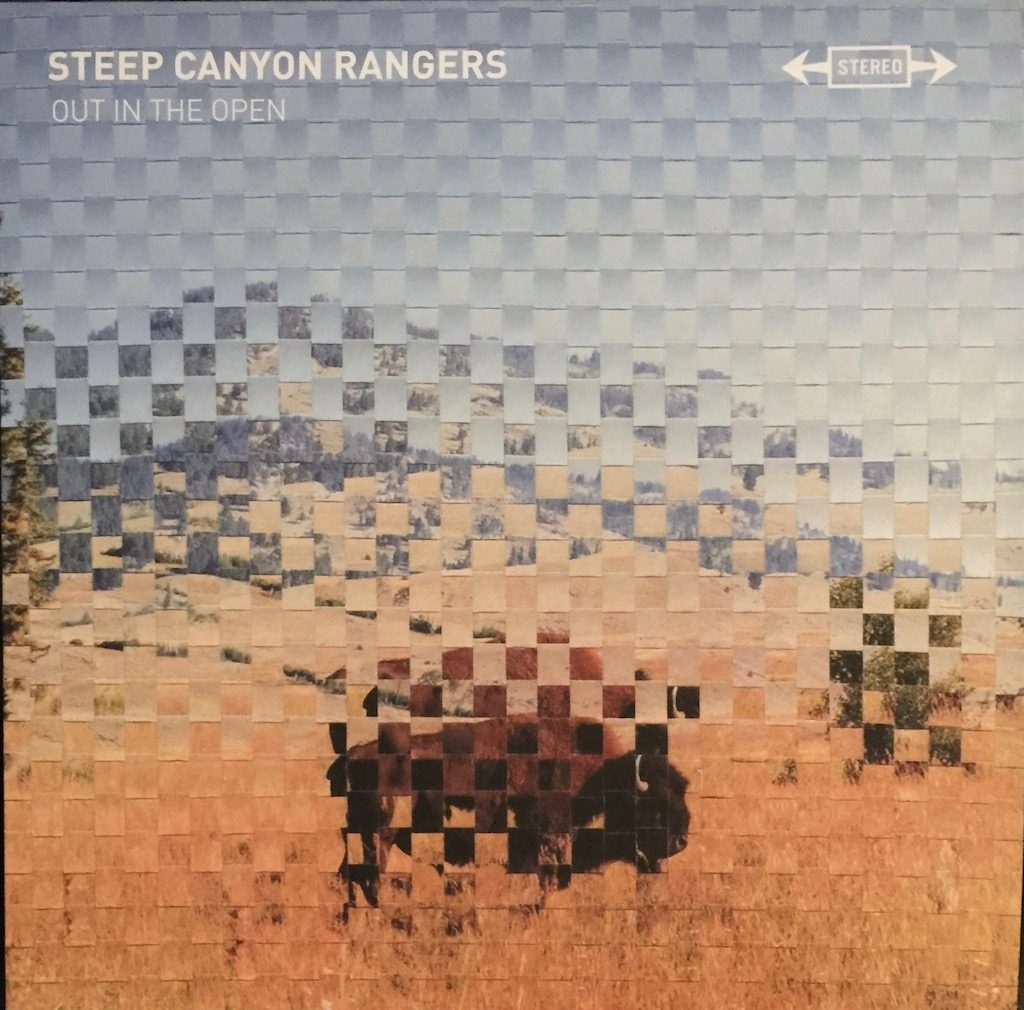 There is something very satisfying about the new album Out In The Open by the Steep Canyon Rangers. Whether it is ease with which they harmonize or their mastery of traditional bluegrass instruments including the mandolin and fiddle, these gentlemen cast a spell of homespun warmth that is both authentic and fresh.
The band was an unknown quantity to me, though they've won a Grammy and have collaborated with Steve Martin over the years. When I saw an announcement from Ramseur Records[1] about Out In The Open, I was intrigued and asked for a copy. I'm glad I did.
The record was produced by Joe Henry, a native North Carolinian who hit the big time at a young age, won Grammys, and worked with such diverse greats as legendary soulman Solomon Burke and jazz players like Ornette Coleman to blues-rockers like Bonnie Raitt and folk balladeers like Ramblin' Jack Elliott.
Henry's liner notes for Out In The Open capture the magic of those great Southern writers who weave you in with soft words and lyrical phrasing that grabs you and doesn't let go. I could say the same about this album.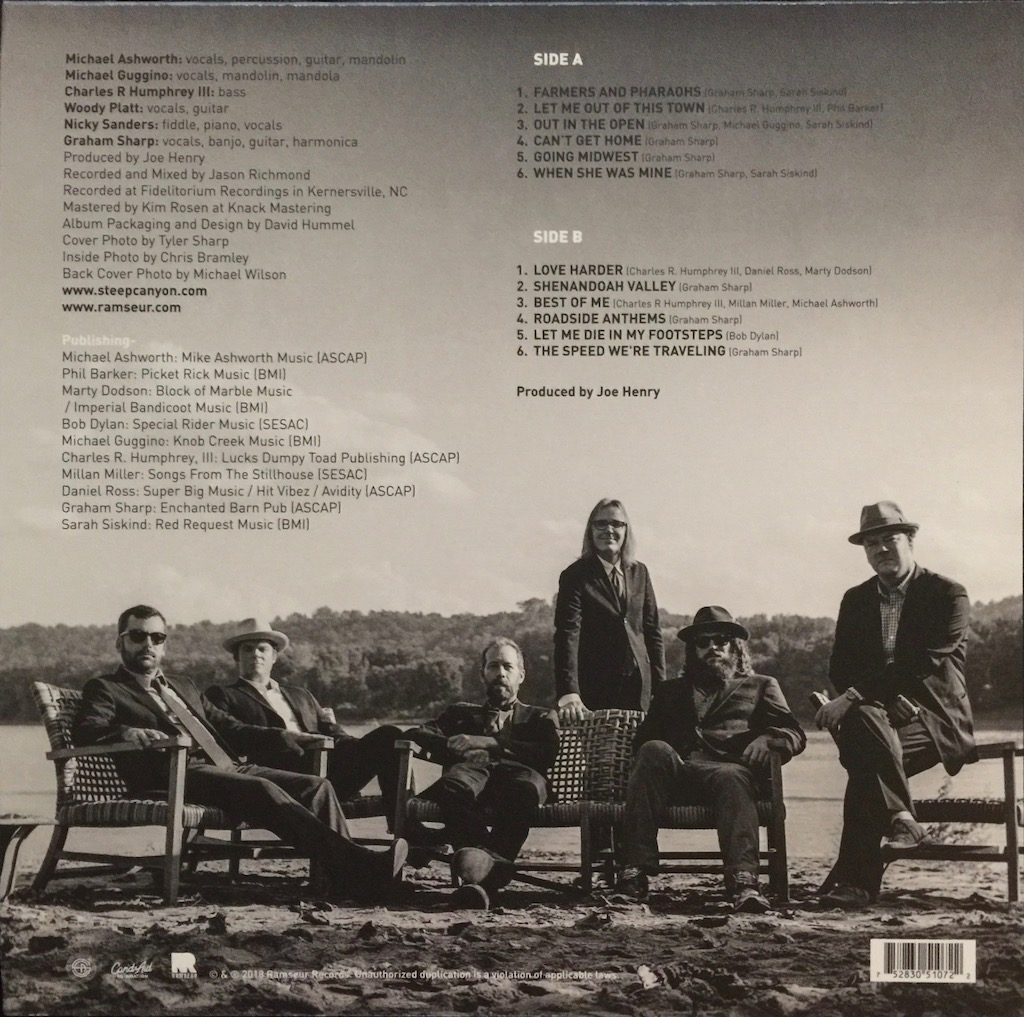 It consists of a dozen tracks, all composed by band members save for one Dylan song; each track has an organic flow and works with the next one: shadings of minor key fiddling hand off to plucked mandolin, while the voices blend in and out. There is a dark beauty to this album despite the upbeat shared vocal parts, but at the same time it's toe tapping and melodic, with riffs from the mountain hollows and a sort of mellow insistence that drives each song. It may be bluegrass in style and genre, but it's modern rather than nostalgic and has the tension and release you'd expect from any well-crafted piece of music.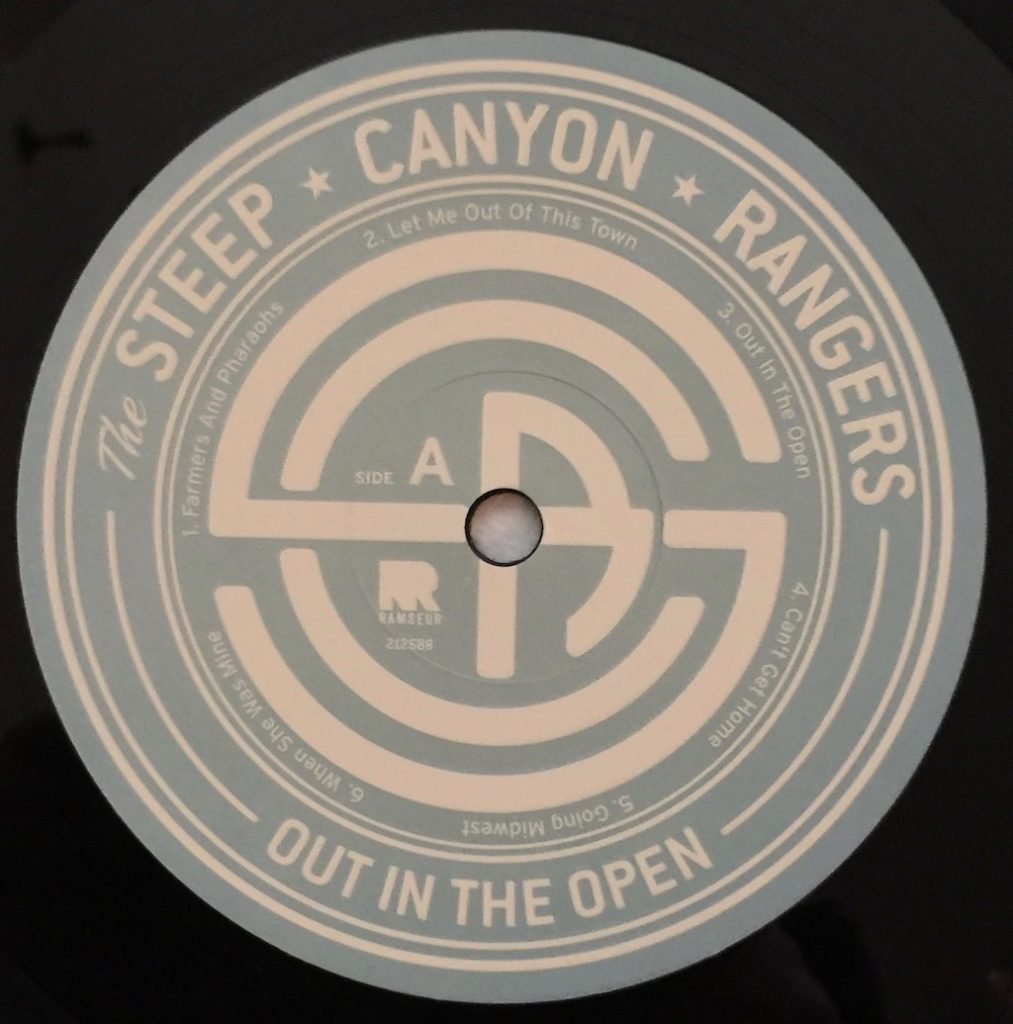 Woody Platt, one of the co-founders of the band describes their music as having "one foot in bluegrass and one foot out of bluegrass." I can't disagree, but their music doesn't sound quite like any one else tapping into the "roots/Americana" vein. In the same way The Band turned popular music on its head so many decades ago, this band is taking a different path from the herd.
"When She Was Mine" is a stunner- perhaps my favorite track on side 1. So is "Roadside Anthems," which melds all the strengths of strong musicianship, good songwriting and beautiful harmonies. Other standouts include the title track, "Out In The Open" which reflects ensemble playing at its best. "Going Midwest" was done in one take.
I was tempted to provide a track-by-track analysis of the album, but there's joy to be found in the unfolding and discovery of each song; unlike a lot of "folk" music, there is little "sameness" to these songs. Part of it is strong songwriting, but the level of virtuosity on display here, instrumentally and vocally, makes each song shine.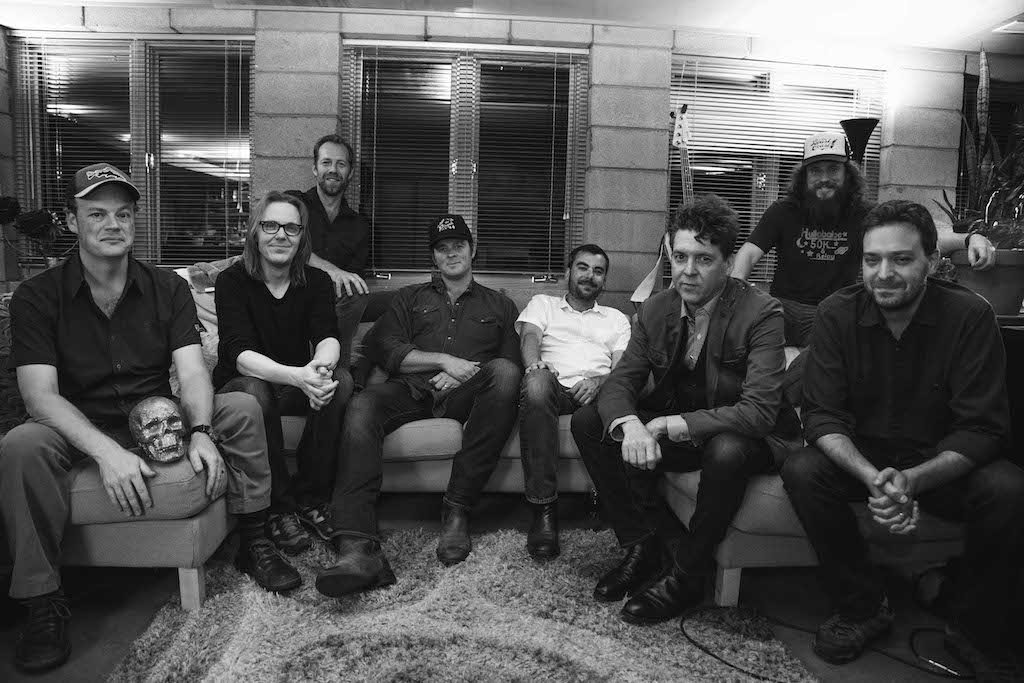 Mike Ashworth, Nicky Sanders, Graham Sharp, Woody Platt, Mike Guggino, Joe Henry, Charles Humphrey, Jason Richmond
⇓
What makes this album gel and gives it that organic quality is a decision to record it "live" in the studio—no overdubs, everybody playing and singing in the same room together. As recording technology advanced, we lost a degree of authenticity- an 'in the room' quality that comes from the actual acoustics of the room in which the recording took place; instead, we are often presented with a pastiche of different sounds, recorded at different times and places, glued together and tweaked to make it "sound real." The recording quality here is as authentic sounding as the music.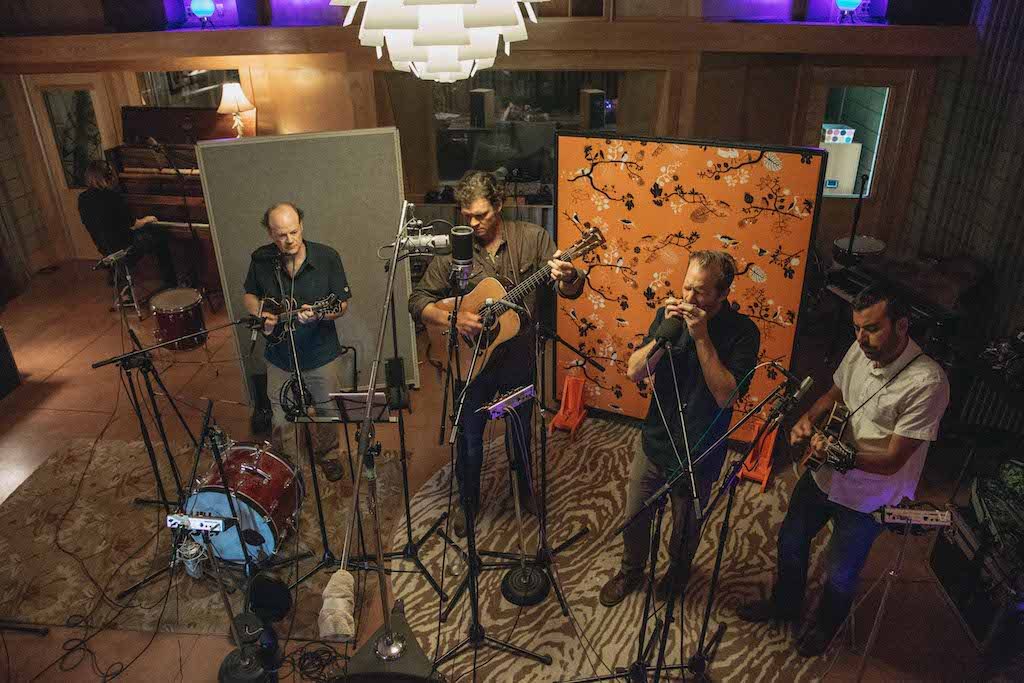 According to engineer Jason Richmond, the recording was made at 88.2/32bit using Prism Dream ADA-8XR converters, devices that have been given high marks for their analog-like sound. That quality was enhanced by the use of various ribbon and tube mics, including a Blumlein pair in the room, along with various mics in combination (generally a condenser and ribbon) for the instruments.
 On " Let Me Die In My Footsteps," the band was balanced in a semi circle around just a Blumlein stereo pair of Royer 122v mics. Although mixed in the digital domain, the output was summed through outboard analog gear. The results are in the listening: rather than arid and overly precise, there is air, dimension and warmth.  I think digital recording has now come into its own, at least in the hands of a capable engineering and production team. The spare, "live in the studio" performances are virtually impossible to mimic through electronic wizardry and that "in the room" quality is what shines through here.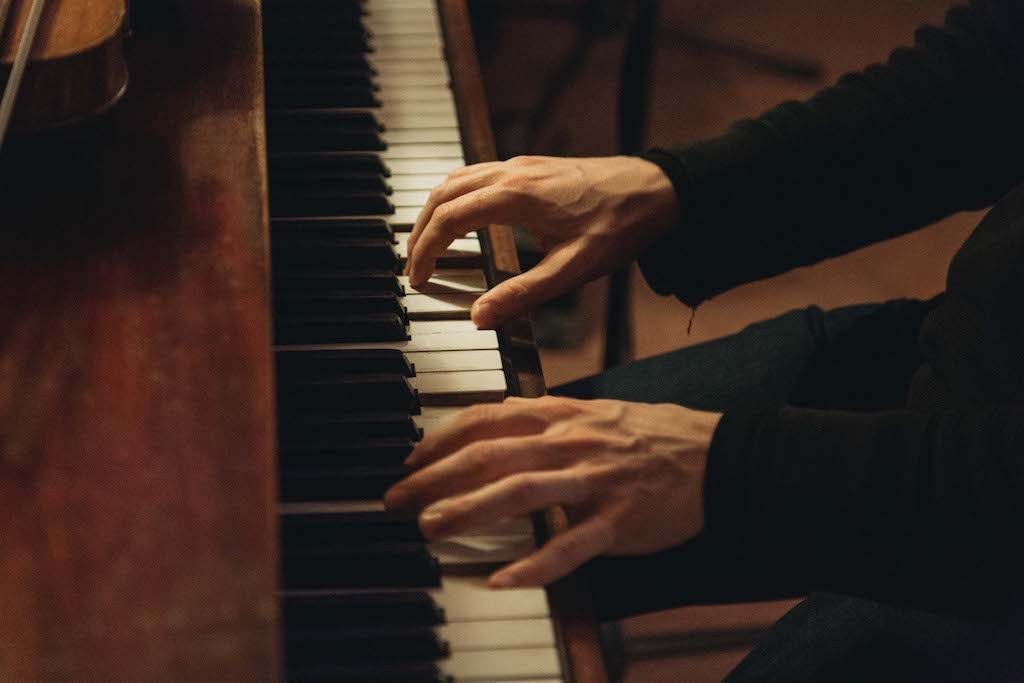 The record was pressed at Chad Kassem's QRP in Kansas. Chad, as most of you know, was a longtime purveyor of collectible records who morphed into a high quality reissue house. His releases eventually outstripped the ability of existing pressing plants to meet his needs in both quantity and quality. Chad decided to set up his own pressing plant- no small undertaking, given that record presses were old, worn and, at the time, hadn't been manufactured for years.[2] Chad's investment has paid off—he has become one of the top sources for newly pressed vinyl and is now pressing for third party labels, large and small.
This record is extremely well made and quiet, which cannot be taken for granted in today's vinyl market.
The album has a street date of January 26, 2018 and will be available in record stores and the usual online sources. It can also be pre-ordered directly through the band's website. http://www.steepcanyon.com
I'd put this record into the "must buy" category for several reasons. It's a refreshing change from most everything else you are likely to listen to, even if you have some depth of knowledge in more traditional bluegrass. It's not only well played and well sung, but very well produced—the kind of production that gets out of the way and doesn't sound "produced." It's also a little addictive, musically–I found myself playing the record purely for the joy of listening to it. Which is what it's all about.
Bill Hart
Austin, TX.
January 8, 2018
______________________________________________________________
Photo credits: Chris Bramley, Bramley Productions.
[1] The same folks that reissued a long overdue re-mastered LP of Josh at Midnight last year. 
[2] The story of Chad's restoration and implementation of modern improvements to these old presses, and his quest to produce the highest quality new vinyl is well documented in the audiophile press and need not be repeated here.