The Curious Case Of Record Cleaning In The Quest For Sonic Perfection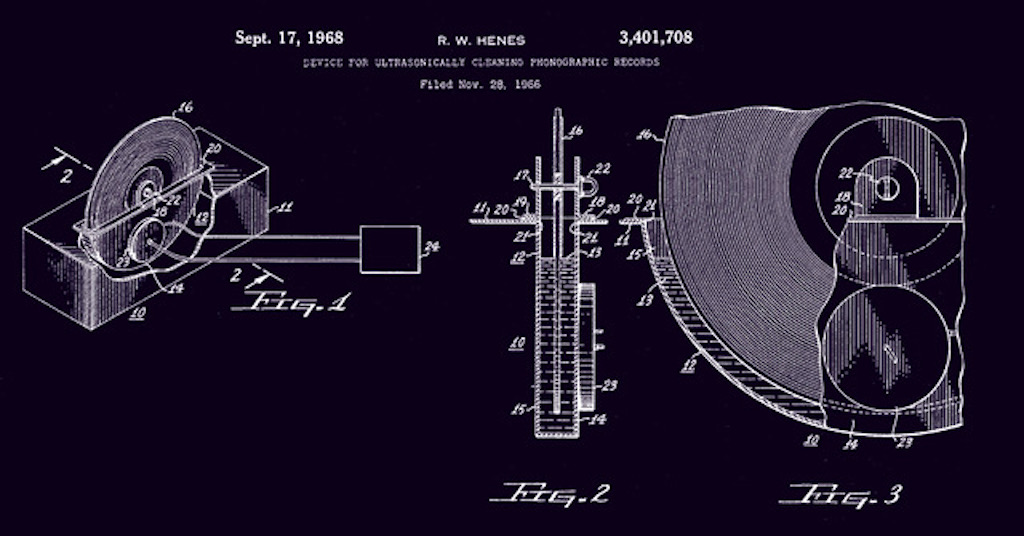 Michael Bodell, September 1, 2018
"If there exists a more effective, easy, reliable, and utterly transformative way of cleaning LPs, I have yet to hear it."  Art Dudley, Stereophile March 2015
In 1952, Bendix Corporation of Davenport, Iowa took ultrasonic cleaning from the laboratory and into production for the first time.  The company experimented with ultrasonic applications through the 1950s to find tank cleaning in a fluid an optimal use, especially in industrial applications.  Ultrasonic cleaning, Bendix discovered, proved highly effective in dislodging and removing surface contamination and dirt through shock waves and fluid acceleration that accompanied the collapse of acoustic cavitation bubbles.  Since ultrasonic sound waves at frequencies above 20kHz penetrate deep into crevices and cavities on both small and large objects its adoption for cleaning was swift in manufacturing for medical equipment, electronics, aerospace and automobiles.
Time Magazine published an article, 'Ultrasonics: Unheard Progress' in its March 16, 1959 issue. The article highlighted ultrasonic research and applications by Bendix. The article also featured the work of select fast growing companies building ultrasonic tanks to clean anything from engine parts to electric shavers to ball-point pens to entire cash registers.  One firm, Detrex Chemical Industries of Detroit, was the largest U.S. manufacturer of dry-cleaning equipment.  Their Chief Engineer T.J. Kearny was quoted: "Someday we'll be cleaning clothes with ultrasonic equipment."  The possibilities then seemed endless driving experimentation for an ever-widening set of new applications.
Seven years later in November 1966 just as pop and rock 'n' rock record sales were exploding among Baby Boomers, Richard W. Henes, a Michigan Tech schooled mechanical engineer, applied for a U.S. patent for a "device for ultrasonically cleaning phonographic records." Three months prior, the Beatles shattered all music-making rules with release of their landmark album Revolver, as the Fab Four forged a new sonic landscape and styles of composition.  The rise of youth music coincidentally began to erode sales of jazz and classical records.  Richard Henes' patent (US3401708A) for his 20kHz ultrasonic phonograph record cleaner was granted in September 1968; that year saw the demise of the mono 'microgroove' phonograph record.  Yet his detailed patent provided powerful insights into why Henes proposed ultrasonic cleaning of records. The patent states:
Even though modern day records are pressed from the finest pure vinyl materials and the sound impressions recorded thereon by the latest, most highly developed sound equipment, surface noises caused by dust attracted by static electricity destroy the clarity, musical range and natural balance of the recordings.  Dust and dirt filled grooves cause undue record wear resulting in a loss of the high fidelity sounds recorded thereon.
Heretofore cleaning, mists, among other things, have been provided for keeping-records clean and dust free, but these cleaning products require wiping the micro-grooved record surfaces with a soft brush or cloth.  This action results in a premature wearing of the record surface.  As is evident from this form of cleaning the grooves in the records are worn or damaged from the abrasive cleaning action and the dirt is forced deeper into the grooves.  Even though surface noises are reduced the original tonal brilliance of the recordings are materially lessened.  
In accordance with the invention disclosed a new and improved device is provided for ultrasonically cleaning records. Surface noises and the resulting groove wear caused by dust particles are substantially reduced or eliminated. The tonal brilliance of the record is retained and its life greatly increased. 
It is, therefore, one object of this invention to provide a new and improved ultrasonic cleaning device for phonographic records. Another object of this invention is to provide a new and improved housing containing a cleaning solution for axially mounting a phonographic record.  A further object of this invention is to provide a new and improved apparatus for immersing at least a part of a phonographic record in a cleaning solution and then generating an ultrasonic field for removing contamination from the surface of the record.  A still further object of this invention is to provide a new and improved cleaning tank employing a transducer mounted on its side for automatically cleaning a phonograph record placed therein.
This patent explains how the ultrasonic device works:
When record, which may be formed of vinyl or any other suitable material, is mounted on shaft it is partially immersed in a cleaning solution with its grooves filled with the cleaning material. Upon the application of a high frequency alternating current to transducer, it will vibrate at a high frequency.  Ultrasonic waves will be generated which will be conducted through the side wall of the tank into the cleaning solution.  If the transducer is mounted in the tank or in a hole in the tank wall, the ultrasonic wave will be applied directly to the cleaning solution.  Ultrasonic waves have been found to cause pressures so large that the resulting mechanical stresses may be as great as 15,000 times the hydrostatic pressure of the solution.  The acceleration of the crystal driving such a bath is extremely great and may reach 20,000 km./sec. but the motion associated with such action is extremely small (a very small fraction of 1 mm.). This velocity will be generated by the crystal in a fraction of a microsecond.
This action of the transducer results in a cleaning action on the surface of the record and particularly in its grooves when the record is immersed in the solution and rotated past the transducer.  The cleaning action is believed to be due to a combination of cavitation and acceleration of the cleaning fluid.  Cavitation is defined as the formation and collapse of cavities in liquids, either gas or vapor filled.
https://patents.google.com/patent/US3401708A/en
Richard's ultrasonic phonograph cleaner (Figure 1 below) did not make a commercial debut.  Yet he was on to something seriously needed to better clean vinyl records, in radio broadcasting and on home systems.  Continuous improvements in recording and playback technologies, especially in stereo recording with development of the Westrex single-groove record cutter head, had become widely available in 1958 as 'hi-fi' and stereo phonograph records. Keeping records clean for optimal playback and without damage was recognized early on as important.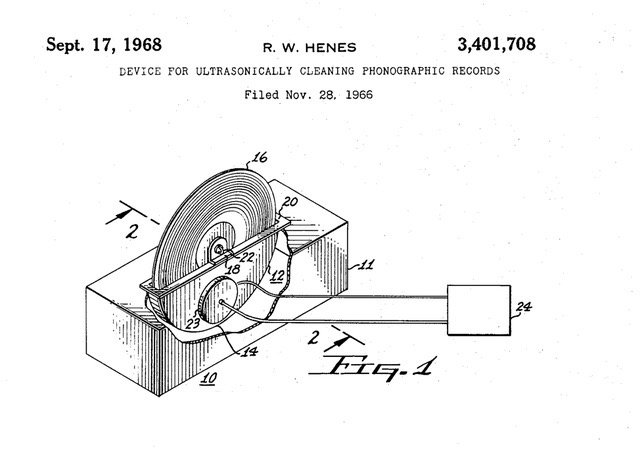 Figure 1. Richard Henes ultrasonic record cleaner was designed with one axially-mounted transducer, 20kHz in frequency, and with a diameter large enough to cover the grooved section of a phonograph record.  One record was to be inserted about halfway into a narrow tank of cleaning solution on a spindle and to be rotated by hand.
A year earlier in 1957, Percy Wilson – the technical editor for The Gramophone, a British audio magazine – published an article that began an odyssey to determine proper cleaning methods for high fidelity records.  After experimenting with and refining cleaning techniques for a decade, he published another paper in April 1965, 'Record Contamination: Causes and Cure,'with the Audio Engineering Society (AES).  This paper detailed various contaminants also mentioned in Henes' patent that compromise the sound qualities from a phonograph record, and the problems associated with conventional cleaning techniques common at the time, either a wipe with a dry cloth or damp cloth.  The "cure" promised in his paper was a work in progress but no doubt Richard Henes read this paper and that sparked an idea.
In October 1965, Percy published a second AES paper, 'Instruments For Record Cleaning'. That paper (available here: http://www.keithmonks-rcm.co.uk/aesinstrmtsrecclngprinted.pdf) caused quite a stir within the audio world.  Percy was working on several prototypes that promised to "properly clean records".  One device built in late 1964 called simply the "Record Player Cleaner" was a complex apparatus that included a specially constructed cleaning head on a turntable-like platform.  The prototype employed a forward facing angled brush to sweep debris from a record groove as an overhead tube and nozzle both blew away and sucked up the debris through a filtered tip.
That rather complex device caught the attention of two investors who involved other innovators to collaborate on a highly modified design (http://www.keithmonks-rcm.co.uk/makinghistory.html).  By 1966, Percy's complicated 'suction mop' was replaced by a pickup arm and plastic nozzle milled into a precise shape, among other clever innovations that proved both effective and durable.  This project to build a "proper" record-cleaning machine consumed two additional years of research and development (R&D), and literally on the eve of a demonstration with the BBC, the company folded in bankruptcy.  It was January 1969.  The original investors quickly arranged for their project sales manager Keith Monks to acquire rights to this innovative record cleaning machine.
Four months after Henes' patent was granted the quest for a sophisticated record cleaning machine took a decidedly different turn. In early 1969, the first commercially produced electric device for cleaning phonograph records was developed and now owned by Keith Monks Audio.  The machine was specifically made for BBC engineers in London to meet the exacting standards of record playback in radio broadcasting.  More than just removing the distracting surface noise, the clever "string-and-vacuum approach" became famous for enhancing the quality of playback sound from very clean grooves on a phonograph record.
A crack team had transformed Percy's idea into a new standalone component that looked and in some ways operated like a turntable.  This cleaning table had a nozzle tipped arm guided across record grooves on a string while pinpoint vacuuming away dirt.  This brilliant process has been copied, and later morphed into straight-arm vacuum record cleaning machines (RCM) as introduced by VPI Industries in 1981. In turn, VPI's approach has been copied over and over again and by numerous firms.  For many audiophiles the vacuum RCM is the be-all and end-all in phonograph record cleaning.  VPI's founder Harry Weisfeld built the company's first vacuum RCM because he could not afford Keith Monks string-and vacuum machine (2013, http://thehighfidelityreport.com/interview-with-harry-weisfeld-vpi-industries/). 
In the early to mid-1960s when Percy Wilson and Richard Henes were working on their respective record cleaners, another American inventor – an avid music listener – was continually frustrated by wear suffered on his phonograph records.  Further, he was unsatisfied with the sound quality of vinyl records, undoubtedly from playing less than properly cleaned "dry or wet wiped" records.  One Saturday afternoon, James T. Russell sketched out a system that would record and replay sounds without physical contact between its parts, using light.  Then in 1966, Russell filed for a patent the same year Henes did on a system to record digital information on an optical transparent foil, backlit by a high-power halogen lamp.  His patent was granted in 1970.
Phonograph record sales continued to grow into the early-1980s, just as VPI introduced its first vacuum RCM. Yet in 1982, after a decade of independent research prior to teaming up, Phillips and Sony introduced an evolutionary commercial format for music playback in the compact disc (CD).  They operated under a license for Russell's digital-to-optical recording and playback system.  The vinyl record competed poorly against this new technology, experiencing a rapid decline in sales between 1988 and 1991, when major label distributors deliberately accelerated their demise by restricting return policies on records.  In 1988, the CD surpassed the phonograph record in sales.  Then in the late 1990s and early 2000s record sales literally collapsed (Figure 2). 
With complete disregard to sales figures, dedicated 'vinylphiles' still seeking the Holy Grail in phonograph record cleaning as described by Richard Henes began to experiment with ultrasonic cleaning.  The earliest reference to ultrasonic record cleaning is preserved in forum discussion on Vinyl Asylum, dating to October 2000.   For about a year, discussion focused on feasibility of ultrasonic cleaning without record groove damage.  Poster "Land Shark" who sold ultrasonic equipment opined in February 2001:
 Ultrasonic cleaning is one of those ideas that sounds good in theory, but is really not practical or any better than what's out there in the real world. 
Other contributors in other threads otherwise undeterred by the "vacuum paradigm" offered up good ideas, generally understood the risks and issues with the ultrasonic cleaning process, wondered about the best frequency for vinyl cleaning, questioned cleaning solutions for optimal results, and asked about how to effectively dry cleaned records.  Undoubtedly, other folks experimented with ultrasonic cleaning of records at an even earlier date. Shortly after this piece was published, I received some anecdotal information from one audiophile ("Rob" at Audionirvana.org) about discussions of ultrasonic record cleaning on Yahoo groups dating back to the mid-'90s.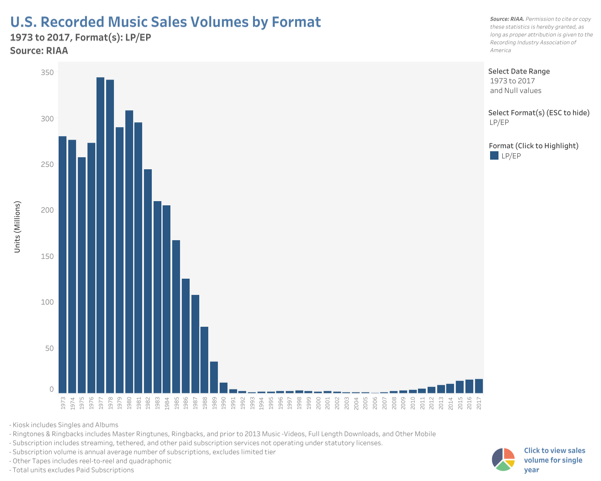 Figure 2. U.S. vinyl record sales grew to the early 1980s, but sales weakened and then declined after the 1982 introduction of the CD.  Record company return policies from the late 1980s accelerated decline in vinyl sales, which reached a historic low in 2006. Since 2007 coincident with inauguration of Record Store Day, vinyl record sales began to rebound while still a fraction of total music sales.  The 2001 launch of the iPod with MP3 download files finally crimped CD sales, now in decline.  From https://www.riaa.com/u-s-sales-database/.
In February 2001, Vinyl Asylum poster "1 derful" wrote about a Chinese researcher who experimented with different cleaning methods for dirty vinyl records.  This researcher cleaned records using a variety of techniques including with a "carbon brush, water, alcohol, and dish-washing detergent" then he analyzed each result with a Hitachi electron microscope.  He found that most of the grease and oils were removed in the best of circumstances but none of the cleaning fluids or brushes was able to remove minute particles lodged deep within record grooves.  Then he subjected a record to treatment in an industrial ultrasonic cleaning machine.  That process removed all particles from record grooves, as a photograph proved, while this researcher did not comment on damage from his unspecified process.  The discussion appears here, while the link to photograph(s) is now broken: see: https://www.audioasylum.com/messages/vinyl/51474/anybody-ever-tried-cleaning-old-vinyls-with-ultrasound-cleaning-machine.
By early 2003 John Chapman,owner of Bent Audio in Surrey, B.C.,had created a working ultrasonic cleaner for vinyl records in a durable do-it-yourself (DIY) design.  A year prior a friend mentioned that he took his records into the hospital where he worked and spun them in ultrasonic cleaners on chopsticks.  So John dreamt up a system he dubbed 'NYL', the last three letters in vinyl (pers. comm. with author, Aug. 2018).  
His research showed the relationship between frequency and cavitation bubble size and he figured that many small cavitation bubbles was best as he was concerned about record damage.  John ordered 10 machines with appropriately sized tanks and custom-built 100kHz frequency transducers.  Those units worked well in his tests so he designed a motor assembly that held 4 or 5 records on a spindle with magnetic pucks as spacers between them.  John used this cleaner and displayed his NYL at the Vacuum State of the Art Conference (VSAC) show around then (Figure 3).  
The next step was to perform serious analysis to establish how well ultrasonic cleaned records and especially to confirm there was no surface damage to records. Chapman also planned to tackle the problem of drying in some way.  However, other priorities kept him from moving forward and he did not pursue his prototype into commercial sales.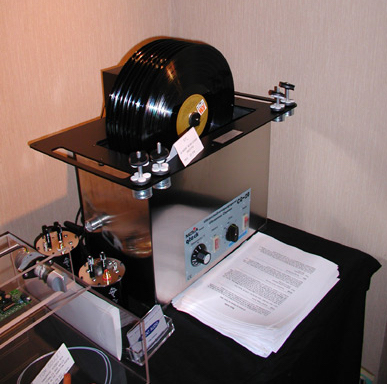 Figure 3. Bent Audio's NYL Ultrasonic Record Cleaning System, VSAC, 2003. (Reproduced by permission from Positive Feedback, from Issue 9, 2003.)
In October 2004 and May 2005 just as sales of vinyl records were sliding to a period minimum, a team of students at Iowa State University sponsored by two professors proposed to cost out and build a cost-effective ultrasonic cleaner specifically for cleaning vinyl phonograph records (Ultrasonic Cleaner Project Plan Project 09).  One professor had a sizable vinyl record collection and assumed the lead on the project due to his interests (pers. comm. with co-sponsor Prof. John Lamont, Aug. 2018).  The team's objective was simple: remove "small particles of dirt and dust from records." The team offered a caution that "the ultrasonic cleaner should not be used for records with large amounts of visible dirt because such a use may degrade cleaning performance."  They state the problem as follows:
A minority within the audio consumer market preferring vinyl records to digital audio may often have trouble finding safe, thorough cleaning devices.  Cleaning is also a very tedious process which requires care.  One such solution may be an ultrasonic cleaning device for a safe, automated way to clean vinyl records. The drawback to this technology is the extreme expense of such a system.  This project team endeavors to design an effective ultrasonic cleaning device for less than commercial ultrasonic cleaners.  See Figure 1 (i.e., Figure 3 here, the 2003 prototype designed by John Chapman of Bent Audio, Surrey, Canada) for an example of an ultrasonic record cleaner.  This will be accomplished by partially submerging a rotating vinyl record in a cleaning solution agitated by an ultrasonic transducer.  A working design will result in an ultrasonic cleaner at a fraction of the cost of commercial units available today.
This 2005 university project – essentially a DIY effort – did not go further. Yet that same year a small German manufacturer – Audiodesksysteme Gläss – began work on a dedicated ultrasonic RCM.  After four years of R&D, the 40kHz Audio Desk Systeme Premium Vinyl Cleaner was introduced to the European market for retail sales in 2009 and in 2011 to the U.S.  This machine cleans one record at a time, aided by 4 rotating microfiber barrels, a foam filter, and dries the cleaned record.  In effect, 45 years after Richard Henes filed for a U.S. patent, a dedicated device for ultrasonic cleaning of phonograph records finally reached the U.S. market.  Art Dudley's quote at the beginning of this paper appeared in his March 2015 Stereophile magazine review of the Audio Deck Systeme Vinyl Cleaner. Recently, this expensive $4,000 ultrasonic cleaner has been redesigned, called now the Audio Deck Systeme Vinyl Cleaner Pro.
The Klaudio KD-CLN-LP200 was introduced in 2013. The U.S. firm designed a robust 40kHz single record cleaner without physical scrubbers or a filter but it does feature a blower drying function.  Two ultrasonic transducers are placed parallel to the sides of the record to optimize groove cleaning.  The KD-CLN-LP200 carries a retail price of $4,800.  Clearly, neither the Audio Desk Systeme nor the Klaudio ultrasonic cleaner achieved a primary goal of the Iowa State University project, to develop "an ultrasonic cleaner at a fraction of the cost of commercial units available today." These new machines inspired much cheaper yet difficult to secure Chinese and Russian knockoffs, respectively, in the Amari RW-660 and RW-800 units (https://www.meipian.cn/1bbr1320)  and the SergAudio machine (http://vinilovyeplastinki.ru/%D0%9C%D0%BE%D0%B9%D0%BA%D0%B0-%D0%BF%D0%BB%D0%B0%D1%81%D1%82%D0%B8%D0%BD%D0%BE%D0%BA/).
At least 10 dedicated ultrasonic phonograph RCMs have been introduced for retail sales since 2009 (Table 1).  Seven of the current machines have been introduced since 2016, including the Audio Deck Systeme redesign, and five alone in 2018.  The Audio Desk Systeme (introduced to the U.S. in 2011, 2016 redesign), the Klaudio (now two units, 2013 and 2017), and the 120kHz Degritter out of Estonia introduced in 2018, are all single disc record cleaning machines.  As noted, three knockoffs are seen of the Audio Desk Systeme/Klaudio machines, two from China and the other from Russia (prototypes), introduced since 2014.  All of these machines use 40kHz transducers, except for the 120kHz Degritter. 
In 2018, KirmussAudio introduced Model KA-RC-1 Ultrasonic Record Cleaning System with a 7.5L tank and three bottom-mounted 35kHz transducers.  This more modestly priced $800 unit has a custom made top for cleaning two 12" records, a 10" EP and a 45 at a time, but has no filtering system.  Shenzhen Codyson, a Chinese company, designed the basic tank employed by KirmussAudio, while Codyson manufactures Model CE GS RoHs CD-4861 available in bulk sales.  Also in 2018, iSonic induced their ultrasonic RCM, P4875II-4T, which is essentially the Codyson model.  That machine operates at 35kHz with three transducers at 380W of power and has a 7.5L tank but offers no filtering or dying function, for $780.  Yet it does clean five records at a time.  The three "Codyson" machines employ 35kHz. 
Except for 'before and after' photographs of an ultrasonically cleaned vinyl record, little technical research has been published on the short- or long-term impact of ultrasonic cleaning on vinyl records.  Ultrasonic cleaning is known to erode and pit metal, based on transducer frequency employed and time exposure.   Degritter specifically selected 120kHz transducer frequency for its ultrasonic RCM to minimize the potential for record damage and they assert to better clean records since the higher frequency generates much smaller cavitation bubbles.  Anecdotal evidence of groove damage is hard to find.  Early adopters claim that in 5 to 10 years of experience with ultrasonic cleaning, no detrimental impacts have been observed so far to their records (for a lengthy discussion see: http://www.diyaudio.com/forums/analogue-source/218276-version-ultrasonic-record-cleaner-183.html).
Notwithstanding isolated reliability issues, all commercial RCMs have garnered favorable, even rave reviews in numerous audio forums and in published magazine evaluations.  With exception of the Audio Desk Systeme and Klaudio machines, newer options have not been compared head to head.  A thread on the Steve Hoffman Forum directly compares the Audio Desk Systeme and Klaudio options (under Hardware, dated May 22, 2014 'Audio Desk vs Klaudio – ultrasonic record cleaners').  Noted critic Michael Fremer reviewed the Audio Desk Systeme on August 2, 2012 for Analog Planet ('The Worlds Best Record Cleaning Machine?').  He also reviewed the Klaudio on September 3, 2013 for Analog Planet ('KLAUDiO KD-CLN-LP200 Ultrasonic Record Cleaning Machine Reviewed'). He was favorably impressed with both options, and in his second article discusses his observations between the machines.  A November 2016 review of the Audio Desk Systeme by Fred Crowder on the Dagogo website compares that unit to the Klaudio ('Audiodesk PRO Ultrasonic Vinyl Cleaner Review') mentioning machine differences and his preferences.
All available commercial RCMs except for one share a common shortfall, the lack of high quality filtering of the cleaning fluids.  The 2017 Klaudio KD-CLN-LP200S uses an external reservoir and employs a filter-housing kit (of unspecified filtering capability) to treat distilled water. The Audio Desk Systeme uses a simple foam filter, which is not considered a high quality filter.  The lack of quality filtering permits dirt suspended in the cleaning fluids to impact the vinyl during cleaning and potentially to dry on a "cleaned" record.  Yet all commercial RCMs have drain valves to remove used cleaning solutions.  Members of the DIY community employing 6L and 10L tanks with 40, 60 and 80kHz transducers have figured out how to filter ultrasonic cleaning solutions down to 0.35 microns (The Vinyl Press, August 9, 2018 'tima's DIY RCM – follow-up #2: Compelling Changes – Improved Results').  High quality filtering specifically allows very clean records to be air-dried.  Some DIY ultrasonic RCMs have become quite sophisticated with built-in vacuum drying capabilities, as seen in this YouTube video: https://www.youtube.com/watch?v=hyZBcop8yf0
Commercial ultrasonic RCMs do not offer any bath temperature control; heat is a byproduct of an ultrasonic cleaning cycle.  Large tank commercial ultrasonic machines (6L and 10L) allow for 'regulated' liquid temperature, which aids in record cleaning.  According to Tovatech, a New Jersey company specializing in ultrasonic equipment,
Of the variables that apply to the ultrasonic cleaning process temperature ranks high, with time and cleaning solution chemistry close after.  This is because the temperature of the ultrasonic cleaning solution impacts the properties of the cleaning solution's ability to perform efficient cleaning. 
Keeping the cleaning solution between 31° and 35°C is considered optimal (see Positive Feedback website, article by David W. Robinson, October 20, 2016, Issue 88, 'Rushton Paul: My DIY Approach to the Ultrasonic Cleaning of LPs').
With the exception of the three Shenzhen Codyson-type options, all commercial ultrasonic record cleaning machines use axially-mounted transducers in a rather narrow tank.  These design features essentially follow the Henes patent. Henes' patent specifies one transducer at 20kHz, a low frequency that more likely could lead to damage of a vinyl record.  Most commercial machines employ three 35 kHz or two 40kHz transducers, while the Degritter uses two-axially mounted transducers per side at 120kHz.  All commercial RCMs automatically rotate the record during cleaning, while the Henes original patent envisioned hand turning.  Some commercial machines include a blow drying function – a feature not included in the Henes patent. 
The Henes design was never built for sale, likely because of cost considerations, the need for additional design work and testing, and subsequent competition.  But clearly, Richard Henes was on to something that took better than four decades to come to fruition.  Today, ultrasonic cleaning of vinyl records has a strong and growing following, while the price point remains frustratingly high compared to vacuum RCM options.  Even VPI's Harry Weisfeld, whose basic vacuum RCM is ubiquitous in the U.S., is a convert (see http://vpiforum.com/viewtopic.php?f=9&t=2289&hilit=ultrasonic&start=10#p8050).  Without question, user experience demonstrates that proper cleaning of vinyl records with a suitable ultrasonic machine will effectively remove dirt deeply embedded in record grooves – hard to perform on the best vacuum RCMs – and with no apparent damage to the record.  Ultrasonic record cleaning gives us vinyl playback where truly "the tonal brilliance of the record is retained", just as Richard Henes told us it would.
Mike Bodell
September, 2018
Hung out in college until he "couldn't be trusted anymore," Mike finally pursued a geoscience career in alternative energy development. An avid record collector since hearing The Four Seasons "Walk Like A Man" in 1963, Mike continues to revel in the quarter-mile journey per side.