tima's DIY RCM – follow-up #2: Compelling Changes – Improved Results.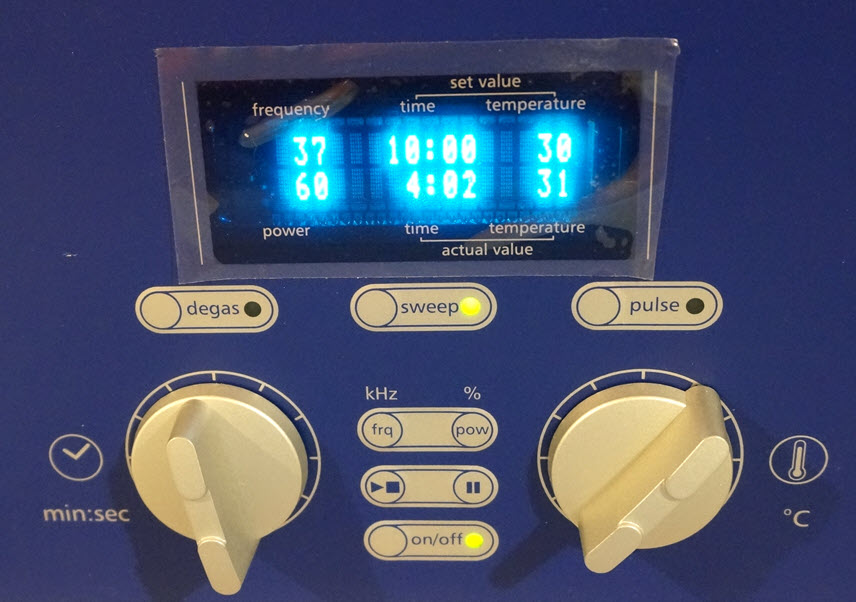 by Tim Aucremann
It's been about a year since I built tima's DIY RCM as described in my original article from the fall of 2017, published here on The Vinyl Press along with follow-up #1.  Since that time I've cleaned hundreds of records in all conditions: previously cleaned, new, used, and a few abused. My expectations are now very high about what is possible for getting records clean.   Not only do most records clean-up nearly noiseless (assuming they are not damaged), I get the job done in a way that is methodical and accomplished with scant fuss or mess – all along my stylus stays clean and my ears are happy. 
So while cleaning records is still 'work', it is contented work. And perhaps most significant, I'll do it and not put it off.  Typically I'll clean a batch of six records followed by a batch of five. I base that on the number of spindles and spacers I have with the Kuzma RD rotisserie unit that holds and rotates the records in the cleaning bath.  I run a spindle of records through the USC (Ultra Sonic Cleaner) for about 20 minutes.  Each cleaning session for eleven records takes about 72 minutes from cover off to cover on; most of that is machine time not requiring my attention. I may do that 4-5 times a month, so good progress happens without seeming like endless toil.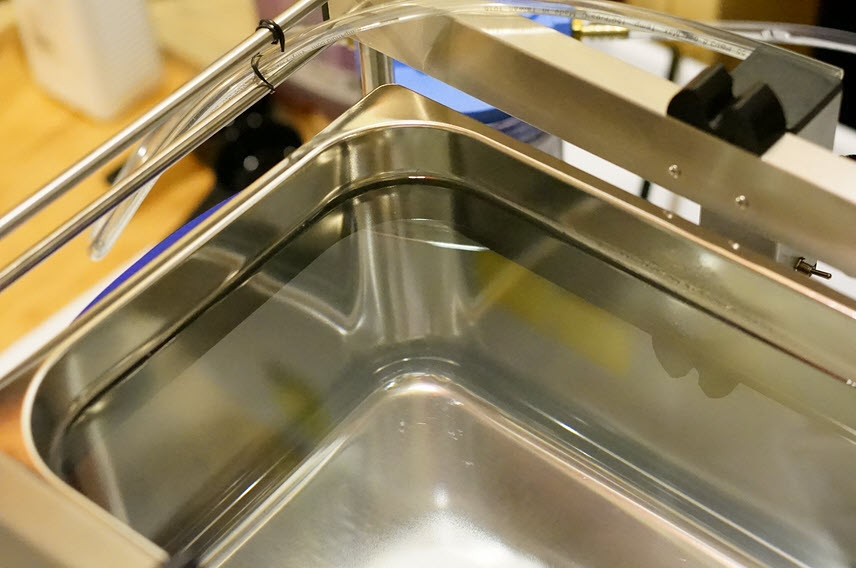 I've learned stuff over the months with my DIY USC that led me to make some significant changes since my last installment, and that's what I'm here to tell you about.  As a lead-in to that, let's first talk a little record cleaning methodology.  This is a bit long, so bear with me please.
If you get a record wet to clean it, what's the best way to get the record dry?  I see two approaches:  using air to dry the record (evaporation) or using a vacuum to suck water and/or cleaning solution off the record. (Yes, you can dry a record with a clean towel, but that's not in our scope.)  You can usually tell which drying method is in play by looking at the cleaning machine.  When the record lays horizontal (flat) the machine uses vacuuming; either a wand with a slot (e.g. VPI) sits over a rotating record sucking up water, or a small vacuum nozzle rides across the rotating record like a tonearm (Monks, Loricraft.)  Machines where the record stands vertical use some form of air drying; a rotating record passes in front of a blowing fan, or the record rests in stasis drying in open air – whether a fan is employed or not, this is drying by evaporation.  Tima's DIY RCM uses this last method.
I suppose each method has its pros and cons.  The primary function of horizontal machines is drying (vacuuming) the record.  The cleaning part is left to you; that is either application of cleaning solution and subsequent manual or automated scrubbing (less good), or light manual agitation of fluid to allow the solution chemicals to work to lift the dirt (better).  The primary purpose of vertical machines is cleaning the record.  Modern vertical (desktop) units rotate the record in a solution bath (some, water only) while subjecting it to ultrasonic waves that smash cavitation bubbles against the record surface in an effort to dislodge dirt. (The Audio Desk cleaner deploys both cavitation and soft rotating brushes against the record while it rotates in the bath.)  The fancier vertical machines include a drying phase where the cleaning water is drained off and a fan blows air on the record at the end of the cleaning cycle.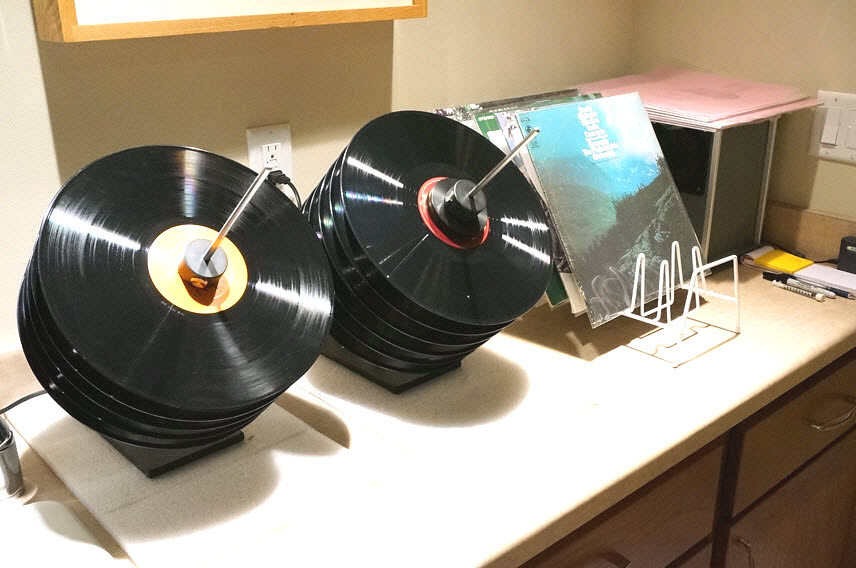 Records air drying on their spindles.
In my opinion drying wet records is the biggest challenge faced by the USC user.  When I tell people that tima's DIY RCM uses non-mechanical open air drying they tend to be skeptical. 
Here's what happens: The batch of records comes out of the USC bath on their spindle. I hold the spindle with two hands and give a few shakes.  I use a small amount of Ilfotol wetting agent in the cleaning solution so the water mostly sheets off, leaving a damp sheen with a small pie slice of wetness. I place the spindle in its holder pie slice down where it sits at a 45° angle and the records dry in less than 20 minutes depending on room temp and air humidity. Drying may take less time if I use a small, slow, 5-inch fan placed about four feet away to gently circulate the air around the spindles.  
Whether fan drying or air drying, the idea is for the water/solution to turn into gaseous form – to leave the record and move into the air.  Any solids residing in the water/solution remain on the record as it dries, regardless if you use a fan or non-mechanical open air drying. 
So what's the big deal – why rattle on about all this?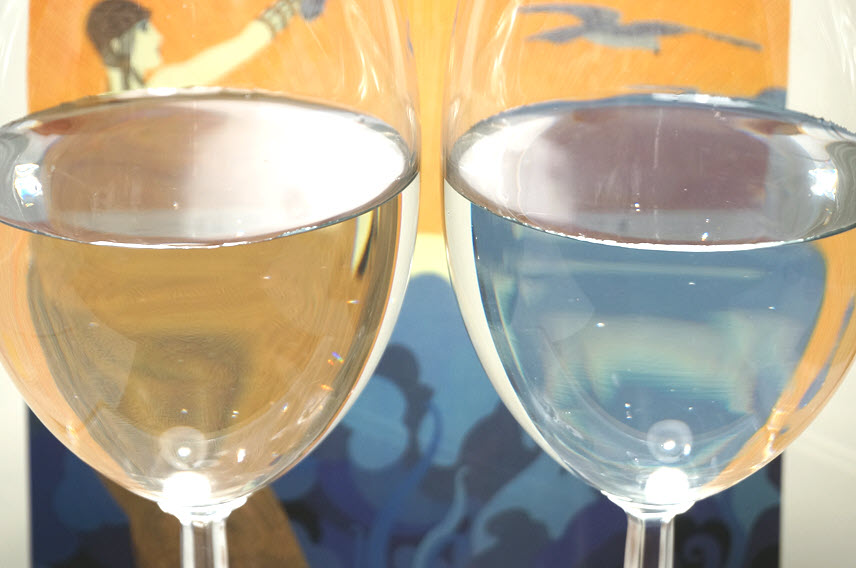 The critical element of any form of air drying is not having record detritus, dirt or other gunk (solids) in the water on a record when it dries.
So okay, that's not rocket science.  But think about this: each time you wash a record in the same solution that you used to wash other records in, the solution gets dirtier.  Even if the cleaning process removes dirt from the record, the water remains dirty. Yes, you can add multiple rinse steps – that's largely required with horizontal machines.  Yes, you can buy another desktop unit just for rinsing with water alone (or change the water in your tank before drying each record) but the rinse water itself will still take on the dirt residing in the water on the record you just cleaned.  Some of that dirt will be on the record that you dry and remain there.
If you think this is all fanaticism, I won't disagree.  I want my records clean. This leads us (finally) to the first of the changes I made to my cleaning process: improved air drying through better water quality caused by better filtration and monitoring. 
To keep tabs on dissolved solids in the cleaning solution I bought a 7Pros TDS meter ($17, Amazon.) It takes just a moment to measure TDS(total dissolved solids) as PPM(parts per million) and EC (electrical conductivity) along with temperature(both F° and C°). (There's a check for your cleaning solution temperature.  I aim for ~33° and set my USC temp control for 30° because the cavitation action will raise water temps as it goes.)   Tip: I suggest owners of any desktop RCM user (Audio Desk, KLAudio, etc.) monitor water quality – especially in those units without active filtration.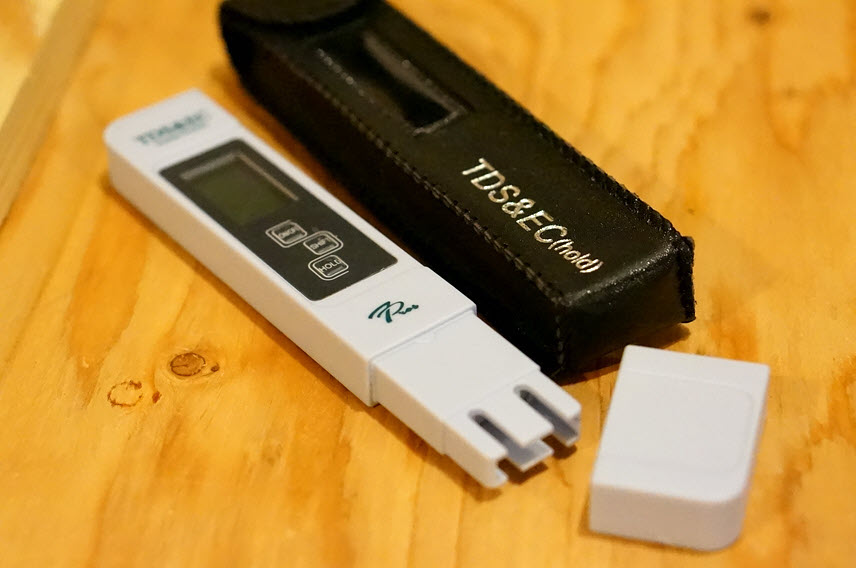 7Pros meter – switch between TDS/EC with Fahrenheit/Centigrade.
With fresh cleaning solution (~3 gallons distilled water, 1.3 cups IPA, 0.9 tablespoon Ilfotol) the meter shows 0000-0001ppm in my tank.  After cleaning say, 44 records, I get a tank reading of 0005ppm TDS, using filtration methods described below.  (Make sure to use high quality chemicals.)  I'm not a water guru but I consider this an excellent result; my household drinking water is RO (reverse osmosis) filtered and that comes in at 0028ppm.  
Tip: if you are inclined to include Hepastat disinfectant in your cleaning solution be advised it can significantly raise TDS.  With a small amount of Hepastat in the water I saw end-of-cycle TDS readings in the 0028-0035ppm. I will not use it. After all, it is easy and cheap to change my homemade solution more frequently.
Of course the key to clean water while cleaning records is to keep the water clean– and here that is done with active pressurized filtration.  My first article on tima's DIY RCM shows the pump unit and water filter I put together to do active filtering. 
Those TDS numbers above are the result of improved filtration because recently I upgraded my filter from the one originally used on my DIY RCM.  I switched from a 1 micron Hydronix SDC-25-0501 2-1/2" x 4-7/8" NSF Sediment Filter to a 0.35 micron Flow Max FM-0.35-975 2-1/2" x 9-3/4" Pleated Filter.  I did not know about this finer filter when I started out but felt going from 1 micron to 0.35 micron was pretty significant and worth the relatively small expense to switch. The new filter is twice the length of the earlier one so now I use the Pentek 158116 ¼" #10 Slim Line filter housing.  This is almost identical to my original housing except taller.  Cost to switch? Canister + filter, less than $30.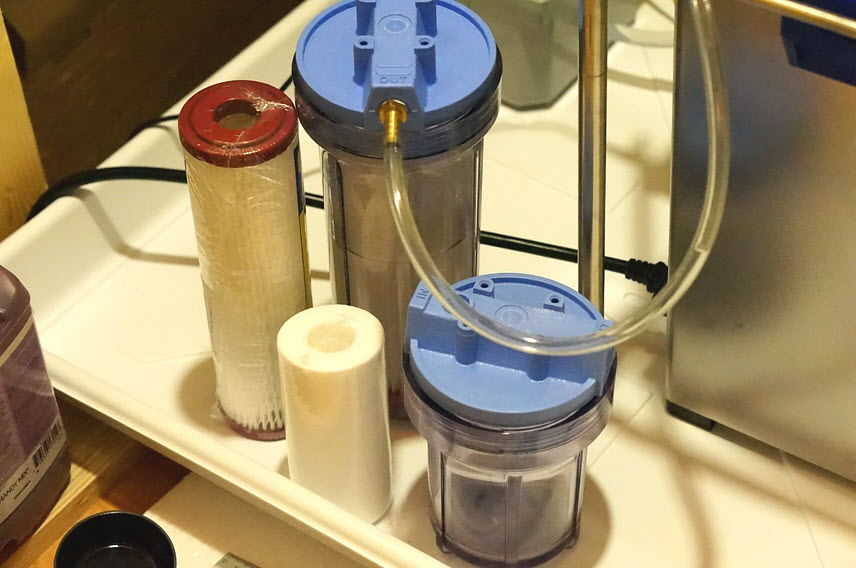 New 0.35 micron pleated filter and taller Pentek canister vs original units.
Identically sized filter caps on each Pentek canister meant all I changed was the clear cartridge housing – no need to de-hose or change barbs using the same canister caps.   (Tip: if you go this route, look outside Amazon for the Flow Max filter for less dinero.)  My pump has no problem pushing water through the new taller filter. 
This was an easy-to-do, low cost upgrade and I'm glad I did it – those low TDS numbers tell the tale. 0.35 microns is 0.00001377952 of an inch. Consider this: according to cartridge guru Peter Lederman, the size of a micro-ridge stylus is 3.8 x 75 microns.  A diagram in the article linked to Lederman's name shows the dimension of the tip of an example Line Contact Stylus as 1.5 microns.  In his article An LP Primer – How an LP Works(PDF download) Robert Harley observes a stylus is capable of registering a physical feature in the record groove of 0.1 micron in size. 
What's it mean here? It means that by using an active filter any water remaining on a record is far less likely to contain residue and dirt that potentially can be left on the record when it is dried by native air or fan than drying a record wet having unfiltered water.  It means that by using a 0.35 micron filter instead of a 1.0 micron filter, any water remaining on the about-to-dry records may be almost three times more likely to contain fewer stylus registerable particles (pops & clicks), when I pull the records from the USC tank.  Based on continual listening observations of records cleaned under these conditions, I find that natural evaporative air drying works really well. It is not about how the air is moved; it is about how clean the water is remaining on the record. Fine grained active filtering further reduces unpleasant playback noises.
-=-
Last year when I decided to build my DIY RCM I spent a fair amount of time checking out the various USC tank options, of which there are plenty. Based on advice from Franc Kuzma and others from the Internet, the features I looked for were these:
The USC tank size had to accommodate the Kuzma RD rotisserie – the frame that holds a spindle of records and turns them at about ~0.5 rpm. Size-wise that meant a tank of at least 2.65 gallons (10 liters.)

A stainless steel tank with a heater, temperature display and a thermostat to automatically turn off the heater.

A timer to cut off the ultrasonic cavitation action.

Power of at least 240W, but more was preferable.

Variable power control.

A tank with a drain option to which I'd attach tubing to feed the filter I planned to add. Also to make tank draining simple.
Kuzma also suggested a unit able to operate at two frequencies, low and high, around 40 kHz and 80 kHz.  Lower frequencies produce larger cavitation bubbles with stronger implosion that are better at removing larger dirt particles.  Higher frequencies create bubbles that don't have quite as much force but do very well at getting into small spaces. 
The 10L unit I bought from Beijing Ultrasonics a year ago did not have variable frequency, but met the other requirements, including variable power.  I also chose this unit because of its price, $350 shipped direct from the factory.  Starting out the whole DIY RCM thing was an experiment, a trial.  I hoped for good results but did not know what to expect; I hung on to my Loricraft PRC3 point nozzle vacuum and my Audio Desk automated machine.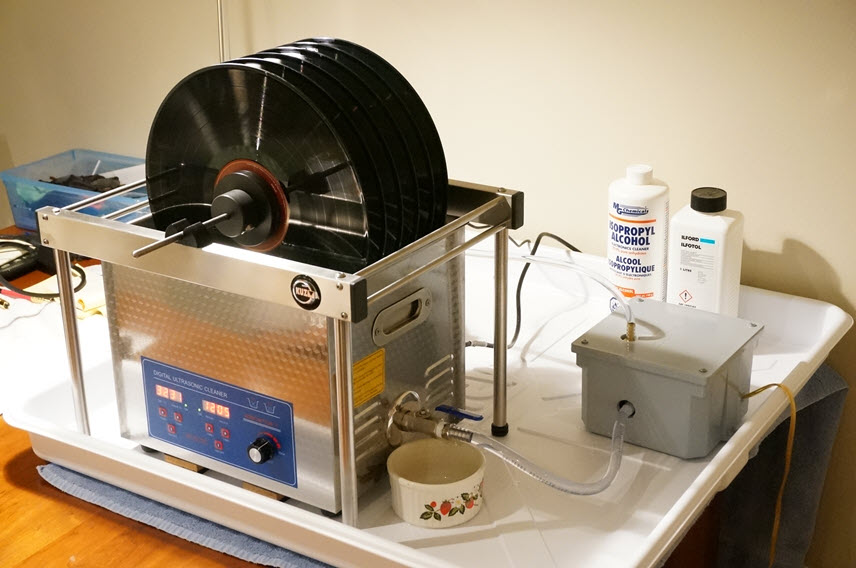 The Beijing Ultrasonic 10L in operation.
The Beijing Ultrasonic 10L worked fine and I was happy with its results (as described in my Follow-up #1.)  Alas, it worked fine only for nine months when the variable power control went flakey; it could operate reliably only at full power.  Even though the 10L was still inside its one year warranty period, I chose not to pay the cost (~$200) to ship it to and from China for repair. A friend of mine who tried to buy the same machine – on my suggestion – has had nothing but trouble with his transaction.  After the premature failure of mine and the problems my friend suffered, I no longer suggest this machine. 
My DIY RCM experiment was a fine success for cleaning records (other than the failed USC unit) and I am totally sold on the approach I took – it worked great for awhile; it did the job, especially since adding the 0.35 micron filter.
So I did some more homework then took the plunge and bought the USC recommended by Kuzma – a professional quality German made USC, the Elmasonic P 120H mentioned in my original article This machine is distributed and serviced in the U.S. by Tovatech and comes with a 2 year warranty.  It is pricey; listing at $3000 but some discount may be found if your shop around. With a little dickering I paid $2450, shipped from an Elma authorized dealer.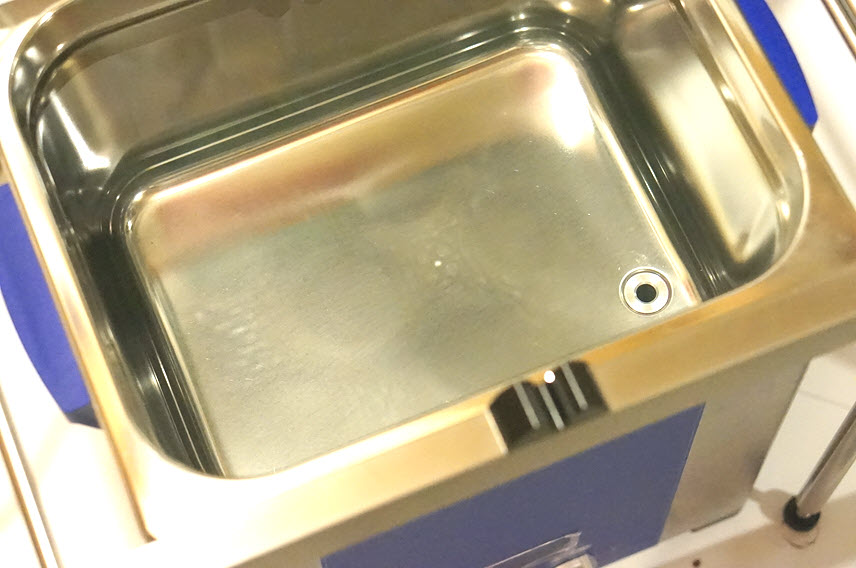 My new Elma unit filled to its waterline.
The Elmasonic P120H meets all the requirements I listed above, including the ability to operate at 37 kHz and 80 kHz.  Compared with the Beijing Ultrasonic unit, the Elma is more substantial, more powerful (330W), built with a higher quality case and a cavitation proof stainless steel tank, includes 6 transducers, and it is much quieter. 
The P120H includes additional features not on my requirements list:
A Sweep mode for optimal sound field distribution within the cleaning tank. I actually think this is a good feature to have.  It causes disbursement of the cavitation action, so it is less concentrated above the transducers.  The record grooves we're cleaning on are on the outer thirds of the tank
An automatic Degas mode to quickly degas fresh solution in the tank. If your water comes out of a pressurized supply it will contain dissolved gases that need to be removed for optimal cleaning performance. Dissolved gases in your solution will absorb cavitation energy. Read more here.
The option for automatic alternation between high and low frequencies for simultaneous coarse and fine cleaning. I choose to make this switch manually just to keep tabs on operation: 10 minutes at 37 kHz, 10 minutes at 80 kHz.
A Pulse mode to intensify cleaning power by 20%.

More features related to automation and control.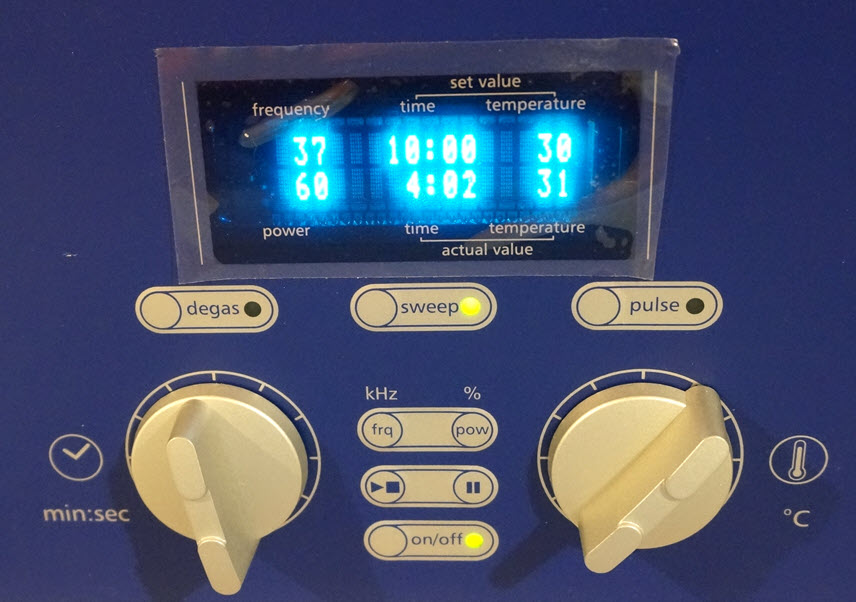 Here is the Elma's control panel.  Protective film is still on the display so it's a touch fuzzy.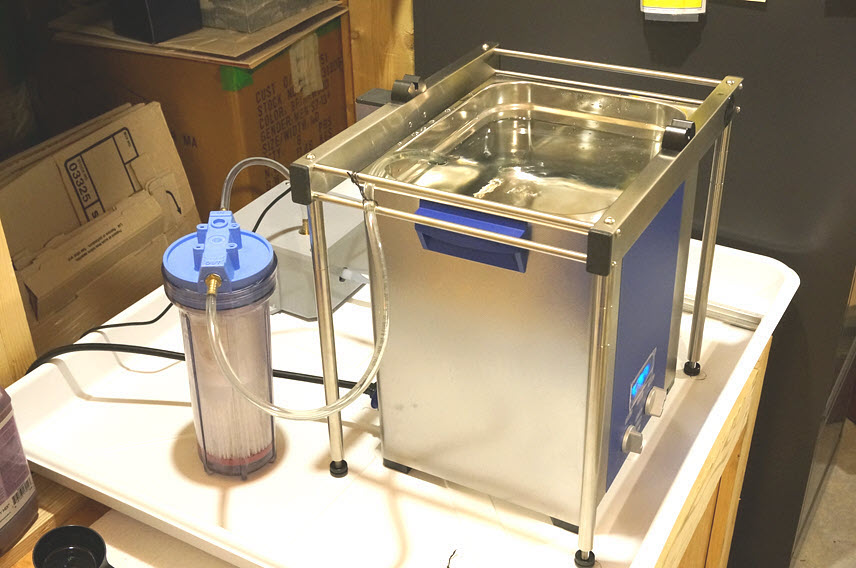 All warmed up and ready to clean a spindle of records.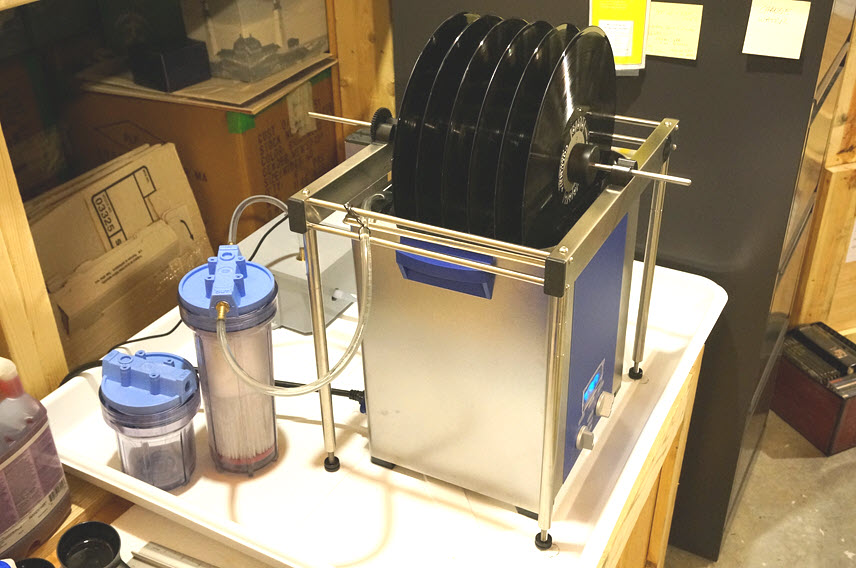 Working.
With the addition of the Elmasonic P120H USC, tima's DIY RCM is now on par price-wise with the popular KLAudio and Audio Desk Systeme desktop cleaners.  Of course with a less expensive USC the rig is a lot less money, although I feel adding the multi-frequency Elma was definitely worth it. In my opinion this approach is easily superior to today's single-record desktop machines for many reasons, but I will not get into a comparative review here.  Any machine that encourages record cleaning is a positive for the world of vinyl and I believe these recent efforts encourage continued viability for the medium.  The main benefits of a DIY RCM (not necessarily mine) include:  getting more records clean (really clean) in a shorter amount of time and that includes drying, control over the cleaning solution and control over the cleaning process – you choose water temperature and cleaning duration, and for me, it's more fun!
By the way, solution temperature has a profound effect on ultrasonic cleaning effectiveness.  Does your machine heat the water?
-=-
For those of you who made it to the end of Follow-up #2 of tima's DIY RCM, I salute you. Thanks for reading here at The Vinyl Press.  Here are some links to materials you may find interesting:
Here is a PDF download paper: Precision cleaning Process and Equipment Considerations for PMR Media.  This is about cleaning perpendicular magnetic tape.  Look at slide/page 16 for an interesting graph about the relationship between ultrasonic frequency and particle size.  I believe this is from XYRATEX.
Gramophone styli and groove geometries talks about stylus sizes and the effect of stylus impact on a record groove.  The forces in play when a stylus exerting 730 atmospheres* (~10728 psi) of pressure smacks head-on into a cloud of 10-micron sized asteroids sailing along at 1 knot can disfigure the groove wall or, thanks to heat generated by the forces in play, fuse those rocks to the vinyl itself.  
*Assume the arm of a record player exerts a force of 0.0098N (the weight of 1 gram) on a record and the diameter of the stylus is 0.0013 cm (Assume a circular cross-section.) Pressure = Force/Area, so,  p = (9.8 x 10-3 N) / (1.327 x 10-10m2) = 7.38 x 107N/m2 = 730 atm
Here is a scholarly paper PDF download: Particle Removal Using Ultrasonic Cleaning from Ahmed Busnina, Assoc. Professor and his PhD student Ismail Kashkoush at the Center for Particulate Control Process Equipment at Clarkson University in Potsdam New, and a couple IBM engineers.  If you don't want to work through the whole thing, read part 4 Conclusions at the end.  The reading stuff and grainy photos of cavitation bubble collapse and rebound are kinda interesting.
Here is another PDF download: Ultrasonic Cleaning – What is it?  This is an article in outline format that contains a boatload of fascinating information about ultrasonic cleaning.  This comes out of the EDGE group at the Rochester Institute of Technology College of Engineering, but has no attribution. Interesting mention of an ultrasonic cleaning disadvantage: "Loss of surface material due to microscopic bubble implosion", but there is an "however".  This is worth a look if you're into the topic.
Tim Aucremann
August 2018.
Tima is Tim Aucremann. After his academic years living in the 18thand 19thCentury with Hume, Kant and Hegel, Tim switched to a career in IT architecture and project management. An avid audiophile since trading in his Bose 901s for Maggies and a Hafler DH500 kit, today Tim continues "Living La Vida Vinyl." Tim previously reviewed for Sound Stage!, and The Audio Beat; he now writes for Positive Feedback.