Two Rarities Reissued- Far Out and Stonewall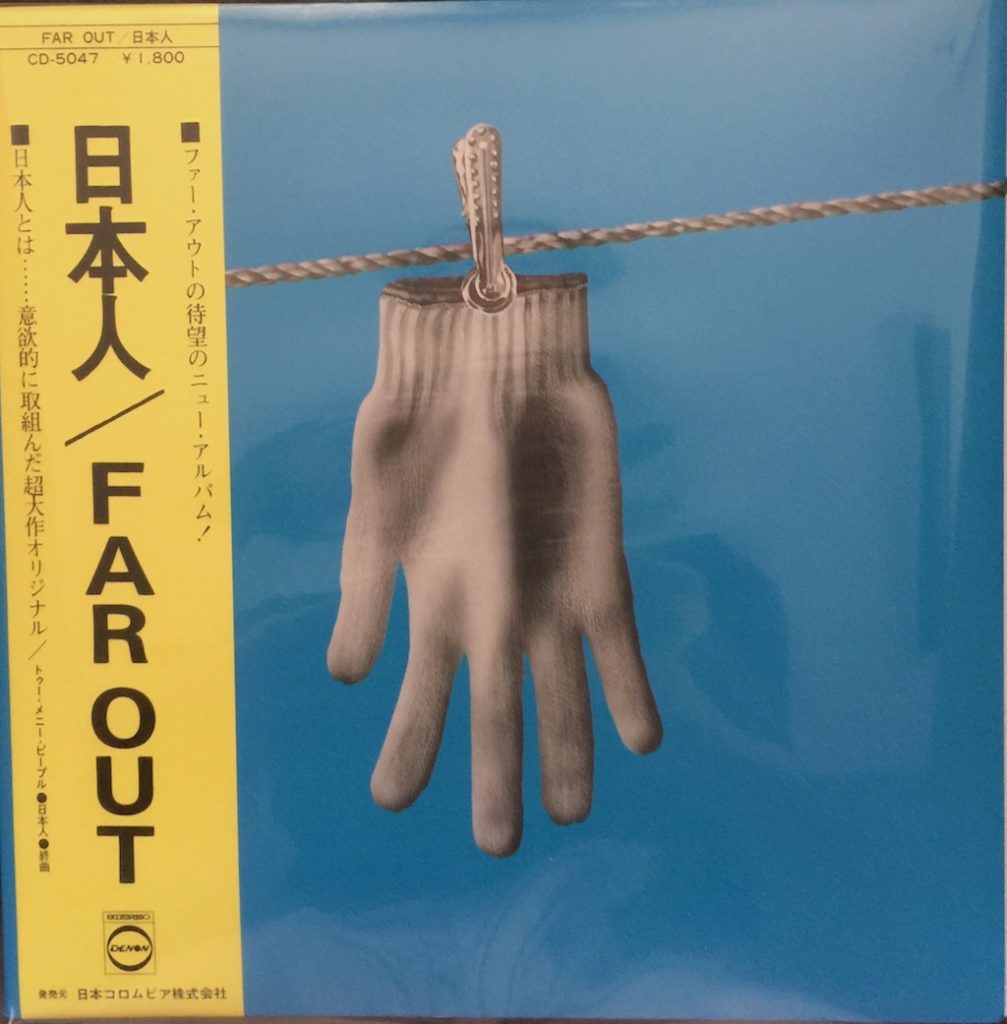 You'll be forgiven if neither of these albums– Far Out and Stonewall– was on your "pre-buy" list; both are somewhat obscure and highly collectible for different reasons. There is serious market for obscure psych and early hard rock that never made a commercial impact- the more obscure the better. Some of it is good, but the tariff is high, leading to all sorts of unlicensed reissues over the years. These two releases cover two important albums that, for the first time, purport to be licensed, authorized product. 
Far Out was a one and done by a band of the same name led by guitarist/vocalist Fumio Miyashita. Released on Denon in Japan, original copies command serious money. There were various "unofficial" reissues over the years on vinyl, but late last year, an "official" reissue was released by Everland Music of Austria. It's a well-made album that claims to derive from the original master tapes; musically, it's a cool album that's well worth adding to your collection for the $20 or so dollars that this reissue commands (shipping costs from afar notwithstanding).  
There's nothing terribly subtle about the sounds- it combines hard psych with spacey sounds and has some interesting hooks that will engage you. The album consists of two tracks, "Too Many People" and a title that, as best I can tell, translates to "Japanese People." Sonically, it's good; I understand the original Denon pressings are killer but I'm willing to bet you'll be happy to save about a thousand dollars for this reissue.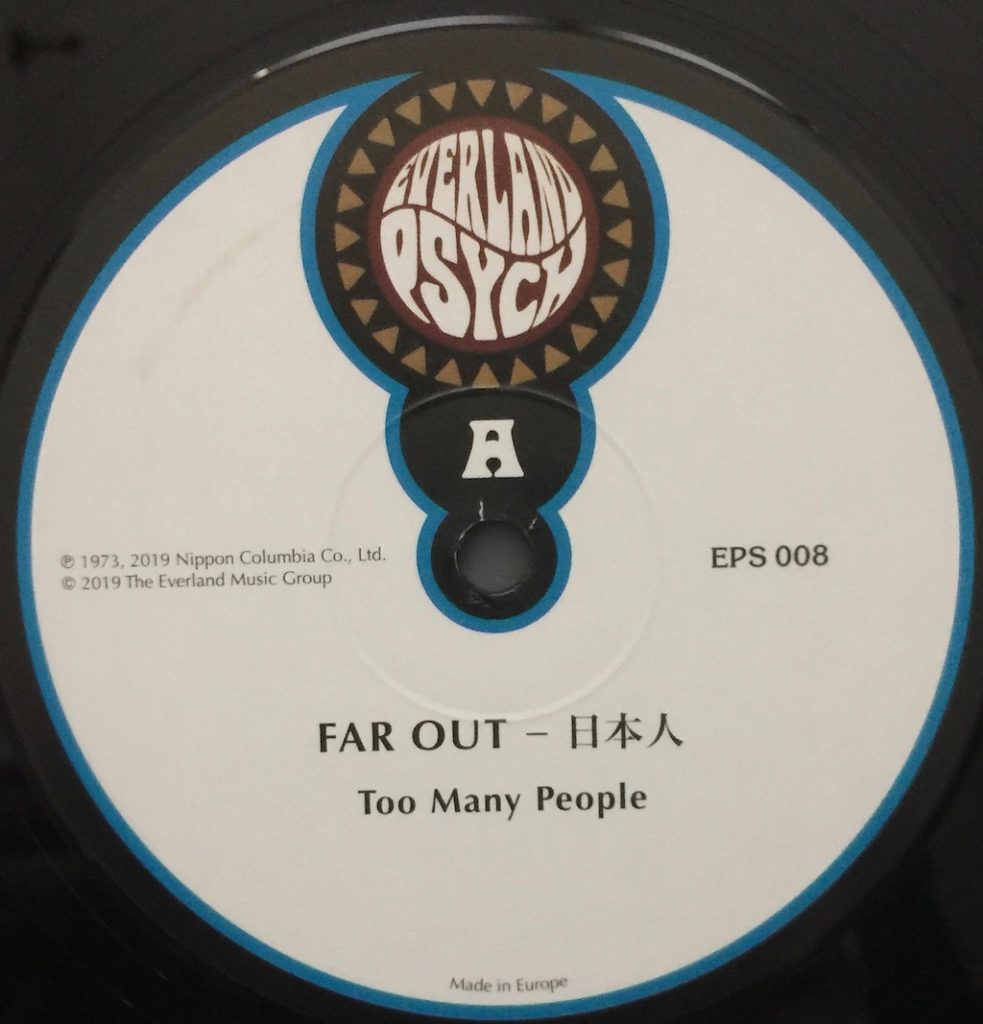 The track "Too Many People" starts with some spacey sounds that eventually transition into a soft ballad that follows a nice melody; the bass comes in to build the song, and as the song/story progresses, drums and harder-edged guitar get layered into the mix. You could play this for dear old mom and she probably wouldn't blink.
A few minutes in, the psych inflected guitar steers the melody. The return, to a heavier back beat, sets the stage for the next passage, a deeper, plodding thing and the guitar launches, stripped of excess.
 It's well played hard psych guitar and the band is tight. Drums sound pretty good on this copy; some sitar inspired passages give us a little exotic flavor and you get the sense that things are building. After the obligatory feedback squeal, we return to that nice, mellow folk ballad with electric guitar accents that start to gather some power; the vocal returns to bring it home, with a halo of voices accompanying him, drums rat-tat-tatting and an unwind of the guitar to a lash and crash finish.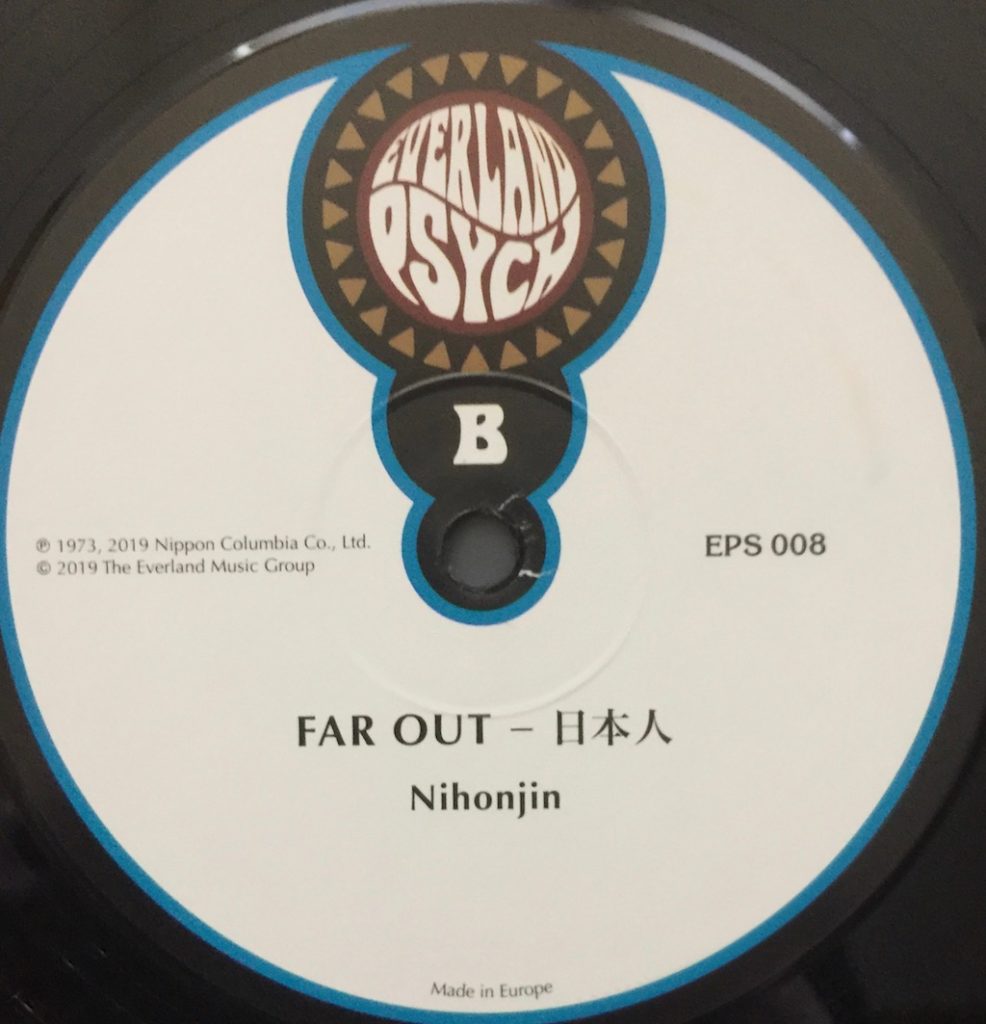 The second side starts with eastern motifs and develops into an anthemic rocker. Musically, this side has more musical "hooks" than the first side and is probably more accessible to many listeners. It's not quite "Stairway" in Japanese, but it's long form hard rock that builds and has variety; there's very little filler here and if you like hard rock guitar work, this side should please you.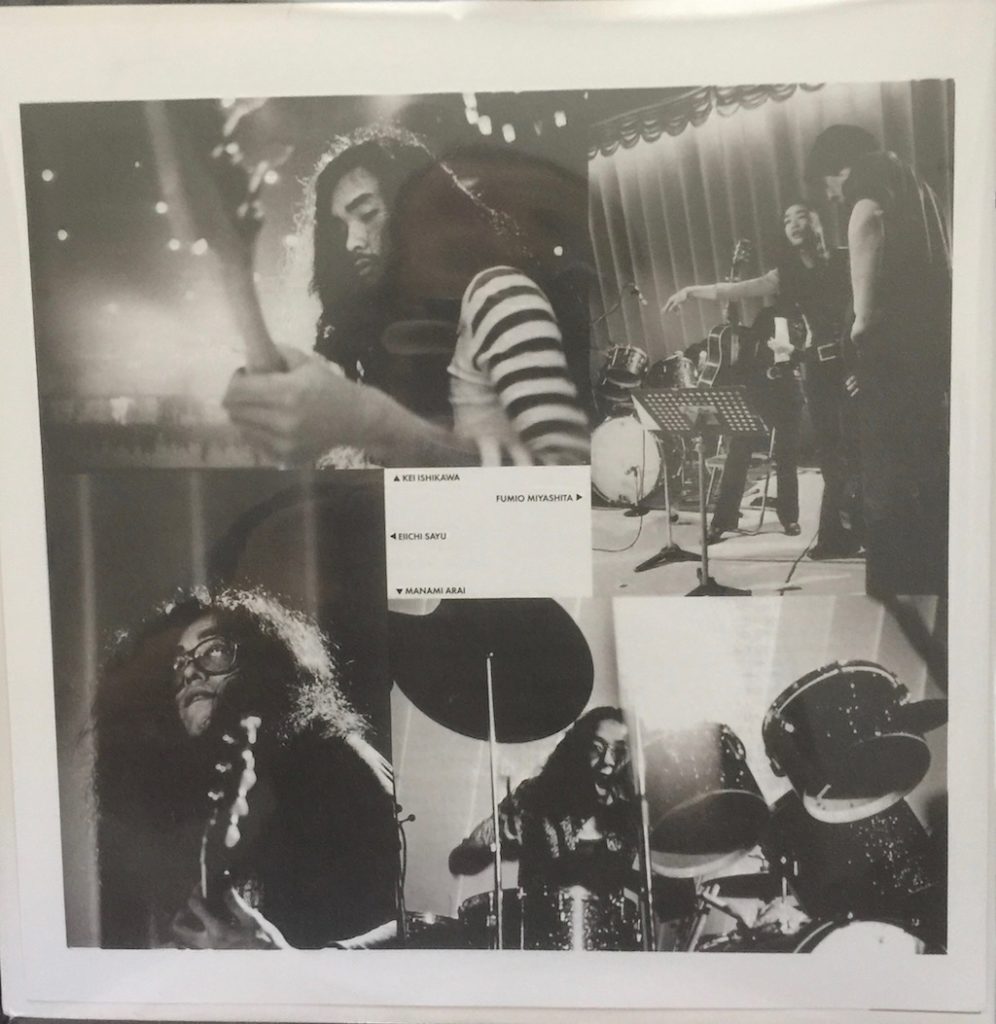 In his classic Japrocksampler, Julian Cope devotes a fair amount of space to Miyashita, Far Out and the eventual formation of the Far East Family Band, but his views on the success of Miyashita's early efforts are mixed. I think it's a cool record. No doubt a mint Denon pressing would kill, sonically, but I'm pretty happy with the sound of this authorized reissue on the cheap. You might be too, especially if you are interested in something a little different than the usual suspects when you are in the mood for hard psych.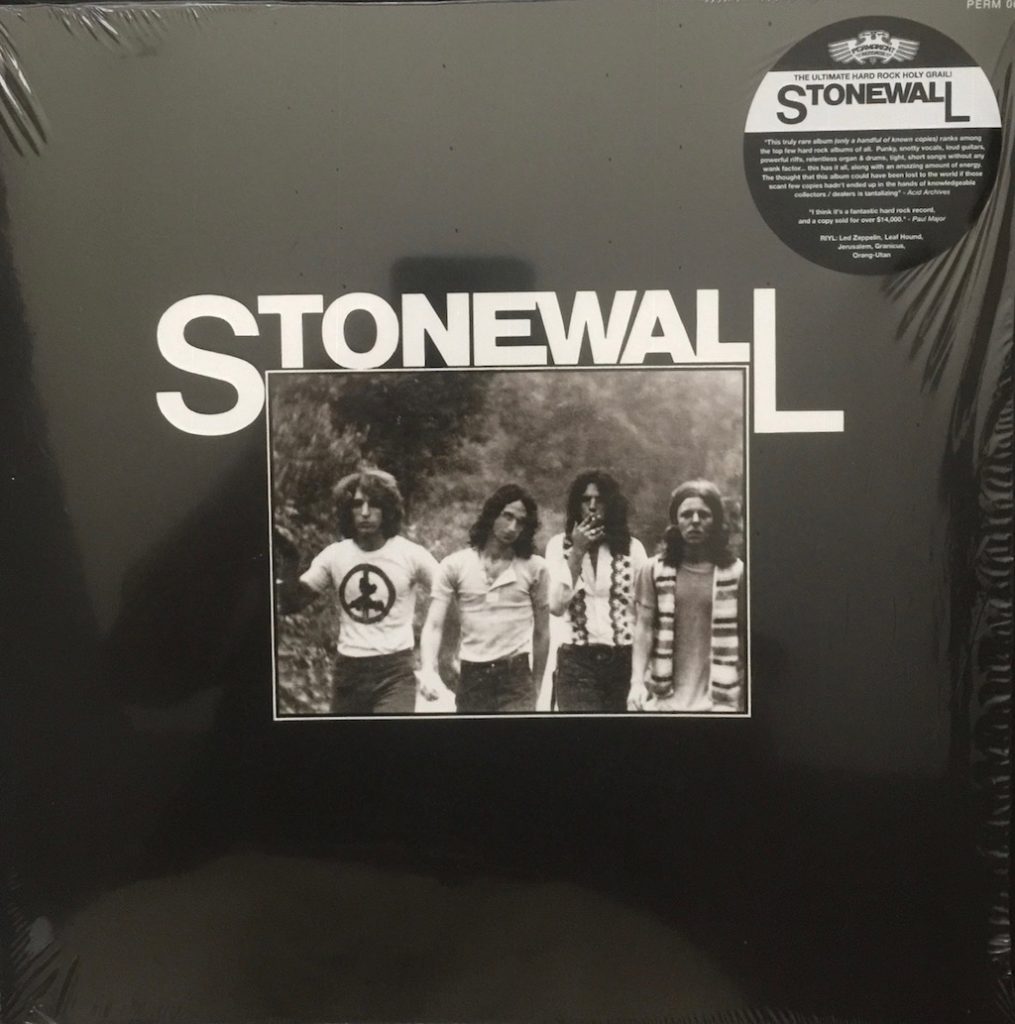 Stonewall's claim to fame is rooted in the various business machinations of Morris Levy, who among other things, owned a label, Tiger Lily, that was reputedly a tax scam. Apparently, the label name is now being used by a legitimate outfit, but at the time, there were questions about the provenance of the recordings, one of the most famous of which is this one, Stonewall, a real band out of New York whose recorded output was released on Tiger Lily. I became aware of the album in a discussion with the staff at Academy in Brooklyn, who mentioned that a colleague found an original copy for virtually nothing and sold it at auction for $14,000. See https://www.brooklynvegan.com/stonewall-lp-se/ 
Like Far Out, Stonewall was reissued a few times "unofficially" and has now gotten a legitimate reissue via Permanent Records. It's hard driven rock from the period that has achieved infamy in record collector circles due to its provenance and relative rarity. The band appeared to have gotten nothing from the release, neither money nor the sort of boost to their reputations that could have provided a platform for a more enduring career. What's also sad is that the band is more than competent—although thrown into a category of records better known for their obscurity than their desirability as listening material, these guys could play. They deserved better at the time and now, these many years later, finally get a legitimate release that one can buy easily and cheaply. Although there are the inevitable comparisons to other obscure collectibles, such as Leaf Hound, Granicus, and the like, none of these bands are fungible—they all have a sound that is distinctive even if grouped together in the "obscure heavy rock" category.
This copy even sounds pretty good- some of the so-called "unofficial" releases are unplayable (in addition to screwing the writers and performers).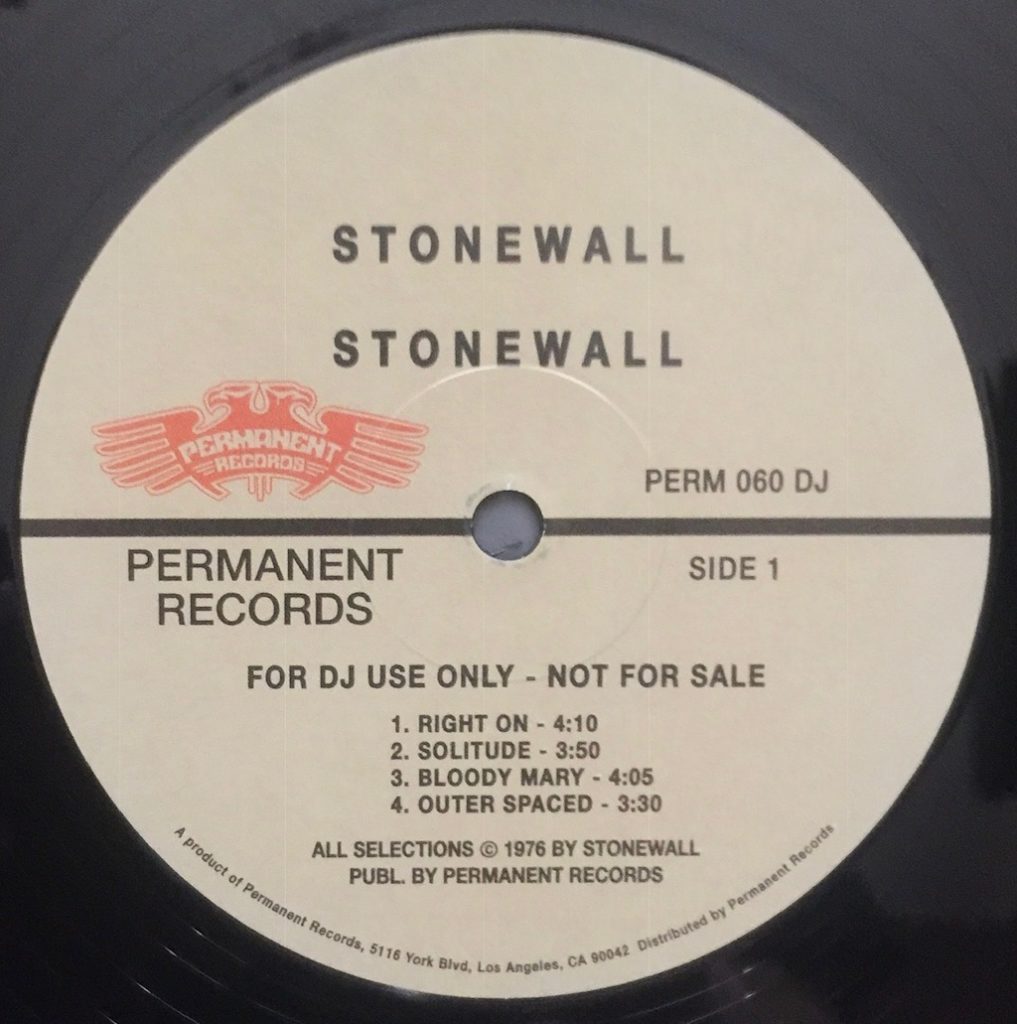 These guys can do hard boogie with distorted guitar and wailing vocals pretty well. Switching to the darker side ala the track "Solitude" is even more fun—the simpler, less cluttered arrangement allows you to hear more and I'm a sucker for minor keys. The guitar slashes and burns on this one. It's a great track. The harmonica part is haunting. "Bloody Mary" starts with a harmonica, then dives hard into boogie/blues territory led by the guitar; good simple chord changes and tempo. This would have been a hell of a lot of fun in a club back in the day. Reproducing it on a fancy hi-fi seems almost contrary to what it's about- but I gotta say, it sounded pretty good when I gave it some gain. (Audiophile warning: not "good" in the refined "nuance" sense—just that it rocks and the pressing is sufficiently decent that you don't have to pull it off the turntable and relegate it to the recycling pile).
"Outer Spaced" has a nice heavy organ sound defining the territory, with the guitar used as a weapon. The vocal is like a death threat. This sounds nothing like Sabbath, but would appeal to the sensibility. No wonder this album became collectible- aside from its history and rarity, it's actually a lot of fun to listen to.
Is this something I would use to "demo" my system for someone who wanted to hear how "real" I could reproduce a piano? Nope. This is the kind of record that, to me, is almost like reliving your childhood (especially if, like me, you were of an age when playing hard rock in the late '60s was all about an angry edge and an intensity that teenage hormones can produce). One wag said all my fancy equipment and record buying over the years has simply been an attempt to recapture that moment – –when I was playing Led Zep I on a portable record player through a PA stack while my parents were out of the house. I'd like to think I've matured since then, but listening to a record like this does make you realize why grown men play air guitar.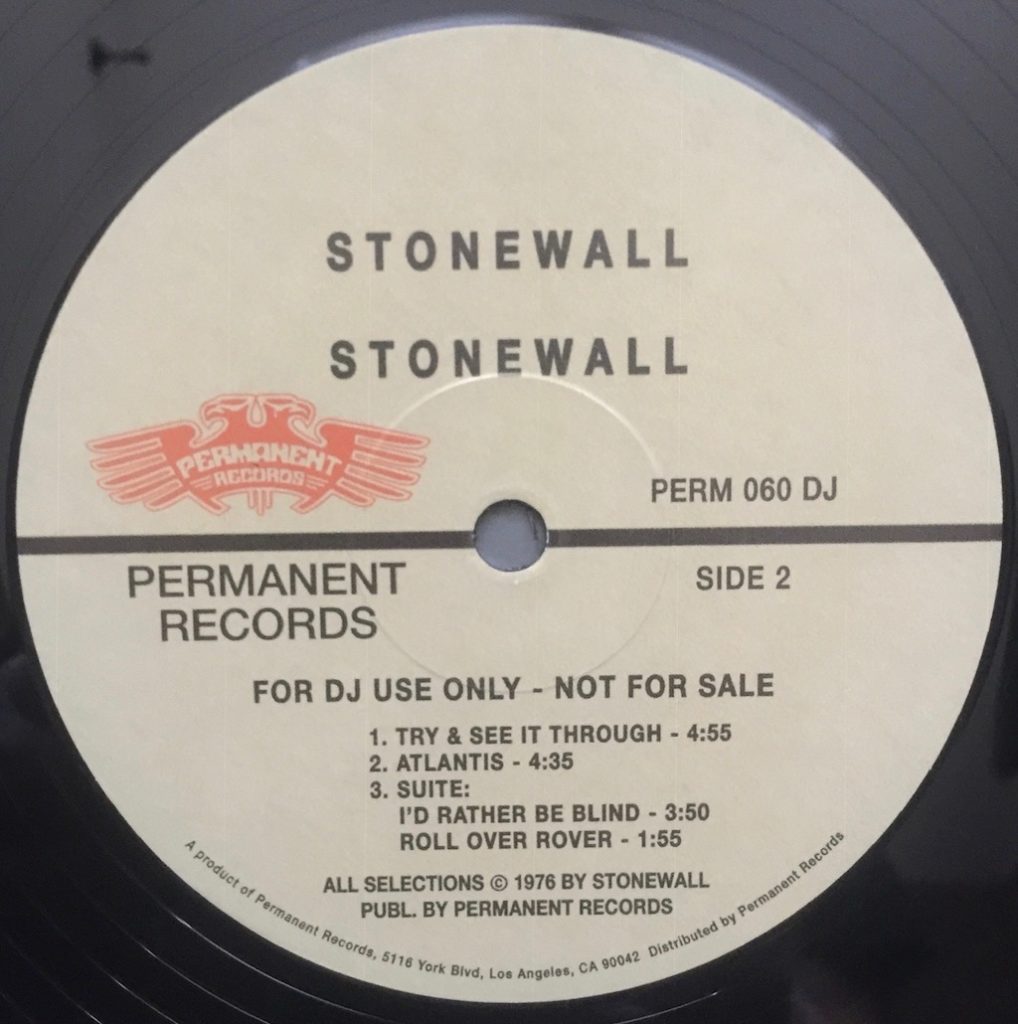 The second side doesn't change much—good chunky guitar, harp, and organ push "Try & See It Through" to the hard edge of blues rock.
"Atlantis"- good changes, I think the band could have benefitted from additional vocals. I'm just not hearing a lot different from the other tracks at this point though the playing is tight, there's actual bass notes on this pressing and the guitar work is in hero territory.
The last two tracks are under the rubric of "Suite":
"I'd Rather be Blind" and "Roll Over Rover."  There must be a lot of songs with the first title and this isn't one of them. It might have worked better live, but seems kind of uninspired to my ears. The transition to "Roll Over" works pretty well—it's bump and grind, down and dirty.
A rare classic, now available to mere mortals.
I'd put this is in the "fun" to have record when you are in a mood. Then again, perhaps your childhood was better adjusted than mine.
Bill Hart
Austin, TX
May 2020