Winter in America- Gil Scott-Heron (Strata-East)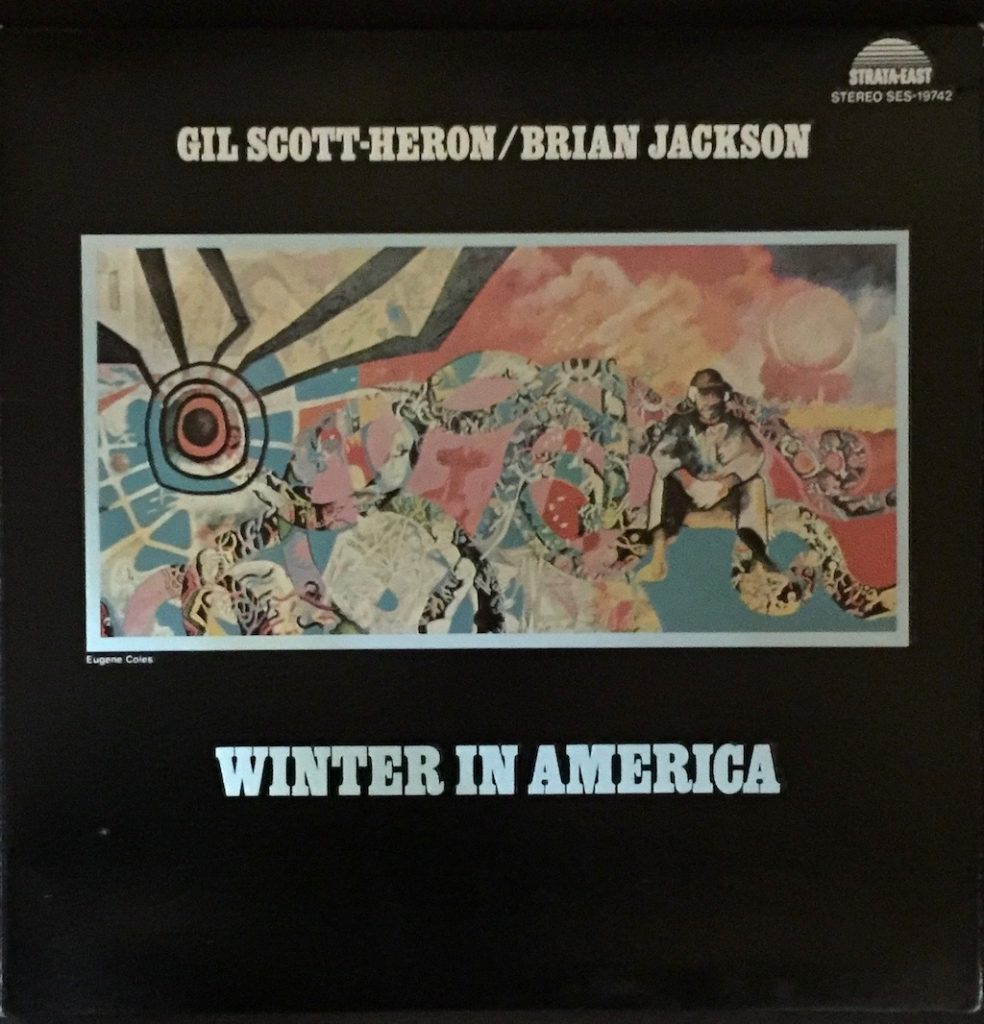 Exploring the Strata-East catalog, you'll no doubt see Winter in America by Gil Scott-Heron (and Brian Jackson). Even if you aren't hunting down Strata-East records, you inevitably see older copies in stores and online because it was the most popular of the original Strata-East records. And for good reason—it's a killer.
Most people know of Gil Scott-Heron ("GSH") through his famous "The Revolution will not Be Televised." That piece- a spoken word poem capturing the domestic turmoil and political/corporate-government control of information during a peak of civil unrest in the country- speaks to how we, as members of the (re)public, look to the television (now the Internet) for what's important. The real revolution, then in protests against the Vietnam War and race relations (now in constant strife over foreign wars and race relations and other forms of "identity" politics over which America is now rife with division), will not be brought to you by the familiar corporate sponsors- it is on the streets, and it's real, not just more, phony information on the boob tube to ingest and pass on for entertainment value. (I'm reading more into GSH's work than the black experience in America because I think that his work can speak to a broader audience, though at its core, it is still about the black experience in America).
Still sounds pretty relevant to me. The piece has become a cultural meme, a talking point in our domestic political dialog. It recently was used in the opening theme for the TV series "Homeland" and would fit nicely into discussions about government stonewalling and fake news, brought to you by familiar faces who are hypocrites.
I don't write about politics here, but the power of this word poem is just as great today—in fact, even more so, because a greater number of people today are skeptical about government, the media and how we are holding together as a society. (At least in the broader reading I'm lending to the work; even read more literally, about Black America, the work is timeless and true).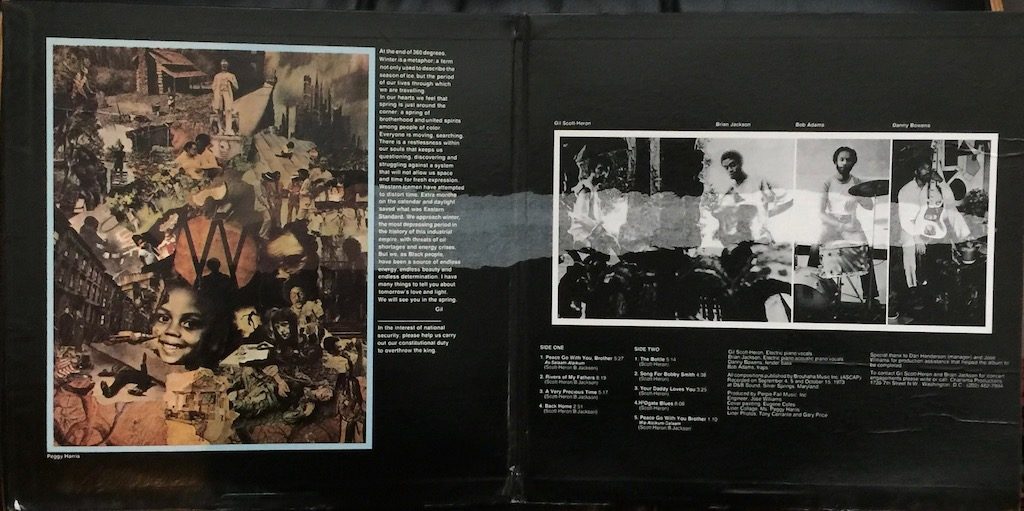 Winter in America, released on Strata-East in 1974, is bleak, cynical and brilliant—GSH is often labeled the "first" rapper- but don't confuse this with modern hip-hop and rap. GSH was a poet and political activist with a sharp wit and a good voice. This album is spare, soulful and haunting; the" H20gate Blues" is a brilliant piece of social commentary that is just as relevant today as it was when it was composed.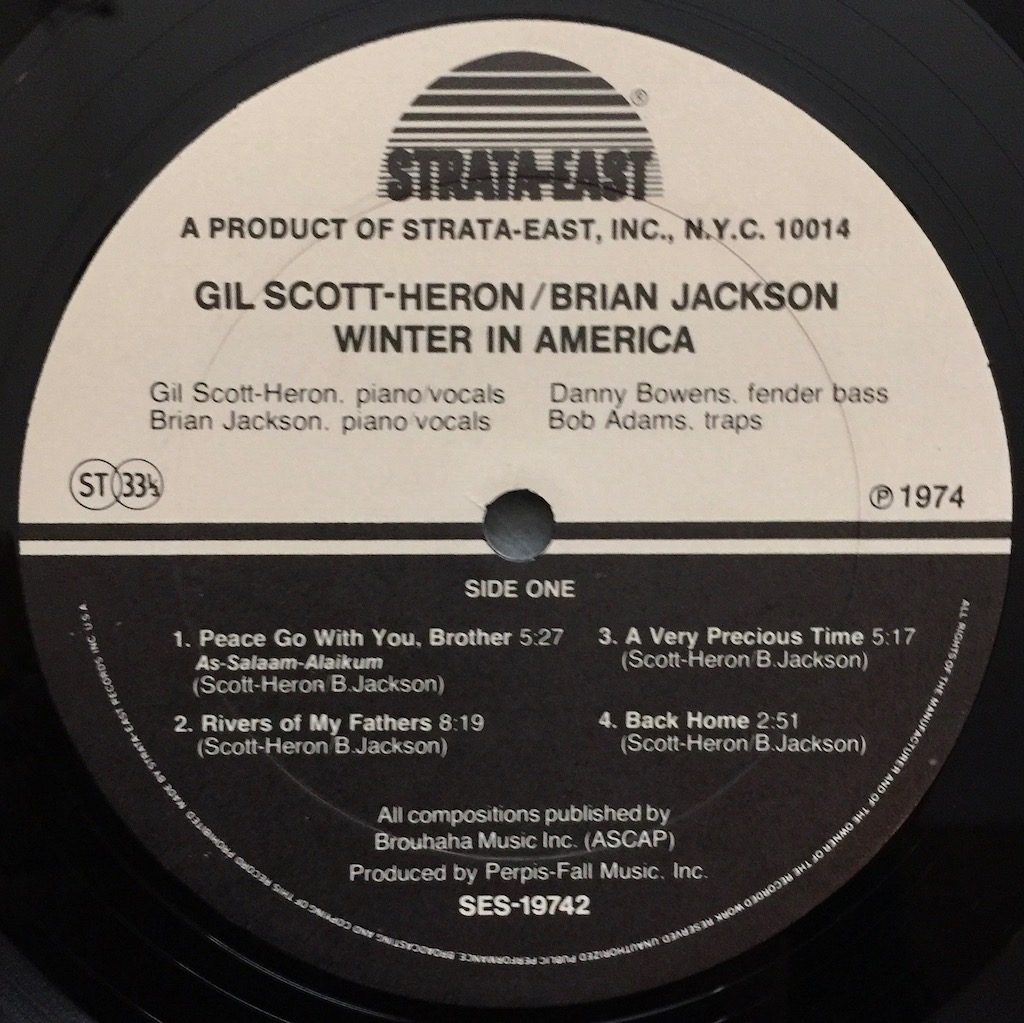 All is not spoken word either: "Peace Go with You, Brother" is like Bill Withers in minor keys, great voice, deliberately slow paced, a lament and a prayer. The changes are great, and it's a slow piece of funk, which is lovely to hear- the arrangement is spare and you get to hear the harmonic overtones of the electric piano parts (played by both GSH and Brian Jackson).
"Rivers of My Fathers" starts with what sounds like a real piano (how different sounding from those electrics), and a rim-shot pulse keeping time—when the vocal comes in, you are already in the groove-man this guy has soul; the vocals are gorgeous and the phrasing and timing are just so "on," in juxtaposition against the instruments. It's clear that Brian Jackson is a hell of a piano player- he alternates between flights of jazz and simple, held notes to create a sense of atmosphere. He's not just playing his part-he's shaping the track. The lyrics speak to a longing- "carry me home" away from the madness of modern life in America, where there is no time for expression, for living and flourishing.[1]
"A Very Precious Time" is a love ballad, all minor/major key shifts, that electric piano filling the background with warm, fuzzy, bell-like strikes and sustain; another virtuoso vocal performance. This is late night music, but it could chill you out on one of those burning hot summer days where tempers flare and the pavement melts on on the streets of New York.
Side one finishes with "Back Home," an upbeat piece of funk – with another wish to 'get back and see my people' but more urgent, and buoyant.  The woodwinds (un-credited on the album) are a nice touch here.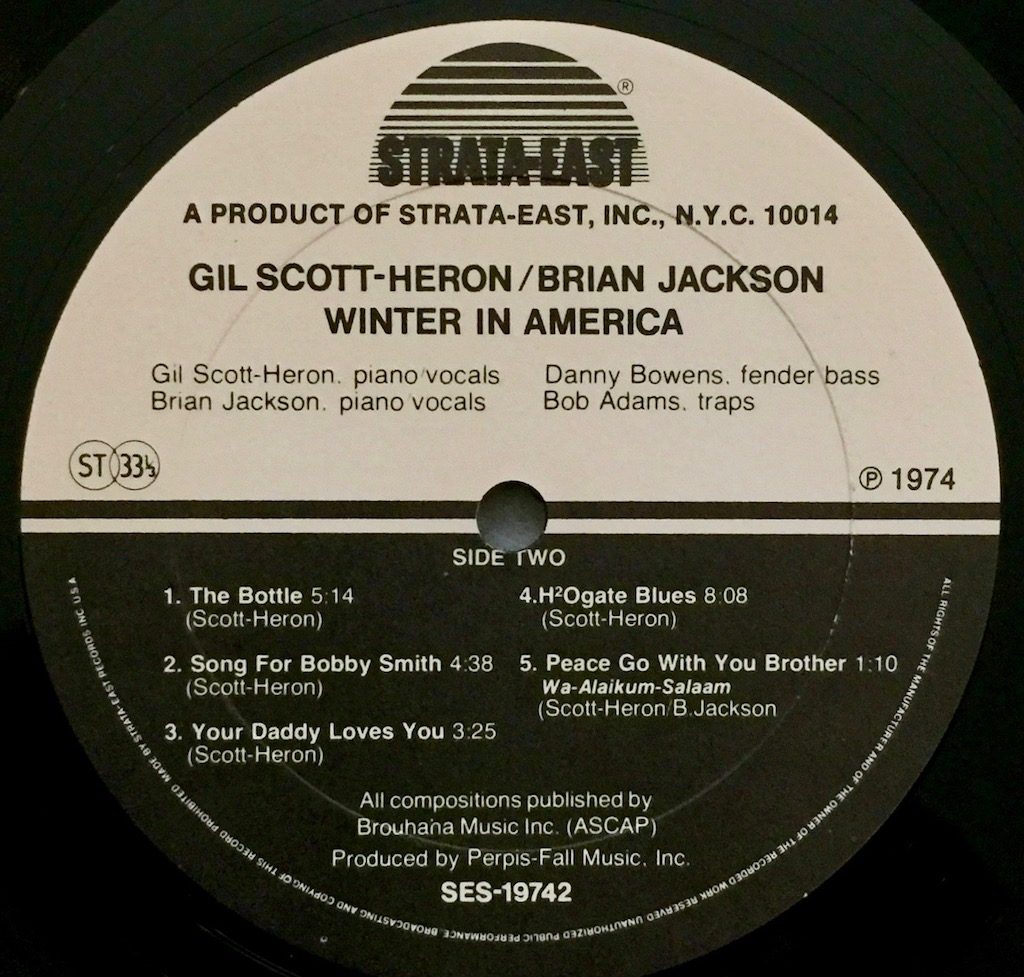 Side two opens with "The Bottle" which charted as a single; very upbeat funk, cool song, takes you back to the period of Curtis and a million miles from the Motown sound and candified soul music. You are on the street, moving fast; the flute keeps pace. This is hot urban funk mixed with cool jazz, and a guy who can sing.
"Song for Bobby Smith" is a song written for a child, about growth and hope and new horizons- soldiers of a new day. This may be one of the most personal songs on this record—what one hopes for the next generation tells of the trials of the current one.
"Your Daddy Loves You" is another song for a child.
"H20gate Blues," is as mentioned, a brilliant piece of street poetry about the morass of modern government and its inability to even see how transparently it lies to protect its own. It's not bitter, but brutal and insightful; it's still fresh today. The interplay in the studio is amusing, as the tape is rolling, starting with "you don't want to be involved in this one."
The side ends with a brief reprise of "Peace Go With You Brother."
In all a stunning, streetwise lament from one who has lived, struggled and despite it all, sees hope in Black America. We were at a transitional point in our history: Vietnam, Watergate, the dismal years of the '70s –we were depressed, economically, socially, spiritually, whether we knew it or not, and here is this clear-headed black man giving voice to it all. It's a timeless piece of music, poetry and art.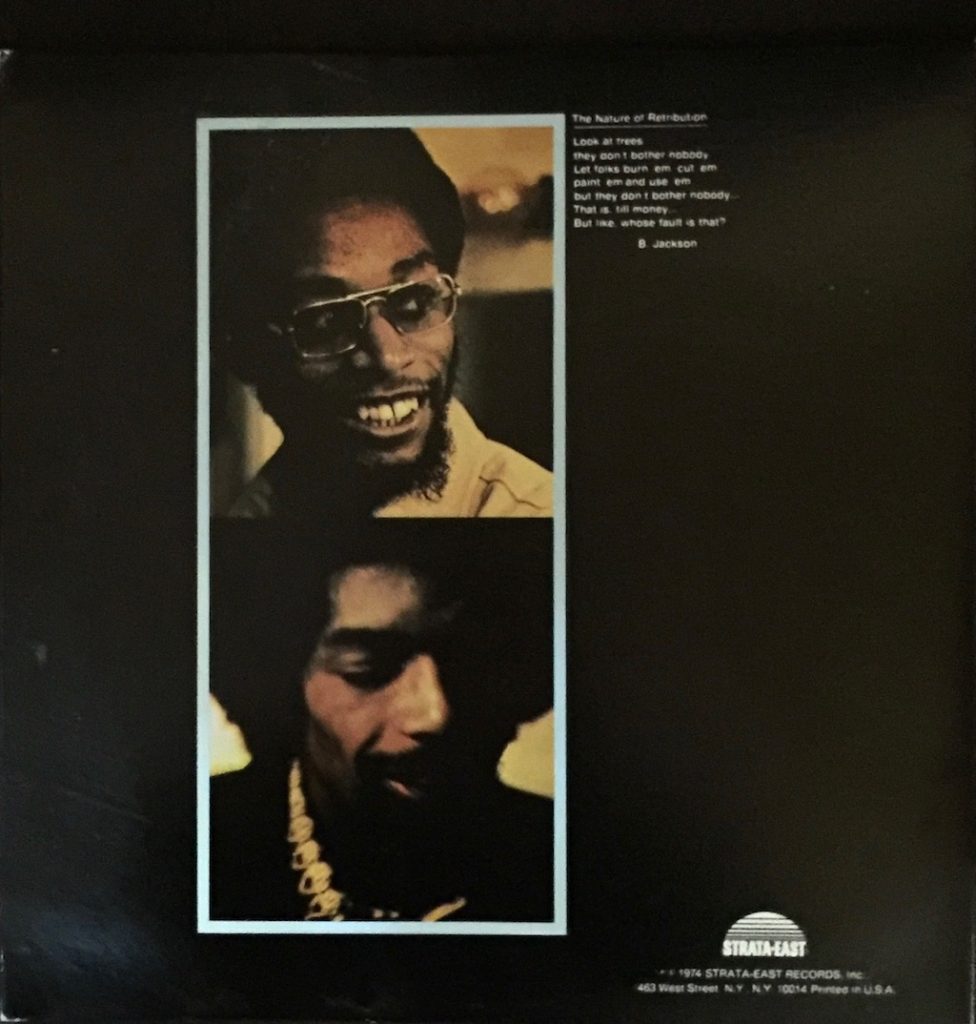 There are two negatives: first, the title track, "Winter in America" does not appear on this album, but on his next, Midnight Band: The First Minute Of A New Day, also with Brian Jackson. (The good news is that album was released on Arista, and is far cheaper to buy than a clean copy of the Strata-East album).
 
The other negative, true of many of the Strata-East records, is price and condition- you can find the record fairly easily, but condition? Right now, I'm holding on to a more expensive, allegedly mint copy that has a couple ticks and one skip; it replaced the copy I mentioned in the recent review of the Pure Pleasure reissues.  That copy of album suffered tracing distortion that I found intolerable.[2]
But if you can find a clean playing copy of this album at a decent price, snatch it up. It may not be the most collectible record in the Strata-East catalog, and therefore not the most expensive, but it still remains one of my favorites.
Heron's first three albums, on the Flying Dutchman label, are now fetching big money as well. We may take a listen to some reissues of those and review The First Minute Of A New Day when time permits. In the meantime, try to find a clean playing copy of Winter in America. Gil Scott-Heron was speaking to, and for, all of us.
Bill Hart
Austin, TX.
Nov. 30, 2017.
______________________________________________________________________
[1] See liner notes to Winter in America by GSH.
[2] I don't enjoy returning records, and the process of finding clean originals these days is time consuming and costly; I don't like buying sealed records for obvious reasons, apart from the premium they fetch; the tight American shrink wrap, if fully intact, put the records of the era (which were typically on thinner vinyl) under stress and there's a good chance the record could be warped some thirty or forty years later.  I've gotten lucky sometimes, and have the facilities to flatten LPs, but prefer a record that has been opened play-graded as a clean player. However, even play grading is an uncertain process.