AIR-AIR Revisited: Comparison of Be With Records Vinyl Reissue to Original Embryo Pressing; Interview with Tom Coppola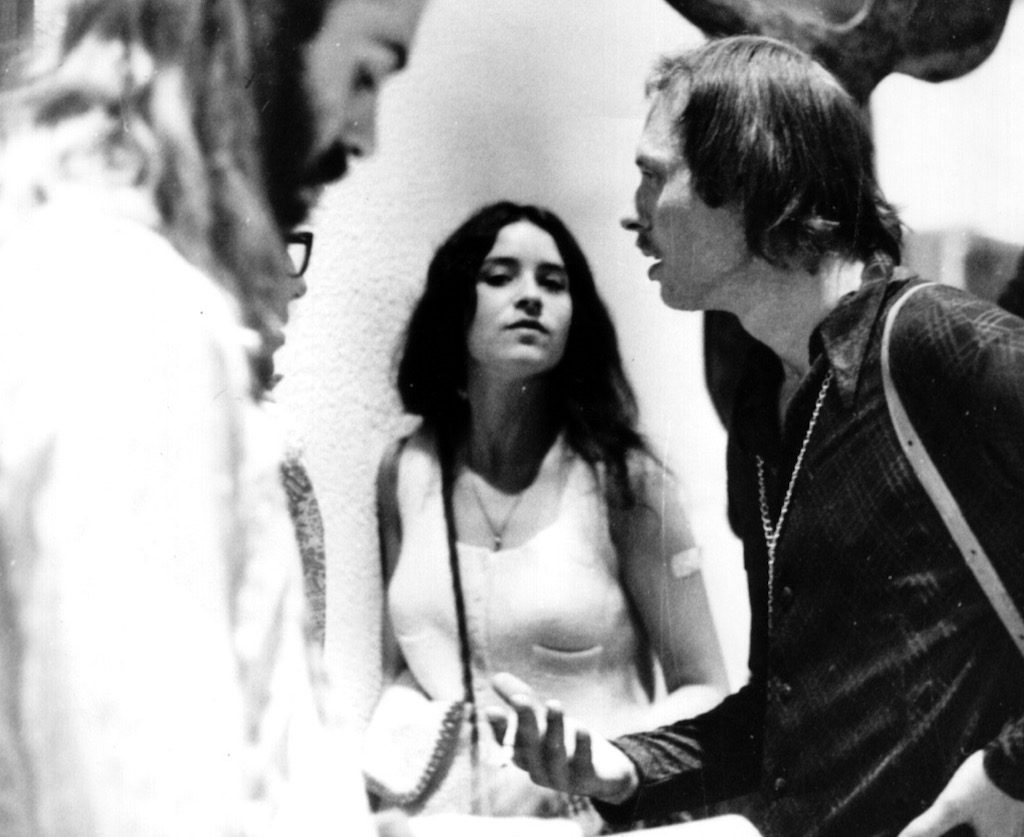 Tom Coppola, Googie Coppola and Dave Johnson (photo by Fred Ahlert, courtesy Tom Coppola)
When I reviewed the 2016 Be With Records reissue of AIR on vinyl, I promised to compare it to an original pressing; I thought the reissue was quite good, even though derived from a digital transfer. The original, on the Embryo label, although not exactly rare, does command a price these days.
I borrowed a copy of the original for this comparison.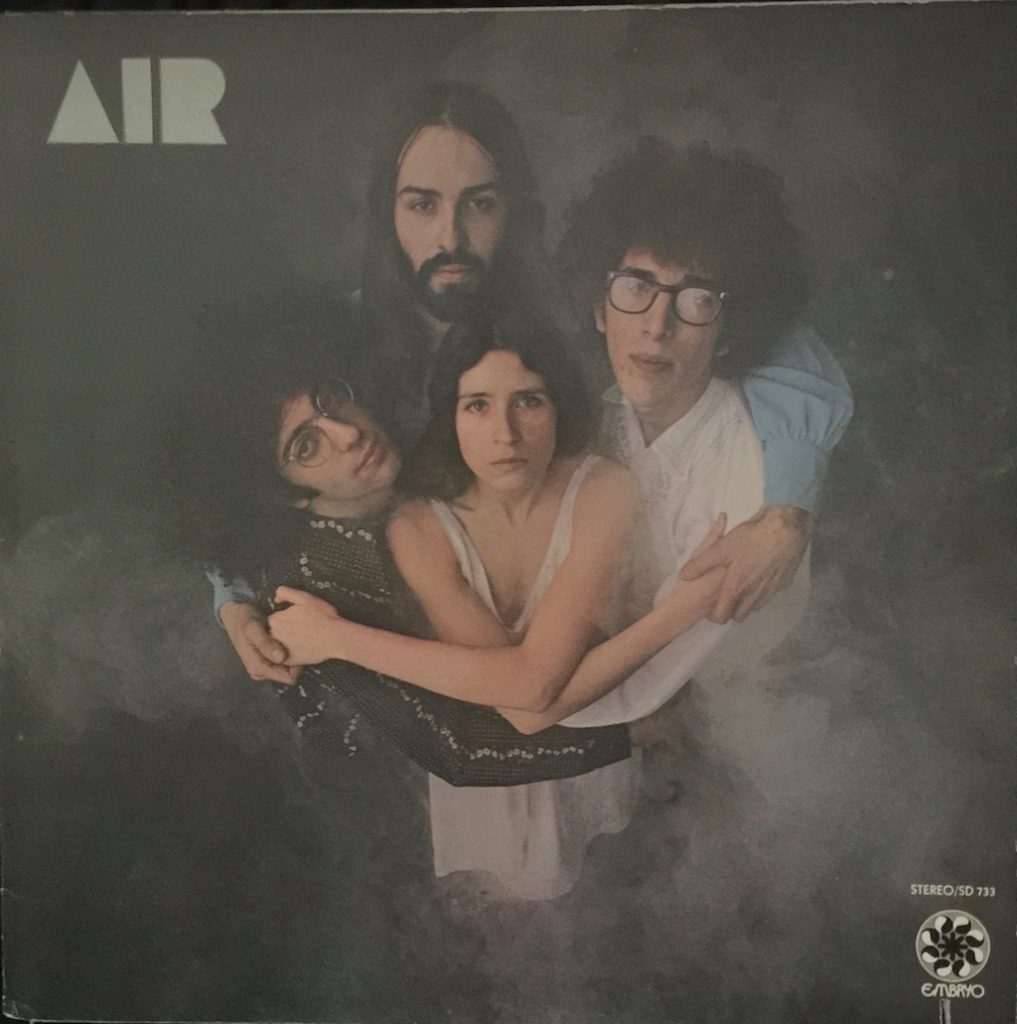 I took my time listening to both copies, over the course of a couple days, because the records are surprisingly close in sound on my system. At least the differences were not immediately apparent as they are in many such comparisons from the moment the needle drops. Here, the sound is consistent, track-to-track and overall, this is a great sounding record. There were times when I thought the reissue was better and times where the original sounded a little more 'real.' Part of it may have to do with source, as well as more modern cutting—there is more "dead wax" on the reissue—the reissue also sounds a little hotter but that doesn't show up on a simple db meter as significant.
Musically, this album is hard to typecast as it mixes all sorts of influences, and the band is top tier-–– both Brecker Bros on horns, Bob Rosengarden on vibes, Mark Rosengarden on drums with additional percussion from Dave Johnson, Ian Hammer and Herbie Mann.
Tom (Coppola, whose interview is included with this piece, below) tells me,
Googie experimented with time signatures (a typically fusion thing) on several AIR tunes. "Jail Cell" is completely in 5/4. "Realize" is in 3/4 and 4/4. "In Our Time" is in 4/4, 6/8. and 7/4. "Martin" alternates between 6/8 and 4/4.
What follows are my unvarnished listening notes, cleaned up for readability.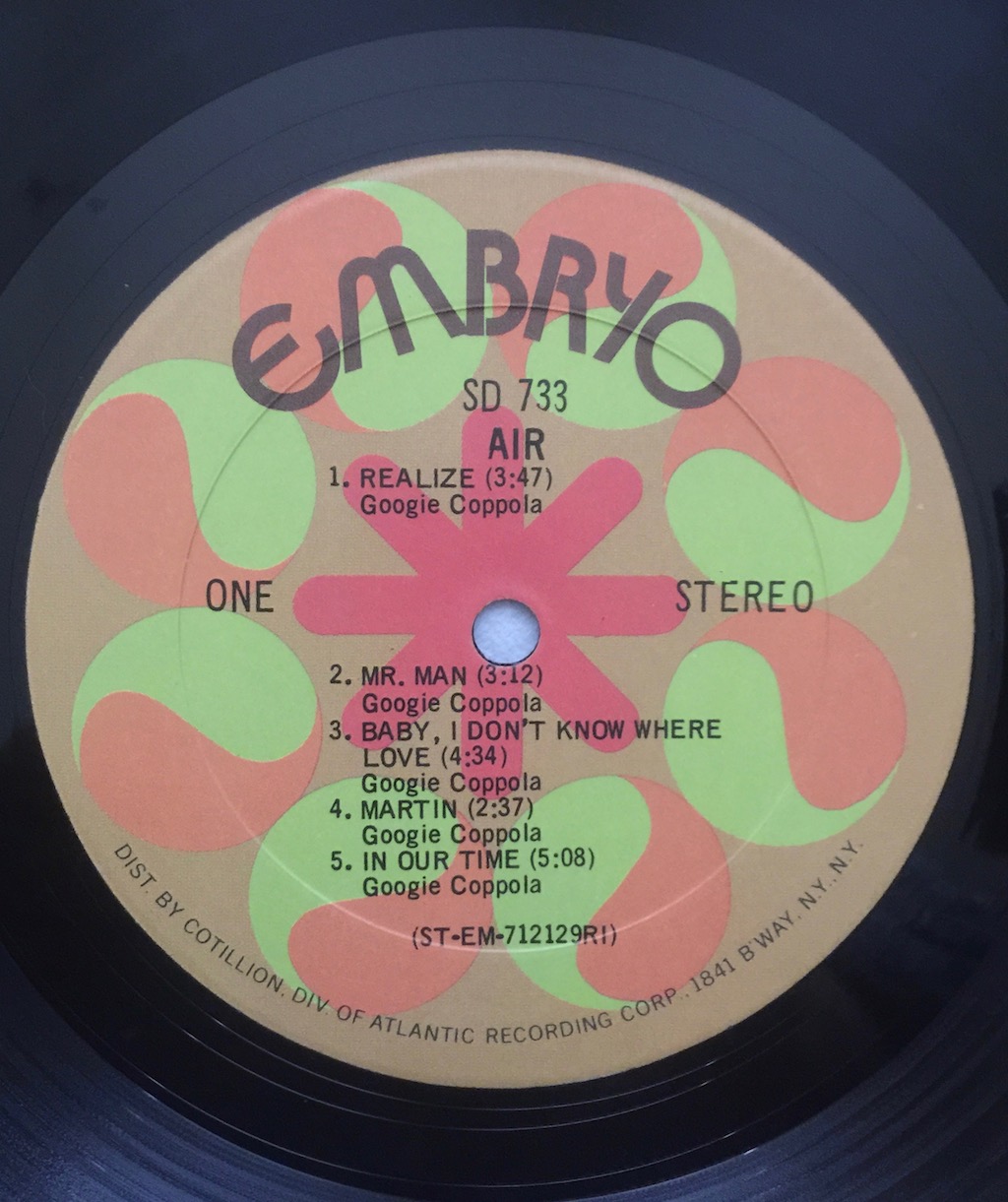 Side One
Realize—An up-tempo love ballad; the purity and range of Googie's voice is startling the first time you hear her.
Mr. Man–––Darker, minor key, horns sound very right—Bass on the reissue is better; slightly less organic sound to the voice; horn sounds on the reissue are very good, but subtle cues on original make the horns sound more real to my ears. According to Tom, the title is not a reference to Herbie Man(n), but to a homeless guy who hung out in a doorway next to the Bitter End. Googie identified with the guy and talked to him for a while—"he was down and so was I, but we were both fine."
Baby, I Don't Know Where Love––– Jazz-fusion highlighting Googie's instinctive ability to lead, drift and flow with the music in a style that reminds of the Brazilian jazz sound. Percussion is stunning.
Martin— Bass is really nice here, blues inflections in Googie's voice—she reaches for notes and easily grabs them. Googie plays organ here. According to Tom, the tune is "through-composed," that is, it never repeats any section as it winds to its inevitable conclusion. Dedicated to Dr. Martin Luther King.
In Our Time-Beautiful melody, slow ballad, minor key; guitar work more prominent on this track; great keyboard work by Tom, evolves into 6/8 and 7/8 jazz.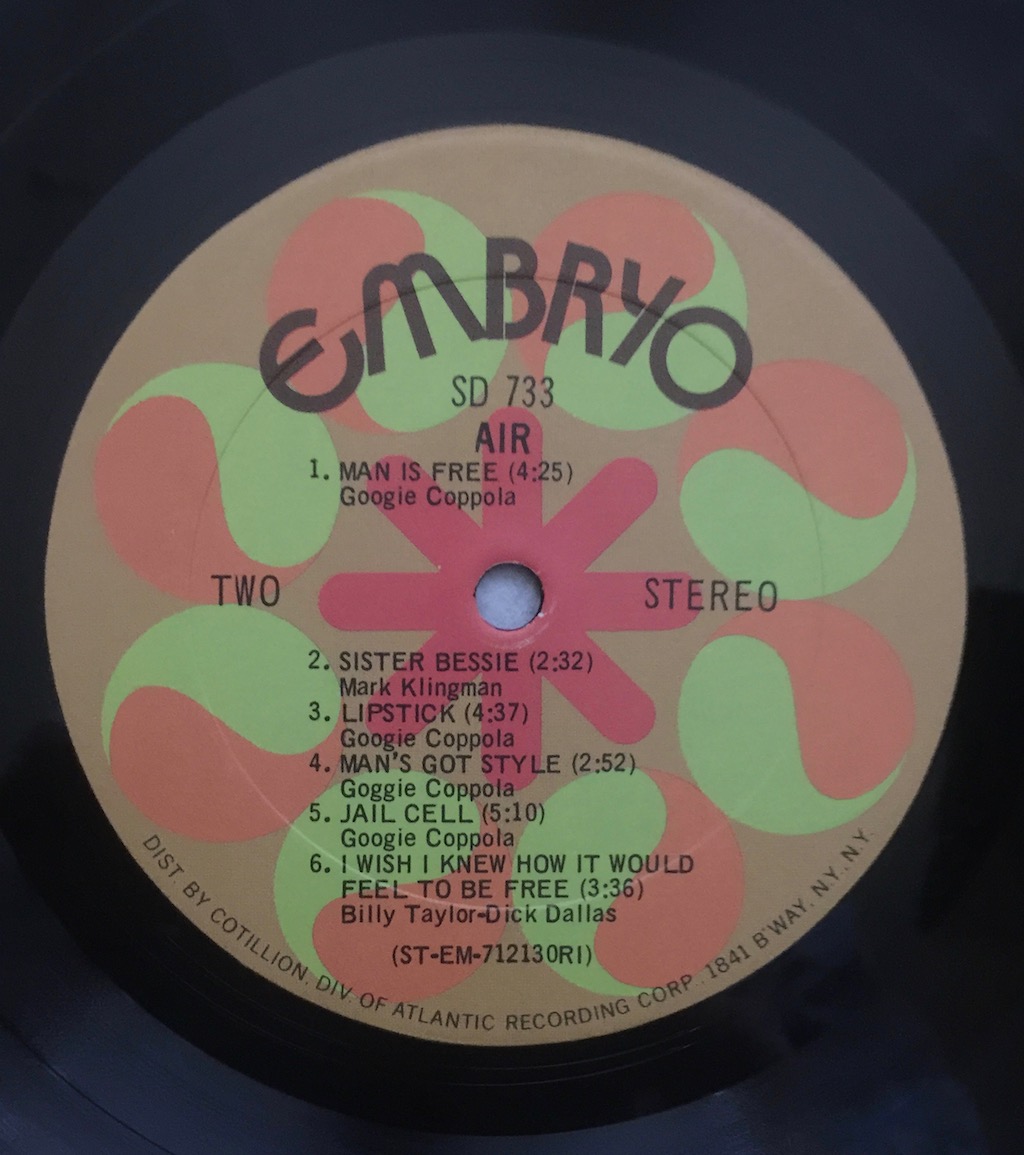 Side Two
Man is Free- The band drives this track—Googie in the middle a jazzy funk with Latin influences. This track really showcases just how good the musicians are. The bass, at least on my system, is more pronounced on the reissue and I think I prefer the reissue overall on this track.
Sister Bessie –––A blues set against funk/jazz sound with a strong pulse that makes you breathless- the piano parts are gorgeous as are the horns. I thought the reissue packed more punch but switching back to the original it was there too. Like I said, these records are close in sound.
Lipstick–––– Instrumental, horn work is fabulous, veers into avant-garde, slick organ work by Tom; the horns on the reissue have the honk and bite of real life. Googie wrote it for Michael Brecker to experiment on soprano sax.
Man's Got Style–––– more brash, wailing vocals and a bigger band sound—the original pressing is more organic but also sounds a little brighter on the vocal crescendos, not to the point of stridency, however.
Jail Cell––– Soulful stuff, bluesy, piano accompaniment; then the band and chorus pop in with "set me free", love the descending bass line and kick drum; cool organ solo.
I Wish I Knew How it Would Feel To Be Free–––
Gospel feel, with blues; Googie is playing what sounds like a slightly out of tune upright piano; this has an old time feel. Tom tells me this was actually a home recording that they used because the performance was not going to be duplicated and in Tom's words, "captured something indefinable."
Conclusions re Comparison of Pressings
The sonics are close enough between these copies that I'd say it is a toss up. There are certain things I noted above where I preferred one or the other copies, but we are in the weeds here–––
Given issues of cost and condition, I'd say the reissue from Be With is a winner. That still won't stop me from buying the original pressing if I happen to run across a clean one for not crazy money.

Interview with Tom Coppola- Googie and Lost Genius
In writing these pages, I listen to a lot of obscure recordings by artists who never achieved widespread fame. Some enjoy a "cult" following and occasionally, their star rises in the public eye long after they have recorded. I'm not quite sure where I'd put Googie Coppola along a spectrum- her talent was boundless, her voice a marvel and her recorded output gives us a glimpse of her musical genius that make listening to her today a treat. But Googie remains far under the radar for most listeners, undeservedly so in my estimation, given her undeniable gifts as both a songwriter and performer—a voice that is uplifting and soulful with great range and power, sweeping above the beat, hitting the minor inflections and soaring with no apparent limit. It's jazzy, but not contrived and full of soul without sounding derivative. It is an unmistakable voice once you've heard her, which makes her relative obscurity all the more surprising.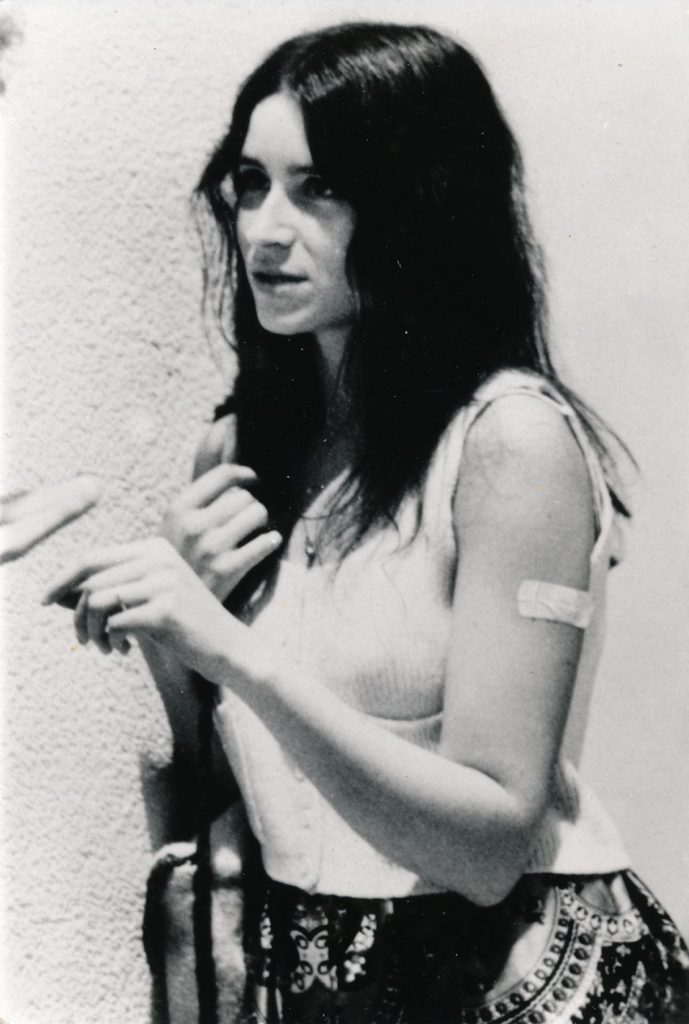 Googie at Tel Aviv Hilton, on State Department Tour (photo by Fred Ahlert, courtesy Tom Coppola)
I was so taken with Googie's voice and songwriting that I sought out more; thankfully, her husband, Tom Coppola, a longtime keyboard artist and arranger from New York, came to the rescue.
Tom was student at Manhattan College in '60s, interested in R&B, latin and jazz sounds when he heard 16-year-old Googie, working in concert with a folk-rock group at the school. One of their accomplished guitarists, Mike Phillips, formed a group with Tom and Googie. They got a single deal with Scepter Records, recording Bob Dylan's "North Country Fair," and Lieber and Stoller's, "Subway":
I would have probably stayed in the jazz scene, but Googie had a different vision. We had answered an ad in New York's Village Voice, by a songwriter named Moogy Klingman. He introduced Googie to bassist, John Siegler (who later toured with Todd Rundgren's, Utopia) and drummer, Mark Rosengarden. We rehearsed for most of the next year at Mark's rehearsal space in Great Neck, Long Island, playing Googie's compositions. After a gig at NY's The Village Gate, Flutist, Herbie Mann, heard us and wanted to record us. We asked him if we could be his backup band and he agreed. By the time the self-titled AIR record was recorded, Googie and I had married and had a child. The band broke up shortly after the record was released, but Googie and I got pulled back a few times by Herbie to perform, notably at the Montreux Jazz Festival with the Atlantic All-Stars.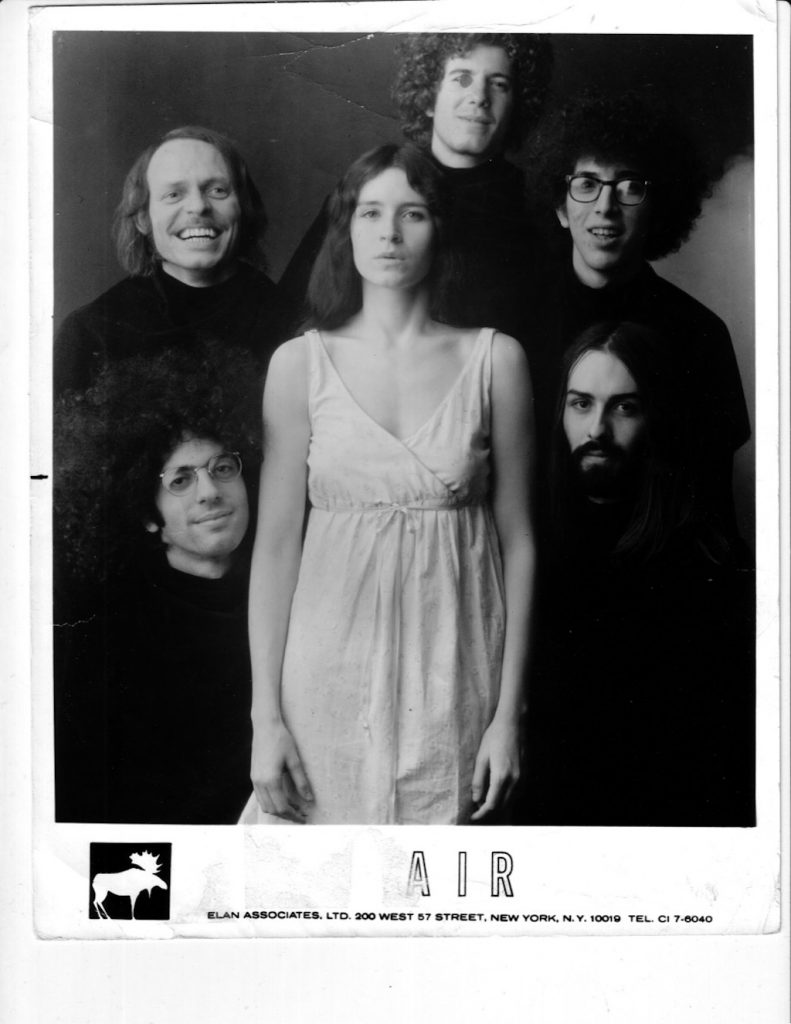 Dave Johnson, perc.; Mark Rosengarden, d.; Googie vocalist and writer; Robbie Kogel, g; John Siegler, b., Tom Coppola, piano
The AIR record is usually regarded as a one and done, the high point for these artists whose work is usually recognized by this album, if at all. Googie had a religious conversion at this time, as Tom explains:
Googie's spiritual searches brought her to a Christian commune in Chicago. Before long, I had enough of waiting for her to come back to NY. I found her playing guitar for coins on Diversey. I was able to convince her to come back to NY where we made the demos which got us the CBS contract.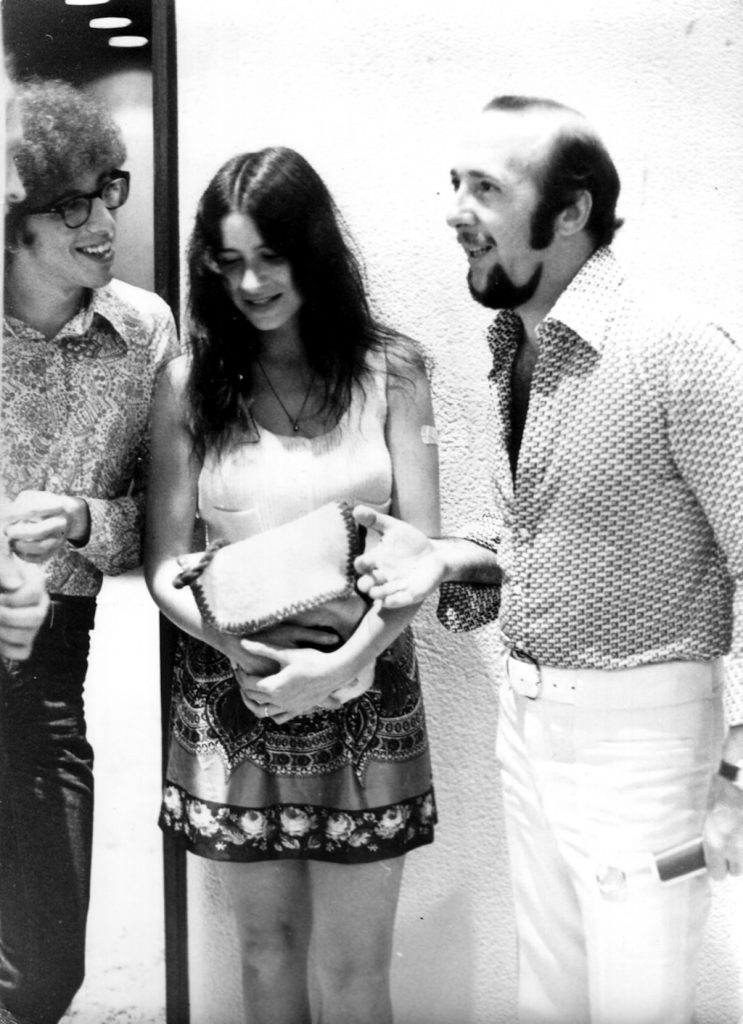 Googie with Herbie and John Siegler (photo by Fred Ahlert, courtesy Tom Coppola)
Googie and Tom after AIR
They were signed to Columbia in 1977, which led to the Shine the Light of Love LP, released in 1980. It was overproduced; heavy-handed arrangements got in the way of the unrestrained beauty and delicacy of Googie's voice. The single, "Joyous Flame," was in the top 10 on Detroit's WJLB for three months in 1980.
During that time, Googie worked as a back up singer with Roberta Flack and Luther Vandross, recording with Jeremy Steig on the album Firefly (CTI), Lenny White, Attitude, and Best Of Friends (under the name Carol Brooks) and on Dave Matthews' cover of "Space Oddity" from the CTI album Dune.
After the release of Shine the Light Of Love, they produced two more AIR albums, In Need of You and Can't Let Go in the mid '80s; both albums are available on Amazon and CD Baby. The style moved away from the heavy production of Shine the Light Of Love, and turned to more spare arrangements.
Tom had the good sense on In Need of You to let Googie's voice carry the tunes with a lighter hand on the instrumentation—delicious keyboard work by Googie and Tom, with all kinds of influences percolating below the surface—latin, jazz-fusion and gospel overtones. In Need of You might be categorized as gospel/jazz. The track "Signs of Love," from Can't Let Go, is more jazz-fusion; Googie sails through it with the wind behind her, never veering off course. That album moved into more rock/pop territory, a la Heart: But listen to the track "Something Deeper." It takes what passes for neo-soul today and wipes the floor with it—no autotune, voice fully illuminated and a good beat. A testament to Googie's faith.
Although both In Need of You and Can't Let Go bear some traces of the period, they are not confections and do not have the drum and synth sounds so characteristic of the era that often date such pop records.
Both albums deserve a reissue on vinyl.
AIR Reissued
Tom worked as an arranger for Saturday Night Live, from 1984-1990 producing the "pre-recordings," and playing in the Broadway show, Dreamgirls. He played keyboards on Paul Simon's Hearts and Bones, which went gold and on Chic's self-titled album, which garnered a platinum award. He earned a Masters in Jazz Studies and Film Scoring at the University of Southern California in 1994.
Shortly before Googie passed away in 2008, the AIR album was reissued for the first time in more than 35 years (on CD) by DbK Works: "She was completely surprised, astonished that audiences were there for her." The Be With pressing of AIR on LP issued in 2016.
After more than 15 years teaching music at the University of North Carolina, Tom returned to New York in 2013. He's still playing, but when we talk, it's usually about Googie, despite his own considerable track record as a performer, recording artist and arranger. He plans another release, including some remixes of material with Googie singing background vocals.
Θ
Googie was an amazing talent, a gifted songwriter with a voice like no other I've heard. The AIR album will probably be a "must have" once you've heard it. We can find her work on other recordings, including those Tom produced in the '80s. Here's hoping for a well assembled, well-mastered set of everything—a sort of completist's set that may make it easier to hear her body of work in one place. She deserves no less.
Bill Hart
Austin, TX
December, 2018
_______________________________________
Thanks to Tom Coppola for sharing his memories of Googie, some great photos and his insight into the history of their work together. Tom's website is: tomcoppolajazz.com