Good Things Come in Big Packages- Sammy Miller and the Congregation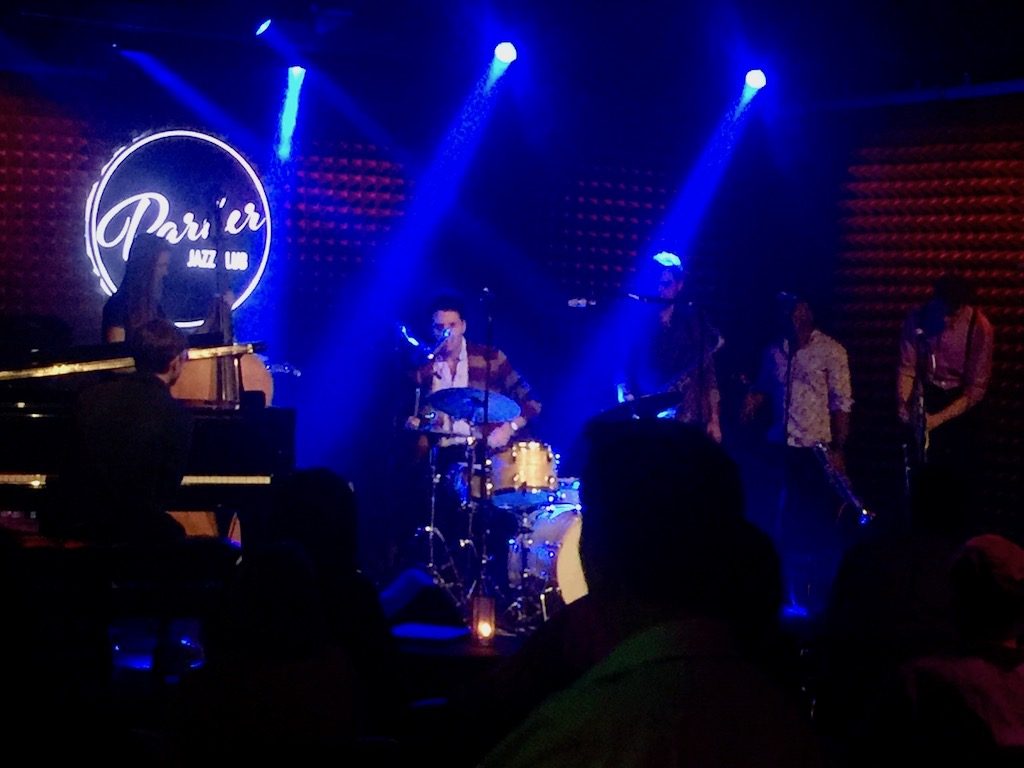 Big band style jazz probably reached its peak in popularity before WWII.[1]Sammy Miller and the Congregation aim to bring it back, with a few surprises, a laugh and an impressive, tuneful display of musicianship. If Sammy & Company prove anything, it's that what we think of as "big band" music is an archetype and does not represent the music itself: vibrant, full of soul, life, blues and joy, with lots of space between the different instruments, offering an interplay of sounds that are immensely satisfying.
I used to catch myself sitting in Broadway shows in New York back in the day (my wife worked for a number of noted producers on Broadway), hearing all those seasoned players in the pit, just wishing they could let go and rock, rather than stick to the often schmaltzy "show tune" music to which they were committed—it all seemed too predictable, no matter how well it was played. Sammy Miller and the Congregation is what happens when seasoned musicians, on horns, bass, piano and drums really let go.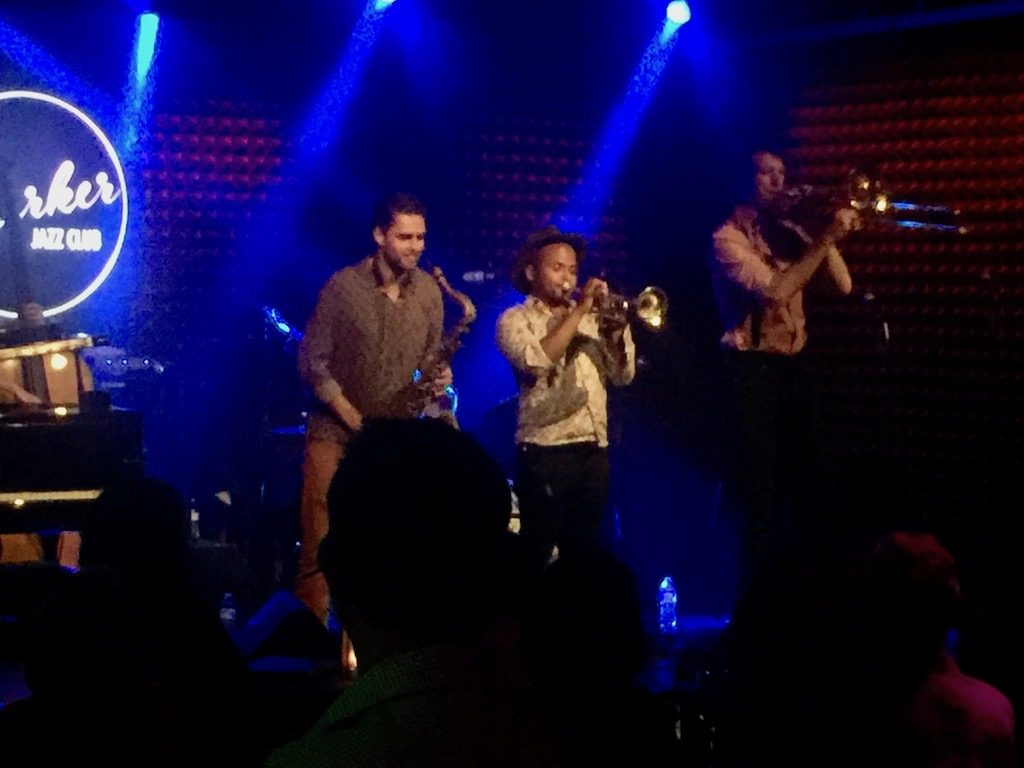 When was the last time you heard a blues solo on a trombone? Or a trumpet player who could swing from melodious to avant-garde and back in a few bars, with a tenor sax that just tears your heart out? The horn section of Sammy's band just kills, individually and collectively. Each of these horn players is so damn good, they could be a featured artist fronting their own band(s). Together, and as soloists, they make this band shine. Sammy is front and center on the drums and doubles as MC; he has pyrotechnic skills, but doesn't overwhelm, opting to act as bandleader rather than the main attraction. The grand piano work is absolutely elegant, played with classical flair rather than honky-tonk chops and Aussie Anna Butterss, in her second performance with the band, delivered on double bass to the rousing approval of the audience.
This is a band that can not only play their asses off, but makes you smile, dance and unconsciously nod to the rhythms at the same time your brain is saying "Wow- that's what I really wanted to hear all these years!" No wandering solos, boring horn sections playing in unison by rote or obligatory drum and bass parts. What makes this band cook is rare: playing the unexpected in a way that takes you back to what the original sound and shape of the instruments can be—deep, full of soul and warmth and no small amount of humor. Sammy shared his thoughts on this:
There's something strange about the jazz scene; on the one hand, it's very "serious" but I was struck by how casually the arrangements were put together.  There also doesn't seem to be much regard for entertaining people—that's what we do. When you think about it, that's what we are supposed to do.  In this band, we do take what we do seriously, but want to communicate the joy of the music.
Despite their youth, Sammy and his band are veterans; they've played, individually, with such big names as Wynton Marsalis, Lady Gaga and Queen Latifah, at venues like The White House, Lincoln Center and the Hollywood Bowl. Those are serious credentials in anyone's book.
But hearing them together in this band is a revelation.  There's a lot of stage business this band pulls off that adds to the drama of the music, well-conceived and executed; the pianist, David Linard, taking a break to shake hands with the audience during the first number only to be summoned back to the stage to jump back in with no time to spare. The band even does opera! (If you could imagine a combination of Duke Ellington and Monty Python).
We caught Sammy Miller and the Congregation at a relatively new jazz club in the warehouse district of downtown Austin: the Parker Jazz Club, which opened earlier this year, and is fronted by Grammy winner Kris Kimura, a fixture of the Austin jazz scene. (Nice club, we'll be going back there too—clean, modern physical plant and kind, warm staff).
Sammy has been signed by my friends at Ramseur; expect something on record in 2019. In the meantime, go out of your way to find this band at a club near you. Your soul will thank you.
Sammy Miller and the Congregation: http://www.sammymillercongregation.com
The Parker Jazz Club: https://www.parkerjazzclub.com  
Bill Hart
Austin, TX.
September, 2018
_______________________________________________________________________________
[1]The reasons are various: a shift in taste, including to vocalists; the AF of M strike which put union instrumentalists out of work; changes in the style of jazz that made it less danceable, along with a shift toward rock and roll in the early to mid '50s. Jazz became more cerebral and less mainstream.  Overhead and production costs were a constant factor in live performances and touring as well.