Muriel Grossmann- Reverence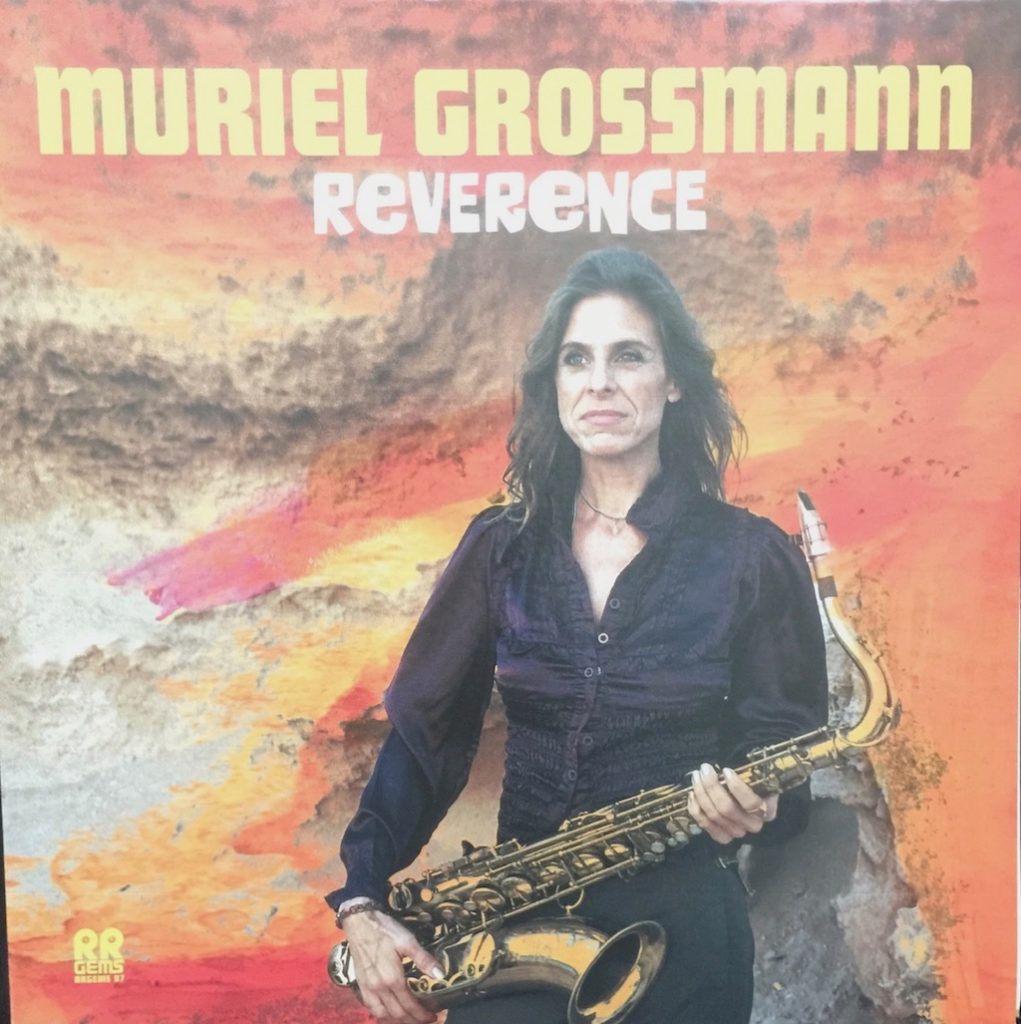 Muriel Grossmann continues her quest for musical ascension on Reverence, which was released on vinyl in early December, 2019 on the RR Gems label as a 2 LP set. The compositions are Grossmann's, and the band is much the same as the group of seasoned musicians with whom she has worked for some time (and detailed in the review of her Golden Rule), but for one notable exception: the addition of a keyboard player who brings that rich, woody Hammond B-3 sound to a series of compositions devoted to Africa.
In some ways, Ms. Grossmann's exploration of the roots of jazz deliberately eschews any superficial attempt to make African music. Instead, she draws inspiration from its influences, which are wide ranging and deep—you can hear rhythm and blues sounds mixed with more traditional African instrumentation and polyrhythms and come away with something that is both highly melodic and unique. I don't usually associate the sound of a B-3 with Africa, but it puts the instrument—and Grossmann's overall sound on this album—into a different context. The result is somewhat extraordinary. In correspondence, Ms. Grossmann told me:
Reverence presents a step forward. It expands the ideas, that we have been working on, on Natural Time, Momentum and Golden Rule. This time it highlights African influence as an important component of spiritual jazz. I made a few compositions with that in mind on my previous records, like African Dance from the record Natural Time, but never a full record that would deal with that matter extensively. The band responded very good, finding the balance and staying true to the sound, we had achieved on our previous works.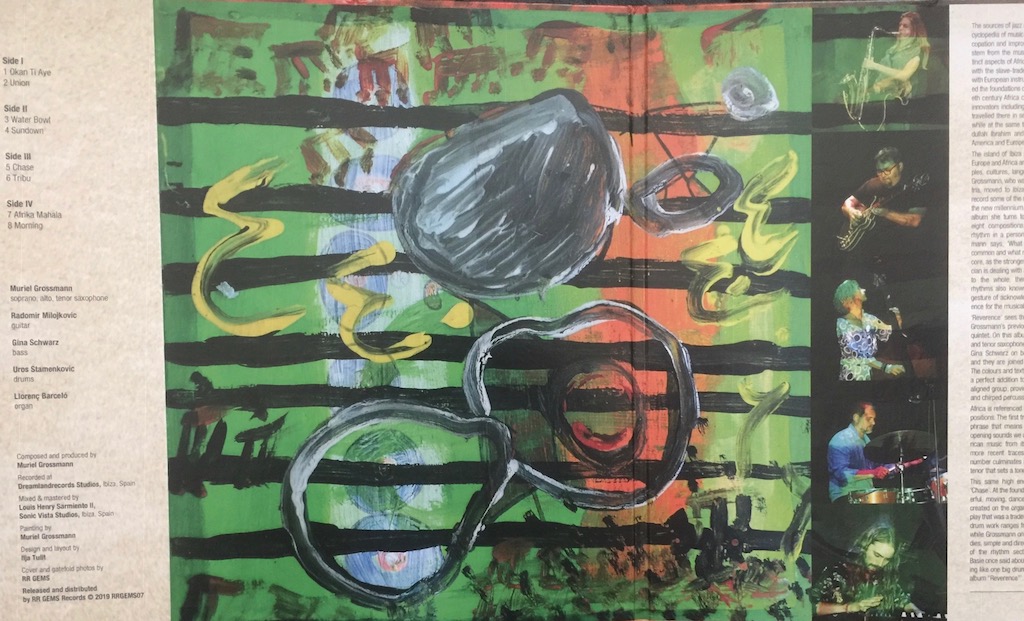 Although I am not going to do a comprehensive track by track review of the album, this should give the reader a good sense of what to expect:
The album opens with complex, exotic percussion parts that lead to some unexpected jazz excursions on horn and guitar; the composition eventually frames itself as a small combo, tight and very fluid against some marvelous, more traditional percussion work.
A track calling on the bass with a harp-like instrument and cymbal taps leads to a soprano sax motif, with a strong Eastern vibe, but the bass keeps bumping us to drive the movement forward. Here the organ fills, though subtle, give the music an entirely different feel.  I asked Muriel about this and she was kind enough to respond:
Radomir and I have since long time thought about including an instrument with keys to our group. Hammond B3 always blends so good with sax and guitar. Personally, I always loved that combination and the records that feature that sound. In my other project, Soul Jazz Explosion, Llorenç Barcelo plays the Organ. So, he came as a perfect choice. He is a musician that has always been around, so we tried my music with him and that led to introduce him to the band. We had really nice tour together and we decided that he would be a great addition to the band. I am very happy that Llorenç plays with us now, with him the whole sound was expanding. The results of that can be heard on my latest record Reverence. We also recorded some further material that will hopefully be released in a very near future.
The organ is even more prominent on "Water Bowl," the first track on side II—and sets a great background for the horn play because it has a weight of its own that is pretty much unmatched by most other instruments. I suspect that Ms. Grossmann's playing style underwent some changes working with the organ as a result. One of the more contemplative tracks, "Sundown," gives the listener the opportunity to hear everything slowed down in time, relishing the tonality of the horn against a lush background of stringed, struck and plucked instruments.
"Chase" has a darker underpinning and the opening leads to a guitar riff that sets pace for the horn; the figures the horn plays are addictive and lead to some natural improvisation.
The plucked upper register bass string at the beginning of "Tribu" is absolutely cool, as is the descent to the lower registers and the double stops. Gina Schwarz is a star on this one. One of the coolest bass intros I've ever heard and a great segue to the rest of the track.
The last side starts with a track, "Afrika Mahala," which does depend on some traditional instrumentation but the vibe is really modern jazz, not some simulacrum of Africanized music.
The album concludes with "Morning" which similarly depends on a number of traditional African instruments, including a hollow struck melodic instrument that I suspect is the balafone (a sort of xylophone made of gourds). This leads to a deeply explorative excursion on the sax; Muriel's band really knows where she is going here, so this is not only easy to follow but very palatable on the ears.
In all, a fascinating combination of sounds, with an obvious progression by Ms. Grossmann in developing her sense of direction as well as her influences. Sonically, the album is great and the surfaces were quiet and flawless.
I understand that Reverence is practically sold out on vinyl but can still be found at: https://www.rappcats.com/shop/muriel-grossman-reverence/
As well as at Bandcamp:
https://murielgrossmann.bandcamp.com/album/reverence
Apparently, Golden Rule (her previous album) is being reissued by RR Gems, and two earlier albums, never released on vinyl, have been compiled for LP release under the title Elevation, with a street date of May 15, 2020. https://www.jazzmanrecords.co.uk/muriel-grossmann-elevation
Sounds like a lot is going on for Muriel Grossmann and we wish her the best.
Bill Hart
Austin, TX
May, 2020