Peter Green: A Love That Burns- Definitive Reference Guide by Richard Orlando (3 volumes, Smiling Corgi Press 2017).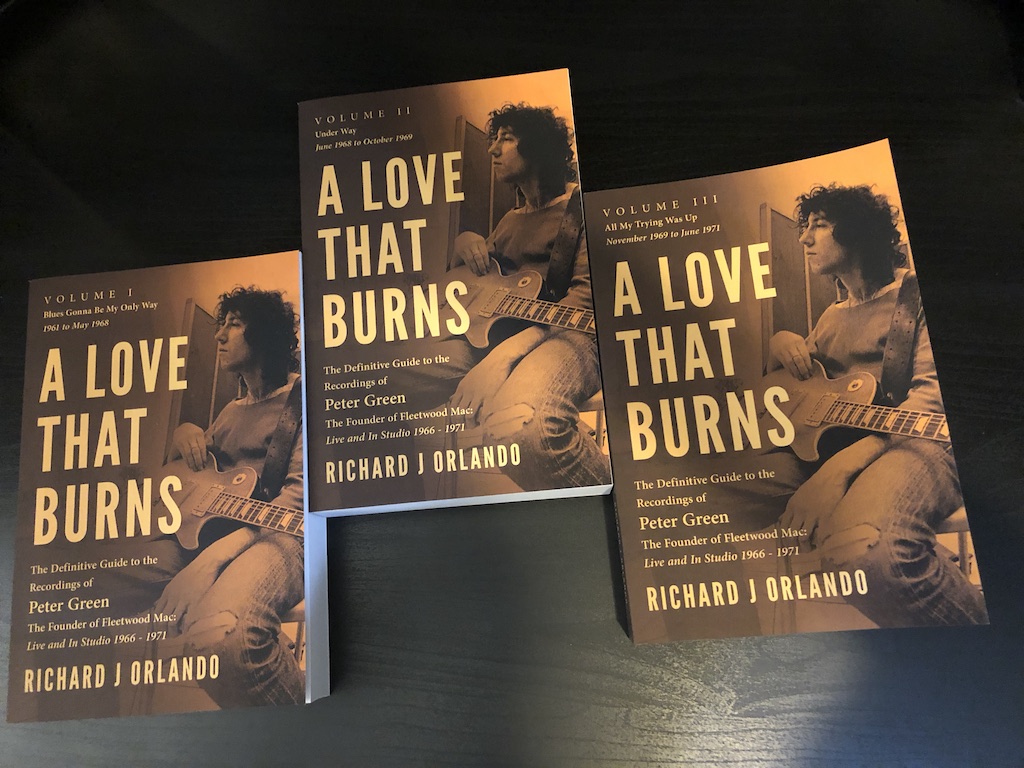 To call this exhaustive study of Peter Green's performances an ambitious undertaking would be damning by faint praise: over 1,900 pages, cataloging and commenting on the history and attributes of 1,000 recorded performances by the legendary guitarist Peter Green spread among three volumes. These volumes took author Richard Orlando more than 15 years to assemble.
Green is a relatively modern artist who composed and performed within our lifetimes—and within a fairly narrow window of time. However, detailed information about the body of his work is not nearly as widespread or accessible as it is for many other artists of lesser significance. Orlando was forced to do the sort of music archeology often reserved for the early blues players, unearthing forgotten history even if it was not that long past.
The level of detail on track history and the sheer scope of Orlando's opus are staggering. But even more surprising –his prose is readable and engaging. Most reference books are just that—dry collections of data or factoids with no real narrative quality. Contrast that with the following passage:
At the same time, he must have found full vindication of his belief in his own abilities at the thought that it was Mayall who now came to him.
How else to explain that someone with a professional career consisting of one failed single and six-months of club work, believed he was now ready to step into "God's" shoes.
A Love That Burns, Vol. 1, p. 53.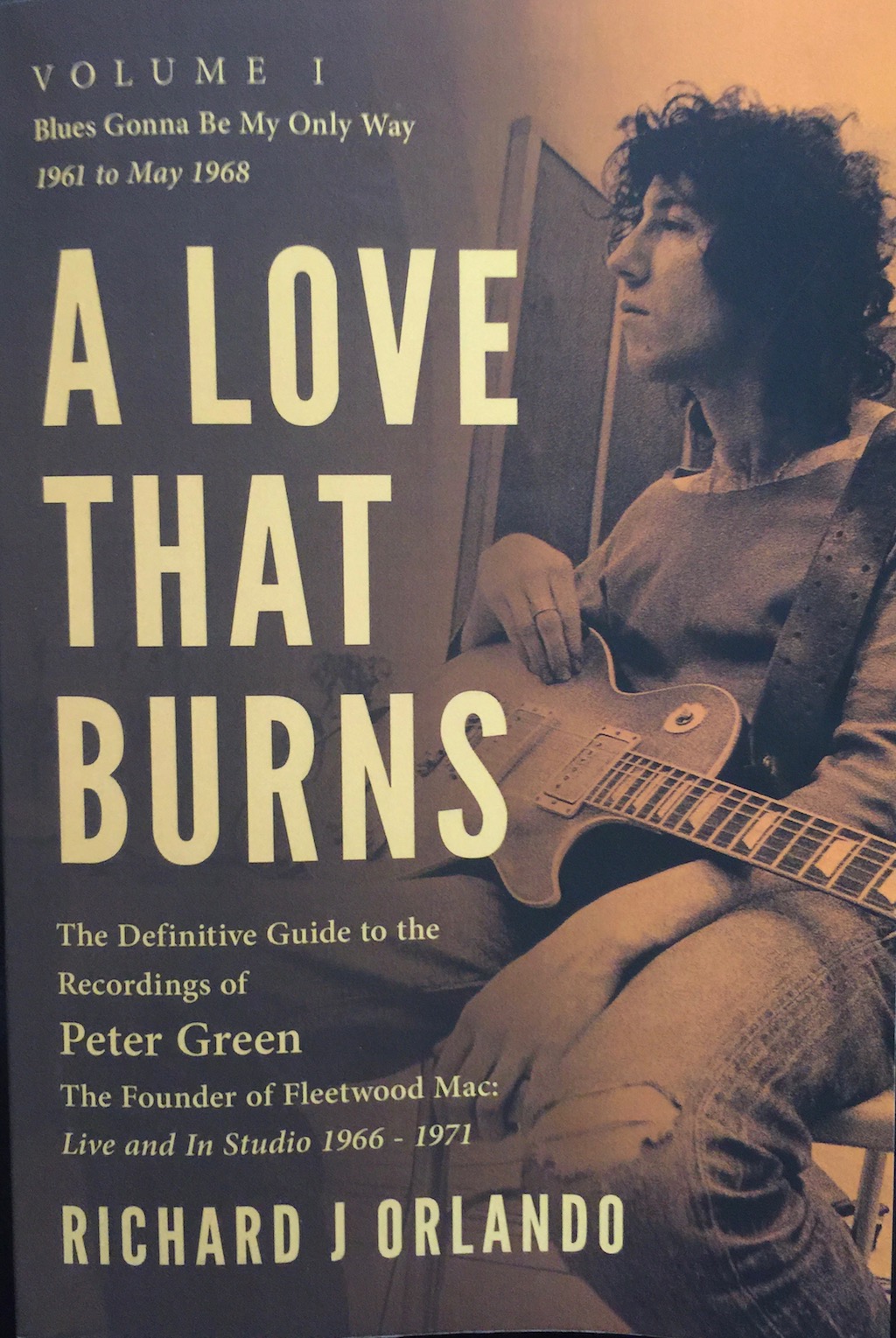 Orlando divides his writing into three volumes, each covering a defined period:
Blues Gonna Be My Only Way 1961-June 1969; Under Way– June 1968-October 1969 and All My Trying Was Up– November 1969-June 1971.
Smiling Corgi Press offers them as e-books and in paperback form.
Unlike most "reference" books, my reading of the first book began at the first page and continued—the early years of Peter Green's work, his stint with John Mayall and the eventual formation of the original Fleetwood Mac.
Mention that band name and you are bound to get a reaction, but my bet is, the majority of folks associate the name with the soft rock band that achieved enormous popularity (and incredible sales records) in the mid–to-late '70s and early '80s. That was a good band, no doubt. Even transitional period—after Green left– when Danny Kirwan held the band together– is a good period; Bare Trees is a wonderful album. But all of these post-Green Fleetwood Mac recordings are markedly different in character from the original blues hard rock band assembled by Peter Green.
Although everyone is probably familiar with Green's composition, "Black Magic Woman,"made famous by Santana, I did not associate that at the time with Peter Green, who was unfamiliar to me. I did not get to the early days of "(Peter Green's) Fleetwood Mac" in my personal musical journey until much later. Juxtapose "Man of the World" with "the Green Manalishi" and it's hard to believe both songs were composed and performed by the same man.
Peter Green's story is bizarre and tragic. He gave it all up when he was on the cusp of greater fame and fortune, his well-worn Les Paul (with its unique tone) passed on to later blues rock great Gary Moore.[1] Green vanished from the scene, except for occasional sightings and appearances over the years, including a "splinter band" much later in his life.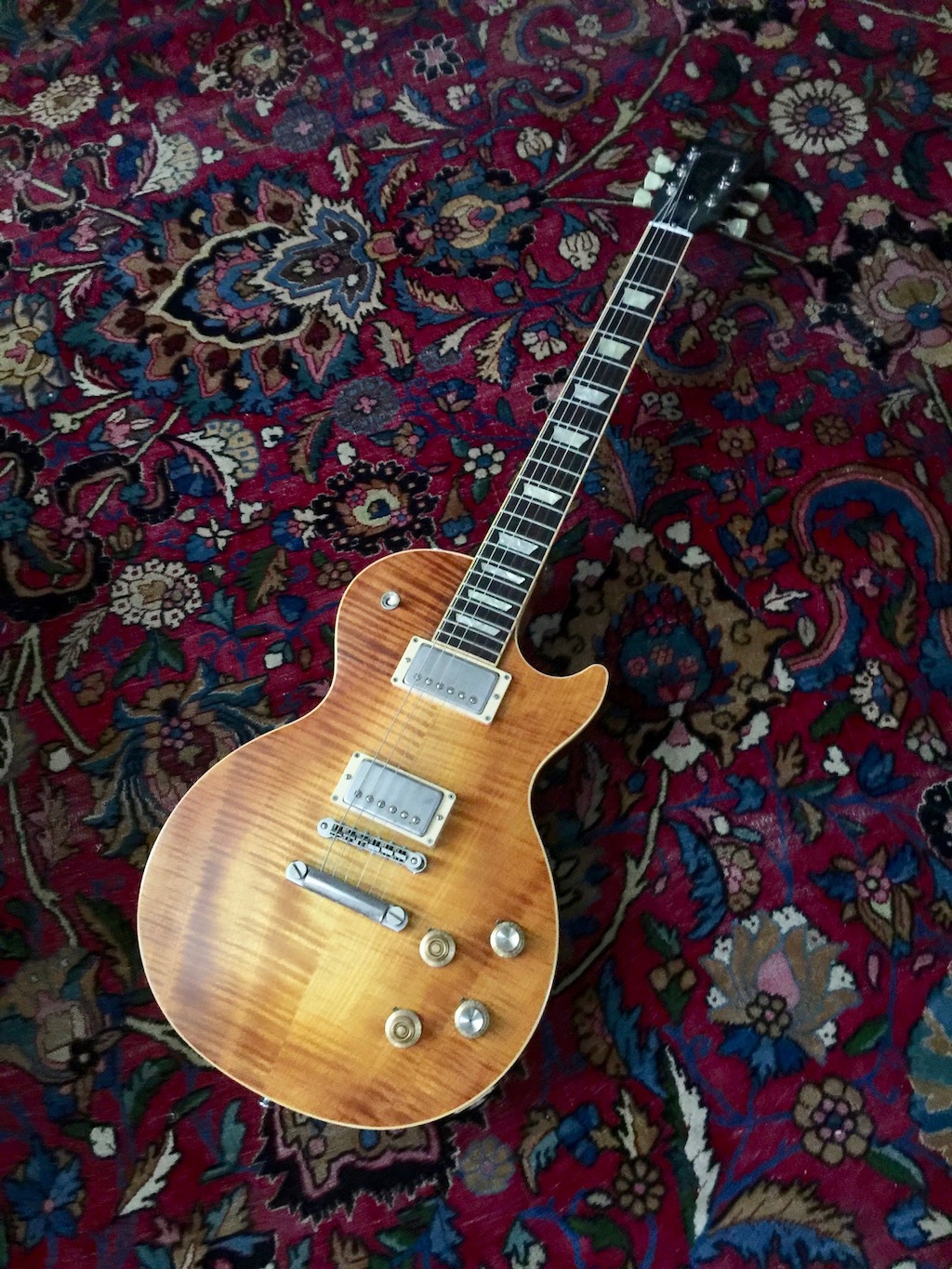 These volumes take us back to what is essentially the beginning:
…[I]t is important to recognize that it was not Mayall who first gave Green the opportunity to display his talent, and more importantly, develop it; it was Bardens. (Peter B's Looners / The Peter Bs)
He was the one who was savvy enough to recognize the "raw talent" in this untried player, a talent that would either flourish or die on the vine at an artificially accelerated pace under the pressure of constant club work.
A Love That Burns, Vol. 1, p. 41.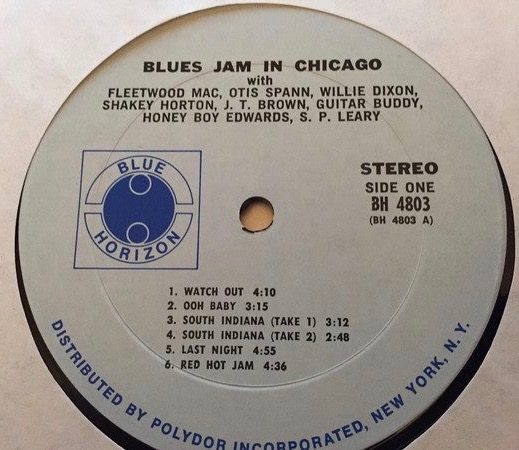 One of the essential things that forges an artist's talent is live performance. Studio recordings are, as we know, seldom a reflection of what a performer sounds like "live." The evolution of an artist's development can be marked by the periodic snapshots of studio recorded releases. But the ongoing growth of an artist, captured in real time, is the stuff of live recordings. Orlando's A Love That Burns gives us insight into that evolution. In Peter Green's case, it all happened within a fairly condensed period of time.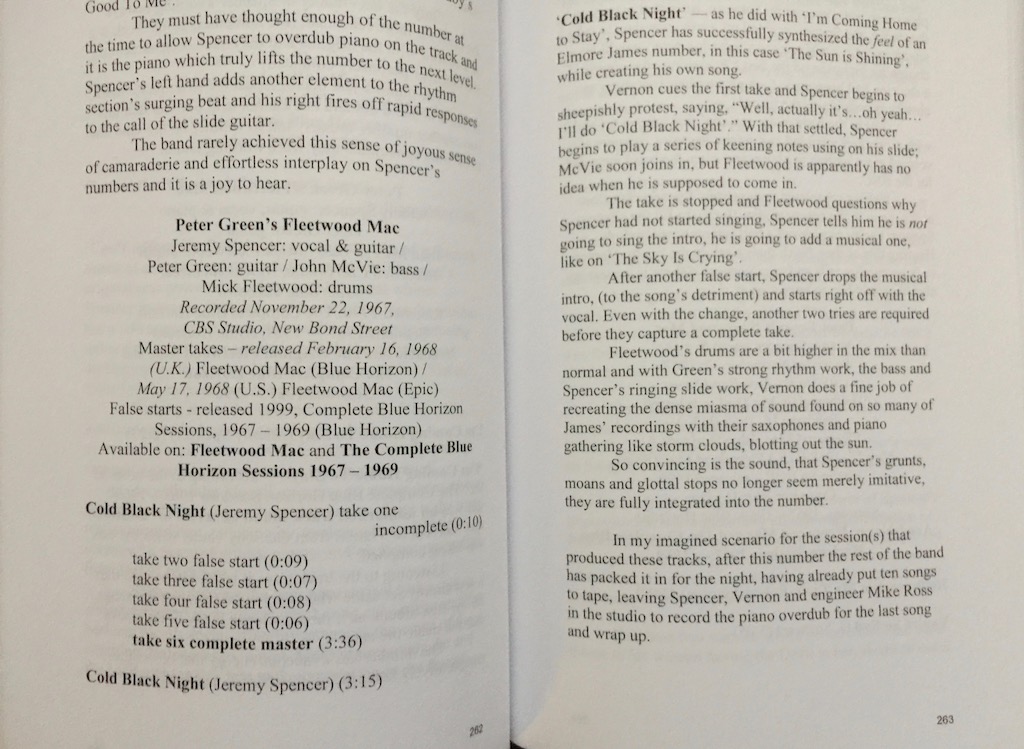 The organization is essentially chronological. The books not only provide a fair amount of detail on personnel and location of the recording, but also indicates the source, which is in many cases a bootleg. Thankfully, there are some legitimately available recordings for some of this material that Rich Orlando identifies for us.
Rich Orlando tells us a little about the genesis of his work:
I never intended to spend this much time, or compile such mass of material. One thing led to another. I heard various recordings of Green's performances during the Fleetwood Mac era and there was so much contradictory information about the dates of the recordings, the venues and the personnel. It was impossible to reconcile what I was reading based on the anecdotal information. So, what began as an exploration to root out the facts-purely out of personal interest –just kept growing.
In Orlando's view,
The goal with these books was to write an "autobiography" of an artist through his music. Not only the music that he created, but also that which inspired him.
Charting Greens' development through 1,000 performances of 378 individual titles, the recording sessions and concerts are placed in chronological order. Conflicting and contradictory stories told over the about Peter Green and his music are compared and placed alongside known facts. Knotted tour histories are untangled; recording dates, song titles and composer credits are corrected.
Green's music is continuously being "discovered" by listeners old and new, and my hope is that these books will provide a deeper understanding and appreciation of this often, overlooked artist.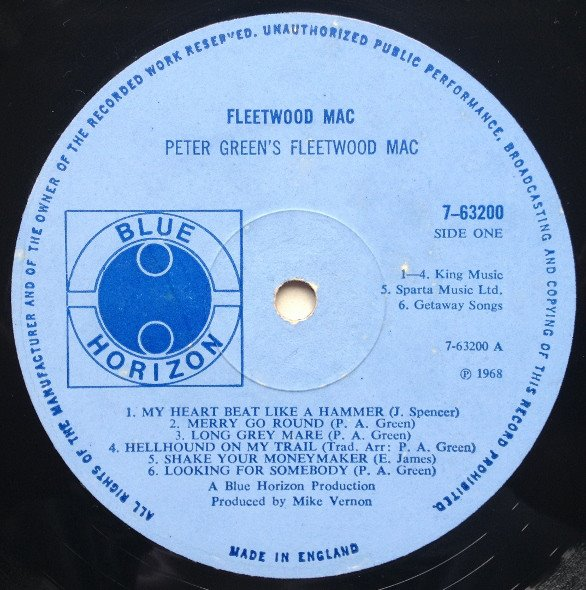 TVP:How did you verify the information if it was scant and in many cases, simply wrong or contradictory?
Rich Orlando:As I began searching out information on various recordings, and using the Internet to discuss what I was learning, people started to come out of the woodwork. There were people with personal knowledge, having been present at various performances, or who had copies of recordings for which they could establish provenance. That helped me enormously. People were very generous with their knowledge, I think, because the goal was to assemble a coherent narrative of Peter Green's work.
TVP:I appreciate the value of bootleg recordings, but given my background (as a copyright lawyer) am obviously wary of them; the artist doesn't get paid, and neither do the publishers or the label to which the artist was signed. The quality is also variable. Yet there is still a very important aspect to what you did in assembling these volumes, and that's not to encourage people to seek out bootlegs!
Rich Orlando:Yes, of course. I do cover the authorized releases, which include some of the BBC sessions that were done in the period (1967-70). But the real value to the reader is to get some insight into Peter Green's work, and his evolution as a writer and performer. Most of the compositions he wrote evolved over time—he was constantly changing how he performed them. The band itself didn't change much during this period, other than to add Danny Kirwan. Green was constantly experimenting. The one song that never seemed to change during this period was "Albatross."
TVP:Can you trace any lines in Green's evolution as a performing artist, having gone through, literally, a thousand recordings covering what—essentially a five year time span?[2]
Rich Orlando:Like almost all the young, white musicians coming to the blues in the early and mid-sixties, Green flashed his influences with pride: B.B. King, Freddie King, Otis Rush, Howlin' Wolf and many more. He covered their songs, drew on their guitar styles and oftentimes wrote new lyrics on the foundation of existing songs. (A trick he learned from Mayall).
Separating him from so many of his contemporaries was a sense of lived experience, which comes through in his playing and in his vocals; he wasn't trying to emulate the emotions of black American artists that he so admired; he drew from his own experiences.
He avoided the generic rock (and blues) clichés of how "his woman did him wrong"; his blues were of a more existential nature. And the depths of his melancholy were offset by the Rabelaisian humor of his harder rocking numbers.
The best songs on "Then Play On" his last album with Fleetwood Mac found him spiritually adrift, searching for an answer that would give his life meaning and again, it is the sincerity of his questioning that shines through and raises these songs above mere recitation of faddish talking points.
Whether he was singing a downhearted blues or a raucous celebration of lustful desire, there is an emotional honesty that shines through Green's work that marks it as unique.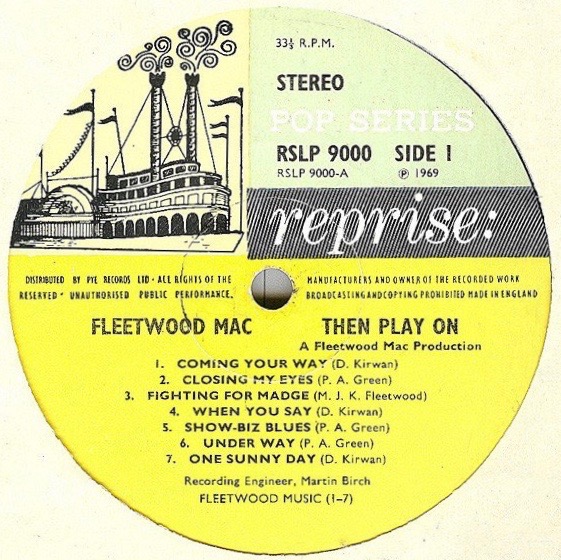 TVP:Just to keep readers within the lines of the law, can you identify some of the authorized releases they might be able to buy?
Rich Orlando: Castle released some of the BBC output in 1995, but it is incomplete. All of the Blue Horizon material is legitimate, not only the studio albums, but the compilations. Compilations of the Blue Horizon material are all legitimate, but they have a tendency to go out of print.
It is a shame that the BBC recordings are not available as they capture the band far better than the Blue Horizon LPs did. The majority of the BBC material was never recorded in the studio and many times are the only available performances of a given song.
RECOMMENDED RECORDINGS; PER RICH ORLANDO
The Complete Blue Horizon Sessions 1967 – 1969 box set, 6 CDs including previously unreleased out-takes provides almost everything done during their tenure with the label. The six CDs comprising the box set are also available separately, and contain the same content.
Missing from the box is the work they did in support of pianists Eddie Boyd and Otis Spann while on the label – each artist also has a "Complete Blue Horizon Sessions" release covering this material and are equally essential, especially the Spann which requires two CDs to cover all of the out-takes.
Green's work with John Mayall is now also well documented; the 2003 A Hard Road – Expanded Edition contains all of the studio recordings Green did with Mayall, on two CDs, leaving out only a handful of BBC recordings.
Forty Below Records' release of John Mayall's Bluesbreakers Live In 1967 Volumes 1 and 2 offers the experience of what clubgoers heard at the end of Green's tenure with The Bluesbreakers. These are fifty-year-old audience recordings, but essential listening.
Fleetwood Mac's sole release for Reprise,Then Play On,was reissued in 2013 and included their last single with Green, 'The Green Manalishi (with the Two Prong Crown)' and the B-side, 'World in Harmony'.
This was the band's most fully realized LP.
Peter Green and Peter Green's Fleetwood Mac are at their best in live performance. The single disc "Shrine '69" is a concise example of their live shows.
The recordings made at the Boston Tea Party in February 1970 have been released in a confusing array of releases, with varying song selections; the "complete" series covers three CDs, the latest being released on the Madfish label in 2013. Another must have.
↔
Although Orlando's A Love That Burns is an incredibly in-depth study of Green's recorded performances, it is not just for the deep collector or devoted fan. This multi-volume set offers rare insight into the artistic process of a great, and still under-recognized, performer and songwriter. Green, though still alive at the time of this writing, is not widely recognized for his gifts and talent, or his influence on the musical landscape at a critical juncture in time. A Love That Burns is an immersion into the artistic process, and in that, hews very closely to Orlando's goal: a biography shaped entirely by the music. This is a rare and important contribution to the literature of modern music.
Author's Site: https://smilingcorgipress.com
Bill Hart
Austin, TX.
Sept, 2018
_____________________________________________
[1]Peter Green's Les Paul has been the subject of controversy, myth, analysis and the occasional news bump when it gets resold. This short article in Guitar World is as good an introduction as any: https://www.guitarworld.com/gear/deep-secret-behind-peter-greens-magic-1959-les-paul-tone
There have been a number of copies or reissues made over the years, including one by Gibson's Custom Shop. The guitar shown in the text was modified by CV Guitars and is based on a factory Les Paul standard.
"His first recordings were done in 1966 with The Peter B's and the last covered are recordings from 1971 with Nigel Watson (who helped put together the Splinter Group)."