The Biggest Record Show in Texas (and the United States)- The Austin Record Convention 2019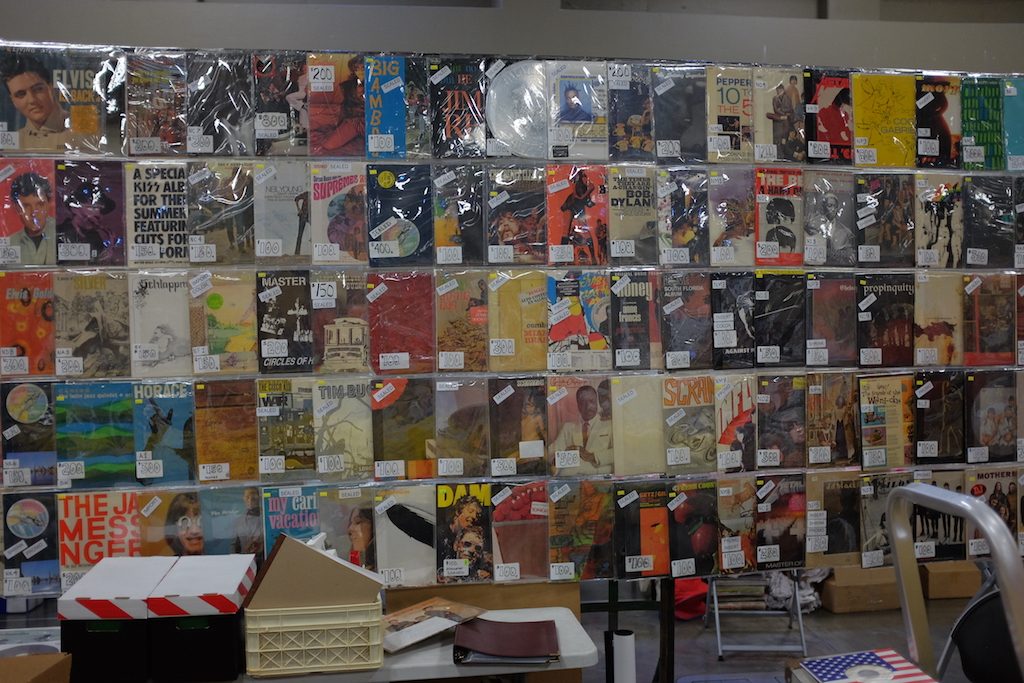 Yep, stuff is big here- trucks, some people (fit, not fat), buildings, hair, BBQ, hell the entire state is big. And the Austin Record Convention, which has been operating since 1981, was pretty great this year. Lots of dealers (over 300, according to the website) occupying 40,000 sq feet of clean, well air-conditioned modern space. The show takes place in South Austin, just a stone's throw from the river in the middle of downtown Austin. It claims to be the biggest record show in the United States.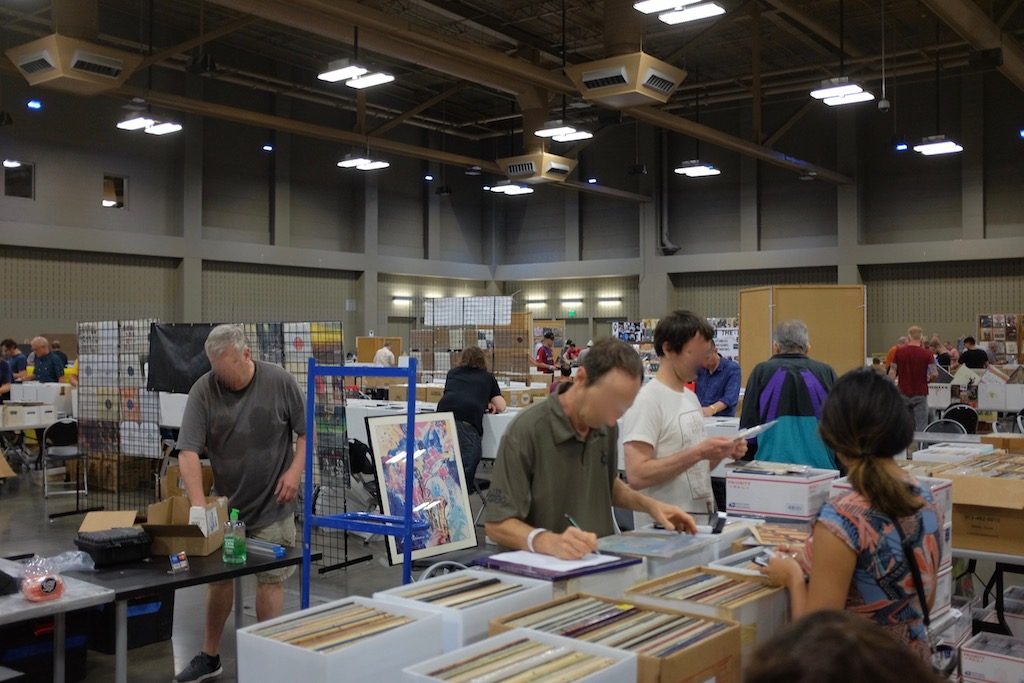 I arrived before the show opened, for the early admission. Dealers were still loading in, but I was hardly the first person through the door when it opened. I made a targeted run at one dealer's table for a specific "free jazz" album that's recently been on my radar and was told "yep, that gentleman right there just bought it." Such is life. I found a Strata-East of Cecil McBee's Mutima and a nice first pressing of Maggot Brain by the Funkadelics. I spotted a few others that I probably should have bought – (non-buyer's regret- rule- if you see something you want, buy it, it could be gone by the time you return).
I could have spent a couple hours at just that one dealer's table- extensive collection of early Blue Notes, some rare jazz, not the usual stuff.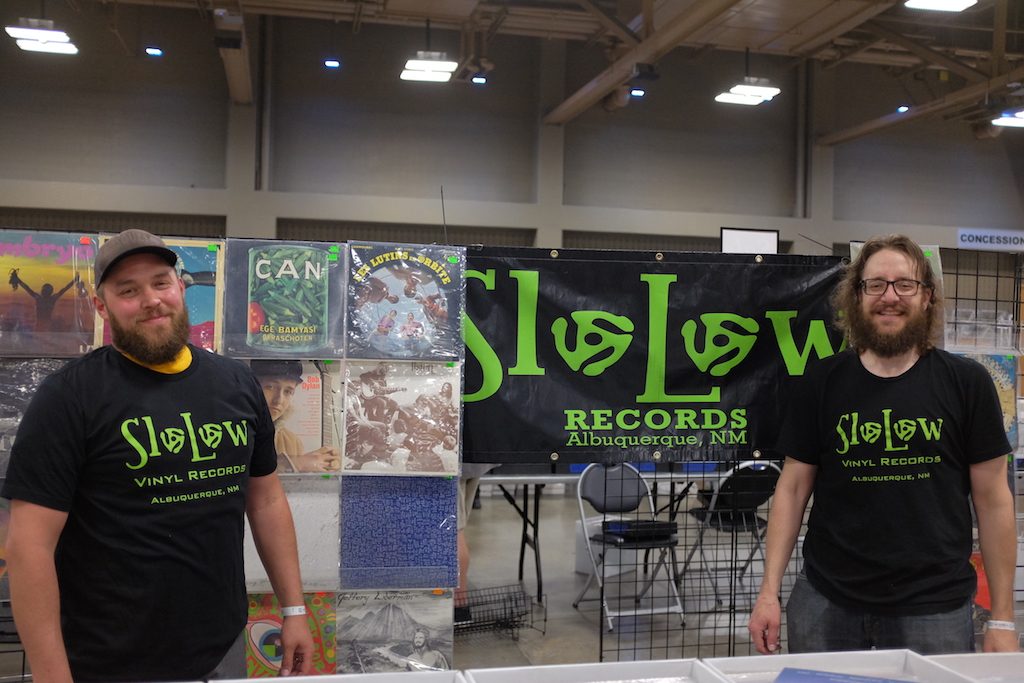 But I had to cover some ground before the day got old, so I did my usual reconnaissance, scoping out the perimeter and the aisles to get a sense of the action. Then I zoomed in, focusing on dealers selling less mainstream stuff, including old hard rock/psych. I didn't bother with the dealers selling new records, or punk/dance/disco (just not my thing except for the exceptions). I asked just about every one of the dealers about a pretty obscure hard rock/psych album; most just shook their head, a few had heard of it, but not to be found.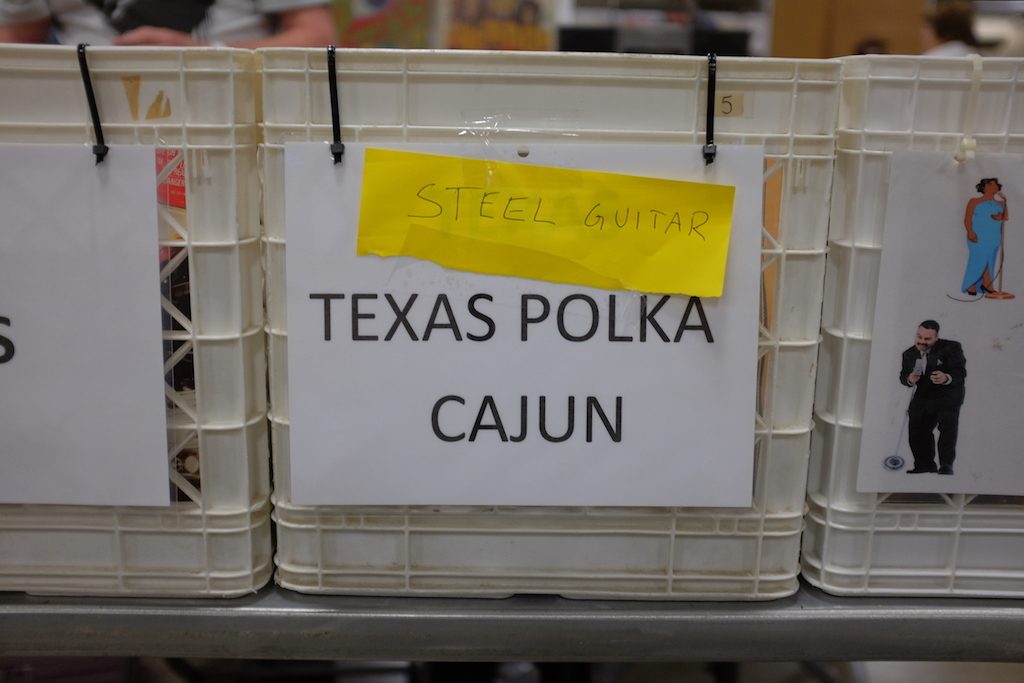 One fellow had such an extensive range of genres, he even had a box of Texas Polka!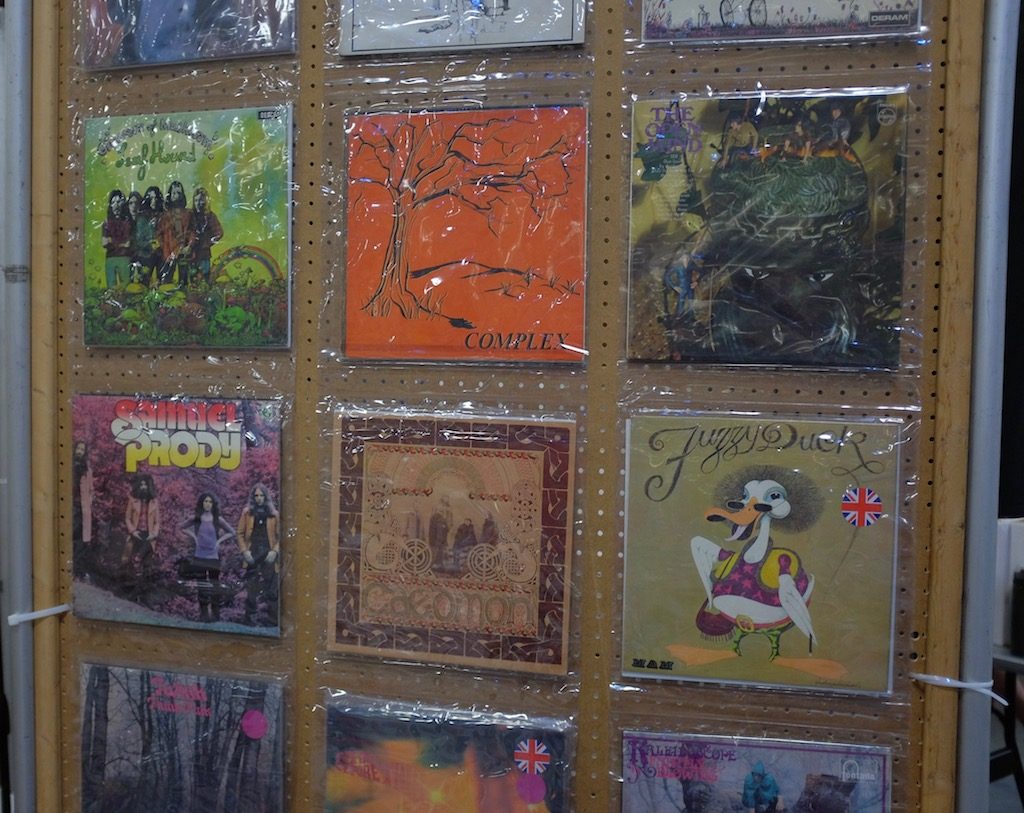 Some pretty high-ticket stuff here: UK Decca Leaf Hound, some of the recherche Vertigo Swirls, Neons and other British prog from the early '70s and with almost every conceivable angle covered.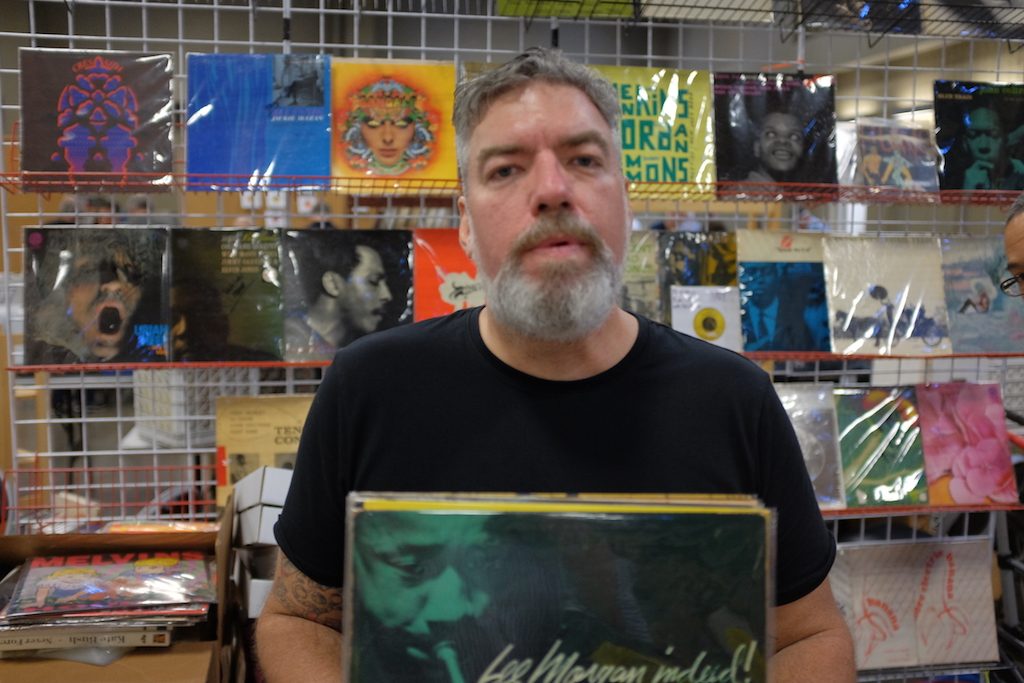 I was not focused on classical music, so apologies to those dealers. Everybody seemed pretty happy to be playing in this big sandbox- the dealers, who were still fresh (but for hauling in stacked boxes of records on large industrial trolleys in 85 degree F weather- it's not hot here yet); the customers, who seemed to be buying and it was still early; and show management, which seemed smooth and well organized.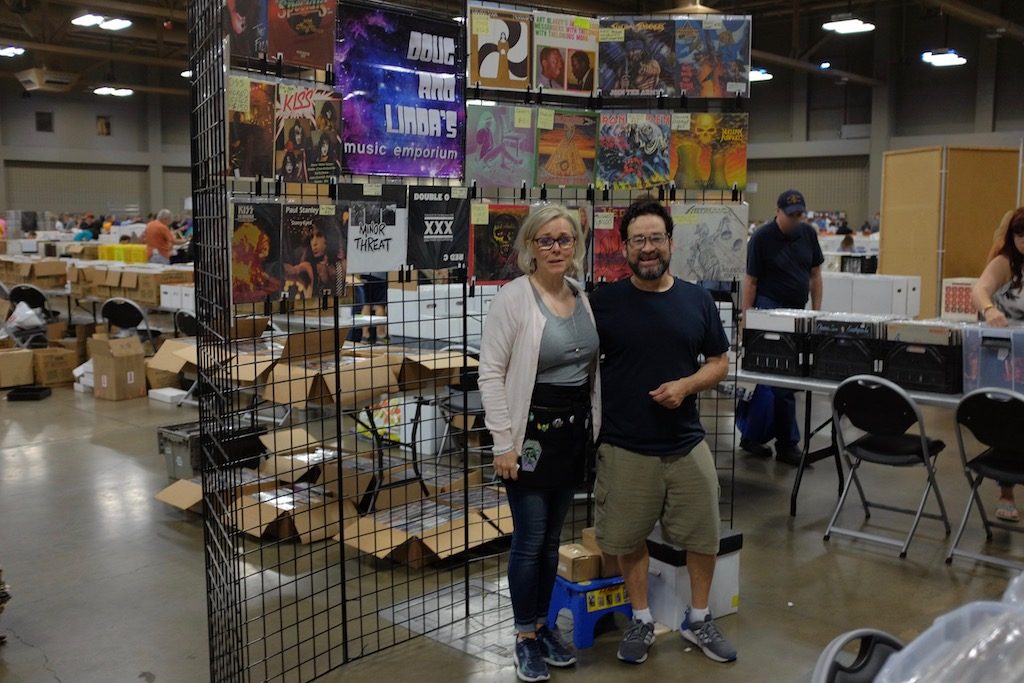 My strategy at shows is not one I'd advise you follow: I have a targeted approach rather than just riffling through box after box of records for three days. I just don't have the stamina for that anymore. But that is where you'll find the gems. If a dealer has a box labelled "really rare stuff," I'm going to be drawn to that.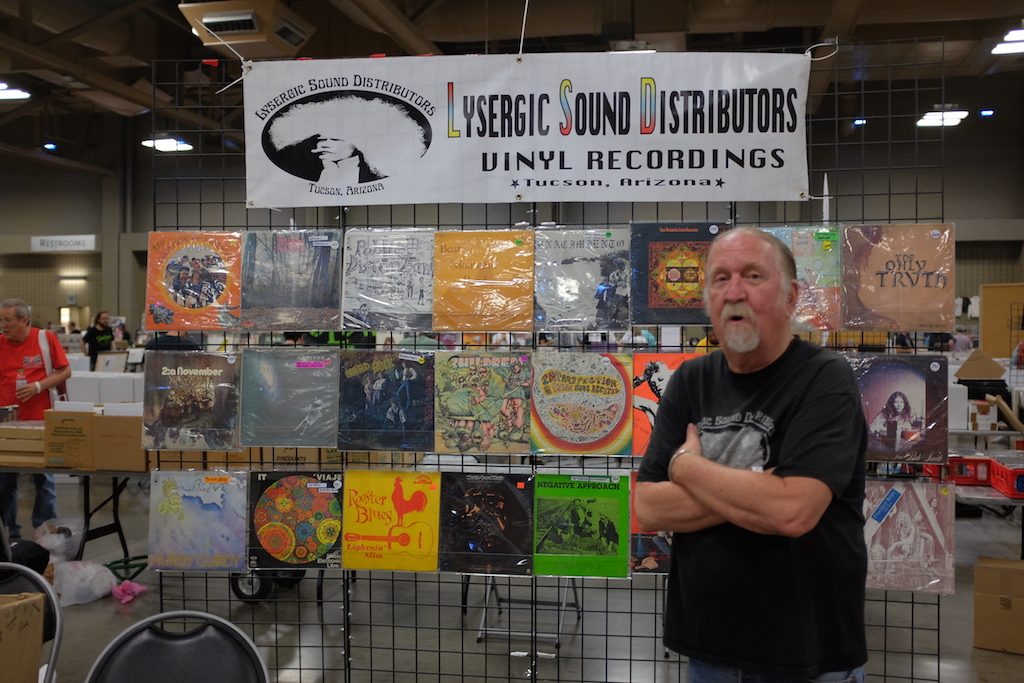 I did see one dealer with a bin identified as "audiophile" but none that I recognized as such. Some serious country and western, of course. And tons of rock- psych, hard, punk, metal- early Texas psych is a thing here, as is old style rock and roll and it was all there, from early obscurities to the warhorses, along with first pressings of Beatles albums to a dealer selling metal stampers.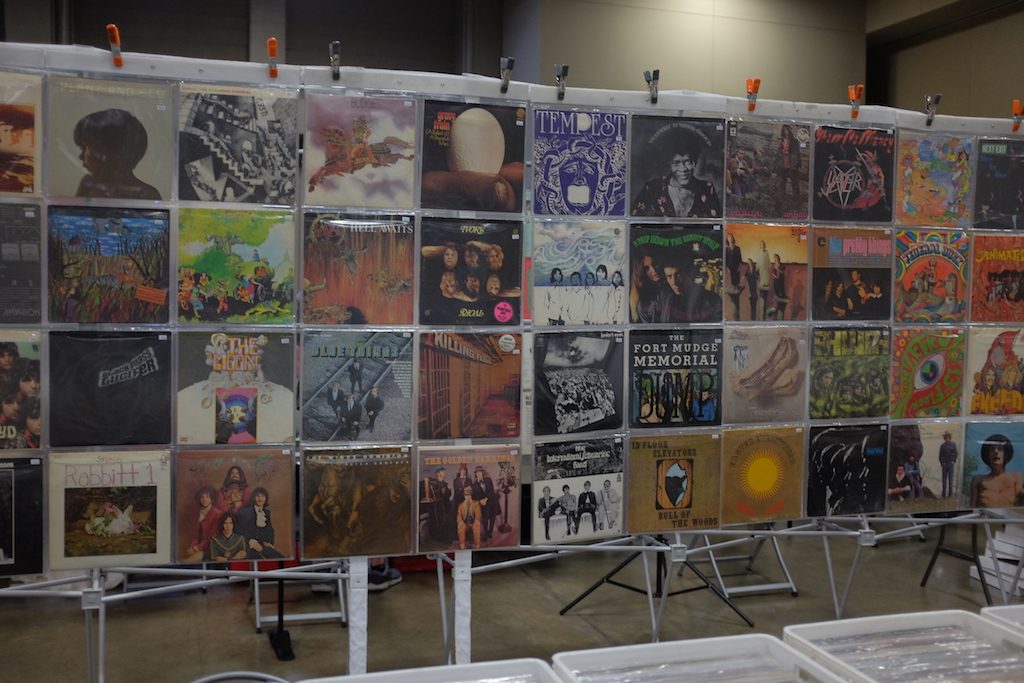 I'm sure I missed several dealers and a lot of records; some dealers weren't fully up and running at the opening bell and more records and dealers came in throughout the weekend.
I'd say this was the best Austin record show I've attended in the last eight years—more quality inventory, a greater range of material and dealers. I even met a guy who hailed from my old 'hood in New York, who makes the rounds all over the country to appear at various record shows.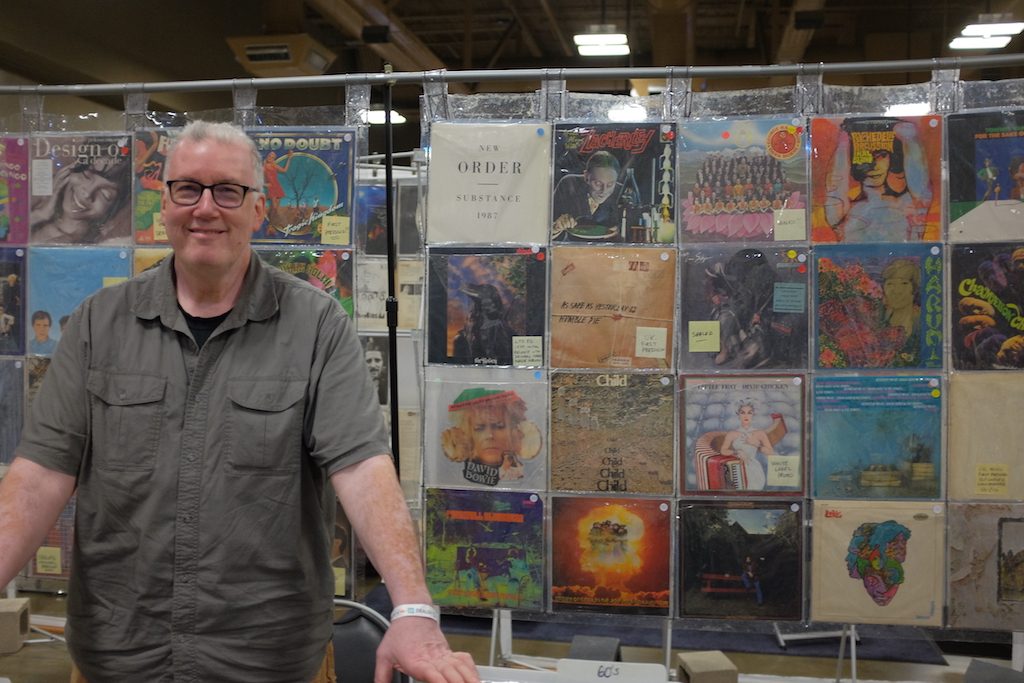 If you need an excuse to visit, the weather, while warm, still isn't cooking like it will be later in the summer; town seemed to be pretty quiet and I had a nice lunch at one of the best Tex-Mex places in town, El Alma, with a couple of mutual friends from Dallas who are music lovers and hi-fi geeks. That restaurant is literally a block away from the show venue.
In all. a rewarding day. I got to meet some new friends, scored a couple of really good records and had fun. As I write this, I doubt I'll go back for the official two-day part of the show, on Saturday and Sunday. There are some albums on my "want" list but I'll probably break down and buy them via the Internet.
If you've never been to a big record show, it's like any trade show—lots of time on your feet, generally nothing decent to eat on premises and an overwhelming sense that you'll never get through it all, even if you started at the front door and methodically worked your way through every table.
Not to worry. I got cards from several dealers with whom I'll stay in contact.
Below, I list a few dealers that I enjoyed talking to, whose tables and displays are included in the images scattered throughout this piece.
Next year, c'mon down. It's actually a pretty nice time to visit and if you've never been to Austin, it's as good as excuse as any, without the craziness of SXSW or a Formula 1 race. Those events pack the town; hotel room rates are high and the restaurants are packed. This is more low-key, it's not Texas hot yet and you (or your partner) can find some other things to do if the record show isn't going to occupy all of your time.
Some of the dealers I met included:
SloLow -these guys had a massive collection of high value and rare jazz. www.slolow.com

Vinyl Rescue- Michael Overn- who was nearby when I lived in New York and never knew! www.vinyl-rescue.com
Steve Purdy & Trent Purdy- if anybody was gonna have that hard rock psych obscurity from the heartland of the United States, I'd bet on these guys- www.lsdsounds.com
Larry Thompson class, good stuff. You can find him in Georgetown, TX.
Doug and Linda's Music Emporium- nice display, nice folks, on Discogs, music stack and lp.reverb.
Planet Retro Records- you can find them in St. Petersburg, Florida.
There were so many gracious people with great inventory, my failure to include the many dealers I met and talked with is my oversight and not any reflection of them or their wares. One experienced buyer told me it was one of the best shows he has attended in the States. If there are other dealers with whom you had a good experience at the show, let me know through the comments feature here.
Each year the show organizers put up a website.
Bill Hart
Austin, TX
May, 2019