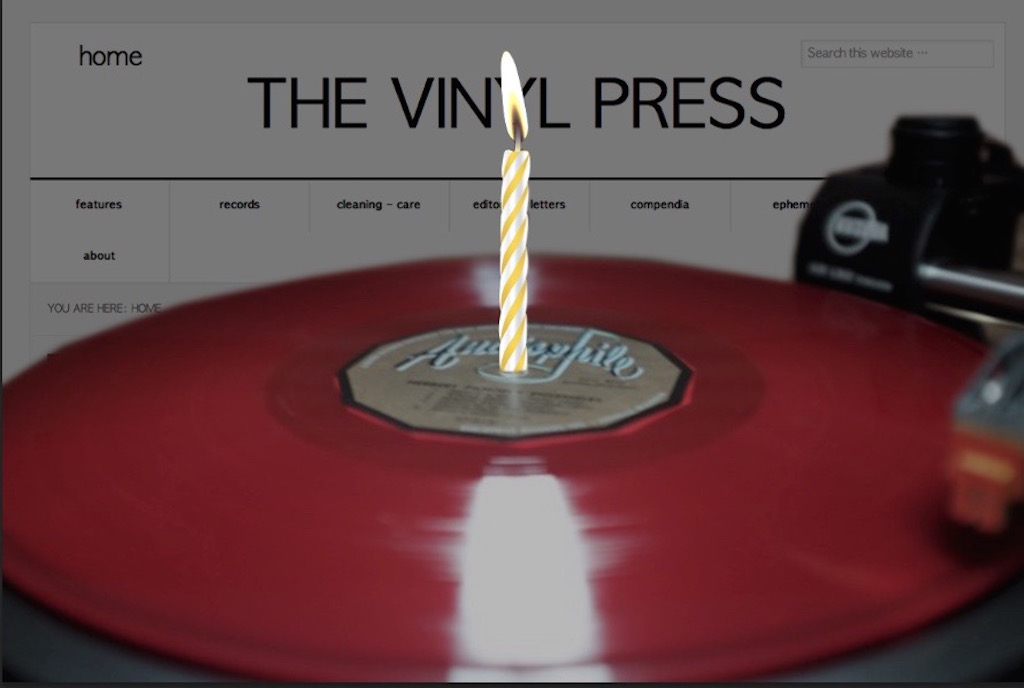 One Year of TheVinylPress.com
Self-congratulatory pieces are usually distasteful to me. But, I wanted to mark the first anniversary of TheVinylPress.com for several reasons. This all started rather innocuously- and for entirely selfish reasons. I got serious about hunting for the best sounding vinyl LPs-    "ordinary" records, not necessarily "audiophile" releases — of hard rock, folk, psychedelia and offbeat stuff that didn't always make "best of" lists, wasn't necessarily reissued or remastered and in many cases, might prove to sound great on older pressings.  That eventually led to this site, which is mainly about records, but also about the people who made the music.
The writing, research, listening, the comparisons, interviews, and technical details–from the mind-numbing minutiae of deadwax to those glorious moments of musical transcendence — have been enormously gratifying. As I work on articles, I quickly learn the limits of my own knowledge. The writing process is a real education for me—it focuses my research and thinking in a way that idle reading or casual contemplation cannot.
The volume of material published here in one year has been achieved almost entirely through the generosity of others- artists, producers, engineers and scholars who have willingly answered my questions and contributed their time, knowledge and experience.
The real pay-off for me in publishing TheVinylPress is the chance to document pieces of our musical legacy that deserve further exploration or recognition. I've made an effort to include practical articles as well, to appeal to the neophyte LP enthusiast as well as the more seasoned record collector/audiophile. In the process, I seem to have found some kindred spirits among readers. For that, I am grateful because your support encourages me to continue.
I thus want to thank all of you– contributors and readers alike, for the opportunity to explore the rich terrain of these creative arts.
Bill Hart
February, 2016
What follows is a select bibliography of pieces that have been published in TheVinylPress during this first year, beginning in February 2015.
Articles, Essays, Features and Interviews:
Entering the World of the Vertigo Swirl
A Visit to the Library of Congress Audiovisual Preservation Facility
A Conversation with Olav Wyper- Creator of the Vertigo Swirl Records
From the Vault-A Chat with EIL, a Top Rare Record Dealer in the UK
The True Adventures of Stanley Booth: Dancing with the Devil
Island Records- The "Pink Label" Era
Warner Records- The "Green Label" Era (and Beyond)
Listening to Recorded Music: A Rumination
Jethro Tull-Aqualung- Vinyl Shoot-Out
Essay- Are You Experienced– first published in the National Recording Registry
Essay- Hoodoo Man Blues- first published in the National Recording Registry
Interview with Bob Koester- Founder of Delmark Records
On The Trail Of: Elmore James & Sunnyland
Esssential Canned Heat: Four Albums; Conversation with Skip Taylor; Sidebar: Rediscovering the Blues
Collectability, Sonics and "Essential" Records- Comparing Notes with Jeff Gold, Owner of Recordmecca
The Art of Recording: A Conversation with Brooks Arthur
Cleaning Vinyl Recordings- My Personal Odyssey
Cleaning and Archival Standards of Care- Interview with the Library of Congress Recorded Sound Preservation Specialist
Fairport Convention- A Culmination in Three Albums (with Joe Boyd)
Nick Drake- Then and Now (with Joe Boyd and Callie Callomon)
Chris Whitley – A Brief Retrospective
Some Notable Records (Capsules/Reviews):
Spirit- Twelve Dreams of Dr. Sardonicus
Cressida- self titled Vertigo Swirl
May Blitz- self titled Vertigo Swirl
Patto- self titled Vertigo Swirl
Affinity- self titled Vertigo Swirl
Gracious!- self titled Vertigo Swirl
Patto- "Hold Your Fire" Vertigo Swirl
Alice Cooper, Love it to Death (Straight Records)
Van Morrison- The Early Albums
Little Feat- The Lowell George Era
Early Eagles- First Album and Desperado
Steely Dan- the First Two Albums (with a note on Aja)
Brian Davison's every which way
∞